I'm often in a rush, struggling to find time for a bite to eat. That's why I love a quick trip to the convenience store, especially during my lunch break.
One day, I wandered into the forbidden microwave food section, where a hearty sandwich caught my eye. I am, of course, talking about the Big Az Burger.
The bold logo caught my eye first; then, it was the humongous size and range of tasty flavors.
Instead of keeping the Big Az Burger a secret, I thought I would bless your workday lunch hour and give you my review. If you're looking for an easy lunch, feel free to keep on reading.
What is Big Az?
Big Az is a food line from AdvancePierre Foods, specializing in microwavable sandwiches, hotdogs, and much more.
The Cheeseburger, Chicken Sandwich, Western Style Omelet Wrap, Pork Rib Sandwich, and Beef Sub are some of the products they offer. [1]
These sandwiches are available in just about any convenience store around the country.
They are often found in either the hot case or in the fridge, ready for the microwave.
Big Az burgers are never frozen, which is hard to find when it comes to microwavable foods.
They're easy to prepare and can be ready in as little as 90 seconds.
The Big Az Cheeseburger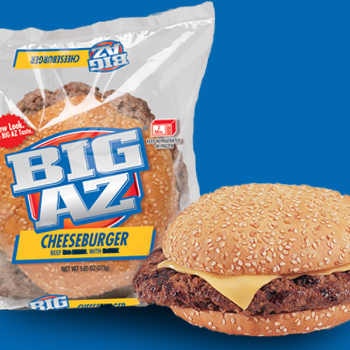 The first I will be reviewing is the Big Az cheeseburger. As soon as I laid my eyes on the Big Az Burgers, I knew I had to try this one.
The cheeseburger is essentially the base model for the whole Big Az Burger line.
According to the their website, this cheeseburger is "The American classic that never disappoints."
The first thing I noticed was how surprisingly hefty it was. I know it's called "Big Az" for a reason, but I never expected it to be so heavy.
I popped the burger in the microwave for 90 seconds, and out came a steaming, tender sandwich.
The bread, which is covered with sesame seeds, wasn't dry nor tough, which can often be the case with microwavable food.
It contains a big beef and onion patty, which was tender and flavorful when warmed. It had a decent amount of cheese which melted around the sides of the bun.
The burger was great how it was, but adding some of my favorite condiments would be enough to push it over the edge.
Pros
The beef burger has lots of flavors and doesn't taste processed like most microwaved meals
Bread buns were soft but not soggy
Big enough to feed any hungry stomach
Comes with plenty of cheese
Cons
Doesn't come with any condiments
The Big Az Country Fried Chicken Sandwich
Next on my list, and possibly my favorite, is the Big Az Chicken Sandwich.
It comes with a slice of cheese and a chicken patty big enough to stick out the sides of the bun.
According to their website, this chicken sandwich is a "huge crispy breaded chicken made with breast meat and topped with creamy white cheese and served on the world's best sesame seed bun."
I have to admit, I was a bit worried when it came to the crispiness of the chicken.
As soon as I removed it from the microwave, I noticed it seemed a little soggy.
However, once I left it to cool down, the patty regained some of that crispness and was incredibly tasty.
"If you're looking for a huge sandwich opportunity, this is your answer. Satisfy the heartiest of appetites with this extra-large sandwich."
- Tyson Food Service
The sandwich was juicy, crispy and left my stomach full and happy.
Although it tasted delicious as is, I couldn't help but wonder what it would taste like with lettuce, onions, and some bbq sauce.
But then again, that just leaves the burger open for your interpretation.
Pros
Cheap but tasty
Chicken burger isn't soggy nor dry
Makes for a quick snack
Big enough to leave you full for a few hours
Cons
May be considered a little bland
The Big Az Kickin' Jalapeno Burger
Last but not least, the Jalapeno Burger. It looks very similar and weighs almost the same as the cheeseburger.
The difference being the added jalapenos and the use of white American instead of yellow American Cheeses.
According to their official statement, the Jalapeno Burger is "a giant beef patty, tasty pepper-jack cheese, and zesty jalapenos between a delicious bun, this sandwich is a sure way to spice up your food life!"
As soon as I opened up the packet, I could smell the spicy aroma coming from the jalapenos.
I'm not one for spicy food, so I was a little worried that they would be too overpowering. I was pleasantly surprised to find that while it had some heat, it was nothing that I couldn't handle.
Since it uses the same bread and beef patty as the first Big Az burger, the texture and taste were almost the same. However, I personally believe the jalapenos and white American Cheese make this burger better than the rest.
Pros
Bread was soft since the buns weren't frozen
Not too spicy but has a good amount of heat
Quick to grab a bite to eat
A pleasant twist to your normal burger
Cons
Often sold out due to popularity
Comparison to Other Products
What we love about Big Az compared to other ready meal brands is the fact it's not found in the freezer aisle.
This alone means the bread doesn't get hard when cooked, and the meat stays tender, unlike most microwavable sandwiches.
Big Az is considered fast food - just like McDonald's, KFC, and Burger King.
While buying from these 3 stores takes out the effort of popping your burger in the microwave, the quality of the burgers is the same.
In fact, I much prefer Big Az since they're easier to find, and the burgers are much bigger. Plus, it's cheaper than any fast-food chain you'll find.
Read More: Which Fast Food Restaurant Has The Best Meat?
Where to Buy Big Az Burger
If you're looking to try the Big Az Burgers, the only place you need to go is the convenience store.
You can usually grab this snack in the refrigerated section or near the prepared hot foods.
If you're really hungry, you'll usually be able to find an array of sandwich types, enough to pick up 2 or 3 different ones.
You can store BigAz burgers in the fridge for two weeks (if you can fit them, they are pretty big) or in the freezer for one year. [2]
With only 90-120 seconds to prepare, you may as well pick up one of these delicious sandwiches to fill your appetite instead of some chips or a breakfast bar - they're that easy to obtain.
You can also shop online from a whole range of websites such as Amazon and directly from Advance Perrier Foods. They will come frozen, however.
Other Users' Experience
When researching other customers' experiences, we found that 9 times out of 10, they were incredibly positive.
I also gave a few burgers to my friends to try, and they all were surprised about how tasty yet cheap they were.
1 - John from Washington
John's review highlights that these are definitely the best microwave cheeseburgers he's ever tried. He especially loved how easy they are to prepare, and stated they taste amazing even when cold.
2 - Amelia from Oregon
Amelia was delighted by the amount of Jalapenos in the BigAz Jalapeno burger, and the size of the meat patty.
She claims the Jalapenos covered the entire meat patty, which she thought was perfect as she loves hot and spicy food.
She also highlighted the meat patty stuck out of the bun on all sides and tasted fantastic.
Related Articles:
FAQs
Can You Buy Big Az Sandwiches Online?
Yes, you can buy Big Az sandwiches online. Many online stores stock sandwiches, hotdogs, and more. They usually sell them in bulk, however, and they can be quite expensive to buy.
All food will have individual instructions, but it usually takes 90 - 120 seconds in the microwave. If frozen, it can take up to 180 seconds.
Are The Big Az Burgers Worth It?
Let's be honest, this brand isn't picking up any Michelin stars anytime soon.
That being said, there is a reason why these burgers have won Convenience Store Consumers Choice Award for many years running.
These massive burgers aren't made for expensive restaurants - they're made for hungry people with even hungrier appetites.
They're tasty, inexpensive, convenient, and happily fill our tummies.
When looking for lunch on the go, or simply have no time to cook yourself a meal, the Big Az ready meal burgers are a fantastic solution.
Pop it in the microwave, and in less than 2 minutes, you have yourself a tasty burger.
We Recommend
The Big Az Cheeseburger
Check Current Price

Pros
The beef burger has lots of flavors and doesn't taste processed like most microwaved meals
Bread buns were soft but not soggy
Big enough to feed any hungry stomach
Comes with plenty of cheese
Cons
Doesn't come with any condiments
Was this article helpful?