Our perfectly roasted pork loin recipe topped with a bed of onions, apples, and herbs, makes for an incredibly juicy and fork-tender Sunday dinner.
I love cooking braised pork; it's inexpensive and takes little marinating and seasoning to create great flavors.
The first time I cooked this pork tenderloin recipe for my family, they absolutely loved it.
Plus, it's gluten-free, dairy-free, and sugar-free - a great recipe for any clean-eating household.
Recipe Overview
Prep Time: 10 minutes
Cook Time: 30 minutes
Total Time: 40 minutes
Number of Servings: 4
Ingredients
1.5 - 2 Pounds of Pork Tenderloin (ButcherBox has really good deals on pork)
2 Tablespoons of Olive or Vegetable Oil
2 Teaspoons of Salt
2 Teaspoons of Ground Black Pepper
2 Medium Yellow Onions (about ¼" thick)
1 Tablespoon of Fresh Thyme Leaves (dried thyme works too, but fresh is best)
1 Cup of Chicken Stock
½ Cup of Unsweetened Apple Juice

2 tablespoons of apple cider vinegar

2 Medium Apples, Cored and Sliced (Golden Delicious, Granny Smith, or Braeburn work well)
Braised Pork Tenderloin With Apples and Onions Instructions
Preheat the oven to 425ºF and place the oven rack in the middle.

Trim the pork loin of any silver skin (it can be tough to remove when cooked). Remove the skin by sliding a small sharp knife under and outward.

Preheat a tablespoon of oil in a cast-iron skillet over medium-high heat.

Pat dry the pork tenderloin using a paper towel, and season with 1 teaspoon of pepper and 1 teaspoon of salt. When the oil is hot and simmering, reduce to medium heat, transfer pork into the pan, and sear until golden brown. Flip and sear all sides. Once evenly browned, transfer pork tenderloins to a large plate (it will finish cooking in the oven).

Using the same cast-iron skillet, add onion, apples, and 1 teaspoon of salt and pepper. If the pan looks dry, add some more olive oil. Stir frequently until the apples and onions begin developing some brown spots, typically 5 minutes. Add one teaspoon of thyme.

Place pork on top of the onions and apple slices. Add chicken stock, apple cider vinegar, and apple juice. Transfer the cast iron skillet into the preheated oven and braise until the pork tenderloin reaches an internal temperature of 145ºF, around 10 - 15 minutes.

Remove the pork tenderloin from the oven and allow it to rest for 5 minutes.

To serve, slice pork into 1" thick slices, place on a bed of apples and onions, and drizzle with the braising liquid.
Nutrition Facts
Calories: 306
Total Carbs: 13.5g
Protein: 37.5g
Fat: 11.6g
Fiber: 1.8g
Net Carbs: 12g
Braised Pork Tenderloin Recipe Notes
If you don't have an oven-safe skillet, you can transfer the pork loin, apples, and onions into a baking dish. Don't forget to cover the dish tightly with aluminum foil.

Use hard cider if you don't have any apple cider vinegar or white wine at home.

Any browned bits on the bottom of the skillet can be scraped up and used to add great flavor to your braised pork.

If you want some apple sauce to top off your tenderloin, cook the apples until mushy and add some lemon, butter, and sugar.
Other Similar Recipes:
Perfect Temperature for Pork Loin
When you cook pork, whether pork chops or pork loin, the internal temperature should read 145ºF - 150ºF [1].
This will guarantee the juiciest and most moist sliced pork. It means that it will be slightly pink inside, so if you prefer your pork to be well-done, you can cook it a little longer.
Just make sure you don't overdo it and dry the pork out.
Tips for Buying Pork Tenderloin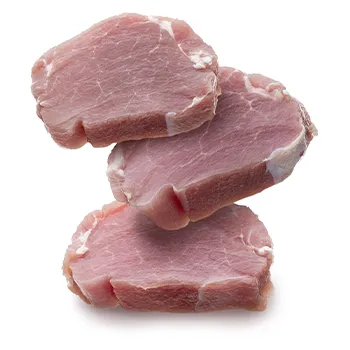 When buying your tenderloin, look for a cut that has a pinkish-red color to it.
Also, try to find some marbling, as the fat will create some delicious flavors. If the meat is pale in color or has any dark spots in the fat, avoid it at all costs.
If you struggle to find a nice butcher around your area, you can always shop pork loin online.
The only problem with this is you can't see what you're receiving before buying, so be sure it comes from a trusted supplier (like ButcherBox).
FAQs
What Goes Well With Pork Tenderloin?
Mashed potatoes, steamed green beans, or brussel sprout salad with a side of dijon mustard go well with pork tenderloin. White wine also pairs well.
Does Pork Tenderloin Get More Tender the Longer You Cook?
No, pork tenderloin doesn't get more tender the longer you cook it. To get the right amount of tenderness, you should cook pork lion quickly. It is a tender cut, to begin with; however, once overcooked, it can be tough and inedible. Avoid cooking on a slow cooker or dutch oven.
How Do You Reheat Pork Tenderloin?
You can reheat pork tenderloin by re-searing it in a cast-iron skillet. That way, you prevent tenderloin from drying out. You can also use a pastry brush to rub a little bit of oil on the meat or add some stock to the pan if it seems a little dry.
Braised Pork Tenderloin With Apples and Onions - A Great Meal for Home Cooks
If you're looking for a recipe that truly embodies a warm and delicious dinner, this apple and onion tenderloin is the one for you.
Meat seared to perfection, finished in the oven for tender and juicy results and topped with sweet and flavorful braised sauce.
Cooked in less than an hour, this straightforward recipe is enough to feed a small and hungry family happily.
---
References:
https://www.usda.gov/media/blog/2011/05/25/cooking-meat-check-new-recommended-temperatures
Was this article helpful?