Over the past few years, our approach to grocery shopping has changed, and a growing number of people are choosing to order their meat online, myself included.
I've tried almost every meat delivery out there, but today I'll compare two of my recent picks: Carnivore Club and ButcherBox.
I've used both Carnivore Club and ButcherBox meat services for six months.
I'll talk about their similarities and differences and which one came out on top so that you can make your choice.
ButcherBox vs Carnivore Club: Key Differences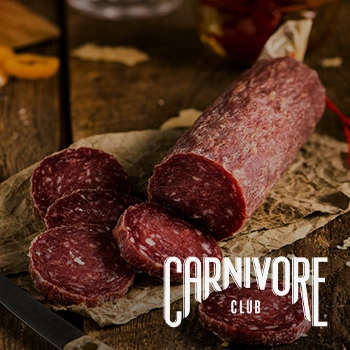 The main difference between Carnivore Club and ButcherBox is in meat selection. ButcherBox allows you to choose the meat you'll get in their boxes; Carnivore Club doesn't.
Carnivore Club's monthly meat subscription box always has a theme with a chosen variety of meats. You don't get to decide which meats will arrive at your doorstep.
This is part of the subscription box excitement for some, but others won't like not having a say in what meat they get.
Carnivore Club says the best artisans worldwide choose the theme and meat that ends up in the box. Typically, each box is created around a certain kind of cured meat. In the past, this included Italian Salami, Spanish Chorizo, and others.
Apart from this curated custom box, you can also choose a box of artisan meats and cheeses. ButcherBox doesn't offer cheese.
Comparing Their Features Head to Head
Here's the breakdown of features for both of these meat subscription boxes.
1. Meat Selection
I already talked about how users have no say in the meat selection process with Carnivore Club. There's also a difference in the meat you'll get from these two meat subscription boxes.
Carnivore Club is great if you're a fan of cured meats. Their subscription boxes focus more on charcuterie meats, such as:
Salami

Sausage

Bacon

Jerky

Prosciutto

Cheese
On the other hand, ButcherBox offers more than 60 kinds of meat for meat lovers, including pork, chicken, dry-aged ground beef, and seafood, such as wild-caught Alaskan salmon.
If you want a subscription meat box with various types of meat, ButcherBox is a better choice.
You can buy their meat by subscribing to various meat subscription boxes. Some boxes are handpicked according to your preferences, while others are customizable.
ButcherBox offers meat such as:
New York strip steak
Ribeye steaks
Boneless pork chops
Ribs
Sirloin steaks
Sea scallops
Wild salmon
Ground beef
Ground pork
Japanese wagyu beef
Filet mignon
Breakfast sausage
Sugar-free bacon
Burgers
---
2. Sourcing Practices
The way these meat subscription services source their meat is also different.
ButcherBox works with family farms to stay on top of the meat quality. The farms they work with raise grass-finished beef and grass-fed beef.
Their cattle are humanely raised and never given antibiotics or added hormones [1]. Beef sourced this way has plenty of benefits, such as less unhealthy fats, more vitamins, minerals, and omega-3s [2].
They also make sure the pork is raised crate-free in pastures or barns. They have heritage-breed pork, which develops marbling due to the slow maturation process.
The free-range organic, pasture-raised chicken is also raised without hormones, and wild-caught seafood is antibiotic-free.
Carnivore Club is less transparent about its sourcing. They claim they use meat from ethically treated animals, employ humane slaughtering practices, and only use locally sourced ingredients.
Their meat is sourced from family-owned farms, such as the Classic box, which comes from the father-and-son duo.
As they have a specialty meat service, you'll get a box of meat from a different area each month.
---
3. Subscription Box Flexibility
Both Carnivore Club and ButcherBox have different kinds of flexibility.
ButcherBox allows you to modify, pause, or cancel your subscription anytime, as long as the change is made before your order is billed.
You can choose between a monthly or every other month subscription.
They offer six different kinds of subscription boxes:
Custom box
Mixed box
Beef & chicken box
Beef & pork box
All beef box
Curated box
According to the company, custom boxes allow you to create the perfect mix of cuts for your lifestyle. You can choose up to 25 cuts or go for a box that has a specific kind of meat, such as organic chicken or all beef.
I liked that the users can cancel fee-free after one month if they don't like the meat delivery service.
"The way ButcherBox works is they deliver every month, and you get the exact same delivery. They have grass-fed beef, no antibiotics or growth hormones. That's the specialty of ButcherBox. If you're buying a gift for someone green, this is a great option because it doesn't come packed in styrofoam."
- BarbecueTricks YouTube Channel
Carnivore Club offers monthly, bi-monthly, and quarterly subscriptions. Their subscription has a 3-box minimum and can only be canceled after the third delivery. Or, you can get a one-month box to try out their service and become a member if you like it.
Some of the options they offer include:
Classic box
Complete box
Snack box
Charcuterie
Jerky options
Note: Many of these, such as jerky, snack box, and charcuterie, come in several options. Overall, Carnivore Club has many more box options compared to the ButcherBox.
---
Stand Out Features
Carnivore Club has a broader range of cured meats and meat products compared to ButcherBox.
Apart from high-quality meats, they also offer pantry and kitchen essentials.
As they focus on cured meats for charcuterie, you can get a charcuterie board and accompanying knife set on their website.
They also offer different kinds of knives, picked goods, and a spread pairing kit. The kit contains:
Hot Horseradish Mustard
Balsamic Sweet Onion Jam
Pickled Dilly Beans
Mild Pickled Okra
These will go well with premium cured meats.
ButcherBox doesn't offer any of these. They are only focused on their five subscription boxes.
Similar Comparison Guides:
ButcherBox vs Carnivore Club: What's the Best Option for You?
Both Carnivore Club and ButcherBox are among the best meat subscription boxes. The main difference between these meat subscriptions is in the kind of meat they offer.
My #1 option is ButcherBox meat subscription service. They are more transparent about how their meat is sourced. This company offers heritage pork, grass-fed beef, and free-range organic chicken, which are all healthy options.
Plus, you can opt for a customizable box that allows you to choose the high-quality meat you and your family prefer without running to the grocery stores.
To check out ButcherBox's offering, and get a delicious box of fresh quality beef, pork, and chicken delivered to your doorstep, go here.
#1 Meat Delivery Service
ButcherBox
Click For Best Price

Pros
Grass-fed and grass-finished beef delivered directly to your door
Without antibiotics or added hormones
Customizable boxes available
Select from up to 21 different cuts
Get the BEST PRICE until the end of May
Was this article helpful?