D'Artagnan and ButcherBox are two of the best meat delivery services in the United States.
Both brands offer grass-fed and grass-finished beef, but there are some distinct differences between the two.
We decided to do a three month, extensive taste test to see which company's meat was better.
After trying out their products, we found that one service edged out the other. This article will explain who was the winner and why.
ButcherBox vs D'Artagnan: Key Differences
The main difference between the two meat delivery services is that D'Artagnan offers a far wider variety of meats than ButcherBox.
You can get beef, chicken, or pork in your ButcherBox, but with D'Artagnan, you can order lamb, duck, rabbit, bison, venison, and far more in addition to the standard meats.
Additionally, ButcherBox is a monthly delivery subscription, while D'Artagnan meat delivery offers a la carte ordering.
ButcherBox has pre-packaged boxes with different types of meat like boneless pork chops or filet mignon, so you can easily choose what you want without having to pick through a variety of options.
Comparing Their Features Head to Head
1. Selection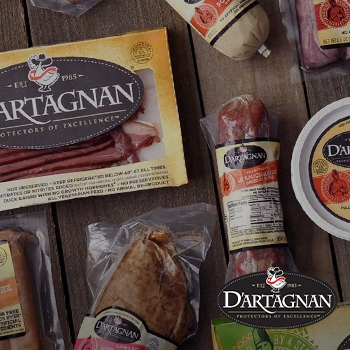 When it comes to variety, D'Artagnan is the clear winner. They have a much more comprehensive selection of meats than most other companies, including wild boar, pheasant, and venison.
They also have more uncommon options like foie gras, cured meats, squab and octopus.
This meat delivery service not only presents a wide variety of wagyu beef from around the world but also wild caught seafood that you won't find in your local grocery store.
They also sell items as simple as hot dogs or ground beef.
D'Artagnan will provide other meats such as wild-caught salmon, ground lamb gourmet burgers, flank steak, prime rib, pork belly, game meat, and just about any other type of meat and seafood a carnivore would want.
The focus of ButcherBox is more on traditional beef, pork, and chicken cuts, so they don't have as many options for those looking for something a little different.
They will get you a boneless, skinless chicken breast or other quality meats, but If you're looking for something that is not quite mainstream, D'Artagnan is the better option.
Both services offer gift baskets that come in a medium box. These come with a wide variety of choices - from D'Artagnan's charcuterie to ButcheBox's corned beef brisket.
---
2. Quality
The meat quality is very similar between these meat delivery services, but there are a few key differences.
D'Artagnan delivery service is known for supplying restaurants with their best meats, so you know that you're getting something of exceptional quality like USDA Prime beef or Kurobuta pork when you order from them.
Their wide variety of meats, including beef, pork, duck, quail, and rabbit, are antibiotic-free and raised without hormones.
They have pasture raised American wagyu beef and other fine meats available, but even their hot dogs and skirt steak are farm fresh, direct to your table.
ButcherBox, on the other hand, offers only grass-fed and grass-finished beef and free-range organic chicken, and humanely raised pork.
This makes their meat 100% free from antibiotics and growth hormones, providing high-quality beef.
---
3. Sourcing
Both meat delivery services are committed to providing quality ethically and humanely sourced meat.
ButcherBox's mail order meat is all free from hormones, antibiotics, and other growth-promoting chemicals [1]. They also work with farms that adhere to sustainable practices.
All their beef is humanely raised and they use only crate-free raised pork and pasture-raised chicken, beef, and pork.
D'Artagnan works with over 700 small family farmers, ranchers, and fishermen to bring their offerings to the table.
They are committed to the humane treatment of their animals and the sustainability of their products. Their meat is also antibiotic and hormone-free as well as raised as free-range.
---
4. Pricing
D'Artagnan offers such a wide variety of products, including meat, poultry, seafood, and charcuterie, that it is impossible to give specific pricing guidance in a simple article.
To provide some perspective, for a basic set of steaks, 10 lbs. of meat will run about $200.
ButcherBox also provides ethically and sustainably sourced meat, but their prices are more affordable than D'Artagnan. They are a meat subscription service that offers various meal kits.
The most basic all beef box subscription provides 8-11 lbs. of beef, and it starts at $137 per month.
ButcherBox also has a beef and pork box, beef and chicken box, mixed box, or custom box as choices for their subscription boxes. They also have a large box option with twice as much meat for $253 per month.
5. Packaging
D'Artagnan carefully removes your items from their refrigerated warehouse and packs them with reusable ice/gel packs into a special insulated box for shipping.
This ecologically sustainable box will keep the meat cold for up to 48 hours without using any electricity and ensure you have meat delivered fresh and ready to grill.
The ButcherBox meat delivery service also uses insulated boxing that is eco-friendly and recyclable.
This box will arrive at your door within the optimal temperature range, packed with ice packs or dry ice as needed.
---
6. Shipping
ButcherBox has a 100% free shipping policy on all its boxes. The company offers delivery service to the 48 contiguous states, and they will do their monthly delivery on a day that aligns with your schedule.
Their cuts of meat will arrive via mail order exactly when you want it - whether you requested the heritage pork or a box of just beef - any day of the week.
On the other hand, D'Artagnan bases shipping charges on the weight of your order, its destination, and the delivery date. Unlike ButcherBox, they deliver meat online to all 50 states and the District of Columbia.
The D'Artagnan customer can plan for a delivery date, or they can opt for next-day delivery with some limitations.
D'Artagnan will only deliver its meat offerings on Tuesday, Wednesday, Thursday, or Friday.
7. Cancellation
Since D'Artagnan is an a la carte meal delivery service company, there is no plan to cancel.
You simply order whenever you want, and that is the only time you will receive your beef, pork, lamb, game, etc.
Although ButcherBox is a subscription service, you are in total control. You can decide how often you want to receive your meat.
The default is once a month, but it can be more or less frequent as you desire. And of course, you can cancel your subscription without penalty.
---
8. Customer Service
Both D'Artagnan and ButcherBox offer excellent customer service.
I found positive comments about the companies' customer service departments when I researched, and my experience was outstanding with both companies.
They could answer every question I asked them about their products, delivery, and pricing - all while being pleasant and friendly.
D'Artagnan provides email and phone support in addition to an excellent Frequently Asked Questions section.
ButcherBox has similar customer service features as D'Artagnan, but they also have an online chat function for those who prefer that sort of support.
Related Comparisons:
ButcherBox vs D'Artagnan: Which Is Better?
Both D'Artagnan and ButcherBox offer high-quality meat, but we found ButcherBox to be the superior product. The wealth of options that D'Artagnan provides to consumers is great, but ButcherBox gives the customer more for their money.
For a follower of a carnivore diet, ButcherBox meat delivery service offers a great variety of meats, and it does so while delivering them straight to the door every month.
With their free delivery and flexible schedule, ButcherBox is able to keep delicious steak, pork chops, ground beef, and chicken breasts on your table at a very reasonable price.
Check out ButcherBox at this location.
#1 Meat Delivery Service
ButcherBox
Click For Best Price

Pros
Grass-fed and grass-finished beef delivered directly to your door
Without antibiotics or added hormones
Customizable boxes available
Select from up to 21 different cuts
Get the BEST PRICE until the end of September
Was this article helpful?