Greensbury and ButcherBox are two meat delivery services that focus on quality, sustainability, and organic meat. That being said, there are a few differences between both companies, especially when it comes to the price and menu.
We have reviewed Greensbury and ButcherBox through hours of research and our own experiences to determine which company comes out on top.
ButcherBox vs Greensbury: Key Differences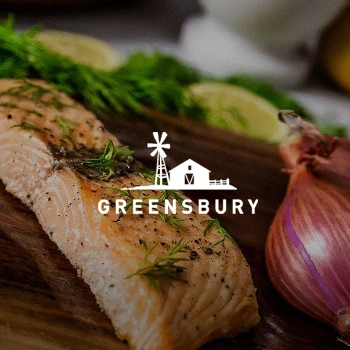 The main difference between these two meat delivery services is their system.
While ButcherBox offers only meat subscription boxes, Greensbury gives customers a choice between a la carte shopping or a monthly subscription.
All meat from both companies is grass-fed; however, while only the chicken from ButcherBox is organic, everything you see on the Greensbury website is USDA-certified organic.
Another difference between these meat delivery services is price. Greensbury works out to be slightly more expensive than ButcherBox.
For example, the chicken and beef box at Greensbury weights around 7lbs and costs $155, whereas the beef and chicken box at ButcherBox weighs 8 - 11lbs and costs $137.
Comparing Their Features Head to Head
After testing out these subscription boxes for ourselves and combing through each company's websites, here is a summary of the main features and how they hold up against one another.
1. Meat Selection
The meat selections from both ButcherBox and Greensbury are quite similar in size and the type of meat on offer. That being said, Greensbury does stock more lamb and bison compared to ButcherBox.
ButcherBox
The main focus of this subscription service is their grass-fed beef. Along with that, ButcherBox stocks heritage-breed pork, free-range organic chicken, and wild-caught seafood.
Every month, items in your chosen subscription box are subject to change, with some meats such as turkey being available depending on the season and others being all-year-round such as the ground beef.
The rotating schedule is good, as this means customers will not receive the exact same meats and cuts each month.
ButcherBox works only with subscription boxes; therefore, you won't have the option to shop individual cuts.
With the custom box, you will be able to select 6 - 12 cuts (depending on the size of your box) from 20 - 24 items. All other subscriptions are curated, so you will not have free menu choice.
While this meat subscription box service has a small inventory, we don't see this as a downfall.
A smaller inventory helps the company focus on quality rather than quantity, housing high-quality organic meats compared to the grocery store quality most are used to.
Items you will find at ButcherBox includes:
Wild-caught salmon
Thick cut bacon
Flank steak
Grass-fed ground beef
Pork tenderloin
Breakfast sausage
Ground pork
Whole chicken
Greensbury
Like ButcherBox, Greensbury stocks grass-fed beef, pastured pork, free-range chicken, and wild-caught seafood. They also have a selection of bison, lamb, and turkey.
Customers can either pick freely from the menu or sign up for a subscription box. However, these subscription boxes are not customizable, and they will always have the same cuts of meats included.
If customers like the idea of a meat bundle but would like to skip the monthly subscription, there is also an option to choose meat packs, which will give you a selection of meats at a better value.
There are around 54 items on the Greensbury website, which is slightly more than ButcherBox's 47.
Some items from this organic meat delivery service include: 
Chicken wings
Ribeye steak
Pork chops
Grass-fed bison
Sirloin steaks
Turkey bacon
Wild-caught black cod
---
2. Meat Quality and Sourcing
Both of these organic meat delivery services follow very similar practices regarding meat quality and sourcing. That being said, there are a few noticeable differences between the two.
ButcherBox
This delivery service only produces free-range, humanly raised, and sustainably practiced meat. They also add no antibiotics, hormones, or synthetics into their meat.
Grass-fed meat is not only better for the environment, but it also makes the meat healthier and more natural tasting.
Humanely raised beef: The pasture-raised beef from ButcherBox is mainly sourced from a family-owned farm in Australia. According to ButcherBox, Australia is known for its high animal welfare standards and pastureland, where the cattle can spend their entire lives grazing. Grass-finishing the beef makes it tender, tasty, and high-quality meat [1].
Organic chicken: The pasture-raised chicken from ButcherBox is USDA organic. All chickens have free outdoor access, an enriched environment, shade, and natural light. This, as well as being antibiotic-free, has gained ButcherBox grade 3 of the GAP (Global Animal Partnership) animal welfare grading [2].
Humanely raised pork: ButcherBox deals with a range of family-owned farms that raise heritage pork, from breeds such as Chester White, Berkshire, Duroc, and more. These pasture-raised meats contain very fine marbling due to the slow maturation process. They are also fed an all-vegetarian diet, excluding any milk proteins.
Sustainably sourced seafood: Fish from ButcherBox has either been caught fresh from seas around the US or sustainably sourced from small family-owned farms. They are given to artificial chemicals, making them as fresh and natural as possible.
"We care about the lives of animals. We're proud to partner with folks who raise animals and harvest seafood with safety, sustainability, natural tendencies, and comfort in mind."
- ButcherBox
ButcherBox is very transparent when it comes to sourcing and sustainable practices. They do not list any specific names on their website, but it is clear they consider all factors in creating quality meat that is fair to both the customers and animals [3].
Greensbury
Greensbury is an organic meat delivery service that focuses most of its efforts on pasture-raised and organic meats. Like ButcherBox, all meats are antibiotic and hormone-free, fed a natural diet, and humanly raised.
Organic grass-fed beef: Greensbury works with family farms around South Dakota, Nebraska, and North Dakota to produce fresh, high-quality meats that are fed a balanced and organic diet of grass, hay, alfalfa, and flax. All beef is hand-selected by the butcher, trimmed, and flash-frozen.
Free-range poultry: The chicken, turkey, and duck from Greensbury are all free-range, steroid, and antibiotic-free. They are sourced from family farms in New York, Virginia, and Eastern Pennsylvania, where they are fed an all-vegetarian GMO-free diet full of vitamins and minerals [4].
Pork and lamb: This meat delivery service partners with farms around Wisconsin and Penstlvina to produce organic and ABF (antibiotic-free) pork. They are fed an all-vegetarian diet and are free to roam. The lamb is from farms in Colorado and the Midwest, pasture-raised and grass-fed. However, Greensbury does say the lambs are fed a grain diet "as needed."
Bison: Greensbury sources their bison from farms in Colorado, where they are grass-fed and pasture-raised. According to Greensbury, their Bison is tender, fresh, and quality meat [5].
Wild seafood: All seafood is wild-caught and sustainably sourced from local fisheries around the US. The salmon is sourced from Alaska, while the shellfish comes from the Florida Keys and Maine fisheries.
A great aspect of Greensbury is that a portion of every seafood sale will go to Cleanhub, a project that collects plastic and repurposes it before it goes into the ocean. This shows they are focused on sustainability and environmental issues.
---
3. Delivery and Packaging
While shipping for ButcherBox is entirely free, Greensbury charges depending on how far you live from the shipment center and how much you order.
ButcherBox
ButcherBox doesn't charge for shipping, no matter how little or much you spend. They currently ship their meat subscription boxes to all 48 states, excluding Hawaii, Alaska, and Canada.
When ordering with ButcherBox, you will not be able to select a specific time or day for your order.
Instead, you will be given a tracking number that allows you to track when your order is shipped and when it is expected to arrive. Typically, your order will arrive 1 - 5 days after shipping.
The good thing about ButcherBox is you don't have to be home to collect your order. The meat delivered comes inside an insulated box with plenty of dry ice, and this dry ice should keep your order cool or frozen for up to eight hours after delivery. 
The meat will either come frozen or cool, depending on what is ordered. All cuts are packaged inside vacuum-sealed bags to keep everything fresh.
ButcherBox uses 100% environmentally friendly packaging, meaning everything is recyclable and sustainably sourced.
Greensbury
Greensbury charges shipping according to zones. Customers located in the 1-3 day ground shipping zones will be charged $9.95 for orders over $100 and $19.95 for orders under.
Those located on the west side of the US will be in the three-day air zone, which costs $39.95 for orders under $100, $29.95 for orders $100 - $199, and $9.95 for orders over $200.
Two-day air shipping is also available, ranging from $29.95 - $49.95 depending on the location.
"We oversee the entire process from the farm to your door to ensure the integrity of our products. We utilize rollstock packaging, state of the art technology, and flash freezing to keep meat fresh and lock in nutrients."
- Greensbury
Just like ButcherBox, you can't select a specific time or date for your delivery to arrive. However, all orders are expected to arrive within three days, and Greensbury does have a minimum order spend of $50.
All orders are packaged inside recyclable cardboard boxes lined with recyclable insulation. They also come with enough dry ice to ensure your products stay frozen during delivery and a few hours later.
Greensbury currently ships to all states around the US, excluding Hawaii and Alaska.
---
4. Boxes and Prices
Since Greensbury sells both a la carte items and subscription boxes, it can be challenging to compare the two companies. For this reason, we will only be listing subscription boxes available on the Greensbury website.
ButcherBox
With this meat subscription service, you will choose between five boxes. Customers can only buy meat available within that specific month.
All of the boxes follow the same pricing. For the classic box, you will receive 8 - 11lbs of meat for $137, and in the big box, you will receive 16 - 22lbs for $253.
The custom option is slightly more expensive at $159 for the smaller and $288 for the larger, but you do receive more meat.
This meat subscription box can be ordered every four, six, or eight weeks.
Custom: This box allows free choice from grass-fed beef, humanely raised pork, certified organic chicken, and wild-caught fish.
Depending on the size of your box, you can choose 6 or 12 different cuts.
Mixed: The mixed box is very similar to the custom, the only difference being it is curated for you. Therefore, you will not be able to choose which meat or cuts you receive. The meat is subject to change each month.
Two Meats: Customers can choose between beef and chicken box or beef and pork box. Like the mixed box, cuts are chosen for you and may change each month.
All Beef Box: If you would prefer to receive only beef, you can choose this curated beef box.
Greensbury
Like ButcherBox, customers can choose from five subscription boxes, which can be delivered every four, six, or eight weeks. Greensbury says these subscriptions can save customers 5% off the a la carte menu.
Beef & Chicken: This box contains 15-20 servings of certified organic meat such as sirloin steaks, skirt steaks, chicken breasts & thighs - $155
Family Favorites: This family staples pack contains breakfast, lunch, and dinner cuts. It yields 15-20 servings of bacon, chicken breast, ground beef, salmon, and ribeye steaks - $172
Lean Proteins: With this box, customers receive 20-25 servings of chicken breasts, pork chops, wild cod, and ground turkey - $172
Beef Lovers: This meat box contains only beef. Customers will receive 15-20 servings of filet mignon, ground beef, NY strip steak, and flank steak - $194
Bunny's Buddies Dog Lovers Bundle: This box is unlike any we have seen from any organic meat delivery services. Greensbury has partnered with a non-profit dog organization to rescue and rehome dogs from Asia in the US. This box includes 32 one-cup servings of dog food in the form of ground beef, organic beef bones, and beef bone broth - $124
Related Articles:
ButcherBox vs Greensbury: Our Winner
Both of these companies produce high-quality meat with animal welfare, sustainability, and quality in mind. That being said, we do believe ButcherBox has a slight edge due to its affordability.
ButcherBox service sells meat that has been grass-fed, pasture-raised, and of very high quality. They focus a lot of their efforts on sourcing their meat, which in turn produces a healthier, organic, and hormone-free result.
#1 Meat Delivery Service
ButcherBox
Click For Best Price

Pros
Grass-fed and grass-finished beef delivered directly to your door
Without antibiotics or added hormones
Customizable boxes available
Select from up to 21 different cuts
Get the BEST PRICE until the end of September
Was this article helpful?