Both ButcherBox and Heritage Foods are two meat delivery services that specialize in hormone-free, pasture-raised, and humanely-raised meat.
However, there are a few differences between the two, especially regarding menu and price.
We reviewed both meat delivery companies to find out which gives better value for money and compare their sourcing, packaging, delivery, and other features.
ButcherBox vs Heritage Foods: Key Differences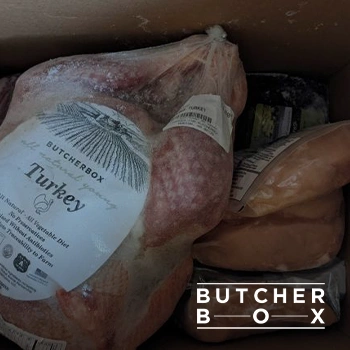 The biggest difference between the two meat delivery services is the menu.
While ButcherBox specializes in beef, pork, chicken, and seafood, Heritage Foods also sells turkey, lamb, mutton, goat, cured meats, and meal kits. However, they do not have any seafood.
Another difference between the two companies is their system. While ButcherBox is an exclusive subscription service, Heritage Foods lets customers shop a la carte with no minimum order.
Like ButcherBox, they do have packages and collections, but the contents don't change monthly, and you can always view what is going into the box.
These two companies also have a difference in price per pound. For example, the customizable box from ButcherBox weighs 9-14lbs and costs $156, and a package containing similar cuts on Heritage Foods costs $150 for 4.5lbs.
Comparing Their Features Head to Head
After testing these meat delivery services, we reviewed both of their services to see how they compare to one another.
1. Meat Options
While Heritage Foods doesn't stock seafood, unlike ButcherBox, their menu is extensive, featuring some harder-to-find cuts and meats.
ButcherBox
This online butcher shop stocks humanely raised beef, free-range organic chicken, sustainably sourced seafood, heritage pork, and grass-finished beef.
Depending on the availability and season, you may also find some organic meat items such as turkey, hot dogs, and more.
Other items, such as their grass-fed ground beef, will be available all year-round.
Since ButcherBox is a subscription service, its items are subject to change each month. This is good because customers won't receive the same items each month, especially if they choose the curated boxes.
Customers can choose a custom box, select six cuts from 20 - 24 options, or a curated box where all items are selected for you.
ButcherBox has a relatively small inventory which is what we like about them.
Other meat delivery services tend to stock too many types of meat, making it harder to keep track of quality and sustainability.
A smaller inventory means the website is easier to navigate, and the meat quality is usually better.
Items you may find at ButcherBox include:
Boneless pork chops
Whole chicken
Ribeye steaks
Boneless skinless chicken breasts
New York strip steak
Ground beef
Beef burgers
Ground turkey
Sea scallops
Uncured hot dogs
Heritage Foods
Similar to ButcherBox, Heritage Foods meat delivery stock pork, beef, and chicken that have been pasture-raised and grass-fed.
Along with this, they specialize in 100% heritage-breed pigs, turkeys, lamb, chickens, ducks, guineas, and geese.
All items are readily available on the website, making it convenient for customers to browse different cuts and meat types.
Most of the items on their menu are available for individual purchase; however, they do have a few collection packages and monthly subscriptions.
Heritage Foods have a relatively large inventory, featuring unique cuts such as pork cheek and pork jowl, that you will struggle to find in your average grocery store.
Even though they have many items, their website is well organized and convenient when shopping.
Some items you can find at Heritage Foods include:
Pork tenderloin

Dry-aged beef

Leg of lamb

Spicy sausage

Ground turkey

Wagu burgers

Ground bison

Denver steak

Boneless pork chops
---
2. Meat Quality and Sourcing
Both companies follow very similar sourcing practices for their meat, ensuring everything is humanely raised without any antibiotics or steroids.
While both companies are very transparent with this sourcing, Heritage Foods lists individual farms they work with.
ButcherBox
ButcherBox is well-known for its pasture-raised meat and grass-fed beef. Their goal is to produce premium meat that hits all the animal welfare regulations and fair labor practices while being environmentally friendly [1].
All ButcherBox meat and seafood has no added hormones and is antibiotic and synthetic-free.
All chickens, pigs, and cows are also raised on the pasture and fed an all-natural diet. This is great as it makes the meat healthier, containing no artificial flavors.
Humanely raised beef: ButcherBox sources beef from local farms inside the US and family farms in Australia. According to ButcherBox, Australia "has very high animal welfare standards as well as the climate and pastureland to allow cattle to spend their entire lives grazing." All cattle are fed a natural grass diet, producing tender, healthier, and tasty meat [2].
Free-range pork: All pork is raised in pastures and fed an all-vegetarian diet (excluding milk proteins). ButcherBox also has a range of heritage-raised pork, including Berkshire, Duroc, Chester White, and more. Heritage breed pork is known for having fine marbling due to the slow maturation process [3].
Pasture-raised chicken: All chickens are free to roam in an enriched environment with plenty of natural light and outdoor shade. This, including their natural diet, gets ButcherBox the highest rating from the Global Animal Partnership (GAP), which deals in animal welfare. They are also USDA-certified organic.
Sustainably sourced seafood: ButcherBox works with a series of local farms around the US to get wild-caught seafood directly from the waters in the North Atlantic and more. The fish are found in their natural habitat, sustainably sourced, and free from any artificial chemicals.
ButcherBox doesn't list any of the farms they work with by the name, but they do openly offer any information about their locally sourced meat and what goes into it.
Heritage Foods
Heritage Foods is home to a large amount of heritage-raised animals, including turkey, chicken, duck, goose, pork, and lamb.
They work with small local farmers who humanely raise quality meat with no added hormones or antibiotics throughout the US.
"Each breed comes from a unique culinary tradition, with its own pure genetic line, and boasts a different, nuanced flavor."
- Heritage Foods
According to Heritage Foods, they were founded to preserve endangered livestock species from extinction.
According to Heritage Foods, "Heritage meats are juicy and tender from their marbling and boast a profound taste and depth of flavor that has not been squashed by a corporate culture that only cares about rapid production" [4].
Poultry: All of the poultry, including heritage turkey, heritage chicken, heritage duck, and heritage goose, comes from the Good Shepherd Poultry Ranch in Kansas. All of the birds are raised outdoors and conform to the standards met by the American Poultry Association. According to Heritage Foods, they bring a character flavor and juiciness that can not be matched.
Pork: Heritage Foods sources their pork from eight different farms in the US. All provide hogs raised outdoors, antibiotic-free, and using traditional farming methods. On heritage breed they provide is Berkshire, which is known for its thick and delicious fat cap.
Lamb: The lamb is sourced from two family-owned farms in the US that raise their sheep in pastures. This allows them to have a grass-fed and natural diet.
Beef: Heritage Foods sources their beef from two farms, one of which specializes in Akaushi beef. This grass-fed beef is 100% pure descendants of the Japanese Akaushi and is protected by Japan's government. This beef is known for its buttery, rich, and juicy flavors [5].
Heritage Foods also stocks goat and abattoir, which are also raised on the pasture.
Unlike ButcherBox, this meat delivery company doesn't have much information on what their animals are being fed, but more on the small farms themselves.
Pork tenderloin
Dry-aged beef
Leg of lamb
Spicy sausage
Ground turkey
Wagu burgers
Ground bison
Denver steak
Boneless pork chops
---
3. Delivery and Packaging
Unlike other delivery companies, ButcherBox offers free delivery no matter what you order. However, Heritage Foods charges depending on the price of your order.
ButcherBox
When shopping with ButcherBox, you will not have the option to choose specific dates or times when your delivery arrives. You will, however, be given a tracking number that allows you to prepare for the arrival of your box.
Since all items will be delivered frozen or chilled, you must collect your box within the recommended time frame.
You don't have the be home when your box is delivered, but it should be fine on your doorstep for up to eight hours, depending on the environment.
"Sustainability is important to us, and we work hard to minimize waste. After many rounds of research and development, we've created a new box that is 100% recyclable and made from recycled materials."
- ButcherBox
All orders are shipped with ice packs to keep your meat frozen or chilled after it has left the warehouse.
These ice packs are 100% recyclable, as is all the packaging ButcherBox used. The box, insulation, and vacuumed-sealed bags designed to keep the meat fresh can be recycled using your usual practices.
This meat delivery company currently ships to all 48 states, excluding Alaska, Canada, and Hawaii. Orders typically arrive four to five days after ordering.
Heritage Foods
Orders with Heritage Foods are shipped Monday to Thursday. This meat delivery service does allow you to add a note to say when you would like your delivery to arrive. Otherwise, they will ship on the next available day.
Unless noted otherwise, all orders will come frozen and shipped with frozen gel packs inside insulated containers to keep everything frozen and cool. Heritage Foods have little information on their packaging and sustainability practices.
Here are the shipping costs for Heritage Foods:
$1 – $99 = $28 shipping
$100 – $199 = $36 shipping
$200 – $399 = $46 shipping
$399 and over = $46 shipping
Overnight shipping is an additional $25.
This meat delivery service currently ships to all states, including Alaska and Hawaii.
---
4. Boxes and Prices
While ButcherBox only offers subscription boxes, Heritage Foods have a selection of services such as a la carte shopping, packages, and monthly subscriptions.
To get a better idea of the price comparison, we will only be looking at packages and subscriptions from Heritage Foods.
ButcherBox
This meat delivery service offers five subscription boxes, one of which is customizable.
All the boxes are priced at $137 for the classic option, which will get you around 8 - 11 pounds of meat, and $253 for the big box, which weighs around 16 - 22lbs.
The customizable box gets you more meat and costs $159 or $288.
Your subscription can be set to every four, six, or eight weeks.
Custom Box: This box allows you to choose which cuts you want to receive. This includes grass-fed beef, chicken, heritage-breed pork, and seafood. Customers can choose six cuts of meat.
Mixed Box: This is similar to the custom option, but everything is curated instead of customers choosing the cuts. This box includes cuts such as Omaha Steaks and chicken breast.
Two Meat Boxes: Customers can either choose the beef and chicken box or the pork and beef. Both boxes are curated with 100% grass-fed and pasture-raised meat.
All Beef: If you prefer to have only beef in your box, you can choose this all-beef box containing items such as Omaha Steaks or ButcherBox bacon.
Heritage Foods
Heritage Foods have quite an extensive catalog, and they offer quite a few different monthly subscriptions and bundles, all at different prices and sizes.
Bacon of the month (subscription): includes three packs of heritage breed bacon weighing around 3lbs each - $59
Steak of the month (subscription): A variety of steaks each month for 3 - 6 people - $145
Quarter hog share: 40lbs of heritage pork, including cuts such as ground pork, pork chops, shoulder steaks, and spare ribs - $420
Porterhouse pack: Contains a 5.5lb mix of lamb, beef, and pork, including steaks and chops - $209
Akaushi flank steak fajita dinner kit: Includes steak, shishito peppers, trumpet mushrooms, blue corn tortillas, spices, and salsa. This dinner kit is enough to feed four people - $99
Orders over $399 receive a free $40 gift certificate, and all items are 100% customer satisfaction guaranteed.
---
Stand out Features
We would like to highlight Heritage Foods' loyalty program, something we have yet to see from any meat delivery service.
Customers who frequently order from Heritage Foods can enjoy benefits such as:
Every 5th order, customers automatically receive two free Country-Rib Pork Loin Roasts, 4lb total ($75 value).
Starting with your 6th order, a free gift from a sustainable business in their community such as chocolate or honey will be automatically included with every order placed.
Starting with your 25th order, you will gain Rare Breed Membership. This will gain access to exclusive, very rare offers not available on their site.
A $250 Gift Certificate will be included with every 25th order.
Related Articles:
ButcherBox vs Heritage Foods: Our Winner
Both meat delivery companies offer quality meat that follows sustainable and humane practices. However, we do believe ButcherBox has the edge over Heritage Food because of its price.
Heritage Foods is quite expensive, whereas ButcherBox is affordable when you consider how much meat and quality you get for your money.
We also like that their subscription boxes contain multiple types of meat and more options. ButcherBox is also more transparent when stating what does and doesn't go into their meat.
You can read our ButcherBox meal delivery review here.
#1 Meat Delivery Service
ButcherBox
Click For Best Price

Pros
Grass-fed and grass-finished beef delivered directly to your door
Without antibiotics or added hormones
Customizable boxes available
Select from up to 21 different cuts
Get the BEST PRICE until the end of May
Was this article helpful?