Love a good burger, but following a strict Ketogenic diet? The good news is that eating keto doesn't mean you have to say goodbye to all your favorite foods.
Better yet, making low-carb burgers at home is very straightforward; you just have to have an awesome recipe on hand.
After countless searches to find the perfect keto burger recipe, I decided to make my own.
This bunless beauty was enough to satisfy all my burger cravings (while still being low carb), and I'm sure you'll enjoy it too.
Quick Summary
The keto burgers recipe is a low-carb dish that uses organic ground beef to form thin, large patties, seasoned with salt and pepper.
The burgers are cooked on a medium-high heat grill, then assembled with a homemade sauce, caramelized onions, and a lettuce bun.
The dish is customizable, allowing for the addition of toppings like cheese, and it can be prepared in just 20 minutes.
Recipe Overview
Prep Time: 10 minutes
Cook Time: 10 minutes
Total Time: 20 minutes
Number of Servings: 5
Ways to Serve Your Keto Burgers
I like to cook my burgers until medium-rare, so I always try to hit the 135 - 140 degree F mark before removing the patty from the grill [1].
Let the burger rest for 5 minutes before constructing and eating your burgers, as this will let the juices redistribute instead of leaking out as you eat.
My keto burgers are served with lettuce buns, topped with my homemade sauce, tomatoes, onions, avocado, and dill pickle.
Feel free to customize the veggies based on your preferences; you can even add some unprocessed American cheese.
Related Articles: 
Ingredients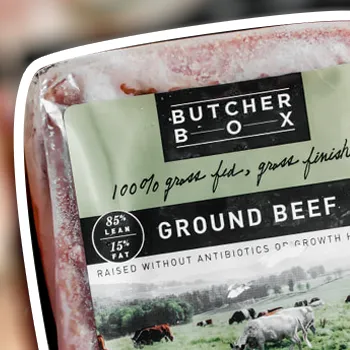 For the Burgers:
1 ¼ LB of Organic Ground Beef (ButcherBox is my go-to meat)
Salt and Pepper (optional)
Olive Oil
For the Serving:
1 Red Onion Sliced Into Rings
1 Sliced Tomato
2 Dill Pickles Sliced Into Rounds
1 Head Iceberg Lettuce
Unprocessed American Cheese (optional)
For the Sauce:
1 Teaspoon of Yellow Mustard
¼ Teaspoon of Garlic Powder
¼ Teaspoon of Onion Powder
1 Tablespoon of Distilled White Vinegar
2 Tablespoons of Tomato Paste
2/4 Cups of Mayo
1 Pickle, Finely Diced
Instructions
Begin by putting all of the ingredients for the sauce into a small bowl, mixing well with a whisk. Cover and place in the refrigerator. 

Take your ground beef and form it into burger patties. These should be around ¼ inches thick; we want them to be thin and large as they shrink when cooking. 1 and ¼ pounds of beef should make around 5 of these burger patties. Season with salt and pepper on both sides, and place the hamburger meat to the side.

Preheat the grill to medium and add 1 tablespoon of oil. Add the sliced onions, occasionally stirring until cooked. They should take around 15 minutes to caramelize and turn brown, about the same time it'll take you to form the burger patty. If they finish cooking before the burgers are ready, simmer on low. Remove the caramelized onions and set them aside. 

Prepare your chosen toppings. For the burger bun, take the iceberg lettuce and cut the head into fifths. Cut the stem off each slice of lettuce, and take the outer piece of the lettuce to form the top and bottom of the bun.

Preheat the grill to medium-high heat and add a tablespoon of oil. Cook the ground beef burger patty for 3-4 minutes on each side or to your desired doneness.

Assemble the burgers to your liking, using the sauce over the top of the burger. Add a slice of cheese and some onions, topped off with a slice of lettuce. Make one burger per serving and enjoy.
Other Recipes You Must Try:
Recipe Notes
In this keto burger recipe, I opted to use a bun made from lettuce as opposed to the traditional bread. If you're looking for a more classic burger, you may be able to find delicious recipes for keto burger buns or some low-fat, gluten-free bread for a low-carb burger.

Nutrition information depends on the ingredients you use, whether they are sugar-free ketchup instead of full-fat etc. Please make your own calculations based on your specific ingredients and recipe measurements.
Nutrition Facts
Calories: 360
Total Carbs: 9g
Protein: 13.2g
Fat: 32g
Fiber: 2g
Net Carbs: 8g
FAQs
What Is the Best Meat for a Burger?
The best meat for a burger is ground chuck, ideally 80% lean meat and 20% fat. If you can find grass-fed beef, like the one over at ButcherBox, even better.
An 80/20 ratio is great for keto burger recipes as it is super flavorful and juicy.
Do Bunless Burgers Contain Less Fat?
Bunless burgers contain less fat (120 calories less on average), so a regular burger will have more fat than a recipe using lettuce [2]. Some burger buns, especially those with sesame seeds, will contain extra fat.
Low Carb Keto Burger Recipe - Absolutely Delicious
This bunless burger recipe is perfect for any low-carb diet, piled high with lots of fresh veggies and a delicious sauce, all wrapped up snug inside crispy iceberg lettuce.
This recipe is completely customizable; swap out veggies, add some cheese and cooked bacon and switch up the sauce - whichever way you go about it, the mouth-watering burger patty will tie all the flavors together.
---
References:
https://www.thepioneerwoman.com/food-cooking/cooking-tips-tutorials/a36720279/internal-temperature-for-burgers/
https://www.livestrong.com/article/547242-can-you-lose-weight-just-eating-hamburgers-and-not-the-bun/
Was this article helpful?