This filet mignon with garlic herb butter makes the perfect steak dinner: moist, tender, and juicy meat, topped off with incredibly flavorful garlic butter.
This beef tenderloin starts its journey on a cast iron skillet, finished in the oven to create an easy and delicious meal.
I've spent quite a few years cooking and consuming filet mignon steaks, but nothing quite compares to this epic recipe.
It is also gluten-free, sugar-free, and grain-free, making it an easy Keto recipe.
Quick Summary
Keto filet mignon with herb butter is a dish that pairs a tender filet mignon with a flavorful garlic herb butter.
The process involves seasoning and grilling the steak, then topping it with a homemade garlic herb butter.
The dish is gluten-free, sugar-free, and grain-free, making it suitable for a keto diet, and can be prepared in less than 20 minutes.
Recipe Overview
Prep Time: 5 minutes 
Cook Time: 10 minutes
Total Time: 15 minutes 
Number of Servings: 4
What is Filet Mignon?
Filet Mignon is a cut of meat that comes from the cow's tenderloin found inside the ribcage.
Also referred to as the short lion, this cut is incredibly tender (especially grass-fed beef) since the muscle is not weight-bearing.
It generally has a milder taste than most cuts, complemented by a sauce or wrapped with bacon.
You will usually find filet mignon measuring 1 - 2 inches thick and 2 - 3 inches wide, but true steaks will have no more than a 1" diameter.
The steaks are naturally rounded as they come from the tapered end of the muscle.
The fat is typically trimmed away to make the cut even more tender; however, if left, the fat produces a bit more flavor.
Related Articles:
Tips for Perfect Keto Filet Mignon
The secret to any filet mignon recipe is a good-quality steak. It doesn't matter how you cook filet mignon; if it's a bad cut, then nothing can rescue that.
That's why I recommend getting your 100% grass-fed filet mignon from a reputable butcher, such as ButcherBox.
I've been using this company for quite a few years now, and I've yet to have any complaints. I wrote an in-depth review of ButcherBox's meat delivery services, so I recommend reading it to find out more by visiting the homepage.
Another tip for the perfect filet mignon is to let the steak sit on the counter 30 minutes to an hour before cooking.
This will bring the beef tenderloin to room temperature, allowing for an even cook.
Cooking Filet Mignon in a Cast Iron Skillet
The best filet mignon recipe will use a cast iron skillet to get that delicious, crunchy brown crust.
You want to heat your pan over medium heat and pan sear filet mignon for 2 minutes on each side.
The beef tenderloin will finish cooking in the oven, so we just want to get a good sear.
Cooking Medium Rare Keto Filet Mignon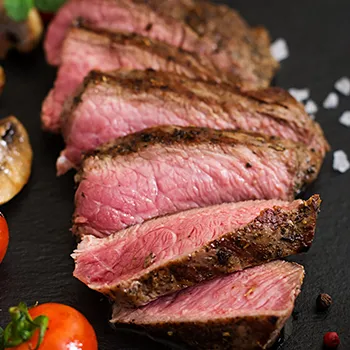 I prefer to eat my steak medium-rare, and a nice steakhouse would recommend this to you too.
Of course, it is your choice when it comes to your desired doneness, but grass-fed steaks have the most delicious taste this way.
The steak I use in this recipe is from ButcherBox, which measures around 1" thick.
This thickness will take around 2 minutes per side to reach a perfect steak.
If you're using a different beef tenderloin, then it is better to go off your steak's internal temperature, which is around 120ºF for medium-rare steak.
The internal heat temperature will rise when you let the steak rest [1].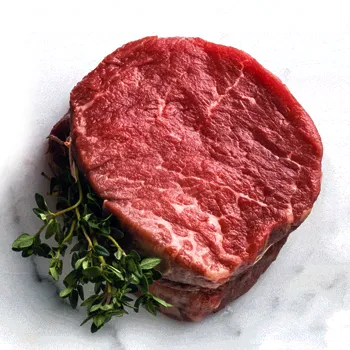 Ingredients:
For the Filet Mignon
2 6-Oz Filet Mignon
2 Teaspoons of Kosher Salt
1 Teaspoon of Pepper
2 Teaspoons of Avocado Oil
For the Garlic Herb Butter
3 Tablespoons of Grass-Fed Butter (softened and divided)
1 Glove of Garlic (minced)
4 Teaspoons of Finely Chopped Herbs (fresh rosemary, parsley, and thyme)
⅕ Teaspoon of Kosher Salt
Instructions
Remove your steak cuts from the fridge 30 minutes before cooking to bring them to room temperature. 

Mix together the butter, garlic, salt (if using plain butter), and herbs in a small bowl to make the garlic butter. Form into a log and place in the fridge.

Preheat the oven to 400ºF.

Pat dry the mignon with a paper towel and season with salt and pepper.

Preheat your cast-iron skillet over medium-high heat until scorching hot. Add the avocado oil (or butter) to the pan. 

Place the steaks into the skillet and sear on both sides for 2 minutes. Do not move the steaks around while cooking, or you will disrupt the sear. 

Remove the meat from the pan and place it into an oven-safe skillet. Place it into the preheated oven and cook for 6 minutes to achieve medium-rare. Let the steaks rest for 5 - 8 minutes. 

Top the steaks with 1 ½ tablespoon of herb butter, cut, and serve.
Recipe Notes
If you don't like garlic, you can skip adding it to the herb butter, and it's just as tasty without.
Cook the steaks in the oven for:
5 minutes - Rare
7 minutes - Medium 
8 minutes - Well done 
When you let the meat rest, it will rise by another 5ºF.
Nutrition Facts
Calories: 530
Total Carbs: 1.3g
Protein: 32g
Fat: 43.5g
Fiber: 0.4g
Net Carbs: 1g
FAQs
Is Filet Mignon a Tender Cut?
Filet mignon is a super-tender cut because it comes from the tenderloin. It cooks best when seared in a hot pan and finished in the oven.
What Side Dishes Go Well With Filet Mignon?
Mashed potatoes, oven-roasted asparagus, parmesan roasted broccoli, and a lemon side salad go well with filet mignon.
Easy Filet Mignon Recipe - Quick and Delicious
This is the only filet mignon recipe you'll ever need: tender, mouthwatering beef topped with creamy garlic butter, made in less than 20 minutes.
The entire recipe is gluten-free, sugar-free, grain-free, and all-around clean eating.
The preparation takes little effort, yet the reward is a gorgeous sauce for an even more magnificent steak dinner.
For those in search of quality filet mignon, ButcherBox is a notable consideration. They bring high-grade cuts right to your kitchen, providing a solid foundation for your steak dinner.
---
References:
https://blog.thermoworks.com/beef/give-your-meat-a-rest/
Was this article helpful?