Like many people, you're probably tired of overcooking your meat because you don't know when it's done. Or maybe you've tried using a wireless meat thermometer before, but they just never worked for you.
When you are looking for a new meat thermometer, there are many different models to choose from. But, as a competitive pitmaster for more than six years, I can tell you that ThermoPro makes some of the best and most reliable meat thermometers on the market.
Let's take a closer look at the ThermoPro TP20 vs. ThermoPro TP08 comparison.
ThermoPro Similarities
As you might imagine, since the same company makes these thermometers, they have some things in common.
Range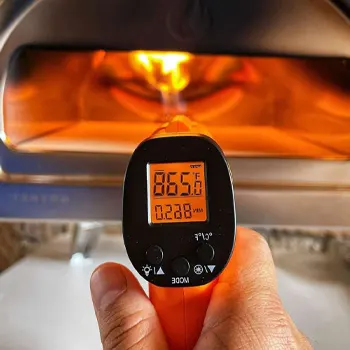 Both the TP20 and TP08 have an excellent wireless transmission range of up to 300 feet so that you can monitor your food's temperature from anywhere in the house.
Many other thermometers use Bluetooth and will only transmit as far as 100 feet. When it comes to the radio frequency signal, the ThermoPro smoker thermometers are ahead of the game.
The great range means that you can keep track of your cooking from the kitchen, living room, or bedroom.
There's no need to spend time hovering over the grill or repeatedly letting heat out of the oven to check the temperature.
This is an extremely useful feature as you don't have to be tied to one spot all day long.
Both ThermoPro TP20 vs TP08 meat thermometer models also transmit wirelessly with two food probes at a time, and you can track the ambient temperature of both the meat and the oven or smoker at the same time.
Easy Setup
These thermometers are also very easy to set up. Simply place the batteries in your device and get going.
There is no need to go through a long synchronization process or anything of the like - the TP20 and TP08 are ready to go as soon as you bring them home. Both the transmitter unit and the receiver work right out of the box.
Timers
Both ThermoPro TP20 vs TP08 meat thermometers models have a convenient timer mode, which means that you can easily keep track of your food's cooking time.
You don't have to worry about constantly monitoring the temperature or checking a clock every few minutes - just set it and forget it until the audible temperature alarm goes off.
You have the choice of a count-up or count-down timer function on both, so you can operate the timer in either direction
Accuracy And Temperature
The ThermoPro line of meat thermometers has a great temperature accuracy - plus or minus 1.8 degrees Fahrenheit at all food probe temperatures from freezing to boiling.
This accurate reading exists whether the food probe has been in your meat for the entire cooking process or if you are using it as an instant-read digital thermometer.
The probes are rated to accurately measure all cooking temperatures from 32 degrees to a max temp of 572 degrees Fahrenheit (0 degrees Celsius to 300 degrees Celsius), which means that you don't need different probes for various foods.
Using a food thermometer is the only reliable way to ensure safety and to determine desired "doneness" of meat, poultry, and egg products.
- U.S. Department of Agriculture
The food probe cables and probes themselves have a maximum temperature limit of 716 degrees Fahrenheit (380 degrees Celsius), so they will withstand temperatures of even the most intense cooking methods or environments with no issues whatsoever.
Display
Both of these thermometers have a backlit LCD display, which makes it easy to read the temperature even in low-light conditions [1].
This is particularly handy when you are checking the status of your food outdoors at night.
These wireless remote digital thermometers have large up and down buttons to set the desired temp.
Uses
Both thermometers perform well in the oven, on the grill, or in the smoker. They can measure the temperature of meat and other food items in different environments with ease.
Each model can function great for cooking meat, as an oven thermometer or a good thermometer for any food.
The TP20 and TP08 come with both high-temperature alarms and low-temperature alarms, meaning they can keep your meat temperatures in the perfect temperature range while cooking.
Warranty and Guarantee
These two thermometers have a 30-day, money-back, no-questions guarantee, so you are protected from any purchase risks.
If the ThermoPro TP20 or TP08 thermometer doesn't live up to your needs for some reason, whether it's the low-temperature alarms or other issues, just return it and get a full refund of the product price, including shipping costs, without having to give an explanation. You have nothing to lose!
Further, these instruments come with a 3-year warranty against defects in low-temperature alarms and other component workmanship and materials.
All About The ThermoPro TP20
The ThermoPro TP20 is one of the most impressive meat thermometers on the market. It is a versatile device that can measure the temperature of food items in any environment - inside a frying pan, on an oven rack, or even over an open fire.
Probes
The TP20 meat thermometer comes with two identical probes, but the dual probe design is not just to provide a spare probe.
Rather, the meat probe allows you to track two different slices of meat at the same time, monitor both thin and thick areas of a cut simultaneously, or monitor the meat temperature and oven or smoker together.
These two probes are fabricated out of stainless steel. They're 6" in length and include a sharp point for penetrating the center of the meat. A handle covers 2 inches on one side, providing ample control for cooking during use.
Presets
The TP20 has USDA-approved presets for nine different types of meat [2]. For example, pork, poultry, ground meats, beef, and fish all have their own preset temperature settings.
Additionally, you have the option to program for the 'taste' of your meat. From rare to well done, ThermoPro TP20 has five different doneness settings pre-programmed for you.
Of course, you can always set your own temperatures, but the meat preset temperatures make outdoor cooking and smoking meat simpler.
Display
The TP20 has a large, backlit LCD display that makes it easy to read from any distance. The digital numbers are large and clear, even in low light conditions.
This display is approximately 50% larger than the one on the TP08 thermometer, making it easier to see and read the information.
Further, the display flashes when the timer counts down to zero. Of course, there is an audible high-temperature alarms and low-temperature alarms as well, but the flashing can help if you are in a loud location as the alarm is not always powerful enough to cut through the noise.
Price
The extra features of the TP20 thermometer come at a premium compared to the TP08. You can expect to pay a bit more for the higher-end model, but given the added benefits, it is reasonable.
Pros
Dual probes
Large LCD display
USDA presets for various types of food
Flashing display when count-down alarms
Cons
More expensive than the TP08
All About The ThermoPro TP 08
The ThermoPro TP08 is a simpler thermometer, but this simplicity does not make it any less capable of providing accurate temperature readings.
Indeed, this thermometer can be used as an oven or probe thermometer and for just about any type of food that you may want to measure the temperature of.
Probes
Though still a dual probe thermometer, the probes of the ThermoPro TP08 thermometer are not the same lengths. One probe is sharp and a full six inches, while the other is blunt and only three inches long.
The longer probe is designed to be inserted into your meat, while the shorter one is an ambient probe that can be placed onto the oven or smoker. Each has a probe clip to keep it in place.
This makes the TP08 a little less versatile than the TP20, but it's still a good option for those who are looking to track the temperature of their meat without having to continually check on it.
Presets
Unlike the ThermoPro TP20, the TP08 wireless remote digital thermometer has no preset temperature setting. This requires the cook to monitor the temperature of the meat more closely than the TP20 thermometer.
Setting alarm temperatures manually lets you accurately manage the doneness of your meat, such as high-temperature alarms.
That way, you do not have to observe your meat as closely to ensure you do not exceed your target temperatures as you cook.
Display
The TP08 thermometer display is not as large as the one on the TP20, but it is still very clear and easy to read. Backlighting is also a useful feature that helps make up for the smaller viewscreen.
The display also does not flash when the timer counts down to zero, unlike the TP20.
Price
The TP08 is certainly a capable thermometer, but it is an entry-level instrument for monitoring food temperatures. Of course, price is not the only difference, but you can expect to pay a bit less for the TP08 than its higher-end counterpart.
Pros
Less expensive than the TP20
Excellent wireless remote thermometer range
Wide temperature options for any type of cooking
Cons
Only has a single meat probe
ThermoPro TP20 vs TP08 meat thermometers: Which ThermoPro Thermometer To Choose?
Given the added benefits that the ThermoPro TP20 brings for only a handful of dollars more, it is my choice for the best ThermoPro wireless thermometer.
Though they have their differences, both ThermoPro TP digital wireless thermometers are reliable and accurate tools that should be considered when shopping for cooking equipment.
But given how easy having the doneness and meat preset temperatures makes cooking and barbecue, the TP20 is hands-down the winner of a ThermoPro TP20 vs. ThermoPro TP 08 contest.
For those who want cheaper yet still precise digital wireless thermometers, the TP08 is still a viable option. But the improved display alone makes the TP20 my top pick.
Our #1 Recommendation
ThermoPro TP20
Pros
Dual probes
Large LCD display
USDA presets for various types of food
Flashing display when count-down alarms
Cons
More expensive than the TP08
Was this article helpful?