Since 1987, Oklahoma Joe's Smokers have established themselves as some of the best outdoor cooking equipment around.
Originally a one-person, Oklahoma-based operation, Oklahoma Joe's has since been bought out by the multinational Char-Broil.
Let our BBQ historian take you through the history of these smokers and who makes them now.
Quick Summary
Oklahoma Joe's Smokers are currently produced by Char-Broil, a company that acquired the brand in 1998.
The original Oklahoma Joe's Smokers were created by Joe Davidson, a BBQ champion who started the company in 1987 in Oklahoma.
Despite changes in manufacturing and ownership, Oklahoma Joe's Smokers maintain a reputation for quality, offering a range of smokers for different budgets and occasions.
Who First Made Oklahoma Joe's Smokers?
The history of Oklahoma Joe Smokers has now entered BBQ legend, just as the smoker's inventor, Joe Davidson, has entered the BBQ Hall of Fame.
Working as a welder to pay for his studies in Agricultural Engineering in the mid-1980s, Davidson decided to create the ultimate smoker to combine his passion for BBQ and a new business opportunity.
"I'm going to build grills for a living," Davidson told his wife, Page [1].
In 1987, the 25-year-old saved up $2000 to design and manufacture 12 meat smokers.
The innovation was successful: Davidson not only sold all of those smokers at the Oklahoma State Fair but also received orders for over a hundred more.
At first, the Okemah native built the smokers at home, in his garage, but then moved to an old automotive building in Perry, Oklahoma.
Davidson himself describes this early period of success, traveling with his smoker to market and advertise the product, hosting cook-offs, and winning several national BBQ awards as "…one happy accident after the other." [2]
Who First Commercially Produced Oklahoma Joe's Smokers?
In 1994, Davidson, his brother, Roger, and their team built an Oklahoma Joe's commercial production facility in Stillwater, Oklahoma.
This factory had 150 employees who could produce 100 000 offset smokers per year.
For a trip down memory lane, here's an Oklahoma Joe's infomercial from the 1990s: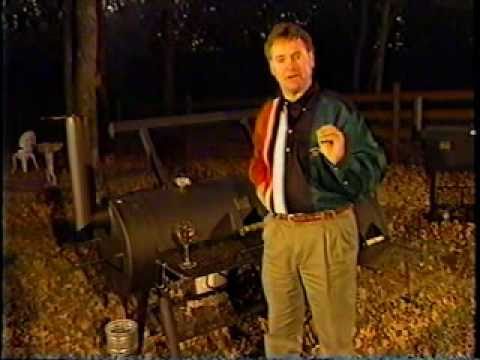 At the same time, Oklahoma Joe's BBQ restaurants also opened as an extension of the smoker production in Stillwater and Kansas.
These restaurants still exist, but Davidson and the similarly named smokers are no longer connected.
Oklahoma Joe's traditional 1/4" carbon steel smokers were highly regarded by the BBQ community, locally and internationally.
Davidson estimates that between 1987 and 1998, "half of our production" – over half a million smokers and grills – was exported to Europe [3].
In an interview at the time, Davidson was justly proud of their success: "Someone's got to be the best in the world, so why can't it be us?" [4]
Who Makes Oklahoma Joe's Smokers?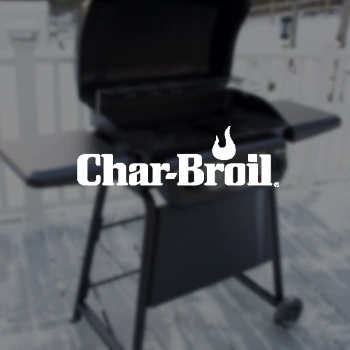 Since 1998, Oklahoma Joe's Smokers have been made by Char-Broil, themselves a household name since 1948, when they produced their first charcoal grills [5].
At that time, Davidson decided to focus his attention on his career as a pitmaster and sold Oklahoma Joe's to New Braunfels Co. in Texas.
Although he continued to work at New Braunfels for a couple of years, Davidson decided in 2000 to end his association with the business.
In turn, grill brand Char-Broil acquired New Braunfels and moved manufacturing to China, where they produce the smokers as a separate brand, still called Oklahoma Joe's.
Since 2002, Roger Davidson, Joe's brother, has continued to make 1/4" steel smokers in Perry, Oklahoma, under the brand name Horizon.
The factory focuses on crafting top quality American smokers rather than mass-produced foreign items and employs "a dozen of his former Oklahoma Joe's employees." [6]
Are The New Oklahoma Joe's Smokers As Good As The Originals?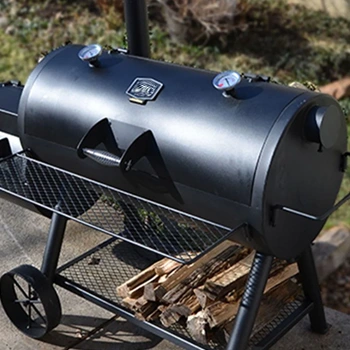 Much of the debate around who makes Oklahoma Joe's smokers concerns the quality of the original Davidson creations versus the Char-Broil models made in China.
Like many at the time, the original Oklahoma Joe smokers were inspired by oil rig workers who used heavy gauge pipes to make their smokers, as that's what was handy [7].
They were solid, competition-grade pits for the serious pitmaster and fans rue the change in the bulky build and heavy construction.
Here's a video showing the characteristics of an original Oklahoma Joe's: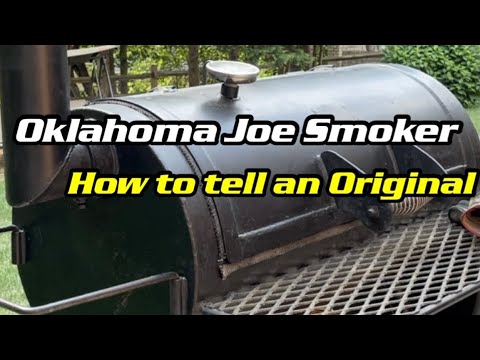 The more modern Oklahoma Joe's smokers still use these pipes as part of their unique design. With Char-Broil's innovation, the original model has diversified, with an offset smoker for every budget and occasion.
The new models aren't as heavy, as they are no longer made with ¼" steel and are bolted and glued together rather than welded. Take a look at the current range of smokers at Oklahomajoes.com.
Critics of the smokers made by Char-Broil abound: Craig "Meathead" Goldwyn describes how the quality of Oklahoma Joe's smokers "went through a series of twists and turns for decades.
For many years the name 'Oklahoma Joe' appeared on super cheap Char-Broil smokers." To be fair, Meathead has changed his tune, reviewing the newer smokers more positively.
He suggests that Oklahoma Joe's "seem to be making the marriage with Char-Broil work by offering decent quality for a little more than the cheap big box junk, at prices well below the professional brands." [8]
Many BBQ experts still regard Oklahoma Joe's products highly, with one griller describing the smoker as "best for entertaining" and "smart, high-tech cooking." [9]
Another fan reports, "The leading brand for making meats on the market is Oklahoma Joe's smoker with its high-quality features. It provides an ultra-fine and affordable product." [10]
Although not the highly robust, competition-class smokers of yore, Char-Broil's Oklahoma Joe's are not just trading on the name – they are still worth buying if you're in the market for an offset smoker.
Related Articles:
Conclusion
Oklahoma Joe's Smokers are made by Char-Broil, who bought the company in 1998.
Started initially in Oklahoma by Joe and Roger Davidson in the 1980s, Oklahoma Joe's grew from a back-yard operation to massive production.
Here we have Oklahoma Joe's Highland Smokers, they offer the reverse flow and offset type each with their own unique way of smoking.
The brand still produces excellent smokers today.
---
References:
https://www.oklahoman.com/article/1936470/saucy-businessmanbroklahoma-joe-savoring-successbrokemah-native-answered-calling-to-build-better-grill
https://foodie.sysco.com/testimonials/customer-community-stories/oklahoma-joes-owner-inducted-into-barbecue-hall-of-fame/
 https://www.oklahoman.com/article/1936470/saucy-businessmanbroklahoma-joe-savoring-successbrokemah-native-answered-calling-to-build-better-grill
 https://www.oklahomajoes.com/our-story
 https://www.charbroil.com/about/
 http://www.horizonbbqsmokers.com/our-story
 https://theonlinegrill.com/oklahoma-joe-offset-smoker-review/
 https://amazingribs.com/grill-smoker-combination-grill-smoker/char-broil-oklahoma-joes-longhorn-smokergrill-review/
 https://www.thespruceeats.com/top-high-end-pellet-grills-335542#toc-best-for-entertaining-oklahoma-joes-rider-deluxe-pellet-grill-in-black
https://mykitchenadvisor.com/oklahoma-joes-reverse-flow-smoker/
Was this article helpful?