Are you just starting your search for a new grill? Need something reliable, well-made, and full of features? If so, then you've probably already come across grills made by Rivergrille. Let's take a closer look at the manufacturers and the product itself to see how the Rivergrille stands against its barbecuing competitors.
Quick Summary
Rivergrille grills are manufactured by the Hong Kong-based Rankam Group, which has over 50 years of experience in making and selling grills.
Rivergrille offers three types of charcoal grills: Kettle, Barrel, and Ceramic.
Rivergrille grills are designed for durability with rust-resistant coating, but the warranty averages around 90 days.
What are Rivergrille Grills?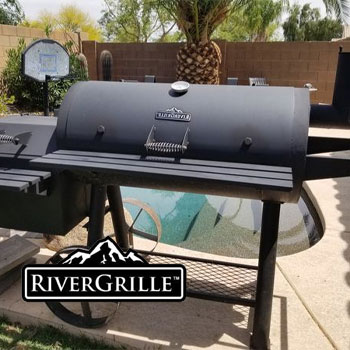 Rivergrille solely makes grills that run on charcoal. Using this particular food source gives your food a nice smokey flavor that won't be found when cooking with gas.
It does require more effort to start the grill, cook the food, and clean up. However, the smokey flavor is a big enough reason for some to outweigh any inconvenience.
Rivergrille comes in three versions:
Kettle - When you picture a grill, it's most likely the kettle. It's look is iconic and is the perfect choice for an all-around cooking experience. Great for small gatherings and dinner parties.
Barrel - This grill is wide but shallow. You can place quite a bit of food into this grill which is perfect for big gatherings. The briquets burn quickly in the barrel grill, making it less than ideal for cooking meats for fancy dinners.
Ceramic - If you want to get fancy with your cooking and start branching out to briskets and pork butts, then this charcoal grill is for you. The small cooking service isn't ideal for large birthday parties or big family cookouts. Ceramic cookware is also said to be the safest and healthiest choice. [1]
Which one you choose depends on preference, cooking style, and experience. Consider asking yourself the following questions: What will I be cooking?
How much room do I have? How much am I willing to spend? Once you answer those three questions, you will have a better idea of what you are looking for.
Behind the Maker of Rivergrille Grills
The manufacturers behind the Rivergrille are a Hong Kong-based group known as the Rankam Group.
With over 50 years of experience making and selling grills, they have an esteemed history of bringing high quality products to the grill market.
It is important to note that Rankam Group has teamed up with Gasbo, a gas services company.
The two companies work together to provide propane gas grills which are very popular in the current market.
You might be surprised to hear the Rankam Group also manufacturers Cowboy Grills, Grill Smith, and other popular brands.
Related Articles:
Do Rivergrille Grills Stack Up?

Before purchasing a Rivergrille, you will want to see how it compares to other major competitors currently in the grilling market. To find out, we are going to take a look at three important factors: quality, features, and warranty.
Quality
All Rivergrille grills are designed to last for many years. The materials were specifically chosen so they could withstand the intense heat of a long cookout.
You won't have to worry about severe weather conditions because the grills have a special coating to help keep the metal from rusting.
Depending on which grill you go with, it may need to be assembled. However, it was manufactured in such a way that it is very easy to put together with the help of one other person. If you don't want to do it yourself, most local hardware stores have assembly services.
Features
The majority of Rivergrille grills are big enough to cook up a whole load of hamburgers and hotdogs. The large grilling area means you can cook more at once and feed a hungry crowd quickly. Some of the bigger grills are capable of handling a full turkey or a medium-sized pig.
Another wonderful feature of these grills is that they have designed an L-shaped drop channel that moves food liquids away from the fire. That means less of a mess and fewer minutes cleaning.
With the add-on rotisserie accessory, you can give even more use out of your grill. However, it's important to note that the rotisserie is manual but can be turned electric.
Warranty
The warranty on a grill from Rivergrille averages around 90 days which is a bit short for a piece of equipment of this size and in this price range.
However, if a part needs replacing, you can easily find a replacement through the local hardware store or online. Many customers did note that the grill needed to be broken a few times before it could fully function.
Wrapping Up
If you are looking for a decent sized grill to place in your background for the occasional house party or family barbecue, then Rivergrille would be a great choice.
With their prices leaning on the lower end, you won't be breaking the bank on an item you won't constantly be using.
However, if you are serious about smoking meats or needing a grill for big game, then I recommend looking elsewhere.
Overall, Rivergrille grills have enough grilling space to make the purchase worth it. So, what Rivergrille will fit your cooking needs?
---
Reference:
https://www.ncbi.nlm.nih.gov/pmc/articles/PMC4284091/
Was this article helpful?