Balsamic mustard pork chops are one of the more popular recipes in my household.
This super easy mustard pork chops recipe takes bland pork tenderloin and transforms it into a weeknight dinner packed full of flavor.
The balsamic glaze can be whipped up within minutes and tastes lovely with chops.
This recipe is also gluten-free, grain-free, sugar-free, dairy-free, whole30 keto, and paleo, meaning it's perfect for any clean-eating household.
Quick Summary
Whole30 keto balsamic mustard pork chops is a low-carb, gluten-free, dairy-free, grain-free, sugar-free, whole30 keto, and paleo dish that involves searing pork chops and topping them with a balsamic mustard glaze.
The balsamic mustard sauce is prepared using mustard, balsamic vinegar, and chicken stock and served over the seared pork chops.
The dish is versatile, with options to pair with different side dishes like roasted vegetables or cauliflower rice, and it can be prepared in 30 minutes.
Recipe Overview
Prep Time: 5 minutes
Cook Time: 25 minutes
Total Time: 30 minutes
Number of Servings: 2
Whole30 Keto Balsamic Mustard Pork Chops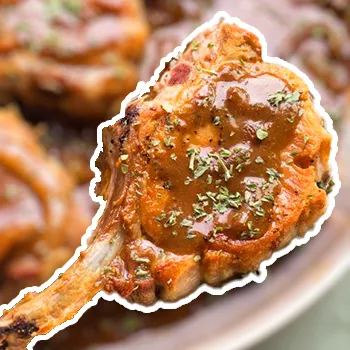 One of my favorite things about this recipe is that it's easy to make.
However, cooking pork chops tends to be frustrating because the fat cap inside the chop shrinks; the chops can curl up into a bowl shape while searing.
If you encounter this problem, try this hack:
Score the fat cap with a sharp knife, ensuring you go all the way through the meat. Do this every ¾" or so. It will prevent curling and even out your browning.
Balsamic Mustard Sauce
Once you've seared the chops off to a nice golden brown, you'll want to add both the garlic and onions to the pan.
These should be cooked until brown and soft. Always remember to scrape any brown bits off the bottom of your pan and mix them into your sauce; this adds lots of flavor to the balsamic mustard pan sauce.
Then, you'll add your mustard balsamic sauce to the mixture.
I like to make this with deli mustard (but you can use Dijon mustard or anything you like), chicken stock, and balsamic vinegar.
Add in some maple syrup if you want your balsamic glaze to be a little sweet.
Tips on Serving Whole30 Keto Balsamic Mustard Pork Chops
When it comes to serving your balsamic pork chops, you'll want to add the chops to the pan to warm them before eating.
Simply top the chops with the balsamic glaze, and add a touch of fresh parsley to bring some color and brightness to the dish.
This whole30 keto chop tastes lovely with roasted vegetables, green beans, mashed potatoes, or cauliflower rice as a side dish.
Ingredients
2 8-Oz Pork Chops (I like to buy my pork from ButcherBox)
Kosher Salt and Pepper
½ Yellow Onion (sliced)
½ - 1 Glove of Garlic (finely minced or grated)
½ Tablespoon of Ghee
¼ Cup of Deli Mustard (or the mustard of your liking)
1 Tablespoon of Balsamic Vinegar (apple cider vinegar works too, just adds a different flavor)
1 Tablespoon of Chicken Stock
½ Tablespoon of Maple Syrup (½ tablespoon of monk fruit for keto)
Finely Chopped Parsley (optional)
Instructions
Take a chef's knife and score the fat cap several times ¾" apart (this stops the chops curling as they cook). Dry the chops completely using paper towels and season with salt and pepper generously.

Preheat the grill until it is nice and hot. Add the ghee to a large skillet and sear the pork chops for 5-7 minutes, or until golden brown and crispy. Flip the chops and sear on all sides (including the edges with the fat cap) for another 7-10 minutes. Your pork chops are ready once the internal temperature reaches 145ºF. Remove pork chops and let them rest.

Add the garlic and onion to the same skillet and cook over medium heat. Season with salt and pepper and cook until soft.

While that is cooking, combine the balsamic vinegar, chicken broth, and mustard in a small dish. Pour the mixture over the onions once they are translucent and soft. Stir to combine, heating the sauce for a further 30 seconds

Add the pork chops to the skillet and turn off the heat. Pour the sauce over the pork chops using a spoon and serve warm.
Recipe Notes
Any leftovers can be refrigerated inside an airtight container and stored for 5 days.

Bone-in pork chops hold the most flavor. However, boneless pork chops are fine too. As I mentioned, this sauce pairs well with both chicken thighs and breasts.
Our Similar Recipes You Might Find Interesting:
Nutrition Facts
Calories: 392
Total Carbs: 6.6g
Protein: 52.3g
Fat: 17.5g
Fiber: 1.6g
Net Carbs: 1g
FAQs
Can You Reheat Pork Chops?
Yes, you can reheat pork chops in the microwave or cook them in the skillet until warm.
You can store the pork chop in the fridge for 3 - 5 days [1].
What Temperature Should Pork Chops Be?
Pork chops should be 145ºF on your meat thermometer. This ensures the pork is safe to eat while also being the juiciest and tender it can be [2].
Balsamic Pork Chops - The Perfect Whole30 Keto Recipe
This whole30 keto, gluten-free, grain-free, and sugar-free recipe tastes lovely and is easy enough to whip together in under 30 minutes.
These low-carb pork chops are cooked until juicy and tender. The balsamic glaze adds a beautiful tangy onion taste to the meat, transforming the otherwise bland tenderloin into a recipe packed full of flavor.
---
References: 
https://www.usda.gov/media/blog/2011/05/25/cooking-meat-check-new-recommended-temperatures
https://www.foodsafety.gov/food-safety-charts/cold-food-storage-charts
Was this article helpful?