With so many meat delivery services vying for your dollar, it is difficult to know which ones are hype and which ones have quality meat.
Two prominent companies stand out, both claiming to offer grass-fed and grass-finished beef. One though has a slight edge, and we'll explain why. Let's take a closer look at our ButcherBox vs US Wellness Meats comparison.
ButcherBox vs US Wellness Meats Key Differences
The main difference between ButcherBox and US Wellness Meats is in their business structure. ButcherBox provides monthly subscription service with a limited number of rotating meats. US Wellness Meats offers a wide selection of organ meats, pet food, and dairy in their store.
Both companies have grass-fed beef and other humanely raised meats rich in Vitamin E and Vitamin A.
You can pick and choose what you want and order when you need more meat.
US Wellness:
Grass-fed and grass-finished beef
Pasture-raised pork and poultry
Organ meats and specialty items
Non-subscription service
CLICK FOR BEST PRICE ON US WELLNESS
ButcherBox:
Grass-fed and grass-finished beef
Free-range organic poultry
May provide more convenience
Set and forget the subscription service
In-Depth Comparison of Both Meat Providers

Comparing The Selection
US Wellness Meats has a more extensive selection when it comes to beef and pork. It also has options for ground meat, dairy, organ meats, soy-free pork, bone broth, and even duck for your everyday meals.
ButcherBox leans more towards traditional cuts of beef, pork cuts, organic chicken, and some wild-caught salmon. Both companies focus on high-quality meats such as heritage pork that are humanely-raised, so there isn't much difference in terms of the specific products.
Some bestsellers from both companies include:
US Wellness:
Grass-fed beef liverwurst
Atlantic sea scallops
Breakfast sausage
CLICK FOR BEST PRICE ON US WELLNESS
ButcherBox:
Heritage breed pork chops
Grass-fed ground beef
New York strip steak
Quality Difference Between These Two Companies
Both companies have similar quality standards, with just a few key differences.
To begin with, both companies offer heritage pork and grass-fed beef. They both commit to selling meat that is free of growth hormones and other potentially harmful additives.
Where they differ, though, is that ButcherBox has NAE chicken, beef, and pork.
All of the meats they sell are raised following organic guidelines. However, according to their website, they aren't organic certified due to the cost in Missouri where they are located.
How Do The Sourcing Practices Compare?
Both companies source their meat from family farms in the United States. US Wellness Meats sources the majority of its meat from four cattle farms in Illinois and Missouri. In fact, the farmers who raise their beef are the actual owners of US Wellness Meats.
During certain times of the year, to help meet demand, they source-specific cuts form a single cattle farm in Tasmania.
ButcherBox, on the other hand, source their meat from farms throughout the US. All the farms they work with must meet three main criteria:
Humane farming practices
No antibiotics or added hormones ever
Only high caliber meats.
Pricing
US Wellness has a different price point based on what products purchase. Their prices are often comparable to what you would find in a grocery store like Whole Foods. They may fit better within your grocery budget. Some examples of their prices include:
ButcherBox Prices (per month)
Custom Box - $150 - $270
Mixed Box - $130 - $240
Grass-Fed Beef and Chicken Box - $130 - $240
CLICK FOR BEST PRICE ON BUTCHERBOX
US Wellness Meats Prices
8 Oz Ribeye - $15 - $18
1 Lb Chicken Breasts - $15 - $18
6 Oz Sockeye Salmon - $15 - $19
Packaging
ButcherBox
This company ships in a branded box filled with dry ice. All of the meat is individually vacuum-sealed for freshness before being frozen. This meat delivery service use eco-friendly packaging as a commitment to sustainable practices.
"The quality is great...The filets are as good OR better than high-end steak houses. Love them!"

- Leanne, Verified Customer
US Wellness Meats
All of the beef is packaged after four weeks of wet aging. Everything else gets vacuum packed immediately. Wellness Meats then packages everything in insulated styrofoam shipping packages before sending them out.
"The product is out of this world. It is all so fresh and full of flavor. Quality product provided by a quality organization."

- William, Verified US Wellness Customer
Related Articles:
Shipping & Delivery Areas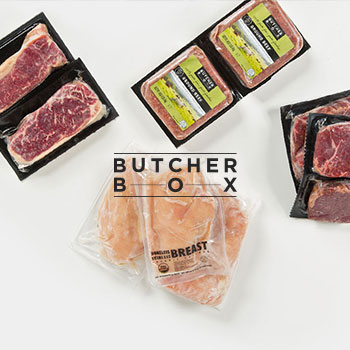 Both meat providers offer free shipping. However, Wellness Meats charges a handling fee to help cover the cost of labor. This is a flat fee for all orders regardless of the size.
ButcherBox ships to the 48 contiguous states. These are all of the states within the continental US minus Alaska and Hawaii. According to their website, there are plans to start meal delivery to these areas in the future.
US Wellness ships products to all 50 United States as well as Puerto Rico and Canada. There are unique requirements for the Canadian delivery service to be compliant with the countries laws.
Customer Service
Both delivery services offer similar methods of customer support with great reviews for both companies.
With US Wellness Meats, you can contact them through their phone number or via fax or email ButcherBox has both a phone number and email as well as a help center on their website.
Both companies can also be contacted through their social media page.
With US Wellness Meats, you can sign up to their mailing list for updates or the occasional discount code. My experience has been pleasant with both companies.
The ButcherBox vs US Wellness Meats Winner ...
After finishing our comparison, we can say that while both companies offer similar caliber products, US Wellness Meats has some advantages in our opinion. They have more choices of seafood and poultry. They also provide other humane products such as pet foods and dairy.
But if you're looking for standard options like grass-fed and grass-finished beef, free-range organic chicken, and heritage-breed pork, ButcherBox could be better for you. This way, you can have a curated box sent to your door every month.
#1 Meat Delivery Service
ButcherBox
Click For Best Price

Pros
Grass-fed and grass-finished beef delivered directly to your door
Without antibiotics or added hormones
Customizable boxes available
Select from up to 21 different cuts
Get the BEST PRICE until the end of March
Was this article helpful?