For novice grill masters, you don't want to drop hundreds or thousands of dollars on a new smoker that you may mess up. But, you're also leery of buying a cheap smoker that will break in a week.
To help you separate the quality from garbage, we've conducted a full review of the best budget smokers on the market.
The 10 Best Affordable Smokers in 2023
What to Look for When Buying an Affordable Smoker?

1. Type of Smoker
The type of smoker you choose will have a massive impact on how easy it is to cook with, ease of maintenance, and portability (1). A small charcoal smoker, for example, will be easier to move around than an affordable gas-powered smoker that needs a propane tank.
On the other hand, you will have less control over temperature with charcoal than with a gas or electric smoker. Some of the different smoker options include:
Pellet Smoker
A pellet smoker uses compressed wood pellets as a fuel source instead of traditional charcoal, gas, or wood smokers. Many people prefer pellet smokers for their ability to slow-cook foods such as ribs or brisket with greater precision and potential health benefits (2).
Pellet smokers are generally more expensive, but it is still possible to find budget pellet grills.
Related Articles:
Pros
Easier to slow cook
Traditional smoke flavor
Easier to regulate temperature
More versatility when cooking
Cons
High priced than other budge grills
Need electricity for auger
Bad for high temp cooking
Bad for humid environments
Gas Smokers
A gas smoker or propane smoker is a better option if you want more in the way of steady temperature control. These use gas that can easily be monitored by a temperature gauge for a more accurate smoking experience.
Many people also find that gas grills can be easy to clean as there is not a lot of ash and residue left over after grilling.
You can check out the following post if you wish to learn which propane smoker we highly recommend.
Pros
Easier to use than charcoal grill
Easier to reach high cooking temperatures
Cheaper to operate
Good in all weather conditions
Cons
Less of a smoky flavor
Propane tanks can be bulky
Gas smokers are less portable
More expensive than charcoal
Electric Smoker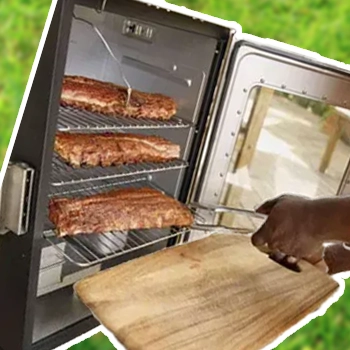 A digital smoker uses an electric heating element that makes it easier to monitor the temperature range.
The major downside of an electric smoker is that you don't get that charcoal or traditional wood taste as a digital smoker will produce less smoke than charcoal grills.
However, the upside is that there is generally less in the way maintenance as less smoke leads to less residue.
Electric smokers are also more versatile as they can be used for roasting as well as smoking and are becoming more popular (3).
Pros
Easy temperature control
No need for any fuel type
Electric smokers are easy to use
Better for compact areas
Cons
Lacks traditional smoke flavor
Not easily portable
Hard to get a smoke ring
Harder to maintain
"With a large number of people living in apartments, the need for compact barbeque grills will increase which will boost demand for electric barbeque grills."

- Yogesh Shinde, Business Intelligence Market Research Insights (4)
Charcoal Smoker
A charcoal grill or smoker is the best option for people who are wanting the classic smoke flavor in their food. Unlike electric or gas smokers, it produces more smoke, which gives it the taste many are used to.
Charcoal smoker models are typically a bit harder to maintain because of the excess smoke and ash produced, which can build up around the unit (5). A major upside of a charcoal smoker, though, is that they can be better for portability.
Pros
Charcoal smoker can be better for portability
Traditional smoke flavor
Higher temperature ranges
Typically less expensive than gas
Cons
Charcoal smoker can be harder to maintain
Ash can get in food
Not many extra features
Takes longer to use
2. Capacity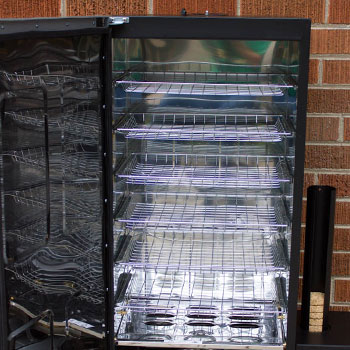 Capacity will be important to look at depending on how much meat you plan on making in a single smoking session.
Most smokers will be fine for the average three or four-person family cooking burgers or steaks on the weekends.
However, if you plan on cooking giant briskets overnight or cooking for larger gatherings, you want to pay particular attention to the total cooking area.
The cooking area refers to the total space on the cooking grates or rack that can hold the meat. We like to look for at least 500 sq in.
3. Temperature Control
How you control the steady temperature will vary depending on the type of smoker that you use. For example, with a wood smoker, you typically will need to adjust the damper to let in more or less oxygen. This will involve more monitoring of the thermometer and greater skill.
An electric smoker, on the other hand, will usually have a knob with temperature settings displayed. These are usually better for newer users who may not have the experience to correctly work with a wood smoker.
If you are a new griller, we recommend you try and stick with a gas or electric smoker for ease of use. For the more initiated, wood and coal smokers can be the better way to go.
"Too much heat can leave you with shoe leather, so controlling temperature is paramount."

- Tim Moynihan, Wired (6)
Recommended Article: How to Insulate a Smoker Firebox Using Different Methods
4. Additional Features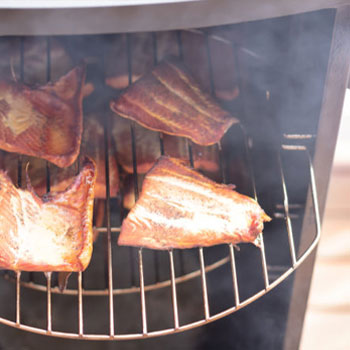 If you're looking for the best smoker for beginners, a variety of additional features can come even with the budget kind.
Some of the more important features we recommend you look for are:
Water trays
Wood trays
Thermometers and meat probes
Extra shelving
Grill covers
These are all items that can either make the cooking process easier in probes and thermometers or help with infusing flavor.
In the case of grill covers, if you live in an area with lots of dirt or snow and rain, this can protect your smoker better.
5. Ease of Maintenance
Different smoker types will be more or less easy to maintain. Some of the easiest in terms of maintenance will include gas and electric-type smokers. These typically produce less smoke and will have less residue than coal.
Another thing that will affect the ease of maintenance will be any extra parts, such as water trays or wood trays. These, along with cooking grates, all need to be cleaned periodically to prevent the buildup of smoke and fat.
If you don't have a lot of extra time for maintenance, it may be best to stick to options such as electric or gas smokers.
FAQs
Is Buying an Inexpensive Smoker Worth It?
Yes. An Inexpensive smoker is worth the cost if you choose a model built by a reputable manufacturer, and you put in the work to maintain it. This means seasoning it properly and covering the grill during potentially bad weather. Taking care of even an affordable smoker will help it last for many years.
What is the Best Budget Smoker for a Beginner?
The Dyna-Glo DGO117 is the best budget smoker for a beginner looking to get the best value. It's a vertical smoker, which means heat and smoke go to the top, making grilling and smoking meat easier as you have better heat control. The cooking capacity is also reasonable for the price.
How Long Will an Inexpensive Smoker Last?
Inexpensive smokers will typically last for between 5 and 10 years, depending on how often it's used and how well it's maintained. If you use your electric or charcoal smokers every day without proper maintenance, expect them to last for a few years less than average.
What's the Best Affordable Smoker?
After a full review of over a dozen grills, we've narrowed down the Weber Smokey Mountain 18 as our top pick for the best inexpensive smoker.
We're big fans of vertical drum smokers as they make controlling the heat and smoke easier due to the design.
Adjustable dampers, a water pan, and a built-in temperature gauge in this smoker allow versatility in the cuts you can smoke.
Another point that we like about Weber is its portability. We took it to one of our tailgating parties and didn't have a hard time setting it up.
Our #1 Recommendation
Weber Smokey Mountain Cooker 18"
Click For Best Price

Pros
Versatile cooking options
Two to ten-year warranty
Rust-resistant materials
Large cooking area spread over two grates
Cons
Not as portable
No wood chip tray
Was this article helpful?