Stainless steel grills often come at a higher price than lower price generic charcoal smokers. The last thing you want is to spend money on something that will break down a year after you buy it.
That's why we've tested and reviewed the best stainless steel grill models to help you avoid the duds.
The Best Stainless Steel Grills
11 Best Stainless Steel Grills Of 2023:
How To Pick The Best Stainless Steel Grill:

---
1. Number of Burners
When it comes to the best gas grills, more burners are always better. The reason for this is that individual burners allow you more control over temperature. For example, if you are only smoking a few steaks on a four-burner grill, you can turn on just the burners you need for precise heat control.
On the other hand, if you are trying to cook a brisket, you can turn on all four burners to make sure the temperature is optimal. If you only had one or two burners in the case of the brisket, it may be more difficult to reach the needed temperature.
Related Articles:
2. Total Cooking Surface
Cooking surface is one of the most important aspects of selecting the right steel charcoal grills or gas grills. If you are planning on regularly cooking for large groups, the last thing you want to find is you can't make enough food for everyone.
Total cooking surface is typically measured by the square inch. For the average grill user, we recommend around 500 square inches or more of the cooking area.
However, if you know that you are going to cook large amounts of food, it may be a good idea to look for 1,000 square inches of cooking space or more.
3. BTU Output
BTU stands for the British Thermal Unit and is a measurement of energy. This measurement refers to how much energy is required to increase one pound of water by one degree Fahrenheit (1). Concerning gas grills, this tells you how much fuel a grill will use.
Higher BTU output doesn't necessarily mean that a grill is better. Gas grills are required to have a vent for safety purposes (2). With some grills brands, extra heat generated from high BTU output may just escape out the vent. The point here is that it isn't always best to just buy the highest BTU grill, such as Monument Grills.
When it comes to the amount of power in a natural gas grill, an output of 75 to 100 BTU per square inch is considered optimal.

- Bob Beacham, Chicago Tribune Consumer Reviews (3)
4. Temperature Control
Temperature control can play a huge role in how easy gas grills are to operate. There is a wide range of options when it comes to temperature control in stainless steel grills, with much of it depending on the type of grill you have.
A coated cast iron charcoal grill, for example, will require you to manually control temperatures through a damper. Electric grills, on the other hand, can have digital control panels allowing you to set the temperature with ease.
Grills best for beginners in terms of temperature control will be those that allow you to easily set the temperature either through a top-notch digital control panel or with a well-labeled knob.
5. Power Source
For charcoal grills, your power source will come in the form of charcoal and wood fuel. If your grill uses electricity or gas, though, you need to think about the logistics.
Many of the best stainless steel grills are quite large and bulky and will require lots of space. In the case of gas grills, these may require that you have natural gas piping installed in the area you plan on grilling.
Before deciding on which grill you will use, it's important that you take into consideration what power course or fuel type you will need to operate it. Then, decide if you have the proper configuration in the area you plan on using your grill.
6. Stainless Steel Grade
Depending on the climate where you live, the grade of the steel will be an important factor. You ideally want material that is going to be resistant to corrosion and rust. This holds especially true if you are in an area near the ocean.
Many of the top steel grills will use 304 stainless steel, also known as A2 grade steel. This is usually steel that has a higher chromium and nickel content, which helps prevent corrosion (4).
Stainless Steel is widely used in food- and beverage-relevant applications because of its high corrosion resistance in combination with good mechanical properties.

- Neda Mazinanian
KTH Royal Institute of Technology (5)
7. Grate Material
The cooking grates are one of the most used and abused parts of your grill and need to be made from top materials if they are going to last. From our experience, the best grill grates are usually made from cast-iron.
Cast-iron retains heat easily and cools down much more slowly. This also makes it good for creating sear marks in steaks and hot dogs and burgers. After testing dozens of grills, we've also found cast-iron to be easy to clean.
If you opt for a Weber Grill, you can also look into the flavorizer bars that they install in their grill models. These help to drip grease away from burner tubes to prevent flare-ups.
Recommended Article: Cast Iron Vs Stainless Steel Grill Grates
8. Ease of Use and Maintenance
Typically speaking, charcoal grill models are more difficult to use than gas and electric. If you're buying your first grill or have less experience handling charcoal, you may find it easier to use gas or electric.
The best thing is that gas and electric grills are easier to clean than charcoal. You don't have to worry about ash cleanup or excess smoke coating the inside of your cooking chamber. So, if you are looking for ease of use and low maintenance, your best bet is to go for an electric or gas grill.
Read More: Why Are Drop-In Grills So Expensive?
9. Extra Features
You can get with a steel smoker or grill numerous extra features, depending on the price you are willing to pay.
Some of the more common features that we like to look for include:
Fuel gauge for propane grills
Side tables for storing plates
Hooks for holding grilling tools
Side burner for warming plates
Top lights for night cooking
Shelving for
Aside from these, you can find everything from internal monitoring probes that connect to your phone via Bluetooth to LED accent lights, making night cooking easier. The best grill models will have all of these but will also come with a much higher price tag.
Maintaining Your Stainless Grill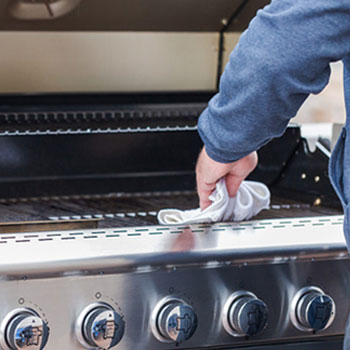 It is always best to make sure you are staying on top of grill maintenance by cleaning everything from top to bottom.
Before you clean, make sure to disconnect the gas or unplug the electricity for safety.
The process of cleaning your stainless grill is as follows:
Step One: Clean The Grill Grates
Clean the propane grill grates by first scraping excess fat and debris with a grill brush.
Read More: How to Clean Stainless Steel Grill Grates?
The best brushes will have steel bristles that can easily scrape through thick fat and anything else stuck on them. After this, wipe each of the grills down with warm water.
Step Two: Clean The Burners
You next want to remove the burner covers and clean them the same way you cleaned the grates. Next, lightly brush the burner tubes making sure not to apply too much pressure. Once you're done, clean up your brush using these tips and tricks.
Step Three: Clean The Grease Tray
Remove the grease tray and clean it thoroughly with dish soap and water. It's always best to dispose of grease properly. After this, put everything back together, and your grill is good to go.
FAQs
Should I oil stainless steel grill grates?
Yes. You should oil stainless steel grill grates the first time you use them to help season them properly. After the first time, it is recommended that you apply cooking oil before and after each use to keep them clean.
Do Stainless steel grill grates rust?
Yes. Despite popular belief, stainless steel grill grates can rust if they are not taken care of properly. Regular maintenance of the grates by applying oil and occasionally cleaning them can help to prevent rusting.
How long will a stainless steel grill last?
Depending on the complexity of the grill and how durably built it is, you should expect your stainless steel grill to last anywhere from 5 to 10 years or more. The best grills can last even longer than this, but only when maintained properly.
Should I season a stainless steel grill?
Yes. You should season your stainless steel grill and especially the grates if they are cast iron. After the initial seasoning process, it's best if you re-season your grill every four to five months to keep the grates protected.
And the #1 Stainless Steel Grill is...
Out of the 10 best stainless steel grill models that we tested, the Pit Boss 2-burner portable gas grill came out as the best. With its easy to carry and lightweight design, this gas grill is perfect for travelling, camping, and tailgating. It also has an ample grilling space to prepare your favorite grilled meats.
We like how its folding legs and latching hood make it easy to set up and clean up right after the party. Make your next camping trip phenomenal with the Pit Boss portable stainless steel gas grill.
Our #1 Recommendation
Pit Boss Grill
Click For Best Price

Pros
Ideal for tailgating and camping
275 square inches of cooking space
Features a latching hood and folding legs
Includes independently-controlled burners
Get the BEST PRICE until the end of December
Cons
No locks on the folding legs
Was this article helpful?