I can confidently say I'm a passionate griller. During the decade I've been on a carnivore diet, I've tried all kinds of grills — electric, pellet, charcoal… But I've got a soft spot for the convenience of gas grills.
I spent the last few years trying out different gas grills that fit my budget and rated them on build materials, cooking capacity, and food taste.
Here's my selection of the five best gas grills under $2000 for your delicious grilling experience.
The Best Gas Grills Under $2000
#3rd Best Choice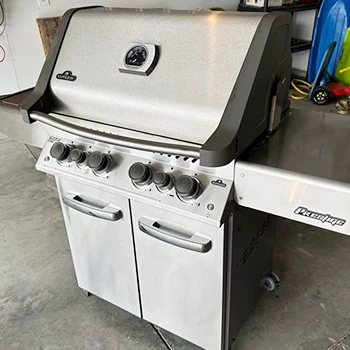 Napoleon
Check Current Price
5 Best Gas Grills Under $2000
Buyer's Guide for the Best Gas Grill Under $2000
Before you make up your mind on which grill you should buy, you must keep these factors in mind.
1. Materials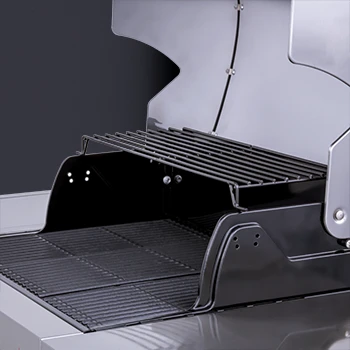 The best way to get a high-end gas grill but spend less than $2,000 is to check the material the grill is made from. The material indicates its durability and the ability to maintain heat evenly.
Best gas grills are made of stainless steel because it's a durable material resistant to rust.
Cast aluminum is a good alternative and can withstand most weather conditions without rusting. This is a good choice if you live in an area with a lot of rain and your gas grill is uncovered. Cast aluminum grills last between five to ten years.
Carbon steel is prone to rust, so it's less durable than stainless steel and cast aluminum. It can't maintain high heat efficiently.
You should also check the grill grate material. For example, Broil King Regal S590 cooking grates are made of 9 mm stainless steel and are 56% heavier than other gas grill grates, which ensures better heat retention and more visible sear marks.
Most gas grills are made of cast iron, which can be good or bad. Cast iron is heavy and porous, so you need to season it regularly. Cast iron also needs more time to heat compared to stainless steel but holds heat very well once heated. A better option is ceramic or enamel-coated cast iron for better longevity.
Keep in mind that cast iron will significantly influence the gas grill weight, so you won't be able to move the grill by yourself.
Also Read: Stainless Steel Grill Grates vs Cast Iron
2. Cooking Area
The cooking area determines how many people you can cook for at one time. Generally, a gas grill with 500 square inches of cooking space is enough for a small to a medium crowd.
If you have a small family or don't entertain many people, consider the Char-Broil 3-burner, as it has 429 square inches of cooking space.
If you cook for a large number of people, a grill over 600 square inches can cater to a gathering of most sizes. Weber Genesis II E-335 is a good choice, with 669 square inches of cooking space.
3. Number of Burners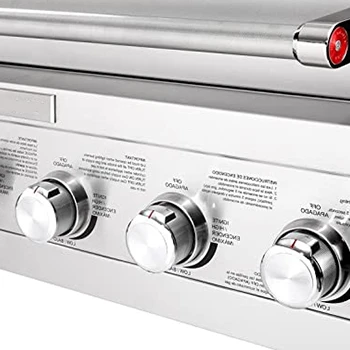 The number of burners helps you decide what and how much food you can cook at one time. More burners mean more BTUs, which means more power. This means you'll have a better cooking experience and temperature control.
Also, more burners increase the primary cooking area, and you can create different heat zones. For example, you can create a high, medium, and low heat zone if you want to cook different foods at once, such as burgers and veggies.
Two burners let you create two heat zones, but you can't fit as much food as you can on gas grills with four or more burners. There are also gas grills with more than six or eight burners, but these are extremely large, and you need a lot of outdoor space.
If you cook for a medium group of people, go for a grill with three to four burners, such as Weber Grills (Genesis II is a good choice).
Related Articles: 
4. Additional Features
Gas grills come with different kinds of tools and cooking accessories. For example, go for a grill with wheels or a cart option at the bottom if you plan to move the stainless steel grill.
Some grills have side tables and storage cabinets or shelves under the grill. These are useful for storing the gas tank and keeping it safe from the elements. Plus you can keep the cooking utensils on the side tables.
Another useful feature is an internal thermometer that checks the temperature. Also, look out for grilling tools such as brushes, griddles, alternate grates, and more. These make the cleanup easier and let you try different cooking methods.
An important additional feature is a side burner which you can use to heat sauces while cooking. Also, some gas grills, such as KitchenAid and Napoleon, have a rotisserie grill option, so you can make a roasted chicken.
5. BTUs
BTU stands for British Thermal Unit, which measures the heat output and fuel use per hour [1]. The higher the BTUs, the more gas your grill burns. Also, the more cooking space the grill has, the more power it needs.
For example, 3-burner grills usually have an output of 40,000 BTUs upwards. A good rule is to choose a grill between 75 to 100 BTUs per square inch of cooking surface.
6. Natural vs. Propane Gas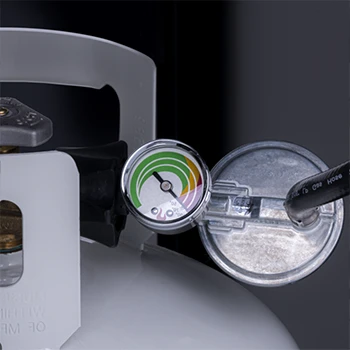 Gas grills use either natural gas or propane. Propane gas comes in an attachable gas tank, so these grills are more portable. However, propane is a more expensive option, as you have to refill the tank.
You also need to check the gas level so that you don't run out in the middle of the grilling session. Finally, you need a grill with storage space to keep the tank protected from the elements.
Natural gas is more affordable. You can connect the grill to your home's natural gas line, so you don't have to worry about refilling. Natural gas heats more evenly than propane, but this grill isn't portable.
Some grills have a conversion kit (usually bought separately), so you can choose the type of gas you want.
7. Freestanding vs. Built-in Gas Grills
Freestanding gas grills, also called stand-alone grills, are portable, mobile grills (depending on their size). Most of them have wheeled carts and storage compartments.
Freestanding grills are more popular than built-in ones and run on natural gas or propane. These grills are more affordable than built-in ones, and higher-end models have a larger cooking space and plenty of extra features, such as a rear infrared burner, rotisserie, and more.
Built-in gas grills are made to be built into structures, such as an outdoor kitchen island. These grills are built to function safely and withstand all weather conditions.
They are usually more expensive and have fewer features than freestanding grills.
You need to think long-term when choosing built-in gas grills. You're limited by the size and shape of your outdoor cooking space, so it's unlikely you'll be able to upgrade.
Overall, choose a grill depending on whether you want to move it around your backyard or you have an outdoor kitchen space where you can fit a built-in gas grill.
FAQs
What Is the Best Month to Buy a Gas Grill?
The best month to buy a gas grill is September through November. You can get the best deals during this time, for example, during the Labor Day weekend and Black Friday discounts.
What Kind of Grill Lasts the Longest?
Stainless steel grills last the longest. They are durable and can withstand different weather conditions without rusting and high temperatures without warping. Look for a grill with stainless steel lid, cooking grates, burners, and other components.
Do Gas Grills Come with Propane Tanks?
No, most gas grills don't come with propane tanks. The chances are you can buy it separately from your local retailer or from the brand's official website.
How Do You Use a Warming Rack on a Gas Grill?
You can use a warming rack on a gas grill by placing it above the main grate and use it for warming veggies, slow cooking, or light bun grilling.
Who Makes RiverGrille Grills?
It's unknown who makes RiverGrille grills. These grills are typically marketed through retailers like Home Depot, and the brand itself does not have a prominent standalone presence or official website that provides detailed company background.
What's the Best Gas Grill Under $2,000 for You?
Purchasing any of the gas grills under $2000 I mentioned will provide high quality and versatility to your BBQ sessions. After testing these grills, I've concluded that Weber Genesis II E-335 ticks the boxes some other grills don't.
It has three burners, a sear zone, and a large cooking area of 669 square inches. This is a powerful grill that lets you cook for a large number of people.
This is also the best gas grill because it has smart technology. There's food monitoring, so the grill sends alerts to your phone when you should flip the food. Even if you're a newbie, you'll grill like a MasterChef with this option.
Finally, it's made of stainless steel and has porcelain-enameled cast-iron grates for heat retention and the best cooking results.
Weber Genesis® II E-335 Gas Grill (Best Overall & Best Smart)
Our #1 Recommendation
Uses smart technology
Compact size for a 3-burner gas grill
Porcelain-enameled cast-iron cooking grates for heat retention
Enclosed storage space
Get the BEST PRICE until the end of December
Was this article helpful?