As a carnivore dieter who enjoys smoked meats, I prioritize investing in a durable and affordable drum smoker for the best meat-smoking results.
I've tried and tested different drum smokers on the market and ranked them based on durability, versatility, convenience, and price.
Read to find out my top favorite drum smoker recommendation.
Top 6 Drum Smokers
Best Drum Smokers Buyer's Guide

When going smoker shopping, you don't want to splurge your money on a low-quality drum smoker. Here are things to look for when buying a classic drum package.
1. Cooking Space
A drum smoker with many levels of cooking grates is an excellent option if you intend to smoke a lot of food at once. Investing in a smoker with a large cooking space allows you to feed many mouths and get the most out of your smoking session.
2. Build Quality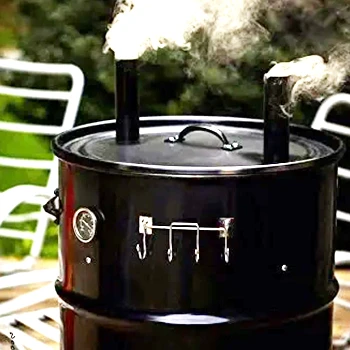 Keep a close check on the building materials used in your drum smoker if you want to utilize it for a long time.
The materials used to construct the elements must be strong and weather- and rust-resistant.
It's a good idea to select sturdy stainless steel with a weather-resistant finish. And if you want a smoker that's easy to clean and increases your heat retention, I recommend going for one with porcelain-coated accessories.
3. Cleaning Options
There is always ash and drippings after a cookout session. And after a smoking session, there is no getting around the necessary charcoal grill cleanup.
To make things simpler for yourself, try to get a drum smoker with a removable ash pan or a charcoal basket you can pull out for disposal. Certain versions need tipping out or require vacuuming, so go with whichever floats your boat.
4. Smoker Size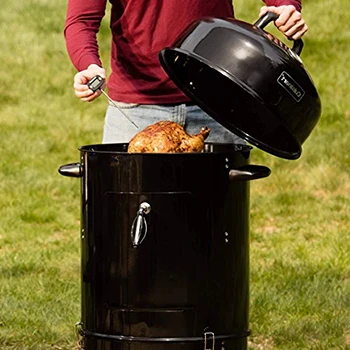 Choose a drum smoker that will fit into your area without any trouble and that can be put away quickly when not in use.
If you don't frequently serve bigger gatherings, think about getting a smaller smoker. Despite their small size, there are other drum smokers that have a surprising cooking space capacity.
Most drum smokers have a capacity of 35 or 60 gallons. Smaller smokers are perfect for camping and tailgating because of their lower capacity and portability, while a larger smoker has a larger charcoal basket that can hold more coals. In addition to looking at the size, go for fuel-efficient drum smokers as well.
5. Vents For Temperature Control
Some folks adore having complete control over their smoking session. If you're one of them, get a drum smoker with a damper for the vents.
Buying a smoker with several dampers allows you to regulate the exact air intake. As a result, it will be simpler for you to establish and modify the smoke's quantity and temperature.
Also Read: How to Regulate Temperature in a Smoker?
6. Coal Management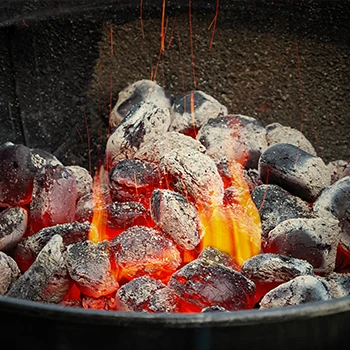 For outdoor cooking, having quick access to charcoal is crucial. Smoking sessions may last up to 12 hours, after which you must reload your coals. The ability to accomplish this without affecting the smoker barrel's overall cooking temperatures is vital.
A charcoal door is one of the easiest methods to refill coal. To easily add extra fuel to your fire without interfering with the main cooking area, you may use this hinged door towards the smoker's bottom.
So, ensure a drum smoker has an easy coal management system before buying it.
7. Price
When it comes to purchasing smokers, price is a key element. And because the pricing of these drum smokers can range from $100 to $1000+, don't pay for bells and whistles you won't utilize.
There are grand smoker companies who create their smokers with high-quality materials and parts, which is mirrored in their product pricing. Still, there are also a lot of low-quality brands that demand a lot of money for worthless features.
Remember that a fancy hook will not make you a great chef, so work with your budget and go with important features that you'll use.
Who Should Buy Drum Smokers?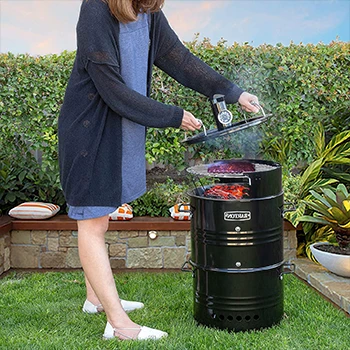 Anyone new to smoking should buy drum smokers. They are an excellent option for novice smokers since they are effortless to use.
They are also an excellent option for seasoned professionals or anybody who prefers to relax with friends and family rather than constantly checking on their meat.
Due to their enormous coal baskets, most barrel smokers only need to be lit once, which gives you more time to concentrate on other aspects.
Drum smokers are an obvious choice for anybody who frequently prepares food for big crowds because of their outstanding capacity.
Related Articles:
FAQs
How Long Can You Cook On A Drum Smoker?
You can cook on a drum smoker for up to 20 hours. These cookers can sustain constant heat for extended periods because of their size and sturdy insulation.
Do Drum Smokers Cook Fast?
Yes, drum smokers cook fast because they have a high-temperature capacity and retain most heat during cooking.
Are Drum Smokers the Same as Barrel Smokers?
No, drum smokers are not the same as barrel smokers. Barrel smokers are heavier, more robust, and have to be assembled. Drum smokers come pre-assembled and generally weigh less.
What Size Cooking Grate Fits a 55-Gallon Drum?
21.5" cooking grates fit a 55-gallon drum.
What Is an Ugly Drum Smoker?
An ugly drum smoker (UDS) is a barrel-drum smoker combo. It got this strange name because you can make it yourself using a regular barrel and other parts you can buy separately, including cooking grates, bolts, and mounting elements. The perfect commercial example is the Pit Barrel Cooker.
What Is the Best Drum Smoker for You?
Drum smokers are an excellent way to experience authentic charcoal smoking anywhere. For novice outdoor chefs, a drum smoker may expand your repertoire and costs far less than other alternatives.
If you're looking for a set-it-and-forget-it kind of smoker, the Smokey Mountain cooker is our top pick. The inside is porcelain-enameled and made of very durable 18-gauge stainless steel for consistent performance and simple maintenance.
There's no need to clean or wash the interior; discard your ash, and you're done.
The Smokey Mountain cooker is also ready to use right out of the box; connect the grips, and you're all set to start smoking.
Weber Smokey Mountain Cooker (Best Overall & for Beginners)
Our #1 Recommendation
Accessing fuel door
Two-tier smoking levels
Easy to clean and maintain
Aluminum coated dampers
Get the BEST PRICE until the end of December
Was this article helpful?