Snap Kitchen is an online meal delivery service that delivers meals straight to your door. There are many options available with the service, and all the meals are pre-made so you can get them on the table quickly.
After ordering and trying the service for two weeks, I used my experience to write this review.
What is Snap Kitchen and How Snap Kitchen Works?
Snap Kitchen is an Austin-based meal delivery service that has been preparing and delivering meals to front doors since its founding in 2010 [1].
A registered nutritionist oversees Snap Kitchen's meal creation, and the company has donated over 3 million meals to educators, police, firefighters, and emergency personnel around the country.
Benefits and Highlights

Snap Kitchen uses nutritious food to make dishes that are easy to heat, serve, and fit into busy lifestyles.
I decided to try out Snap Kitchen's meals and see if they live up to their claims. Here's what happened:
1. Plans
A Snap Kitchen subscription comes with two choices of meal plans that are based on the number of meals delivered per week.
You can pick between the following options: 
Six meals per week
Twelve meals per week
Once you have purchased your plan, Snap Kitchen has plenty of recipes for you to choose from. Their menu developers create keto-friendly, low carb, gluten-free, Paleo, and Whole 30 recipes, so you have options that fit a variety of dietary preferences.
I appreciated that there were high protein options available. The choice between twelve or six meals per week also provides flexibility.
I only ordered six meals for the first week of trying the service. However, the meals were very good, and I knew that my next week was going to be busy, so I decided to order twelve meals.
2. Price and Shipping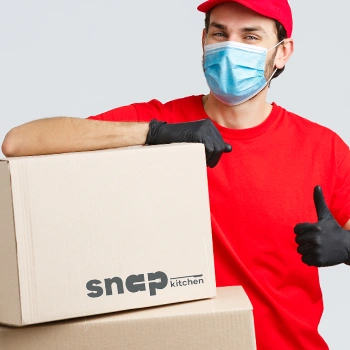 The company's prices for heat and eat meals are based on which meal plan you choose. If you order twelve meals per week, the cost will be $10.50 per meal, whereas the six-meal plan is $12.67 per meal.
Snap Kitchen meals are available for delivery only to certain areas in the U.S. You can go to their site to see if they ship to your location.
Shipping is free to customers receiving weekly shipments, which helps keep the overall price of Snap Kitchen's plans on the lower end of meal kit delivery services.
The overall shipping was smooth. My order arrived five days after ordering, and the food remained cold thanks to Snap Kitchen's packaging and cooler bags. The meals were fresh and ready to heat and serve.
3. Preparation
Snap Kitchen offers meals that are fully prepared when they arrive at your door. In fact, they claim you will be ready to eat within three minutes of getting the food.
The oven and microwave instructions are located on the packaging.
You can heat most of their meals in a microwave in under three minutes. If you decide to use your oven, preheat it, place the meal in an oven-safe dish, and wait until the meal has reached 165 degrees Fahrenheit (approximately 15 minutes).
I had no difficulties in heating the meals using either method. They came out well-cooked and ready-to-eat, no matter the cooking process. I preferred the microwave, simply because it was faster.
4. Freshness and Taste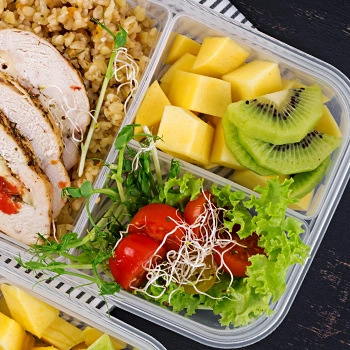 Snap Kitchen takes pride in providing fresh, healthy food that you can prepare right away or refrigerate for later.
The company says it only uses the finest ingredients to create delicious meals for its customers.
They claim to make comfort food healthy by using all-natural ingredients, without processed food or heavy sauces.
I found their butter chicken, chicken butternut macaroni, and banana pancakes with breakfast sausage were satisfying yet light.
The hot chicken on the rotating menu had a nice spicy kick, and the cauliflower grits with Romesco chicken had an excellent taste.
Snap Kitchen's menu offered a wide variety of individual meals, each with its own distinct flavor.
Yet whatever the dinner I tried, I found myself delighted by the freshness of the ingredients. The food tastes like authentic home-cooked meals, but without all the prep time.
5. Ingredients and Nutrition
Snap Kitchen is nutrition-conscious and dedicated to helping its customers eat healthy food.
Every meal is gluten-free, and the food does not contain hormones, antibiotics, preservatives, or artificial sweeteners [2]. They use whole foods and high-quality ingredients.
"Optimum nutrition is the medicine of tomorrow."
- Linus Pauling, Scientist
The company holds itself and its suppliers to high standards with responsibly sourced ingredients. They search for trusted food producers and use only natural flavors.
I found the quality of the ingredients to be excellent. Everything tasted fresh and I never saw anything that looked bruised or smelled spoiled.
6. Variety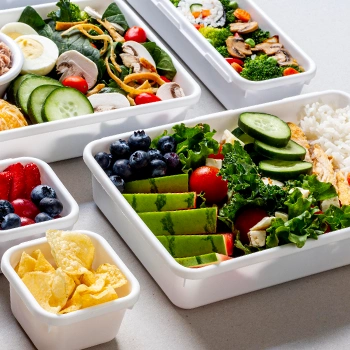 Snap Kitchen lets you choose your own meals from a broad menu every week and frequently brings in new dishes.
There are over 30 items available on the weekly menu, so it is difficult to get bored. For repeat customers, they have a Favorite Meals tab where you can quickly order tasty meals you have enjoyed before.
You can easily filter the meals via clearly labeled categories if you want something that matches your dietary preferences.
Whether I ate Paleo, Keto, Whole 30, low-carb, high-protein, or balanced, I received delicious and healthful meals from the company.
Overall, I found the variety of meals to be more than sufficient. In the Keto section alone, they had multiple types of fish and various recipes for chicken and beef.
Shortfalls
Snap Kitchen has some benefits that are worth considering. However, it is not for everyone.
For example, if you need more options than either six or twelve weekly meals, you are out of luck. As far as the number of available plans goes, Snap Kitchen has fewer than most of its competitors.
Also, Snap Kitchen does not deliver everywhere in the U.S.
Snap Kitchen Pros and Cons
Pros
Variety of meal plans to accommodate various lifestyles
Top-quality, fresh ingredients
Flexible healthy eating for those on-the-go
Nutrition experts available for consultation
Cons
Less plan flexibility than other meal delivery services
It does not ship to all 48 contiguous states
Our Rating
Meal costs: 4/5
Food quality: 5/5
Menu options: 5/5
Shipping: 3.5/5
Comparison to Other Products

Among the many meal delivery services out there, Snap Kitchen is a good choice. However, the market is growing more crowded, so let's look at how it compares to some competitors.
1. Freshly
Freshly's meal delivery service convenience is undeniable - three minutes in the microwave, and you have a delicious dinner.
If you are looking for pre-cooked, balanced meals to be prepared in less than five minutes, then Freshly is a good choice.
Snap Kitchen's meals can be prepared in a similar time frame as Freshly's. However, as someone who strives to eat clean, I like that Snap Kitchen is focused so intensely on providing meals designed to be healthy for the consumer.
2. Sun Basket
The Sun Basket meal delivery service offers excellent variety in its menu with many choices of meal types you can follow: Mediterranean, Carb-Conscious, Diabetes-Friendly, Pescatarian, and many more. They also offer both finished meals and meal kits for you to cook yourself.
Sun Basket provides the consumer with almost too many choices. You will never get bored, but you lose the singular focus that Snap Kitchen has on wholesome, high-quality, nutritious meals that only take minutes to get on the table.
3. Blue Apron
Blue Apron meal delivery combines home cooking with convenience by sending all the ingredients you need to cook your meals.
It gives you fresh ingredients with easy-to-follow recipes and step-by-step instructions on how to prepare food.
Blue Apron has made it simple to cook a delightful meal in 30-45 minutes. However, Snap Kitchen gets food on the table much faster, offering ready-made meals.
Related Reviews:
Yumble Meal Delivery Review
Where To Buy & Cost
You can order your meals on Snap Kitchen's official meal delivery services website, and they will be delivered directly to your door.
You can choose from two plans, with prices varying based on the number of meals. The cheaper plan costs $10.50 per serving for six meals a week, and the more expensive plan is $12.67 per meal for twelve meals per week.
Other Users' Experience

One of my good friends told me about the company after she tried Snap Kitchen meals and loved how it saved time cooking. Looking at online reviews, she is not alone.
Online Snap Kitchen reviews on Reddit are very positive. John from New York was pleased with the restaurant-style meals that came in simple, recyclable packaging and contributed to a healthful diet. Charlie from Los Angeles appreciated how fresh Snap Kitchen's meals were and how perfect they are for a busy schedule.
FAQs
What Am I Committing to With a Subscription?
A subscription signs you up for weekly deliveries. You can choose from two options on the website, and after that, Snap Kitchen will take care of everything for you. However, you can cancel or adjust your plan at any time before the lock date on their site without penalty.
This date is the deadline to cancel or change an order before it is processed. The actual date depends on when your regular delivery date is.
Where Does Snap Kitchen Deliver?
Snap Kitchen has a map on its website that lets you see its delivery areas [3]. You can also input your zip code at sign-up and see if you are eligible for delivery.
Snap Kitchen Review
Snap Kitchen is a meal prep service that offers tasty, fully prepared, ready-to-heat meals.
However, if you are looking for high-quality meal delivery with organic ingredients, we suggest checking out Trifecta. Trifecta meal delivery offers organic produce and proteins sourced directly from farms.
Also, they offer coaching and support from nutritionists to help you lose weight and maintain a healthy lifestyle. With Trifecta Nutrition, you get to choose from a la carte food and extra entrees, allowing you to change up your meals.
If you want to try Trifecta, click here.
We Recommend This Instead
Trifecta
Click For Best Price

Pros
All ingredients are organic and sustainably sourced
Can choose breakfast, lunch, dinner, and 3rd entree meals
Effective for weight loss and improving health
Shipping is free throughout the U.S.
Get the BEST PRICE until the end of December
Cons
Can not select your own meals
Only allows you to disclude two ingredients
Was this article helpful?