Grills are any cook's best friend. They are easy and quick to use and have been a lifesaver during the ten years I've been on a carnivore diet. Whenever I'm out of ideas for a meal, I just toss meat on a grill.
But, a big drawback is that you need outdoor space for a grill, which is why I wanted to find an indoor grill that creates the same results as outdoor grills.
I spent years trying indoor grills from different brands, and here's my selection of the six best indoor grills you can get today.
#2nd Best Choice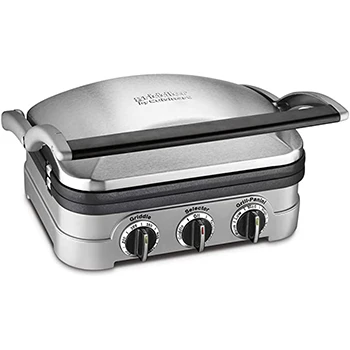 Cuisinart
Check Current Price
#3rd Best Choice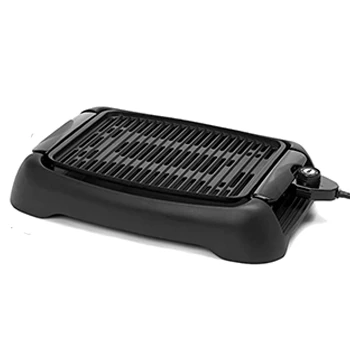 Elite Gourmet
Check Current Price
6 Best Indoor Grills
Indoor Grill Buyer's Guide
Here's what to keep in mind when shopping for an indoor grill.
1. Temperature Range and Wattage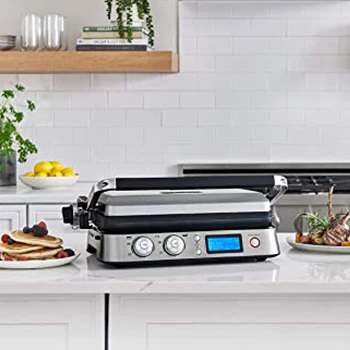 Compared to outdoor grills, which can reach a temperature of 750 degrees and upwards, indoor grills usually run up to 500 degrees, with most having a maximum temperature of 450 degrees. This means you won't get searing results on an indoor grill as you would on an outdoor one.
Electric smokeless grills also have different temperature controls. Lower-end models, such as George Foreman, have only one temperature option, while higher-end, such as Cuisinart 5-in-1, has knobs or thermostats that let you set the grill surface to a specific temperature.
Also, some indoor grill devices take long to heat. This depends on the wattage. The good wattage range is between 1300 to 1800 watts. For example, a smaller indoor grill can usually reach 800 watts which isn't ideal for thick cuts of meat.
Overall, higher wattage means the food will cook faster, but it also means you'll have to pay more, as an indoor grill with high wattage is expensive.
2. Cooking Surface
An indoor grill is much smaller than an outdoor one, which reflects on the cooking surface. Most indoor grills go from 40 square inches to about 130 square inches. This is much less compared to 400 to 500 square inches which an average outdoor gas grill and charcoal grill have.
An indoor grill's cooking capacity is limited by wattage. 1800 watts and a 120-volt outlet can only supply a cooking area of about 100 square inches. 
The larger the cooking area, the larger the grill size, which means you need more storage space. Think about how many people you usually cook, and if you want a small indoor grill you can keep on your counter or a larger one you can store in cupboards or a pantry.
3. Lid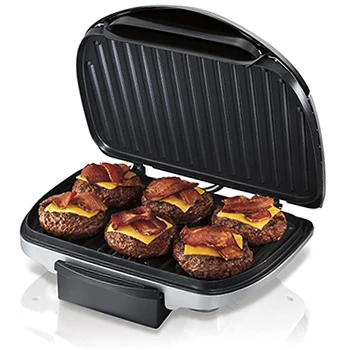 Most indoor grills have lids, similar to gas and charcoal grills. Lids are usually tempered glass, similar to lids for pots and pans. A glass lid lets you check on the food without having to lift the lid, which cools the grill.
Some lids serve as the second burner, so when you press down on the food, both sides are cooked at the same time.
However, there are some grills without lids, such as Zojirushi, and you have to flip the food as on outdoor gas grills [1]. Overall, think about what style of cooking works better for you.
Also, grills that don't have a lid are usually designed so that excess grease and oil drip or splatter into a grease catcher.
5. Maintenance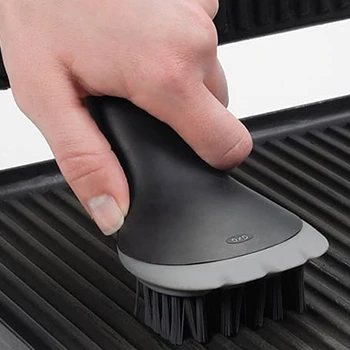 Most indoor grills are made so they are easy to clean after grilling. They have removable trays that catch the drippings and detachable cooking grates.
You can clean these by hand in the sink, but some are dishwasher-safe. Also, contact grills with removable drip trays are easiest to clean because you can dispose of the oil that accumulates.
Most indoor grills have parts that break down once the grilling is over, such as the lid griddles and more. You should clean these after every grilling session, so if you aren't ready to do it by hand, make sure to get a grill with dishwasher-safe components.
6. Features and Price
Overall, an indoor grill is much more affordable than an outdoor grill. You can get an affordable grill with one temperature setting. Or, you can go for a high-end version with more features, such as an interchangeable griddle and settings that automatically cook the food to a preset temperature.
Also, more expensive models function as an air-fryer, oven, and more. Keep this in mind if you like to bake.
Finally, indoor grills can produce a lot of smoke, which can be an issue if your kitchen isn't well-ventilated. In this case, you need a grill with a built-in filter that lowers smoke levels.
Related Articles:
FAQs
Is It Worth Getting an Indoor Grill?
Yes, it's worth getting an indoor grill. An indoor grill is great for anyone who doesn't have enough space for outdoor grills. Indoor grills are compact and easy to clean, and most cook food in under 10 minutes. The only thing indoor grills can't do is create a smoky flavor.
Do Indoor Smokeless Grills Really Work?
Yes, indoor smokeless grills really work. These grills aren't completely smokeless. Most of them are electric grills and use infrared heat, not direct, open flames. This creates a smokeless experience, which is great for people who live in apartments.
What is Better: An Air Fryer or a Smokeless Grill?
Whether an air fryer or a smokeless grill is better depends on what kind of food you like. Air fryers cook foods without oil and are versatile. A smokeless grill gives the food a unique, grilled flavor, and some of them require oil.
What Should I Look for When Buying an Indoor Electric Grill?
When buying an indoor electric grill, you should look for the temperature range and wattage, check the grill size and cooking surface, temperature gauge, ease of use, and cleanup.
Can You Cook Steak on an Indoor Grill?
Yes, you can cook steak on an indoor grill. Some indoor grills can even create grill marks.
What's the Best Indoor Grill for You?
If you're after a quality indoor grill, you want one that won't take up too much of your space but still offer easy maintenance, versatility, and good temperature control at the same time.
For that reason, my vote for the best indoor grill goes to Hamilton Beach. It cooks amazing food at an affordable price.
Moreover, it's extremely easy to clean because the fats go into a removable drip tray you can clean in the dishwasher. The surfaces are non-stick, so all you need to do is wipe them down.
The preheat lights let you know when it's time to start cooking, and your food will be ready in only ten minutes.
Check it out, and enjoy a seamless cooking process and delicious food.
Hamilton Beach Indoor Grill
Dishwasher-safe drip tray
Affordable price
Cooks food fast
Compact size
Hamilton Beach Searing Grill (Best Overall)
Our #1 Recommendation
Cooks food quickly
Fits up to six servings
Indicator lights show the grill is ready for use
Produces juicy food
Get the BEST PRICE until the end of December
Was this article helpful?