There are countless online meat and steaks providers to choose from, and finding the right one can be tiring. And the moment you start reading those online comments, figuring out what's good and what's not tends to become an overwhelming experience.
Recently, we've tried Omaha Steaks, one of the largest providers. Let's see how they stack up in that department, which will hopefully help you make the right choice for yourself.
What Is Omaha Steaks?
Omaha Steaks is among the oldest companies in the full meat delivery business, offering everything from beef, pork, bacon, seafood, steaks, and poultry, to great desserts and side dishes, such as grilled potatoes and other fresh vegetables.
They have been around for a whopping total of 166 years, with humble beginnings as a local butcher shop in a city between Nebraska and Iowa.
Interestingly, their first prime steaks in 1952 arrived via mail order.
But we've come a long way since shipping food via mail order, so now they're part of the country's best and largest online meat delivery shops.
Pros
Gift package and gift card options
Shipping in all 50 states and territories
Omaha Steaks offers complete meal and steak packages
Regular holiday special offers
Cons
Some high price items
No free shipping
Portion size can be small
Sometimes hard to reach service rep
How Are The Menu Choices?

The first time we ever wanted to order Omaha Steaks products, we noticed a large variety of the best meat products and other food to choose from, even including desserts and great appetizers like lobster tail, for everyone to share.
We particularly love their bacon wrapped filet mignons, jumbo franks, Omaha Steaks burgers, and skirt steak.
One thing we also like is the gift basket Omaha Steaks deal that can be custom-designed based on your preferences like a variety pack in one box.
Omaha Steaks offers package options such as:
Filet Mignon
Ribeye
Strip Steak
Burgers
Boneless Pork Chops
Chicken Breast
Hot Dogs
Good Beef Jerky
Gourmet Burgers
Fish Fillets
Sirloins
Cheesecake
Stuffed Baked Potatoes
French Fries
Cheesecakes
Dessert Wines
Also Read: Is ButcherBox a Good Deal?
Does Omaha Steaks Have Quality Steaks?
Per our review and according to testimonies, most people have nothing negative to say as their steak cut standard is premium.
During our Omaha Steaks review, we found the fcut to get particularly tender and the gourmet franks tasty.
The taste is amazing, and the fact that you always receive a good portion of the cut when you buy made it all the more favorable.
You're going to get a word that Omaha Steaks meat delivery service prices tend to get expensive, but let's be real - filet mignon, Kobe beef, Kurobuta pork, picanha, teres major, and Wagyu beef tend to cost a lot of money, anyway.
Until you get into the larger packages or the juiciest cuts of meat, ordering food from them isn't all that expensive often times than getting your purchases from the local store.
In fact, the selection and quality are far better than what most supermarkets or meat place near your area would offer.
However, something you've got to note is that cattle are grain-finished, so they are not really 100% grass fed beef nor USDA prime beef.
Is Omaha Steaks Overpriced?
Omaha Steaks are overpriced according to some comments left on a couple of helpful review sites, such as Trust Pilot.
While some are disappointed, other commenters note that the items are of a high caliber and well worth the money. Per our review, the food is of reasonable value, and they still deserve a star rating.
The cost of each absolutely delicious cut you get to enjoy varies greatly, and you can find everything from the best quality Wagyu beef to lower-cost beef cuts to cook at home or eat in restaurants.
Some examples of price include:
For Under $100
King Cut 36oz NY Steak
Top Sirloin Cap Roast
Chicken fried steaks
For Under $50
Premium Ground Beef
Brisket Burger
Steakhouse Sweet Potato Fries
How Are The Sourcing Practices?
They source from great local ranches in the state of Nebraska. The state is renowned for having some of the best cattle in the United States.
The animals are mostly raised on a grass-fed diet and grain-finished to create a better gourmand cooking experience. Their meats are all flash frozen so that the fibers don't get damaged as much when you eat them.
Ordering Process
If you want to try Omaha Steaks, the ordering services they use are relatively smooth. For our review of Omaha Steaks, we ordered a four to six-ounce filet mignon burgers from the Omaha Steaks website.
It was easy to add the product into the online cart and pay for everything. After checkout, we received an order number for later review. They accept a well range of payment options for their food, making it even easier to complete the checkout. However, in time of this Covid-19 pandemic, there may be changes in their ordering process and ordering policy, including the delivery charge.
Are Omaha Steaks Shipped Fresh or Frozen?
Omaha Steaks are shipped frozen to ensure they retain the freshness they need.
Every product is packed in a gift pack with dry ice, and the package is then placed in a styrofoam container.
The idea is to ensure the product remains cool during the day of the delivery to your doorstep. As soon as you receive your pack, place the meat in the cooler or freezer.
The dry ice will be well enough to keep one or two orders frozen during transportation and for sous vide cooking.
But there could be some shipping costs depending on the subtotal.
How Is The Customer Service?
The customer care is anything but poor. We like how the support team operates seven days a week.
You can get in touch with a representative by contacting their toll-free phone number during the hours of:
Weekdays - 7 am to 10 pm
Saturday - 8 am to 7 pm
Sunday - 9 am to 5 pm
They would also answer a lot of questions on their website fact center.
Their support page is quite extensive to read, making the experience of ordering from them much easier overall.
How's The Product Guarantee?
Another thing we like about Omaha Steaks is they offer a satisfaction money-back guarantee.
If you aren't completely satisfied with your order, you have two great options.
You can either request a refund or even have them send you a new order. You never have to wait for months, too.
Related Comparison Guides:
Online Reviews
After an extensive review, we found them to be an adequate provider with a regular following of consumers dating from years ago.
We like how their products are usually fresh when sent, and they provide shipping to more locations than most online providers.
BBB Rating
They have been accredited with the BBB since 1966 and has an A+ rating. They have 17 ratings, with an average of two out of five stars and 96 registered complaints (1).
Trust Pilot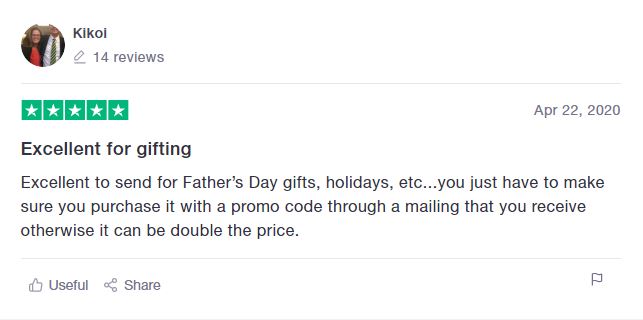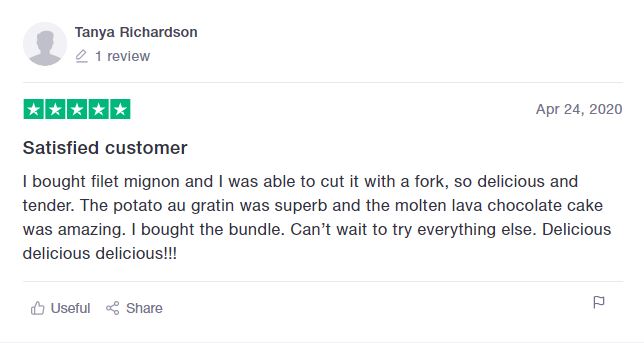 They have feedback from 16 customers with an average of 3 out of 5 stars. 31% of people rated them as excellent, and 31% are bad reviews (2).
Yelp
They have 236 ratings on Yelp with an average rating of 2.5 out of five stars. Many of the complaints seem to center around pricing and portion size (3).
Facebook Page
The steak company has over 400,000 likes on its Facebook page. They have a rating of 4.1 out of five based on the opinion of over 20,000 people (4).
FAQs
How Long Are Omaha Steaks Good for Once Thawed?
Omaha steaks are good for 3 to 5 days once thawed in the refrigerator. They must be cooked during this time, or they may spoil. You wouldn't like it as much then.
Do Omaha Steaks Have Additives?
No. Omaha Steaks do not have any additives. All of their meat is shipped fresh and is sourced from non-factory family farms that practice optimal animal raising methods.
How Long Does Omaha Steaks Stay In Packaging?
Omaha steaks are delivered in vacuum-sealed packaging to keep the meat fresh and tender for up to 3 months. The best way to enjoy flavorful meat cuts is to keep them in a working freezer. For the safest results, thaw in the refrigerator and not at room temperature.
Is Omaha Steaks Worth It?
Omaha Steaks may provide adequate service if you're looking for higher caliber meat than the things you would typically find at your local grocery store.
But according to our research, we believe there is one better option for future meat purchases. Out of all the companies we've reviewed, ButcherBox has been better for consistent and premium-quality meats.
Aside from high-quality beef bourguignon, they also offer free-range organic poultry and wild-caught seafood. The packages are affordable, and you get to curate your own box, too.
If you're looking for top-notch flavor delivered throughout the US, make sure to check out ButcherBox.
#1 Meat Delivery Service
ButcherBox
Click For Best Price

Pros
Grass-fed and grass-finished beef wellington and other choices delivered directly to your door
Without antibiotics or added hormones
Customizable boxes available, such as cardboard box or styrofoam box packaging
Select from up to 21 different cuts
Get the BEST PRICE until the end of March
Was this article helpful?