There's nothing quite like eating traditional Japanese food. So, how exactly can you make that happen from the comfort of your home or backyard? Well, let me introduce you to a yakitori grill
At Carnivore Style, we love Japanese food, everything from Wagyu to Kurobuta, so we decided to have a big company party and test out all of the best yakitori grills on the market. Keep reading to find out which one is our favorite.
Editor's Choice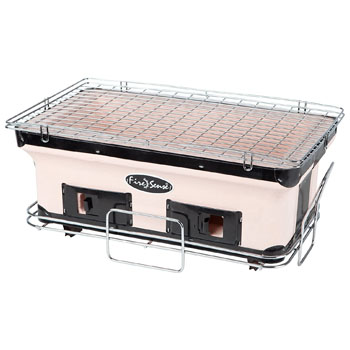 Fire Sense
Check Current Price
#2nd Best Choice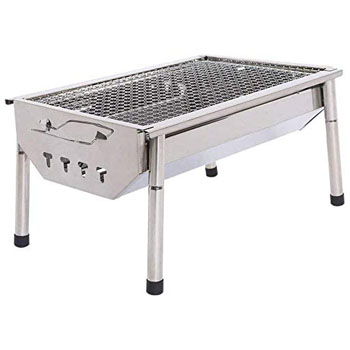 ISUMER
Check Current Price
#3rd Best Choice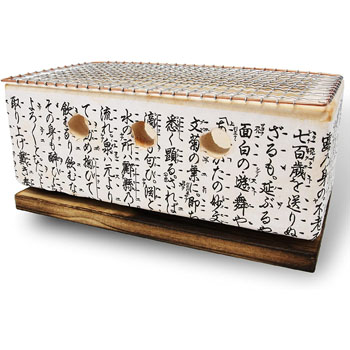 NOTO DIA
Check Current Price
Top 10 Yakitori Grills in 2023
Buyer's Guide For Yakitori Grills

Dimensions
Are you looking for a tabletop, camping, backyard, or patio grill?
When shopping for a yakitori grill, you should keep in mind how much space you have to store and use it. It would be best if you also kept in mind where you plan to use it.
If you want to place it on your table, then one of the smaller models we reviewed would be ideal. If you're looking to throw a big party, then a large rectangular model is a better choice.
You should also have a storage place in mind since most of these grills should be stored in a cool, dry place.
Cooking Surface
Before you buy, determine the cooking surface that will be best for you. Most yakitori grills come with stainless steel, chrome, or iron grates. Chrome-plated grates are the most expensive but also the most durable.
Stainless steel is another option that is easy to clean and won't rust. It's also cheaper than chrome. If you wish to learn which stainless steel grill model we think is the best, check out this page.
Iron grates tend to rust over time, so we recommend that you dry them thoroughly after washing them.
Some yakitori grills come with multiple grilling options, such as a takoyaki plate, making it more versatile. The cooking surface also determines how much food you can make.
Portability
Each grill is portable to a certain extent. Yakitori grills are much more portable than a gas grill or smoker.
The smaller the grill, the easier it is to transport. Many of these yakitori grills are designed to be taken with you to campsites or tailgating.
We recommend one of the smaller models for carrying around to your favorite campsite. Some grills even come with foldable legs.
Many of these grills also have transport handles. To be honest, some were easier to use than others.
We found that oversized side handles are better than small plastic ones. The large handles end to hold up better when you have a lot of charcoal in the base.
Ventilation
Ventilation for yakitori grills is essential for providing airflow to the charcoal fire. Some models come with adjustable vents, which are ideal for allowing as much or as little airflow as needed.
Many yakitori models come with multiple holes on the front and back to let air in, but they are not adjustable.
If you plan to grill indoors, it might be helpful to have a minimum of 3 or 4 vents since there is less airflow inside.
For outdoor use, you can likely get by with small holes since there is generally more airflow.
If you are concerned about airflow, you can also buy a small fan or fire bellow that will blow air into the charcoal fire to bring up the heat.

Ease of Use
In general, yakitori grills are very simple in their design. It is one of the most basic types of grills on the market.
The best yakitori grills come with features that make it easier for the user, such as an electric fuel source, foldable legs, built-in fans, and oversized handles.
Another factor that makes these grills simple is that they don't require a lot of maintenance. They are generally easily cleaned and easily assembled. Most models are easy to transport to a campground or other party.
We recommend checking the instruction manual before using your grill to ensure that you follow all of the directions carefully.
Related Articles:
Quality/Materials
A yakitori grill is usually made of stainless steel, ceramic, or chrome. The most popular material for the grill grates is stainless steel because it is easy to clean and will not rust over time.
The best yakitori grills have chrome, which is a higher quality material because it is more durable.
The base of a yakitori grill is typically made of ceramic due to its heat-absorbing properties. Some grills have a stainless or iron body that is not as heat-resistant as ceramic, but it will last for many years.
Related Article: Yakitori Grill DIY Guide
Fuel Source
The primary fuel source for this type of grill is charcoal. The traditional Japanese grill has been using charcoal or briquettes for many years.
Some grill models have an electric fuel source, which is easier to use. To see which electric grill model we highly recommend, visit this blog post.
One downside to electric yakitori models is that they do not provide that charcoal or smokey flavor representative of the traditional yakitori grill.
Charcoal provides a much better flavor since the indirect heat and smoke creates an "umami" flavor. Umami is the Japanese term meaning pleasant savory flavor, which is how barbecue is supposed to taste.
Warranty
Each grill that we tested comes with a warranty that might need to be activated once you receive the grill.
Most of the products came with a 1-year warranty. According to most customer reviews, not many people had complaints about the customer service for these products.
When we called customer service for our Fire Sense model about a missing part, they shipped us a new part immediately at no extra cost.
Who Are These Grills Best For?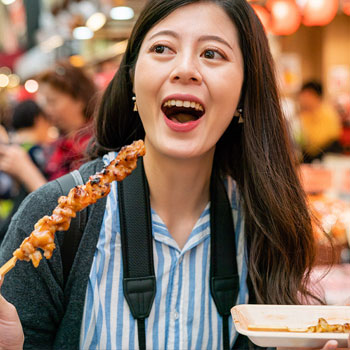 We think a yakitori grill is suited for people who want to barbecue food in the traditional Japanese way.
They are ideal for people who want to cook on their table, balcony, or at a campsite. They are also suitable for people who want a no-fuss approach to grilling.
They may not be ideal for someone who wants a gas grill or a high-end smoker. They are also normally designed for small parties of up to 5 people.
If you want to grill for a large party of 20, this might not be the grill for you.
Also Read: Best Hibachi Grill
FAQs
Can I Use This Grill Indoors?
It depends. We recommend using the charcoal-based yakitori grills outdoors due to smoke production to avoid smoke inhalation. The electric models can be used indoors since they do not produce thick smoke.
What Is the Difference Between Yakitori and Uten Barbecue Grills?
They are basically the same design, but uten grills are normally a little bit smaller. We recommend yakitori grills for more than 2 people.
Should I Use a Specific Type of Charcoal With a Yakitori Grill?
Yes. Binchotan is the most popular type available. It gets searing hot and can cook food at high temperatures. Most experts recommend this as the go-to option, but you can also use briquettes.
"In Japan, they use binchotan charcoal, incredibly dense charcoal that can reach searingly hot temperatures with hardly any smoke or flame."

- Olive Magazine, Master Chefs From Jidori Restaurant [1]
And The Best Yakitori Grill Is...
After careful consideration and lots of meat later, we think that the Fire Sense Large Rectangle Yakatori Charcoal Grill is our top pick in this roundup.
We liked this grill because it came with large dimensions, a chrome-plated grill grate, and adjustable vents.
The Carnivore Style had a blast trying out all of these yakitori grills.
It was mainly an excuse for us to have a barbecue party every day of the week.
Our #1 Recommendation
Fire Sense Rectangle Yakitori Grill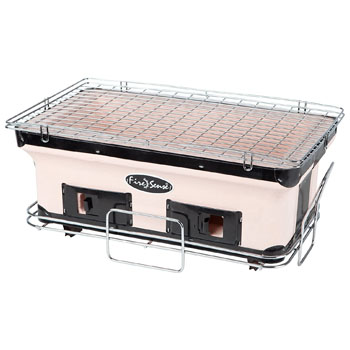 Check Current Price

Pros
Handcrafted clay base
Chrome grilling rack
2 air vents
Includes a stand and handles
Cons
Must keep clay exterior dry
Was this article helpful?