A few weeks ago, I realized that my diet started to get a bit monotonous when it came to my meat options. I set out to find a meat delivery service that offered high-protein exotic meats, and that's when I came across Fossil Farms.
After reviewing over 15 meat delivery services, my team and I found that Fossil Farms offered a wide array of unique and hard-to-find farm-raised game meats. We decided to give you a thorough review to see if this might give us a good experience.
What Is Fossil Farms?

Fossil Farms is a meat company that offers steroid and hormone-free exotic meat products raised on independently owned farms and ranches. They ensure that all animals are raised humanely and only forage on grass and other vegetation. The selection includes over 200 uniquely sourced and sustainable proteins.
Based in New Jersey, the company offers standard proteins such as high-quality grass-fed beef, lamb burgers, and bison burgers. They also offer exotic meats like ostrich fillets, buffalo meat, wild boar, and other wild game animals.
Due to their food supply chain, Fossil Farms provides individual customers the experience to shop for smaller exotic meat quantities. They also offer wholesale pricing to larger restaurants and meat shops most of the time.
Pros
Access to over 200 meats
Exotic meat available
Steroid, hormone, and antibiotic-free
Humanely raised and grass-fed
No product subscription required
Cons
No Saturday delivery option
What Are The Menu Options?
Fossil Farms offers a wide selection of the best exotic meats if you're tired of eating hotdogs and burgers. Every animal is fed a vegetarian diet free of hormones, antibiotics, preservatives, and steroids. The company offers everything from alligator to emu and guinea hen on their website. Based on customer reviews, the place also provides exotic game birds as food alternatives to red meats.
Menu Option Highlights
Antelope
Wagyu beef
Angus beef
Berkshire pork
Bison
Kangaroo
Ostrich
Squab
On top of these options, you can also check out more from our carnivore diet food list. Meanwhile, Carnivore Club offers exotic jerky bouquets if you are looking for alternative meat markets and chef stuff.
How is The Fossil Farms Meat Quality?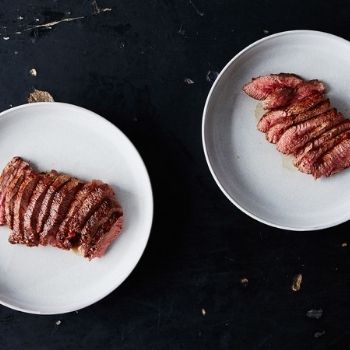 We found that the flavor and quality of Fossil Farms products are above average based on customer reviews. It surpassed the quality of a normal grocery store or other local meat shops since no preservatives are added.
We thought it was similar in quality to other gourmet meat delivery companies except that they offered more exotic wild game meats, like kangaroo, goose, game birds, and elk foie gras.
Reviews tell us that all of the animals are raised humanely over time and allowed to free-roam in large pastures by farmers, making a difference in the meat's quality.
They are also raised all organically on a vegetarian diet, which increases the quality versus grain-fed animals.
Delivery Options
Fossil Farms can ship all of their items by UPS. The company processes orders Monday through Friday and begin shipping them out as soon as possible. As per reviews, most items will be delivered with UPS 2-day delivery.
The customer service staff highly recommend being at home to receive the item since UPS does not require a signature, then it will be dropped off at your doorstep. For more area delivery info, visit www.fossilfarms.com.
How Is Fossil Farms Packaged?
Fossil Farms packages their exotic meats and other meat, chicken, duck, and standard items in vacuum-sealed wraps that are usually flash-frozen before leaving the distribution center. They are shipped in insulated styrofoam containers with a lot of ice packs to keep them cold. The company is currently trying to find an eco-friendly alternative to styrofoam containers.
As per reviews, they don't offer many non-meat items, but if you order the rendered duck fat butter, the customer service staff assured us that it will be shipped with extra packaging to ensure it doesn't break.
Pricing and Promo
Based on reviews, the price range at Fossil Farms varies from reasonable to very expensive, depending on the type of fresh meat you select. Since most of the company's exotic meats selection is higher quality than normal grocery stores, you can expect to find higher prices. For example, one Wagyu beef or Angus NY Strip Steak of 13 oz cost about 50% more than you can expect in a grocery store.
Fossil Farm's other fresh meat cuts include a Bison strip steak of 9 oz for around $20. You can also get 13 oz worth of chicken breasts for under $10. The prices are higher than those of a standard grocery store due to the meat's organic and grass-fed nature.
Special Offers or Promo Codes?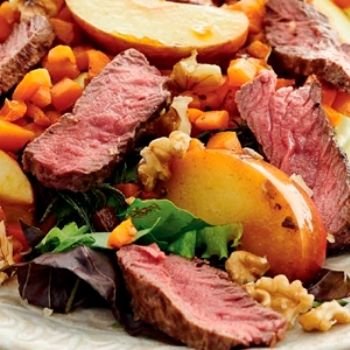 At the time of this review, Fossil Farms was running a promotion on some of their red meat alternatives to get chefs and customers to change the steaks they use.
One advantage is that they offer up to 25% off on select red meat alternatives cuts, including bison, venison, and ostrich.
On some reviews, we've seen that they do not appear to have a special sale section on their website, so if you're looking for something in particular, it might be good to check out their page before ordering at any time.
What Kind of Meat Are Raised at Fossil Farms?
Fossil Farms offers a variety of options. Their venison is raised naturally on an all-natural and organic diet. For a unique flavor, try Fossil Farms Bison. Although it looks like regular meat, it has a slightly sweet taste.
Fossil Farms Elk is a blend of venison and beef, offering a distinctive combination of flavors. If you prefer a milder taste similar to venison, Fossil Farms also offers antelope meat.
Potential Downside
Most reviews reveal that one potential problem with Fossil Farms is that some customers seemed to complain about the packaging being sub-par on arrival. A couple of reviewers noted that the meat was starting to thaw, and some had issues with the vacuum sealing. We recommend ensuring that you are home to receive your package immediately upon delivery to preserve the taste.
Fossil Farms Exotic Meats Reviews
We thought that the Fossil Farms website offered a wide variety of wild game meat that was difficult to find in most meat shops. Most Fossil Farms review comments show that if you have an Alpha-gal allergy or meat allergy, then Fossil Farms may be a good option since they include a section for the most exotic meat on their website.
If you are on a carnivore, keto, or paleo type of diet, you might find what you need at Fossil Farms since they house a wide selection of meat cuts, including tenderloins, jerky beef, and turkey meat.
While checking out the reviews of Fossil Farms on Facebook, Twitter, YouTube, and other social media pages, we found that most customers seemed to give this company a high rating. We've also read that Rhonda Phillips recommends their venison sausage, stew meat, and pork tenderloin. Fossil Farms has 4 out of 5 stars on Yelp.
"These folks are awesome! The animals they farm are treated humanely and it shows in the quality of their meat."

- Samantha W., Verified Yelp Review
We also found that Fossil Farms customers gave them an "excellent" taste rating on Birdeye with 4.7 out of 5 stars. [1]
Similar Meat Delivery Services:
Fossil Farms vs. ButcherBox
The main difference between Fossil Farms and ButcherBox is how they sell their meats. ButcherBox is a meat subscription service.
You sign-up, choose a box of traditional meats you like, and it'll be delivered to your doorstep every month. On the other hand, Fossil Farms specializes in a la carte ordering and exotic meats. It means you can order one piece of meat or as many types and as many pieces as you want.
Fossil Farms offers steroid and hormone-free traditional and exotic meats from about 200 family farms in the U.S., focusing on humane, cage-free raising practices and natural diets, with a mission to innovate and maintain a sustainable supply chain.
ButcherBox, known for its transparency, provides detailed information on its sourcing practices, partnering with family-owned farms inspected by the USDA to deliver antibiotic-free, hormone-free, and steroid-free meats, including pasture-raised beef, crate-free pork, free-range organic chicken, and sustainably caught wild seafood.
One of the best parts about ButcherBox is that they offer free delivery on all packages, no matter your location. Also, if you subscribe, you'll get free ground beef for the whole duration of your subscription.
FAQs

Where is Fossil Farms based?
Fossil Farms is based in Boonton, New Jersey. Their main location is at their corporate office and retail store at 81 Fulton Street, Boonton, NJ. They have distribution centers throughout the US so that you can get your deliveries in a timely fashion.
Does Fossil Farms sell brand items?
Fossil Farms does not sell any big store brand items, but rather local family pasture meats that are grass-fed and humanely raised.
Where does Fossil Farms ship to?
Fossil Farms ships to any location in the United States, although shipping costs may vary greatly for areas that are furthest away from their major distribution center.
Does Fossil Farms have physical stores?
Fossil Farms has one physical location in Boonton, NJ. They do not have any other physical storefronts at the moment.
Should You Buy From Fossil Farms?
After our Fossil Farms review and based on customer feedback, we think they provide a nice selection of exotic game meats such as bison, ostrich, and elk steaks, which may be good alternatives to the usual chicken, pork, or beef.
But, since we're not big fans of exotic meat types, we still prefer ButcherBox for our bulk meat delivery. They offer some of the best beef and chicken selections that we've tried. We are very impressed with their wide selection of pork and steaks.
When it comes to their services, you can either choose a subscription package or curate your own. Either way, you get fresh and flavorful meat delivered to your doorstep, free of charge.
#1 Meat Delivery Service
ButcherBox
Click For Best Price

Pros
Grass-fed and grass-finished beef delivered directly to your door
Without antibiotics or added hormones
Customizable boxes available
Select from up to 21 different cuts
Get the BEST PRICE until the end of December
Was this article helpful?