Dinnerly crowns itself as the "most affordable meal delivery service" around, offering customers up to 28 easy recipes per week.
Dinnerly is aimed at adults who love a home-cooked meal yet have no time to shop or prepare.
On our quest to find the best meal kit services, we decided to put Dinnerly to the test for an entire month.
In this article, we'll go over the benefits and features, the pros and cons, ultimately deciding whether Dinnerly is worth the subscription.
What Is Dinnerly, and How Does It Work?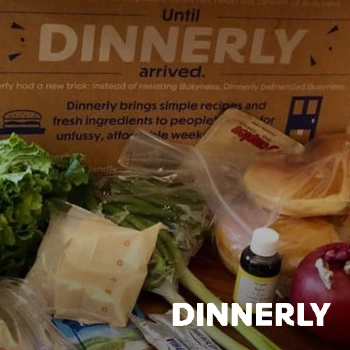 Dinnerly was launched on July 11th,  2017, claiming to be the most affordable meal kits available on the U.S. market [1].
It is a weekly subscription box, offering meals that are easy to cook for as little as $4.29 per serving.
Each week, their menus rotate, allowing you to create your own meal plan by mixing and matching recipes.
Dinnerly recipes are designed to be made in under 30 minutes, requiring six ingredients or less.
Unlike other meal kit services, Dinnerly try to keep things as electronic as possible, using digital recipe cards instead of physical.
Instead of using fancy marketing campaigns and going above and beyond, Dinnerly aims to keep it simple: good food at an affordable price.
1. Easy Sign-up Process
The first thing we noticed and liked about Dinnerly is that you can view menus before making a Dinnerly account.
The website allows you to view the previous week's Dinnerly menu, as well as the upcoming three weeks.
When you decide to sign up for Dinnerly, you will first be asked to choose from either the two-person box or the family box.
Each box allows you to pick three to six meals each week, with the family box catering to four people.
You will also be able to check a "make your box vegetarian" option if you require an all-vegetarian diet.
Once you have made your selection, you will be prompted to enter your postcode to check if Dinnerly delivers to your location.
When you have filled in your delivery and payment details, you will then be able to choose your meals.
We found the whole sign-up process pretty straightforward, and we had no issues selecting meals or arranging delivery.
2. Large Selection of Dinnerly Meals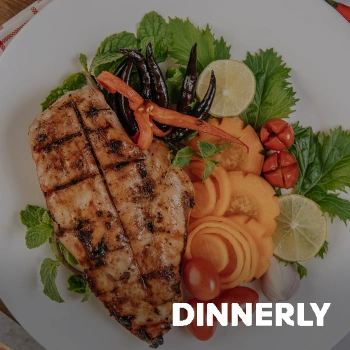 Each week, you will be given the option to pick from over 28 different Dinnerly meals.
Some of the recipes we chose to go with included pan-roasted chicken with mashed potatoes, pulled pork BBQ with oven fries, and chicken and rice noodle stir fry.
You will also have the option to choose from lunch, dinner, and dessert items such as chocolate chip pancakes or strawberry smoothies.
Dinnerly also offers customers the option of adding extra proteins each week [2].
We liked the Dinnerly meal selection process because food preferences and dietary restrictions were clearly highlighted. Under each meal, you will find tags that read:
Meat

Vegetarian

Vegan

Poultry

Fish

Seafood

Healthy 

Nutritious

Kid-friendly

No added gluten

Low-carb 

Low-calorie

Dairy-free

Spicy
Meals will also include a tag to indicate if the recipe can be made in under 30 minutes and if it's a one-pot meal.
We found each weekly menu to offer a variety of different foods, and we thought that the family-friendly menu makes it ideal for those with children.
However, we were slightly disappointed at the small range of vegetarian options on offer.
3. Flexible Delivery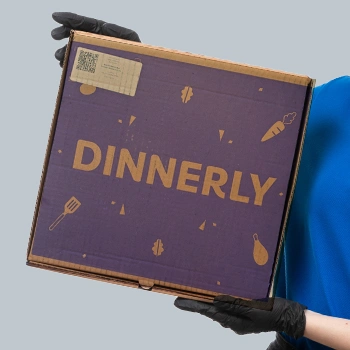 The delivery options are pretty flexible when using the Dinnerly meal kit service. They offer delivery Monday, Tuesday, Wednesday, and Friday, anywhere between 8 am - 8 pm.
Depending on your location, you can choose a specified delivery time.
However, Dinnerly does state that they may not be able to provide a scheduled time due to different delivery and shipping regions [3].
Dinnerly currently delivers to most of the contiguous U.S. states, and your Dinnerly box will either be shipped from a fulfillment center in New Jersey, California, or Texas.
Your order will most likely be shipped with FedEx, UPS, AxleHire, or Lasership; however, Dinnerly is constantly growing and adding new partners.
You also have the freedom to change delivery days for placed orders as long as they haven't been processed yet. The same goes for all future orders. If you want to skip orders, you can do so through your settings app. Dinnerly let you skip up to four weeks in advance, five to six days before your scheduled delivery date.
If you would like to skip for longer, you can pause your Dinnerly meal kit delivery at any time. Your subscription will start back up automatically once your break is over.
The shipping fee is $8.99 per week, which we feel is an OK price considering the low cost of the meals per person.
4. Digital Support Materials
Unlike most meal kit delivery services, Dinnerly keeps all of its recipes online and doesn't include printed recipe cards within its meal kits.
While this could be an effort to lower their carbon footprint, this is mostly to keep their costs down [4].
While this was slightly disappointing for us, as we like to keep the physical copies of the recipes, we understood why they felt the need to do this.
If you'd like, they also give the option to download and print the PDF recipe cards.
If you don't mind using online recipes, you can find all the meals on the Dinnerly app on their website. The recipes are pretty in-depth, listing things such as:
Cooking level
Nutrition per serving
Allergens
What they send
What you'll need
Tools you'll need
Detailed step-by-step cooking process
A brief description of the recipe
Serving time & cooking time
5. Recyclable Packaging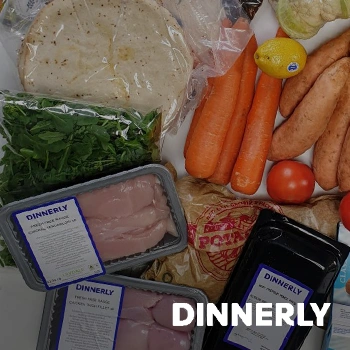 When we received our Dinnerly box, we were happy to find that most of the packaging was recyclable.
We noticed that the packing wasn't very special nor pretty, but that is to be expected with simple meals at a low price point.
Dinnerly's meals come packaged inside a cardboard box which can be recycled curbside, along with the thermal box liner.
Most ingredients, like pasta, proteins, and spices, were packaged in recyclable packaging, with sauces in plastic bottles.
Cardboard was used to separate chilled goods from the dry, with a reusable ice pack at the bottom of the box. If you're not planning on reusing the ice pack, you can recycle it once the ice has been separated from the plastic.
6. Some Organic Ingredients
According to Dinnerly, even though they are an affordable meal kit delivery service, they use the same quality ingredients as most meal kits, just with fewer ingredients and not as fancy cooking instructions [5].
When our meal kit arrived, most of our ingredients came fresh and ready to use, with the exception of a few bruised vegetables here and there.
This meal kit delivery states that some of their ingredients are organic, coming from local suppliers, but not all.
Their chicken is antibiotic-free. However, some meats may have received antibiotics at some point during their life.
They don't add any MSG to their products; however, sauces or condiments may include it.
7. Easy Cooking Process & OK Taste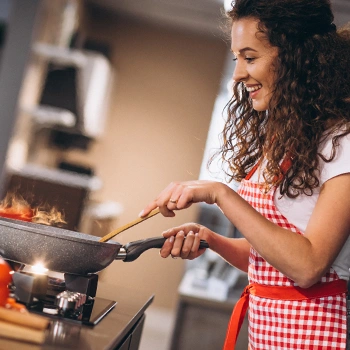 Dinnerly's menu contains straightforward recipes that are simple to whip up.
You will need to open the recipe cards on the website or via the app, as the meal kit service can seem a little overwhelming without instructions.
Since Dinnerly includes fewer ingredients than other meal kits, you may find yourself in need of some grocery shopping to purchase some extra ingredients such as garlic, red wine vinegar, olive oil, hot sauce, etc.
You can see what extra ingredients you will need when choosing meals, so if you don't want to purchase additional condiments, this is something to look out for.
You will also need some basic cooking wear such as saucepans, graters, baking sheets, etc. All instructions have five steps, with an additional "extra credit," which suggests ways you can add to your dish.
All the recipes we tried took 30 minutes or less, and there were fewer dirty dishes in the end due to the few ingredients used, which was a plus.
"Eat all the junk food you want - as long as you cook it yourself. That way, it'll be less junky, and you won't eat it every day because it's a lot of work."
- Michael Pollan, American Educator
When it came to the actual taste of the meals, we found it to be pretty hit or miss.
Some recipes we found to be delicious, whereas others seemed to be missing flavors, or ratios were a little off.
For example, one meal that included green beans didn't supply enough beans for four people. Or another recipe didn't include nearly enough sour cream that was needed.
It isn't the most attractive meal kit service out there, but all in all, they make cheap and easy weeknight meals.
How Can This Meal Delivery Improve?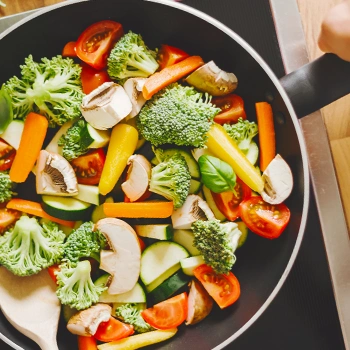 While there are many things to praise about this meal kit delivery service, there are a few things I would like to see improved on in the future.
Unfortunately, Dinnerly doesn't offer many vegetarian or vegan options.
Only two or three options are vegetarian, making it much harder for customers to find something that fits their dietary needs.
While we do realize the reason for it, we believe that Dinnerly only offering online recipes is a huge downside.
Printed recipe cards are one of the most attractive things about a meal delivery service, and there are some companies out there that do include recipe cards for almost the same price.
Dinnerly Pros and Cons
Pros
You can choose from over 28 meals per week, including lunch, dinner, and desert
They offer special meals for different occasions such as Mother's Day and Christmas
More affordable than most meal kit delivery services
Offer a wide range of kid-friendly recipes, making it ideal for families
Cons
Not many vegetarian or vegan options
Recipes can only be accessed online
Our Rating
Signup process: 4/5
Selection: 3.5/5
Delivery: 4/5
How Does It Compare to Other Meal Kit Companies?

Since there are many meal delivery services on the market, it can be difficult to find one that fits your needs.
If you're not sure that Dinnerly cater to your needs, check out how they hold up against three other meal services.
#1 Trifecta
Trifecta is a meal delivery service that focuses on nutrition and clean eating. They cater to a whole range of keto, vegetarian, and vegan diets.
Along with your food subscription, you will also receive support from a trained coach in order to reach health goals and better your eating habits.
While Trifecta is more expensive than Dinnerly, it is a better option for those looking to eat healthier and hit their fitness goals.
#2 EveryPlate
EveryPlate is another affordable meal service, with prices starting from $5.49 per serving.
Just like Dinnerly, they mostly cater to people on "regular diets" to help keep costs low, but their meals are tastier and easy to make.
All kits come with full-color recipe cards, and customer service can be reached 24 hours of the day.
#3 HelloFresh
HelloFresh meal kit service offers customers the choice of a wide range of meals, fitting many dietary types such as family-friendly, vegan, and vegetarian.
They also sustainably source a large number of their ingredients, making sure they're always the best quality on offer.
While clean-up can take longer than with Dinnerly, meals are tastier.
How Much Does Dinnerly Cost?
The price of Dinnerly depends on how many meals you order per week and for how many people you are ordering for. Here is a breakdown of the costs:
*Note: All weekly prices include a flat rate shipping of $8.99
| | | | | |
| --- | --- | --- | --- | --- |
| | 3 meals per week | 4 meals per week | 5 meals per week | 6 meals per week |
| Two Servings | $5.89 per person / $44.33 per week | $5.79 per person / $55.31 per week | $5.69 per person / $65.83 per week | $5.59 per person / $76.07 per week |
| Four Servings  | $5.59 per person / $76.07 per week | $5.19 per person / $92.03 per week | $4.99 per person / $108.79 per week | $4.69 per person / $121.55 per week |
Other Users' Experiences

According to a few online reviews, quite a lot of customers love Dinnerly as a meal delivery service.
Derek from Florida shared - "I loved that Dinnerly only uses online cooking materials to lower the price and waste, and it's easy to navigate the website to find past recipes".
On the other hand, Rebecca from Texas said - "I wasn't very satisfied with the service because some of the ingredients arrived spoilt."
FAQs
Why Does Dinnerly Cost Less Than Most Meal Plans?
Dinnerly aims to cut costs by keeping most of their data digital, choosing to keep their recipes online instead of in a paper form, as well as including fewer ingredients and simple packaging.
Can You Skip Weeks With Dinnerly?
Dinnerly lets you skip up to four consecutive weeks of meals five days before your delivery is scheduled. They also allow you to pause your deliveries for however long you like without additional fees.
Is Dinnerly Worth It?
Compared to other kits, Dinnerly is one of the most affordable ones out there, offering customers quick and easy recipes each week.
Meals come conveniently to your door, cutting the time it takes to meal prep and shop.
That being said, Dinnerly may not be ideal for people looking to stick to clean eating or a healthy diet.
If you have specific dietary needs or prefer your meals to be more substantial, we recommend checking out Trifecta.
Trifecta meal kit service caters to various diets, including vegetarian, vegan, clean eating, keto, and more.
Their goal is to make healthy eating fun, quick, and easy, and even offer support from trained coaches to help customers reach their fitness goals.
To find out more about Trifecta meal delivery service, click here.
We Recommend This Instead
Trifecta
Click For Best Price

Pros
All ingredients are organic and sustainably sourced
Can choose breakfast, lunch, dinner, and 3rd entree meals
Effective for weight loss and improving health
Shipping is free throughout the U.S.
Get the BEST PRICE until the end of December
Cons
Can not select your own meals
Only allows you to disclude two ingredients
Was this article helpful?