Lobel's has over 100 years of history going for them as a gourmet provider in New York City. After researching the company, we found many people asking if their prices are worth it. So, we share our Lobel's Steak review and taste test results to answer that question for everyone.
What is Lobel Steaks?

Lobel's is a company that specializes in high-quality gourmet meats such as fat Wagyu, Kobe beef, and dry-aged beef rib. The New York-based company has been in business for over 170 years and evolved from a butcher shop owned by the Lobel family into the steaks for the delivery business.
The main headquarters is located on the upper east side of New York City and serves as both a local high-end store and a distribution center for their online business. Lobel's meats' price is high compared to many of the competitors that we've reviewed. This is, however, relative to their high-quality cuts of steaks.
For six generations, the Lobel family has been renowned for providing exceptional meats and setting the bar high for quality and personalized service. If you appreciate the finest prime meats and attentive customer care, Lobel's is your go-to.
With the launch of Lobels.com, they bring their expertise and superior service to customers nationwide, ensuring the availability of the best steaks.
Pros
USDA Prime steaks and American Wagyu beef
Long history of well-cut meats
Offers easy cooking and wine pairing tips
Easy to find online recipes
Cons
Shipping can be expensive
No regular subscription options
Only sells top-end options
Limited return policy and guarantee
Lobel Food Menu
The company offers a wide-cut selection compared to some of the other subscription box providers that we've reviewed. They specialize in gourmet level meats, so that's one thing to note before deciding to use their products. Some of the more popular products on their menu we like include:
Filet Mignon

Kobe Beef

Porterhouse Steak
American Wagyu

Dry-aged Beef Rib

Prime Rib

Pork Rib

Tenderloin

USDA Prime Beef

New York Strip
What's the Meat Quality?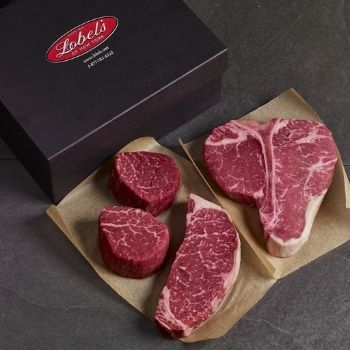 The caliber of steaks and ribs at Lobel is well above average than the regular butcher shop.
They serve USDA Prime, which, according to the United States Department of Agriculture, is the highest level of meat in terms of flavor and quality (1).
They also sell Japanese Wagyu beef, which has a reputation for being some of the most tender and buttery and expensive in the world.
Aside from this, they can mail Berkshire, which is said to be some of the world's best. You can also choose from a wide menu of fresh poultry, lamb, and veal through your account.
Lobel's Price Range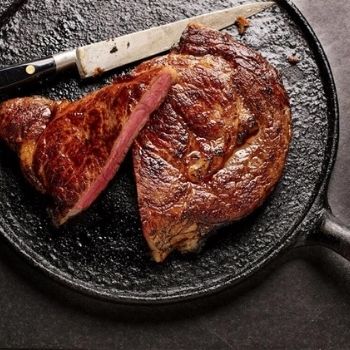 Compared to many of the other meat delivery websites that we've reviewed, Lobel's steaks choices are more expensive.
This reflects their gourmet options available but still makes shopping with them limited to people who can afford the service.
This may not be the best option for a larger family or those who don't want gourmet steaks options. Their prices can start as low as around $20 for ground beef and go all the way up to well over $500 for Wagyu filets and Kobe beef cuts.
Lobel Complaints
The majority of complaints regarding their service seem to come from issues with delivery. We read two reviews on some sites that mention their delivery taking longer than the promised day. The company does seem quite responsive through email with reviews noting they got right back to them.
Lobel Reviews
Aside from the price, Lobel's New York seems to be a good service if you are looking for cuts of meat that may be hard to find at the store. It's nice that they have retained the old-time butcher's shop style and have remained a top-caliber food provider. From reading the reviews, their support team also seems to be first-rate.
Related Reviews:
Customer Reviews
After conducting extensive research on the Lobel's delivery steaks company, we found they have mostly good reviews, with many users reporting they like the service. One thing that stands out specifically is the comments about the flavor of their filet mignon cuts. Many have noted that the cooking is easy and the flavor good, especially with wine.
Facebook
The company has mostly positive reviews on their Facebook page. Their average rating is 4.1 out of 5 stars based on the comments of 61 users (2).
I have never had the tomahawk and ordered that to share and a filet for my wife. They arrived right on time and were not frozen!

- Verified Facebook Reviewer
Yelp
The Yelp page for the company has 63 reviews with an average rating of 4 out of 5 stars. It's important to note that these reviews are primarily for their East Side New York shop (3).
Trust Pilot
Lobel's has only one rating on Trustpilot, which is five stars. The rating points explicitly how great the flavor is (4).
FAQs

How do I order from Lobel's Steak?
To mail order from Lobel's, you need first to set up a new account using your email address and name. The next step will be to select what product cut you want and share payment information for confirmation and choose a time you will be home for the new shipment.
How does Lobel's Steak ship their orders?
Lobel's ships their new orders in vacuum-sealed bags. According to their website, the packages are never frozen before shipping. The average shipment will usually arrive within two to three days after being sent out. No need to wait for weeks or march on to their physical store. Their best shipping options are the next day, which will cost extra and will depend on the day.
Is Lobel's Steak overpriced?
Generally, yes. Lobel's may be overpriced for some buyers since they offer gourmet cut options. They are an old-style shop, and even though they have options from around the world, most of them are quite expensive. Shipping can also be quite pricey, adding to the overall account cost.
What we like most about them is you can select from a wide variety of options, including chicken and seafood. The hand-selected meat is also completely free of additives, and they're never dry, which is another reason we share them as a decent steakhouse. For more information, check out www.lobels.com.
Is Lobel's open during the COVID-19 outbreak?
Yes. As per their website, the Madison Ave store has reopened, but they're requesting the customers to practice social distancing and wear masks to protect both staff and consumers' health and safety.
Where does Lobel's prime beef come from?
According to our research and based on Lobel's page, their USDA prime beef comes from premium Midwest grain-fed cattle.
Does Lobel's offer organic meat?
No. Lobel's meat is not certified organic as organic products must comply with strict USDA guidelines. However, they claim that their products meet one or more of the USDA labeling criteria for livestock-management regimens, including free-range, pasture-raised, and certified humane treatment of animals.
Does Lobel's sell grass-fed beef?
Yes. Based on Lobel's official page, they offer beef that comes from grass-fed and grain-finished free-range cattle.
Does Lobel's offer dry-aged meat?
Yes. The company dry ages all of its beef. They age beef for up to 6 weeks. They do the aging process for only a week for lamb and veal as these animal products are already young and tender.
Is it alright to freeze Lobel's meat when I receive it?
Yes, so long as you leave it in its vacuum-sealed packaging and store it according to the company's storage guidelines. However, the company believes that fresh meat still has the best texture and flavor. For more information, you may visit their official page.
How long should I keep Lobel's meat in the freezer?
Keep the meats in the same vacuum-sealed packaging and store it in the freezer with a temperature of 0°F or below. With this temperature, pork can last up to 3 months; lamb and veal, up to 6 months; and beef, up to 6 months. For complete packaging and storing guidelines, visit their official page.
Is Lobel's Worth It?
Though Lobel has some of the most flavorful filet mignon cuts we've ever tried, we think that ButcherBox is a better choice for most buyers. They don't offer prime grade cut options, but they do have aged cut selections, which are just as good at a fraction of the cost.
What we like most about ButcherBox is you can select from a wide variety of options, including free-range organic chicken and wild-caught seafood. The meat is also completely free of additives, and they're never dry, which is another reason we share them as our primary meat provider. You also get to curate your own box and have it delivered to your doorstep, free of charge.
#1 Meat Delivery Service
ButcherBox
Click For Best Price

Pros
Grass-fed and grass-finished beef delivered directly to your door
Without antibiotics or added hormones
Customizable boxes available
Select from up to 21 different cuts
Get the BEST PRICE until the end of September
Was this article helpful?