I've been using smokers for over a decade and have tried several different vertical smokers. Today, I'll give you a rundown of all vertical devices from one of my favorite brands - Pit Boss.
I'll focus on their pros and cons so that you can choose the best one for you.
Our Top 3 Pit Boss Vertical Smokers
1 - Copperhead 3-Series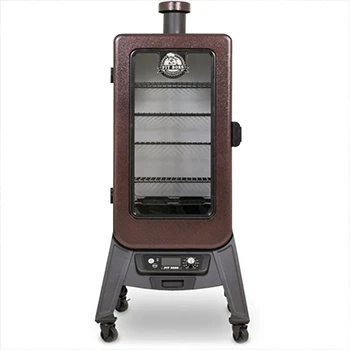 Copperhead 3-series has double insulation, allowing you to smoke from 150 degrees to 420 degrees. You can smoke for up to 18 hours, meaning it's also a good option for larger cuts, such as pork brisket [1].
I like that there's a large front window so I can easily check the state of my food. The cooking space is 721 sq. inches of porcelain-coated racks.
This is a multiple-position racking system, meaning you can fit enough food to feed a large gathering.
This smoker is easily movable thanks to locking caster wheels. Finally, this is a set-and-forget smoker. You can set the temperature you want and go about your business while the smoker does all the work.
Pros
Affordable
Large cooking space
Set and forget technology
Four adjustable racks
Click For Best Price
Quick Facts:
Total Grill Cooking Area : 721 square inches
Dimension : 26 x 22 x 53 inches
Hopper capacity : 40 lb
Material : Stainless Steel
Number of racks : 4
2 - Copperhead 5-Series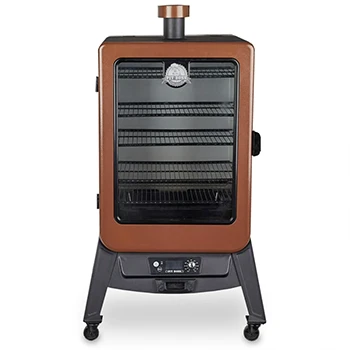 Copperhead 5-series has an impressive 1,1,659 sq. inches of cooking space and five racks [2].
It also comes with a 40-pound pellet hopper, giving you up to 24 hours of cooking time. I could fit ten chickens or ten racks of ribs without the meat being too cramped.
The smoking temperature ranges from 150 degrees to 450 degrees, which makes this vertical smoker great for low and slow smoking. You can also cook the food you normally bake in a wood oven, such as pizzas.
"You can leave ribs slow smoking in the morning and trust that they will be cooked in continuous hardwood aroma until they are ready for dinner. In addition, the 5-Series Vertical Pellet Smoker has a large view window to eliminate the need for peek-a-boo cooking."
- Pit Boss Official Website
There's a large LED display on top of the vertical pellet smoker. The display shows the internal temperature and the readouts from the meat probes. This means you can set the temperature, walk away, and easily check whenever you want.
Finally, I liked the prime button, which boosts the smoke output or raises the temperature after opening the door. This handy feature makes the use easier and the smoking temperature consistent.
Pros
Large cooking area
LED display for temperature control
Prime Button for regulating smoke and temperature
Cons
Water pan only lasts for about four hours
Click For Best Price
Quick Facts:
Total Grill Cooking Area : 1,659 square inches
Dimension : 28.82 x 27.83 x 52.76 inches
Hopper capacity : 40 lb
Material : Stainless Steel
Number of racks : 5
3 - Copperhead 7-Series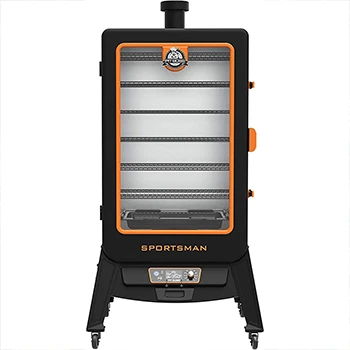 7-series is the largest of the Copperhead vertical pellet smokers. It has a massive cooking capacity of 1,853 sq. inches. I used this grill for smoking, roasting, braising, barbecuing, and baking; the food was delicious every time.
This pellet smoker has a cooking capacity of 150 degrees to 420 degrees. There are six adjustable racks and a 55 lb hopper capacity which lets you smoke for a long time without having to fill up the smoker.
Even though it's massive, the pellet smoker is easy to use. Simply press the power button on and follow the start-up process. You set the desired temperature, and the smoker does all the work.
Pros
Huge cooking area
Long smoking time
Large pellet hopper capacity
Cons
Controller is hard to reach
Click For Best Price
Quick Facts:
Total Grill Cooking Area : 1,1,853 square inches
Dimension : 28 x 29 x 58.5 inches
Hopper capacity : 55 lb
Material : Stainless Steel
Number of racks : 6
Buying Guide for Pit Boss Vertical Devices
Here's everything you should have in mind when buying a new vertical smoker.
1. Construction and Build Material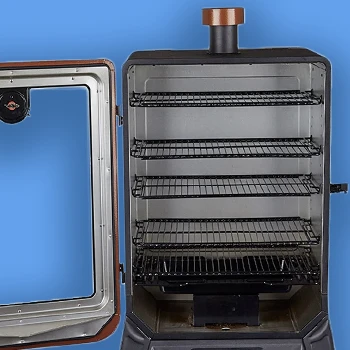 These Copperhead pellet smokers are made of heavy-duty stainless steel with double-wall insulation and a powder-coated finish.
Stainless steel is an extremely durable material. While it's not 100% rustproof, if you take care of the smoker properly and store it somewhere dry, you'll be able to use it for a long time.
Double-wall insulation helps the pellet smokers keep the temperature stable and stay hot for longer. Also, the double-walled body has a high-heat coating, which makes them especially efficient in cool weather conditions. You don't have to fear the smoker cooling down quickly.
The grates are porcelain-coated steel that is easy to clean and resistant to rust. If you wondered why these pellet smokers are called Copperheads, it's because of the hammertone copper finish, which gives them a shine and high-end look.
In terms of construction, all Copperhead smokers are equal, and you'll get the same features.
2. Adjustable Racks
Adjustable racks are one of the biggest pros of a vertical smoker. Depending on which Pit Boss Copperhead you go for, you can have between four and six racks.
You can place the adjustable racks in the pellet smoker any way you want.
For example, you can easily create more height and fit a whole turkey or add more racks to fit larger amounts of smaller food, such as jerky.
Overall, adjustable racks make it easier to have a bigger surface area and fit more food in a relatively confined space.
The racks even have pins, giving you more choices for where to set them. There aren't any bulky metal guides that take up unnecessary space on the sides.
When choosing a smoker, think about how much food you usually smoke and how many racks you need.
Do you want to smoke a whole turkey and smaller cuts at the same time, or just one larger cut? Then decide between four, five, or six racks.
3. Smoking Performance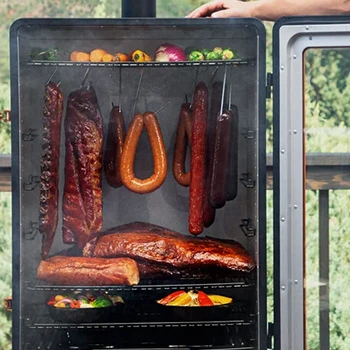 Pit Boss Copperheads are pellet smokers. This means they aren't as strong as an offset or a charcoal barbecue. But, you can use different wood pellets and get a stronger wood taste.
Each of the Copperheads creates smoky and moist food with a nice bark and smoke ring on the meat.
One important difference between a vertical smoker and a regular one is that the vertical has a water pan above the burn pot at the base of the cooking chamber. When the water pan is full, you can smoke for about eight hours at a low and slow temperature.
But, you can also use the water pan on a vertical smoker as a tray to catch drippings or fill it with marinades to give your meat that smoke flavor and moisture.
Finally, these smokers have several smoke settings. The prime button lets you speed up the rate at which the pellets drop into the fire pot. This boosts the temperature and is useful when you open the door to add more food. You can get the heat back up quickly.
Also, these smokers have a smoke setting that lowers the temperature for maximum smokiness.
Pro tip: Use the smoke setting for the first two hours. Turn up the temperature to regular smoking when the smoke is absorbed. This lets you have a stronger smoked flavor and ensures the food is cooked.
4. Temperature Range and Control
All Pit Boss pellet smokers can smoke between 150 to 450 degrees, and you can adjust the temperature in 25-degree increments.
Some other brand smokers can go up to 550 degrees, but the temperature range on the Pit Boss is enough to smoke low and slow.
You can choose between 10 temperature presets and start-up and cooldown cycles on the smokers.
"The temperature control features the widest range of cooking temperatures available, from 150 to 420 degrees, you can slow-smoke, roast, produce competition-quality brisket, pork shoulder, beef ribs, butts, and chicken."
- Pit Boss YouTube Channel
The temperature control is easy thanks to the external heat indicator, meat probe that has digital LED readouts, and large window. All of these keep you informed on the temperature without opening the door and letting out heat and smoke.
But, in case you need to open the door, there's the handy Prime button that burns a new batch of wood pellets and creates extra smoke fast.
5. Cooking Area and Hopper Capacity

Each Copperhead vertical smoker has different cooking capacities:
3-series 721 sq inches and 39 lbs pellet hopper — Up to 18 hours of cooking time
5-series 1,513 sq inches and 40 lbs pellet hopper — Up to 24 hours of cooking time
7-series 1,853 sq inches and 55 lbs pellet hopper — Up to 24 hours of cooking time
What does this mean for you? For example, you can fit ten whole chickens on the mid-size 5-series. 3-series will fit less, and 7-series will fit even more.
Think about what kind of food you want to smoke and for many people you usually cook. Also, consider what kind of food you want to smoke. If you smoke large cuts, go for a smoker with a larger hopper capacity, as these have a longer smoking time.
6. Ease of Cleaning and Maintenance
These pellet smokers are easier to clean than many other smokers I've used. All the components are removable and easily accessible from the smoker box.
Simply scrape down the grates and the water pan after each use. It's easy to remove the ashes because the Copperhead smokers have a slide-out grease tray and ash pan. Wipe down the sides of the smoker because they tend to get mucky and greasy.
Finally, you should empty the hopper and burn out the remaining wood pellets in the auger after cooking.
7. Extras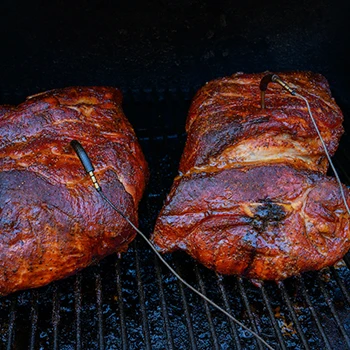 Each vertical pellet smoker from Pit Boss comes with one heavy-duty steel meat probe. The meat probe lets you check the internal and the actual cooking temperature.
You can place one side of the meat probe in the meat and plug the other into the control panel to check the temperature. According to the USDA, meat is cooked when it reaches 140 degrees [3].
All Copperheads have two ports for plugging in a probe, so you can buy another probe if you need two. You can also get a wireless meat thermometer, which is more useful if you cook a few different cuts at the same time.
The meat probe is the only extra you get with these smokers. But another extra you should think about getting is a cover to protect your vertical pellet smoker and keep it working for longer.
While some brands have highly-priced extras, Pit Boss extras are fairly priced so that you can upgrade your smoker as needed.
8. Warranty and Customer Service
Pit Boss gives a five-year warranty on each of these smokers, which is a nice coverage that shows they are confident the smoker will last a long time.
Pit Boss also has good customer service. You can contact them, describe what problem you have, and you'll get a replacement part for your pellet grill.
Who Should Get a Pit Boss Vertical Smoker?

You should get a Pit Boss vertical smoker if you want:
To smoke for a long period of time without having to refuel.
A large cooking capacity. You can choose between three sizes according to your needs.
You don't have a lot of space in your backyard for a regular grill.
A delicious smoked flavor (better than an electric smoker and vertical propane smokers).
A set and forget smoker. The temperature controller regulates the temperature, so you can walk away and get consistent smoking results.
Adjustable grates. These give you maximum flexibility in used space, and you can fit different cuts.
Large pellet hoppers, so you don't have to worry about refilling.
Easy clean and maintenance. Each of these smokers has emptying doors to change and store pellets easily. It's also easy to remove ashes.
Manual feed button to boost the smoking and temperature after opening the front door.
Who Shouldn't Get a Pit Boss Vertical Smoker?

You shouldn't get a Pit Boss vertical smoker if you want:
WiFi and Bluetooth technology. Pit Boss smokers don't have advanced technology, and you can't connect them with your phone.
To cold smoke. Series 3, 5, and 7 all start cooking at 150 degrees, which is too hot for cold smoking. Tip: You can use a pellet tube for cold smoking, but this is an additional purchase.
You don't want to assemble your smoker. You'll have to assemble each of these smokers, and some users report screws not threading well, parts not labeled, or missing instructions. Even if you get the instructions, you'll need to spend several hours assembling pellet grills.
Night visibility. Pit Boss Copperhead series doesn't have a light inside the smokers, which makes it difficult to see the food in the dark. You can smoke on 5 and 7 series for up to 24 hours, which means using it during the night, so the missing night light is a big con.
To grill. While many horizontal smokers double as grills, that's not the case with vertical ones. You'll need to buy a separate device for grilling.
Related Articles:
FAQs
How Hot Does a Pit Boss Vertical Smoker Get?
A Pit Boss vertical smoker gets hot up to 450 degrees.
Does a Pit Boss Vertical Smoker Have a Smoke Setting?
Yes, a Pit Boss vertical smoker has a smoke setting. It's labeled smoke or s on the control board.
Can You Grill on a Vertical Pellet Smoker?
No, you can't grill on a vertical pellet smoker. For grilling, you need a temperature above 450 degrees, and most pellet smokers have a temperature below or up to 450 degrees. Vertical smokers are made for low and slow smoking.
Is There A Way For My Pit Boss Pellet Smoker to Produce More Smoke?
Yes, there's a way for your Pit Boss pellet smoker to produce more smoke. You should set the temperature dial to a low temperature for a long period. You can also try out different wood chips to find out which ones work best with your pellet smoker.
Can I Cold Smoke on a Pit Boss Vertical Smoker?
No, you can't cold smoke on a Pit Boss vertical smoker. These smokers have a temperature of 150 degrees to 450 degrees, which is too hot for smoking foods cold. You can buy a pellet tube if you want to cold smoke.
What's the Best Pit Boss Vertical Smoker for You?
My vote for the best vertical smoker from Pit Boss goes to the Copperhead 3-series because it provides an excellent smoking experience, no matter if you're looking for a beginner-friendly device or a device that will amp up your BBQ expertise.
This is the most affordable vertical smoker from Pit Boss, but it has impressive functions and quality. The cooking area is 721 sq. inches, which gives you enough cooking area for a family or a large gathering.
The cleaning and maintenance are easy because all components in the cooking chamber are removable. Finally, the temperature control is top-notch thanks to the digital screen on the top of the smoker, which lets you know the cooking and internal meat temperature at any time.
Copperhead 3-Series
Our #1 Recommendation
Affordable
Large cooking space
Set and forget technology
Four adjustable racks
Get the BEST PRICE until the end of May
Was this article helpful?