The first time I tried Thrive Market was when I was required to self-isolate due to the Covid-19 pandemic. That's when I realized that having a grocery store that delivers packaged whole foods to my doorstep makes my life a whole lot easier.
My team and I set out to give you a thoroughly honest Thrive Market review, along with the pros and cons, to help you estimate if this company will also suit your grocery needs.
What Is Thrive Market?

Thrive Market is an online grocery store that provides all organic non-GMO foods, cleaning, and beauty supplies with a monthly or annual membership deal.
This membership-based company offers wholesale pricing on healthy, gluten-free, and organic foods, which means you can order high-quality products for 25% to 50% less than retail prices.
Their story started in November 2014 when Gunner Lovelace established the company. He grew up on a farm in Ojai, California, and understood the power of group purchasing to make healthy food affordable for meal planning.
He wanted to address the lack of access to high-quality whole foods, so he created the online health food store to supply just about every low-income family in the US.
Pros
Access to over 6,000 products
Organic and non-GMO supplies
Annual Membership available
Shop according to your meal plan
Cons
Must buy some pantry items and snacks in bulk
How Does Thrive Market Work?
Thrive Market works as a membership-based online market focused on the healthy and sustainable produce that's available for every location, lifestyle, and budget. It offers 30 days of free membership for all new members to test if the membership is right for them. For membership cancelation, you can call Thrive Market during weekdays and make a request.
To allow healthy living for everyone, Thrive Market matches each paid membership with a free sponsorship for one low-income family. This also includes students, teachers, responders, and veterans.
According to the company's website, members can enjoy around $30 of savings per order. They also offer Thrive Market credit thru the Thrive Cash program.
What Is the Selection Like?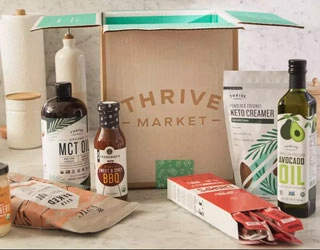 Thrive Market offers a wide variety of name brands and products like Simple Mills, Better Life, Seventh Generation, Primal Kitchen, Apartment Therapy, and Bob's Red Mill.
You can take the normal shopping list that you would use at a Costco grocery store or supermarket chain and find the Thrive Market products that you need from the store. If you are serious about meal planning, buying snacks in bulk may be perfect for you and your family.
They have even created their line of products that include pantry staples like tomato sauce, almond butter, nuts, sugar, almond milk, baking goods, gluten-free thickener, and spices for your recipes.
They also offer keto-friendly selections that include organic ghee with Himalayan pink salt, shirataki angel hair noodles, and avocado oil from third-party partners.
Many members love Thrive Market since they can easily get their share of non-GMO and organic snacks and other products at lesser market prices. You can also find an array of natural cleaning supplies, including all-purpose cleaners and stain remover products. You can even find pet supplies and a couple of members-only products for your dog or cat.
Some of the most popular categories include:
Meat and seafood products
Gifts for babies and kids
Grains and snacks
Wine category
Bath and body supplies
Skincare products
Shelf-stable canned products
Seasonings category
How Is The Quality Of the Groceries?
Most members agree that the Thrive Market quality is like Whole Foods or superior to that of a physical store. Since all of the food is gluten-free and organic, most of the items will be much better for you than processed store brands like Walmart and Target brand products. All in all, you're getting the best value for your money.
"I recommend them to any and everyone who will listen."

- Cheryl Malik, 40 Aprons, Expert Food Blogger
I thought their share of the dry goods section and oils were far superior to my local health food stores. And even though meat and fish were slightly more expensive, they were still brimming with flavor, giving us a good eating experience.
How's the Meat Quality at Thrive Market?
All of Thrive Market's beef is sourced from the Chilean prairies, one of the few places that allow year-round grazing. The hogs are pasture-raised, with the farmers applying rotational grazing methods. This results in more flavorful meat, more marbled texture, and healthier topsoil, too.
When it comes to poultry, the birds are free-range, with each flock organically and humanely raised. Thrive Market's poultry products are certified organic and non-GMO verified.
The company considers its meat and seafood selection as a contribution to support the planet through amazing teamwork with global partners that uphold sustainable practices.
What Are the Prices Like?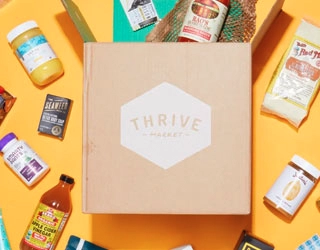 Surprisingly, most of the staples Thrive Market offers have less expensive prices than the store brand items found at places like your local Walmart or Costco aisle. In our cross-reference research, certain products, such as a jar of peanut butter, dressings, dairy, and chicken stock, are offered at wholesale prices on the Thrive online marketplace. This is good if you're on a tight budget.
However, some products, like avocado oil, olive oil, and coconut milk, tend to cost a little more money. Overall, members generally noted savings of an average of $30 per item compared to when they go grocery shopping at Costco or other local grocery stores. At some point, a member can also get a free shipping perk when you reach a certain purchase amount.
Any Special Offers?
There are not any active promo codes or any discounts when you join Thrive Market website, but there are plenty of special offers, including the Thrive Cash coupon or 50% off retail discounts per month and sale at the end of the year. This is actually a great time for shopping at Thrive Market.
In addition, they offer a one-time free membership for 30 days, which you can cancel at any time. On your first order, shipping is free. For the second and all subsequent minimum orders of $49 or more, there's no shipping fee, as well. So you can save money. To make a social difference, they also offer gift membership for organic products for many low-income families.
Related Reviews:
Shipment Options
Every paid membership fee includes free two-day shipping to almost anywhere in the US. They do not offer overnight or expedited shipping, however. Thrive Market is not currently able to ship internationally, but they are looking for ways to change this in the future.
Thrive Market strives to get the shipping out as quickly as possible with over five different fulfillment centers around the US to cater to the community. This includes Reno, Nevada, and Batesville, Indiana.
During the start of the pandemic, inventory levels were low and most of the shipments were delayed. However, as of this time, Thrive Market is back to its 24/7 shopping program and members can now expect 1-2 days of processing time. Inventory levels are currently at around 87% for third-party brands.
How Are the Items Packaged?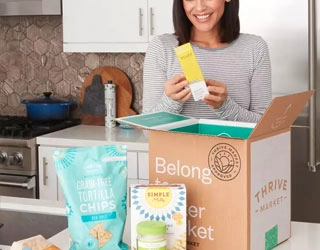 Every package that leaves the Thrive warehouse will contain recyclable packaging materials that are made from post-consumer recyclables. They strive to ensure that every package is safe and intact when it arrives at your door.
Pantry staples like bags of flour, coffee, and dry products are packed with inserts, boxes, and paper to ensure safe shipping. For frozen meat and seafood, Thrive Market also uses biodegradable denim insulation and a dry ice pack to keep the healthy foods frozen.
Possible Complaints
One potential problem for the brand is that they don't seem to offer any steak cuts like Costco. That's one difference that we find baffling. They do offer other options that are suitable for diets like vegan, keto, paleo, etc. These kitchen basics include chicken, pork, and ground beef for your daily recipes.
Another possible downside for some consumers is that some products require you to buy them in multiples. This may be fine if you have the freezer space available to accommodate bulk purchasing.
Ordering Tips for Thrive Market
Build your cart gradually: Add items to your Thrive Market cart as you run low on them.
Keep an eye on sales and freebies: Take advantage of brand-specific sales and free product offers when you spend a certain amount.
Plan: Since it typically takes 3-5 days for your Thrive order to arrive, think ahead and order in advance to ensure you have what you need on time.
Discover the Thrive Market brand: Don't miss out on the high-quality Thrive Market brand products.
Online Reviews

I thought that the monthly membership fee offered a lot of organic items compared to Costco or any regular grocery store. As far as working with a carnivore or ketogenic diet, I found this option to have chicken, pork, and grass-fed ground beef, but no steak cuts.
While checking out many reviews, I found that most people seemed to give this company a high rating without any ordering complaint or issue. A popular user-generated website called Trustpilot shows that 71% of customers review Thrive Market with 5 stars for convenience.
"Thrive market offers a great service at a great price. They make shopping organically as affordable as possible."

- Mike, Verified Trustpilot Review [1] 
I also found that consumers from Sitejabber rated their market membership with an "excellent" rating of 4.24 stars [2].
According to their Facebook page, they have earned 3.5 stars and 1.3 million likes. Most members tend to give this company high ratings. Several experts have endorsed them as well.
FAQs
Is Thrive Market owned by Amazon?
No, they are an independent company.
Is Thrive Market cheaper than Amazon?
It depends. Thrive Market will turn out cheaper than Amazon, depending on the type of product you want to purchase.
Does Thrive Market have toilet paper?
Yes, Thrive Market have their own brand of toilet paper.
Is Thrive Market cheaper than Whole Foods?
Yes, Thrive came out cheaper than Whole Foods for most products.
Is Thrive Market really organic?
Yes, they sell only organic and non-GMO items.
Does Thrive Market have fresh produce?
No. They do not currently have perishable items like fresh produce, fruits, and vegetables.
Where is Thrive Market based?
Thrive Market is based in California but has distribution centers throughout the country for shipment.
What brands do they sell?
Thrive sell their own brand. You can also shop for other popular brands like Ancient Apothecary, Better Life, and Gaia Herbs.
Do they sell frozen food?
Yes, they sell frozen meat and seafood, such as tuna and salmon.
Can you order without a membership?
No, you must sign up and pay membership fees to shop and place orders while at home. However, you may also avail of the free 30-day trial to test them out. There's also the free gift subscription option for the marginalized.
Do they have any physical stores?
No, they are an online-only platform with a paid membership scheme.
Is Thrive Market more expensive than Trader Joe's?
Yes. The Thrive Market cost is way expensive as it requires a membership fee, but there are more products available within your buying power, and they're all delivered to your home. In comparison, Trader Joe doesn't require you to pay membership cost to shop, but you can't have your item delivered.
Where does Thrive Market source their meats?
Thrive Market sources their beef from the Patagonian prairies of Osorno, Chile, which is considered one of the world's rarest places that supports all-year cattle grazing.
What carrier does Thrive Market use?
Thrive Market currently ships with FedEx, USPS, OnTrac, and Lasership. However, there's a disclaimer that states that the carrier will depend on your geographic location, distance, and whether your product contains frozen meals, meat, seafood, and wine.
Can I cancel my Thrive Market order?
Yes. If you wish to cancel your Thrive market order from your cart, communicate with the customer service support staff within 30 minutes of placing your orders, and they will do their best to accommodate your request.
How long does it take for Thrive Market to deliver?
Your order will most likely arrive within 2 to 5 days. To keep you updated as a member, you will receive an email confirming your tracking info so you can easily locate your orders in the app.
Do I need to pay a termination fee if I cancel my Thrive Market membership?
No. If you wish to end your Thrive Market membership cost, you may do so at any time without paying termination costs. For details or questions on orders and memberships, just contact website support via email or live chat.
Does Thrive Market offer free shipping?
Yes. Shipping is free only on the first order of over $25 market cost and for all orders of at least $49 in total cost.
How often can I order from Thrive Market?
With a Thrive Market membership, you can order as often as you'd like. There is no frequency requirement nor limit on how much you can order. You can order every day, every week, and every month if you want to. It's your decision.
How does Thrive Market ship frozen food?
Thrive Market ships frozen seafood or meat through a 2-day freight from the warehouses. The company packs each order with dry ice and uses biodegradable materials to insulate the boxes and preserve freshness.
Is Thrive Market Worth It?
Based on our honest Thrive Market review, it is worth the cost compared to other grocery delivery services. They offer a good alternative to the local health food store that can be delivered right to your doorstep. It might be a good choice for a large family looking to cut back on junk products and ensure that their next kitchen tour is a healthy one.
They also give free membership to low-income families, which I think is very noble of them.
Thrive Market doesn't offer steak cuts, though, so if you want to add that to your meals, you should check out ButcherBox. Not only do you get to curate your own subscription box with the tastiest steaks, but it will also be shipped to your front door, free of charge.
#1 Meat Delivery Service
ButcherBox
Click For Best Price

Pros
Grass-fed and grass-finished beef delivered directly to your door
Without antibiotics or added hormones
Customizable boxes available
Select from up to 21 different cuts
Get the BEST PRICE until the end of December
Was this article helpful?