Did you know that rabbit is one of the most popular kinds of game meat? Many find its flavor meshes well with fruits or sauces, plus it's very healthy.
However, rabbit meat isn't sold everywhere, which is why expert game chefs have found four online stores that sell the best rabbit meat.
Top 3 Places to Buy Rabbit Meat
1 - US Wellness Meats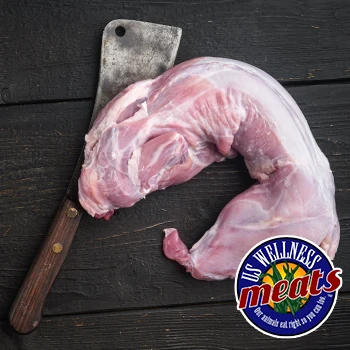 US Wellness Meats is one of the most dedicated rabbit meat sellers because they never compromise on quality.
This meat delivery service only sources rabbits from family farms that use sustainable farming practices.
Each farmer must be dedicated to raising rabbits sustainably, naturally, and humanely. Rabbits are never given any additives or antibiotics and are allowed to roam free, which results in juicy cuts.
You can choose between a whole rabbit or rabbit portions. Their online store also includes grass-finished beef, pasture-raised heirloom pork, free-range poultry, and more.
US Wellness Meats offer free shipping with every order and deliver to 50 US states.
Finally, they regularly rotate the cuts on sale, so this is your best chance of getting high-quality, affordable rabbit meat.
Pros
Rabbits are grown using sustainable farming practices
Different rabbit cuts are available
Vide variety of meat cuts
Ship to 50 states
Click For Best Price
2 - D'artagnan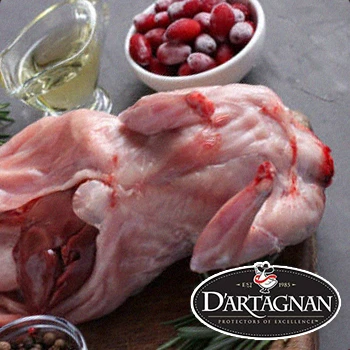 D'artagnan is a well known name in the game meat market with its meat delivery business opening in 1985.
They believe that animals raised for meat should be free-range, natural production, and humane.
This company is very transparent in where they source their meat and the conditions they find them in.
With D'artagnan being founded by a French woman, it places high value on rabbit meat which is a staple in French homes.
The rabbit meat sold at this site is sourced from small, family-run farms that treat them right.
Pros
Transparent about their meat source
Humane farming practices
100% Satisfaction Guarantee
Cons
No delivery on Monday or on weekend
Click For Best Price
3 - Fossil Farms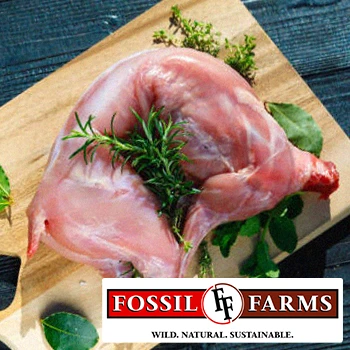 Fossil Farms doesn't have as large a selection as the first two meat delivery services, but they have high standards.
This farm provides wild game meats for home chefs and restaurants around the country and in select grocery stores. You can also visit their own market if ever in northern New Jersey.
Fossil Farms grows New Zealand rabbits which are allowed to free roam and are fed a vegetarian diet of oats, sweet alfalfa, and barley.
They work with Amish farmers who are committed to never using antibiotics, hormones, or steroids on their rabbits, which means it is 100% safe to eat.
Their farmers regularly go through third-party audits on welfare and processing practices, so you can eat their rabbit meat with peace of mind.
Pros
Steroid, hormone, and antibiotic-free
Humanely raised and grass-fed
No product subscription required
Cons
No Saturday delivery option
Click For Best Price
How Healthy is Rabbit Meat?
According to nutritionists, rabbit meat tends to be rich in good proteins while low in fat [1].
Individuals with health issues will enjoy that rabbit has less calories and sodium than other meats. It's also an excellent source of minerals and vitamins.
"One rabbit can produce six pounds of meat on the same amount of feed and water it takes a cow to produce just one pound."
- Anna Mule, Non-profit Executive, Slow Food USA
With high quantities of B3, potassium, B12, and selenium, you'll be getting your daily requirements in one meal.
Rabbit meat is also the most environmentally friendly meat, which is why it's becoming more and more popular around the world.
What to Look for When Buying Rabbit Meat?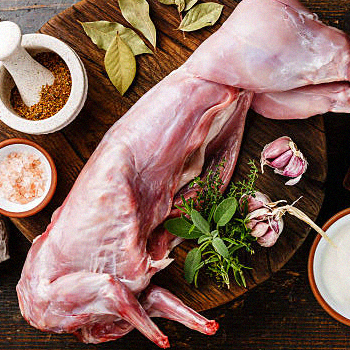 When looking to buy the highest quality rabbit meat, there are a couple of things you need to keep in mind. The first being to try to buy local.
A local store or online service means you'll be getting fresher meat than the kinds that are being shipped from around the world.
Feel free to ask the store from where they source their rabbit meat before you order online.
You also need to pay attention to the kind of rabbit you're buying as that might affect how you cook it.
A fryer rabbit is younger and can be cooked the same as chicken. However, rooster rabbits typically weigh over four pounds and need to be cooked slowly and used with things like stew [2].
Read More:
What Shop Do We Recommend?
All four of the online store options listed above are great options for buying high-quality rabbit meat. However, if we were asked to choose, we would lean towards US Wellness Meats.
US Wellness Meats gives you the most options to choose from and comes with some amazing recipes to try out as you cook rabbit for the first time. Yet, you can't go wrong with any of the others.
US Wellness Meats
Our #1 Recommendation
Rabbits are grown using sustainable farming practices
Different rabbit cuts are available
Vide variety of meat cuts
Ship to 50 states
Get the BEST PRICE until the end of March
Was this article helpful?