In a world where the quality of your ingredients can make or break a meal, the source of your meat is paramount, especially dry-aged beef.
Leveraging my extensive expertise and years of experience in the industry, I've explored the market for dry-aged beef to get the top picks.
My quest involved consulting with experts, examining numerous suppliers, and considering the feedback of countless satisfied clients.
In this article, I'll unveil my top picks for sourcing the finest dry-aged beef in 2023.
Quick Summary
In 2023, the top places to buy dry-aged beef online include Crowd Cow, Snake River Farms, Chicago Steak Company, Porter Road, and Debragga.
Dry-aged beef undergoes a controlled aging process, enhancing its robust flavor and tenderness, with ages typically ranging from 7 to 30 days.
Dry-aged beef costs between $20 to $50 per pound on average, and it is generally safe to consume if properly handled.
Best Places To Buy Delicious Dry Aged Beef Online

While you may need access to a local butcher shop that offers dry-aged beef, the internet opens up a world of possibilities for sourcing this delectable meat.
Here are some of the best places to buy delicious dry-aged beef online:
1. Crowd Cow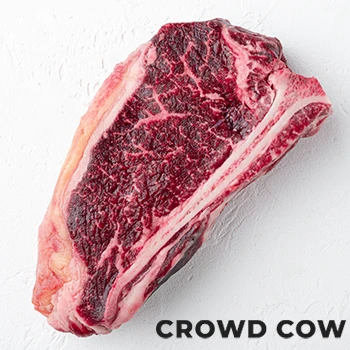 Crowd Cow meat delivery has a wide selection of tender, juicy, and flavorful dry-aged meats.
They are one of the better-known companies with other options such as pork, lamb, and seafood to choose from.
You can place your dry-aged requests through online customer service or via phone line.
2. Snake River Farms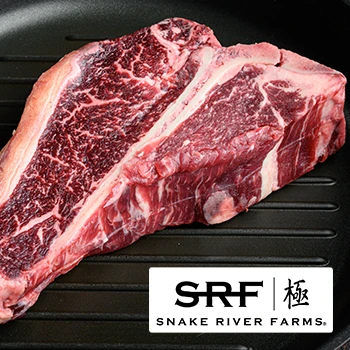 Snake River Farms delivery specializes in American Wagyu and prime beef from the butchers.
Aside from American Wagyu, the company is known for its dried meats, Kurobuta pork, and other high-end cuts.
Based on reviews, their most popular items are their Tomahawk steaks, American Wagyu, and their Filet Mignon, which online customers usually include. Snake River Farms ships to all of the country.
3. Chicago Steak Company
Chicago Steak Company emphasizes single orders and gift boxes. They have many dry-age steaks at the checkout counter, which can be a good choice for corporate gifts or an occasional splurge for a Labor Day meal. They ship throughout the United States.
Their user-friendly website has many educational articles on getting the best cooking results. However, although the company emphasizes the premium quality of its cuts, they don't offer a 100% satisfaction guarantee.
Recommended Article: Omaha Steaks vs Chicago Steak Company
"Dry-aging beef smells like buttered popcorn and tastes like very rare roast beef."

- Pat LaFrieda, Meats Distributor (2)
4. Porter Road
Porter Road meat delivery is good for the health-conscious who want hormone-free grass-fed meats delivered to their home.
They make it easy to include dry-aged meats in your options and have them shipped. You can also get pork, lamb, and poultry from the Porter Road website.
However, you can't subscribe to regular delivery because their stock is usually sold out daily.
This does speak in favor of their quality, but can be a hassle in the long run.
5. Debragga
Debragga is a prime food distributor that originated as a butchers' meat shop in New York. Anything you buy from them will take 24 hours before shipping.
They offer great meats with good service and quick shipping.
They source their meat from local farmers according to the best sustainable practices.
However, they are one of the most expensive options, so you might want to skip it unless you want to splurge.
Read More:
What Is Dry-Aged Beef?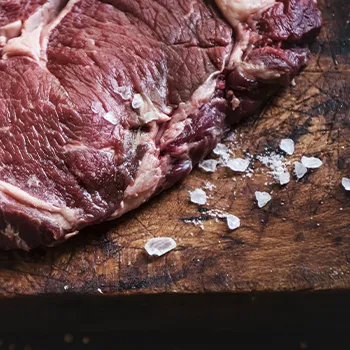 Dry-aged beef is allowed to dry for several weeks, usually placed on a drying rack or hung for an average of 30 to 45 days.
For the dry-aging process, a steak or butcher shop chooses large beef sections or primal cuts, including sirloin, strip loin, and rib eye.
Dry-aging is a unique yet expensive process whereby unwrapped meats are stored in a room where the temperature is controlled.
The enzymes in the meat break down the fibers, increasing the steaks' tenderness. The dry-aging process can last anywhere between 7 and over 30 days [2].
Read More: How to Dry-Age Beef at Home?
What Does It Taste Like?
---
As an effect of the drying procedure, the dry-aged beef's flavor becomes more intense and rich, especially when left to dry for more than 30 days.
This dry-age change in taste is a significant reason why people prefer these types of aged meat. An appropriately dry-aged beef will have a buttery and tender texture and beefier flavor.
FAQs
How Much Does Dry-Aged Beef Cost?
Dry-aged beef costs between $20 to $50 per pound on average. The prices vary depending on factors like cut and quality. Premium cuts and longer aging processes can result in higher costs.
Does Whole Foods Sell Dry-Aged Beef?
Whole Foods sells dry-aged steaks at many stores around the United States, but not all. Because the dry-aging procedure takes so long, many grocery stores do not sell it on-site and instead opt to special order as needed.
Can Dry-Aged Beef Make You Sick?
Dry-aged cuts will not make you sick. Because the steps that go into dry-aging are so tightly controlled, the steaks will not spoil. The meats can rot in the same fashion as regular meats at your home if left out in unacceptable conditions.
The Best DRY-AGED BEEF Supplier
From our experience, dry-aged foods are undoubtedly worth it. The steaks offer a greater degree of flavor and a beefier taste.
Our top recommendation is Crowd Cow in the quest for the finest dry-aged beef. Their commitment to sourcing premium, ethically-raised beef sets them apart. With Crowd Cow, you can expect exceptional quality and taste.
They offer some of the tastiest options for a rib roast, porterhouse, and other varieties. From our experience, they have good service and reasonable prices for their top-caliber foods.
Our #1 Recommendation
Crowd Cow
Click For Best Price

Pros
100% grass-fed, pasture-raised meat
Humanely-raised without added hormones
Wide menu selection
Flexible shipping options
Customizable meat orders available
Get the BEST PRICE until the end of September
---
References
https://www.menshealth.com/nutrition/a19527792/dry-aged-beef-explained/
https://www.ncbi.nlm.nih.gov/pmc/articles/PMC4872334/
Was this article helpful?