When I first decided to become a carnivore, It was a hustle getting a simple-to-use grill; I invested my time and effort to find the perfect beginner-friendly grill for my needs.
Over the years, I have experimented with various grill brands and models, and my determination has been able to pay.
After spending years trying out many Weber grills, I can tell the difference in cooking areas, BTUs, and ease of use, which grilling beginners need.
Here are the eight best grills any beginner should consider.
8 Best Grills for Beginners
Buyer's Guide
Having worked with hundreds of individuals on their initial grilling endeavors, I cannot overlook the significance of considering certain specifications when purchasing a grill.
Here's everything to keep in mind when choosing the best grill for a BBQ newbie.
1. Grill Type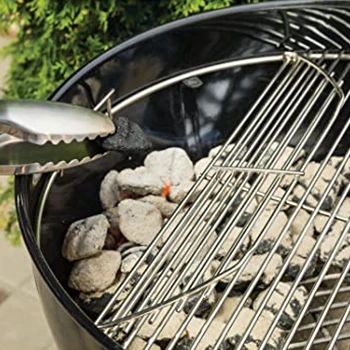 The most important consideration is what kind of grill you want. The main types of grills are pellet, charcoal, electric, and gas grills.
Electric grills and gas grills are the easiest to use as they have the least cleanup. But you'll have to buy a propane tank (and carry it with you if you decide to grill outside your backyard).
Pellet and charcoal grills require more cleanup because there's a lot of ash, but they give you authentic smoke-infused flavor, which propane grills don't.
"Smoking is done much more slowly than grilling, so less tender meats benefit from this method, and a natural smoke flavoring permeates the meat." - Department of Food Safety and Inspection Service
Charcoal grills also give you excellent sear on the meat, but it takes a while to get them going — sometimes around 45 minutes.
In terms of price, a gas grill costs more upfront, but it's cheaper to run. You only have to swap the propane tank when it's empty.
Charcoal and pellet grills are more affordable (especially charcoal), but you need to buy briquets, wood pellets, or lighter fluid substitutes to start the BBQ grill each time.
Finally, a gas or electric grill is easier to use. Pellet and charcoal have a higher learning curve.
Also Read: Fuego Grill Review
2. BTUs
BTU stands for British Thermal Unit. For gas grills, this indicates the gas output and how much heat a grill can create.
An important aspect of grill selection is the interplay between burner functionality and BTU. I've learned to consider these features when determining the price of a perfect grill. So ensure your culinary aspirations match your budget.
My advice is to choose a grill with a large temperature control instead of a high BTU. Best models have burners that can go as high as 700 degrees or even more (for example, Kamado Joe Classic Joe II can go up to 750 degrees).
3. Burners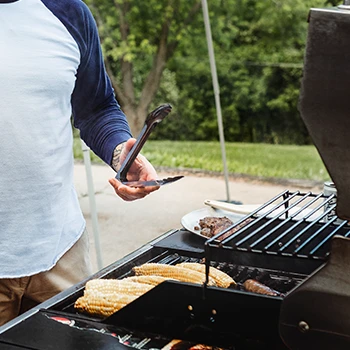 You should also think about your cooking preferences. For example, do you want to bake a pizza and grill hot dogs at the same time? You should go for a grill with several burners. More burners give you better temperature control and even cooking.
Apart from quantity, check burner shape and material. H-style burners are popular because they can spread the heat evenly.
Stainless steel burners are durable and can last longer than other materials.
Also Read: Best 4-Burner Propane Grill
4. Grill Size
From my personal experience, it's vital to consider space and culinary needs when deciding the right grill size.
Choose a grill size based on how much food you cook and how much space you really have. The more burners a grill has, the larger it'll be, which means the more room you need to store it.
A good rule to follow is to have about 100 square inches per person in your family, which means 400 square inches if you're a family of four. In this case, Sprint II is a good choice. If you entertain a lot of people often, go for a grill with a larger cooking surface. For example, Napoleon has over 600 square inches.
Also, think about where you'll store your grill and how much space you have. Can you keep it on the patio or in the yard? If not, consider a portable grill. They are much smaller but can still create delicious food.
Overall, get a grill that's appropriate for the space you have and the number of people you feed.
5. Build Quality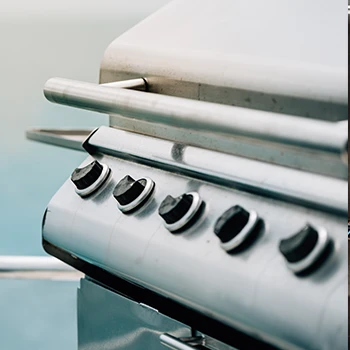 Grills can be made from various materials. You want to get one made from materials safe for food contact and durable.
Poor-quality grills quickly succumb to high temperatures, moisture, grease, and rust.
Cast iron is extremely durable but also extremely heavy. It's a good heat conductor and heats up fast. Stainless steel is easy to clean and can withstand harsh weather conditions. Enameled porcelain won't get scratched, and you can use it in high temperatures.
A good tip is to check the warranty. The higher the warranty, the better the grill quality.
6. Features and Accessories
Accessories may not seem important, but they make the grilling experience smoother and easier, especially if you're a beginner.
Some accessories to look for include the following:
Side shelves for storing utensils and plates
Shelves underneath the grill for storage
Sturdy wheels for moving the grill
Tank holders for a gas grill
Led lights
Digital screens
Also, think about how you want to start the grill. I recommend going for a grill with an automatic starter and a removable upper cooking grate. This is ideal for indirect cooking (buns, veggies, and large meat cuts).
Overall, think about how you'll use your grill the most, and then decide on the features.
7. Maintenance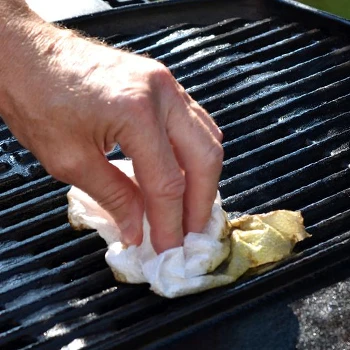 The last thing to consider is maintenance. Nobody wants a long and difficult cleanup process.
Generally, gas and electric grills have an easier cleanup than charcoal and pellet because there's no ash. Moreover, a gas grill can last up to 15 years with proper maintenance and cleanup [1].
However, this doesn't mean you shouldn't consider pellets and charcoal. If you love smoke-flavored food, get a pellet or charcoal grill that has ash catchers (for example, Weber Original Kettle) or a grease trap (for example, Pit Boss Mahogany 440).
Overall, no matter if you get an electric grill, pellet, or gas, make sure it's easy to clean to save time in the long run.
---
Related Articles:
FAQs
What Kind of Grill is Best for Beginners?
A gas, pellet, or electric grill is best for beginners. They are easy to start and operate. A charcoal grill gives the best smoky flavor, but it's difficult to ignite and takes a long time to heat up.
What is the Easiest Outdoor Grill to Use?
The easiest outdoor grill to use is a pellet grill. It's efficient and makes rich smoke-flavored food.
Are Cheap Grills Worth It?
No, cheap grills aren't worth it. Their burners flare up easily, don't distribute the heat evenly, and give little control over heat.
What's the Best Grill for You?
The best grill for you is one that is versatile, user-friendly, and has a consistent temperature control mechanism.
For this reason, my vote for the best grill for beginners goes to Weber Spirit II. It has the best versatility, and you can cook everything from meat to fish and vegetables.
Spirit II has square inches of cooking surface, which is enough for a family of four. This is a powerful grill thanks to 26,500 BTUs. It heats quickly and can maintain high temperatures easily.
Check it out, and get an easy-to-use grill for beginners that makes delicious food.
Weber Spirit II E-210 Gas Grill (Liquid Propane)
Our #1 Recommendation
A built-in thermometer shows the temperature
Two burners for even heat distribution
Easy to use
Has a warming rack
Get the BEST PRICE until the end of September
References:
 https://www.watsons.com/how-long-do-gas-grills-last
Was this article helpful?