DeBragga is an online butcher shop with a rich history and known for its extensive cuts of meat. They supply many 4-5 star restaurants with premium steak. After hearing about all the hype, my team and I decided to put them to the test. In this DeBragga & Spitler review, you'll find out exactly how they compare to other services we've tried.
What is DeBragga & Spitler?

DeBragga & Spitler is an online meat delivery service that specializes in dry-aged steaks and other specialty products such as Wagyu beef and veal. They are headquartered in Jersey City and have been in the butcher business since 1920. They provide organic, and steroid-free meat cuts to individuals and restaurants across the US.
DeBragga's other beef cuts are all USDA prime, which is the top 2-3% of beef in the nation. All of their poultry and beef is locally sourced and humanely raised.
Pros
Offer home kits for grilling
Wide variety of specialty meats
Different promotions every week
Organic and steroid free meat
How Is The Selection?
The selection from Debragga includes all types of beef, pork, poultry, and a few pantry items. All of their meat cuts are locally sourced and raised humanely. Debragga ensures that all of the livestock is fed grass or natural grain only.
They offer USDA prime beef, which is the highest awarded designation. They dry age the prime steaks to give them a rich flavor. Debragga offers heritage breed pork, veal, lamb, and chicken. They also offer specialty items such as Kobe or Wagyu beef, rabbit, and Guinea hen.
Debragga Popular Menu Options
Wagyu beef
Heritage breed pork
Veal
Dry-aged beef
USDA prime
Guinea hen
Kobe beef
Lamb
What Are DeBragga's Sourcing Practices?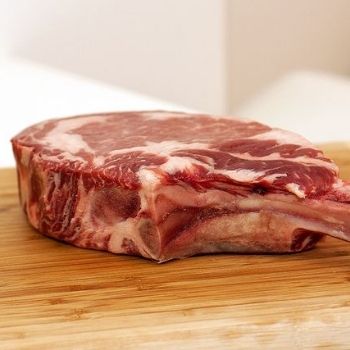 DeBragga sources its meat from small farmers to ensure that quality standards are met.
Their livestock is never given hormones to stimulate growth. They source cows that are pasture-raised and fed a diet of either natural grains or grass.
DeBragga sources their Wagyu beef from Japan, Australia, and the USA. Every Wagyu cut is raised according to the strict standards set by Japan.
They source their pork from heritage breeds. Their Gloucester Old Spot pork is sourced from their own farm and raised from a single boar.
This type of pork is one of the rarest heritage breeds in the United States along with Kurobuta pork.
How Does The Price Compare?
DeBragga is more expensive compared to buying your meat from a normal grocery store. Since they offer premium grade meat, the prices are higher. Many of the cuts of meat that DeBragga offers cannot be found at a grocery store. DeBragga isn't the cheapest option, but I thought it was worth it for high-quality steaks.
Placing Your Order Online

How Does DeBragga Ship?
DeBragga uses FedEx Overnight delivery for all orders that are placed from Sunday to Wednesday. They do not require a signature on their deliveries.
Payment Options
DeBragga accepts all major credit cards on their website. You can also use a DeBragga gift card upon checkout.
Estimated Delivery Time
All DeBragga orders will arrive by 8 PM the next day if they are placed between Sunday and Wednesday. If they are placed after Wednesday, then the orders will be filled the following week for overnight delivery.
How Is Their Customer Service?

DeBragga's customer service seems to be above average. We spoke with someone about a recent order. They were helpful and remedied the situation quickly so that my order could be delivered on Saturday.
How Does Your Package Arrive?
Your DeBragga package will arrive in an insulated foam cooler with ice packs on the top and bottom to keep the meat cold. Each cut of meat is vacuum-sealed to prevent leaks and air contamination.
Related Articles:
What Are The Weekly Specials?
DeBragga offers weekly specials on several different cuts of meat and home grilling kits. They have a page on their website dedicated to each week's sale items. At the time of this review, they have different styles of Wagyu beef for 20% off.
Why Choose DeBragga for Your Meat Needs?
Outstanding quality: DeBragga's reputation speaks for itself. Their meats are trusted by 4- and 5-star restaurants, offering high-quality meat and USDA Prime beef.
Organic options: For those who prioritize natural foods, DeBragga provides hormone- and antibiotic-free organic meat, ensuring a healthier choice.
Swift order processing: Say goodbye to long waiting times. DeBragga prioritizes efficiency, processing, and delivering your order promptly.
Debragga & Spitler Reviews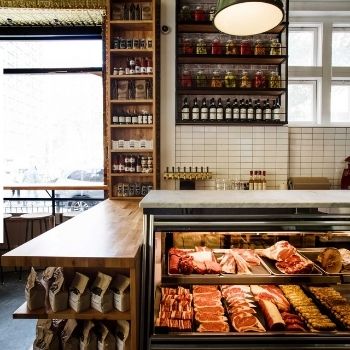 After our careful review, we think that DeBragga and Spitler may be a good option for restaurants or individuals that want high-quality 5-star restaurant-style meats delivered to their doorstep.
This may not be the best option for customers who are looking for a budget-friendly option.
According to Google reviews, DeBragga has a "great" rating of 4.3 stars [1].
One potential downside of DeBragga, however, is that the prices are more on the premium side versus budget-friendly.
It won't fit everyone's budget, but if you're looking to splurge on high-quality, then it might be a good choice for you. They don't offer any lower quality meat cuts as an alternative.
DeBragga vs. ButcherBox
The main difference between Debragga and ButcherBox is that ButcherBox is a box subscription service, while Debragga is an online butcher, where cuts can be bought a la carte.
You can order speciality meats from Debragga whenever you want. On the other hand, you have to set up a delivery subscription for ButcherBox, and the box is automatically sent to your home every month.
ButcherBox has free shipping on all mail delivery. You can choose between monthly and bi-monthly shipping. ButcherBox also allows you to track all your packages from their website.
As Debragga doesn't have a subscription model, their delivery works differently. If you place an order between Sunday and Wednesday, your meat will arrive by 8 PM the next day.
If you place an order after Wednesday, it will be processed next week, and you'll get overnight delivery once it's done. Debragga charges shipping according to zones, going from $9.95 to $49.95. You can also track your cuts of meat on their website.
Is DeBragga Worth It?
After careful consideration and based on reviews, we think that DeBragga might be worth it for people who want to splurge on high-quality meats because of their USDA prime grade. But another option we prefer for grass-fed beef is ButcherBox.
ButcherBox offers the convenience of a subscription service that delivers wild-caught seafood, grass-fed beef, free-range organic chicken, and heritage-breed pork. If you're looking for the convenience of having quality meat delivered to your doorstep, ButcherBox is still our preferred choice.
#1 Meat Delivery Service
ButcherBox
Click For Best Price

Pros
Grass-fed and grass-finished beef delivered directly to your door
Without antibiotics or added hormones
Customizable boxes available
Select from up to 21 different cuts
Get the BEST PRICE until the end of December
Was this article helpful?