US Wellness Meats makes a bold claim. According to their website, they sell healthy, clean, and organic meat. This is commonly thrown around by companies but not always accurate upon further inspection.
In this US Wellness Meats review, we'll cover everything you need to know to see if their promise holds up.
What Is US Wellness Meats?

US Wellness Meats is a meat delivery service focused on grass-fed and grass-finished beef, pasture-raised heirloom pork, free-range poultry, and other clean options for you to try. You can choose from a wide range of products, including the best beef, bison, lamb, pork, chicken, and wild caught seafood.
All of these meats are developed on family farms using organic principles and the right sustainable farming practices. US Wellness Meats claims that none of their animals are given hormones or antibiotics, nor is their cattle grain-finished as with many other grass fed meat operations.
Pros
Meat delivery service with a wide variety of products
Suitable for special diets such as Paleo
Meat is shipped with FedEx Priority Overnight® and arrives the next business day
Every couple of weeks there is a site-wide 15% discount
Cons
Handling fees on top of the regular price
US Wellness Sourcing Practices
According to the company's website, grasslandbeef.com, US Wellness meat and other products are sourced from a list of four small farms using sustainable practices. The farms are located in northeast Missouri and across western Illinois. They also work with a single farmer in Tasmania near Australia. In fact, the farmers that raise their beef are the actual owners of US Wellness Meats. The managing partner visits the farm every single day.
Though the products you'll get, like steaks, are not certified organic, they claim to adhere strictly to organic product farming principles. The first thing that caught our attention was that all of their beef is grass-fed, and their other meats are equal in quality (1). As an ingredient to your favorite recipes, expect lesser saturated fat.
3 Primary Menu Options

1. Beef
We love the fact that all of the beef and bacon they sell are 100% grass-fed and grass-finished, like Butcher Box. It's essential to make this distinction as many organic meat delivery companies and services that make the claim today are also grain-finished. This means they use the final stages to feed grain to fatten the cow further. US Wellness doesn't do this.
2. Pork
You can find over fifty different pork products on the US Wellness website ranging from traditional yet delicious pork bacon with sea salt to short ribs, ribeye, and pork loin with great flavor. The quality for pastured meats is higher than you could get at your grocery store, and the price range you'll get, also competitive.
3. Poultry
All of the chicken they offer is free-range and pasture-raised. As with the other food package on the site, they are free of hormones and antibiotics. Other than chicken, you can purchase duck and turkey and similar items such as duck fat for cooking and other healthy animal fats or butter. Harry and David's is worth a try, too.
Our Favorite Specialty Items
One of the things that makes US Wellness way different than similar websites is that they offer a variety of specialty items all geared around nutrients and health benefit for all. Aside from just healthy beef, chicken, and pork, you can also find things to share like:
Grass-Fed Liverwurst
Sockeye Salmon
Organ Meat (beef liver, beef heart, etc)
Bone Broth
Beef Tallow
Filet Mignon
Pork Chops
Pork Tenderloin
Cured Meat
Grass Fed Lamb
Ground Chicken
Pet Food
Grass Fed Butter
Sustainable Seafood
How Does The Pricing Compare?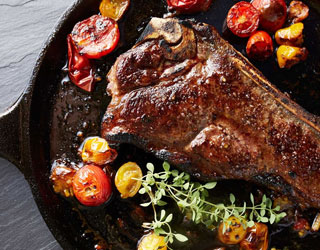 This is not a subscription service with a monthly box option and consistent pricing.
This is instead an online store that's even more similar to Whole Foods. So, items are all priced differently.
The website really differs a bit from some of the top meat delivery services we've tried and reviewed, such as ButcherBox meat deliveries and Crowd Cow meat boxes.
Regular Coupons & Discounts
One thing that makes US Wellness Meats a viable place to order from is their regular big discounts on products. They have a specific section for sales that regularly rotate each new week.
You don't need to worry about scouring the net for coupon codes for low prices as you would just add their sale items to the shopping cart.
The things on sale change every Saturday at 10 PM Central Standard Time.
Related Reviews:
Shipping Charges
Shipping is free with all orders. But, unlike other companies, US Wellness charges a $9.50 handling fee with all orders. None of the other companies charge a handling fee, so we found this to be one off-putting factor. But, the handling fee is generally less than shipping costs we've seen on others like Omaha Steaks and Kansas City Steaks meat delivery.
How Is US Wellness Delivery?
Many of the other companies we've reviewed only ship to the 48 continental states, which exclude Alaska, Hawaii, and US Territories. On the other hand, US Wellness Meats ships to all 50 states, as well as Puerto Rico and Canada.
Because they serve a larger area of the world, users who otherwise wouldn't access quality animal protein can order through them. We discovered they ship most products to their mailing list Monday through Wednesday during our US Wellness Meats review.
"I recently started buying from US Wellness and have been very pleased with both the quality and the customer support they provide. I've recommended it to several friends who are interested in pasture-raised chicken, grass fed and humanely raised beef and pork."

- Customer, Facebook
The exception to this is fresh grass fed beef, which gets shipped out every four weeks. This is non-frozen meat, unlike their other food, which usually ships frozen. It's important to follow your tracking number as this doesn't get shipped frozen when it arrives in your home. You will need to get it into cold storage as soon as possible on the day you receive it.
Ships to all 50 states
Monday through Wednesday delivery
Grass-fed beef shipped every 4 weeks
Online Reviews & Ratings

Based on research, we found the various meat products offered by US Wellness Meats (Grassland Beef) to be high quality and tasty. Like Greensbury's tuna steak and ground beef, US Wellness Meats' heritage pork and bacon was tender and juicy, and their ground beef fresh and flavorful. We were able to whip up a recipe of delicious tallow, sweet potato, cheese, and olive oil.
During our initial research on the company, we also found numerous comments on various websites and social media speaking well of the service and quality meat.
Trust Pilot Rating
US Wellness Meats has an average five-star rating on Trust Pilot from over 2,000 customers. Over 89% of the companies ratings are excellent, with less than 2% being poor or bad (2).
"Everything I ordered was present and well packaged. Shipment was on time, and it was still frozen upon arrival. The bacon, ground beef, Polish and Italian sausage are a hit with my family. One very satisfied customer."

- PK, Trust Pilot Review 
Facebook Rating
US Wellness Meats review on Facebook is 4.8 out of 5 from 286 people. The majority of people have noted the high meat quality and excellent customer support.
ButcherBox vs. US Wellness Meats
The main difference between ButcherBox and US Wellness Meats is in their business structure. ButcherBox provides monthly subscription service with a limited number of rotating meats. US Wellness Meats offers a wide selection of organ meats, pet food, and dairy in their store.
Both companies have similar quality standards, with just a few key differences.
To begin with, both companies offer heritage pork and grass-fed beef. They both commit to selling meat that is free of growth hormones and other potentially harmful additives. Where they differ, though, is that ButcherBox has NAE chicken, beef, and pork.
Both meat providers offer free shipping. However, Wellness Meats charges a handling fee to help cover the cost of labor. This is a flat fee for all orders, regardless of size.
ButcherBox's meat experiences ship to the 48 contiguous states. These are all of the states within the continental US, minus Alaska and Hawaii. According to their website, there are plans to start meal delivery to these areas in the future.
US Wellness: Good Value or Not?
While we like how it's easy to order from US Wellness, our favorite marketplace for high-quality and consistently fresh meat is still ButcherBox.
US Wellness does not offer subscription services, unlike ButcherBox, where you can curate your own box and have it delivered to your front door, free of charge. We also love how we always get better portion sizes. Compared to US Wellness, ButcherBox also has a wider variety of premium meat.
#1 Meat Delivery Service
ButcherBox
Click For Best Price

Pros
Grass-fed and grass-finished beef delivered directly to your door
Without antibiotics or added hormones
Customizable boxes available
Select from up to 21 different cuts
Get the BEST PRICE until the end of December
Was this article helpful?