Crowd Cow is one of the few meat brands that keep an inventory of the entire meat, as well as the ranches and farms it comes from.
Many customers claim that they maintain a high level of professionalism, quality of service, and meat.
Ever the skeptic, my team and I decided to try out Crowd Cow for three months and investigate if their service, quality, and sourcing hold up to our professional and experiential rigor.
Here is the information we've gathered in this review.
Overall: 4.7/5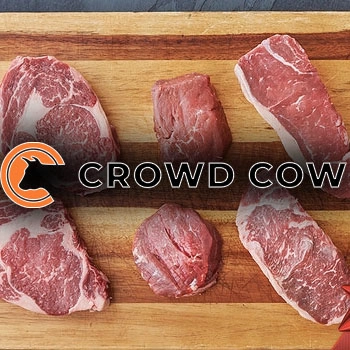 Quick Facts
Keeps the entire meat

Sells ground beef, seafood, pork, lamb, chicken, and bison

Several subscription boxes available

Meat is sent in biodegradable boxes, flash-frozen, with dry ice
Brand information
From Seattle, Washington

Several people share in one Crowd Cow cost

Works as a membership, where people subscribe

Sources meat from independent farmers
Advantages
Professional and easily reachable customer service

100% grass-fed, pasture-raised meat

Wide variety of cuts available

Flexible shipping options
Click For Best Price
What Is Crowd Cow?

Crowd Cow works as a subscription-based online meat delivery service company located in Seattle, Washington. It was founded in 2015 by Ethan Lowry and Joe Heitzeberg, and among its investors are Joe Montana and Ashton Kutcher.
As the brand name implies, the idea was to crowdfund a cow's purchase so that multiple people get to share in one Crowd Cow cost. They wanted to purchase an entire cow directly from a ranch without storing a year's ground beef supply in the freezer.
Crowd Cow has expanded into an online meat store and sells a full range of pasture-raised meats, specialty protein meats like Japanese Wagyu beef, plant-based options, as well as seasonal items, sides, and desserts.
Over time, Crowd Cow shifted to a membership model, offering any Crowd Cow member the convenience of a subscription with total flexibility and greater savings. Customers still have the option to place one-time meat delivery services (including gifts).
Pros
100% grass-fed, pasture-raised meat
Humanely-raised without added hormones
Wide menu selection
Flexible shipping options
Customizable meat orders are available
What Are The Crowd Cow Menu Options?
Crowd Cow sells a large selection of meat from local ranchers and independent farmers. As you'll see on their site, they offer several meat options and cuts.
Some high-quality Crowd Cow options you can order in large quantities are:
Grass-fed beef - New York strip, filet mignon, boneless Ribeye, dry-aged steak, sirloin steak, bone-in ribeye steak, skirt steak, strip steak, ground beef, etc.
Seafood - black cod, wild Maine lobster, Alaskan halibut, Atlantic sea scallops, Norwegian salmon, etc.
Pork - Heritage pork, pork chops, thick-cut bacon, sweet Italian sausage
American Lamb
Pasture-raised beef - Ribeye, New York strip steak, tenderloin tips, tomahawk steak, chuck roast, ground beef, dry-aged steak, Kobe beef
Japanese Wagyu Beef
Bison - ground bison, ground bison grill box, bison bratwurst
Pasture-raised chicken - whole chicken, chicken breast, and many more
Upon seeing the meat delivery services menu for the first time, we were impressed with their big inventory of high-quality meat and seafood products as well as curated items. No wonder Crowd Cow became our favorite out of all the other meat delivery services.
How Does The Crowd Cow Quality Compare?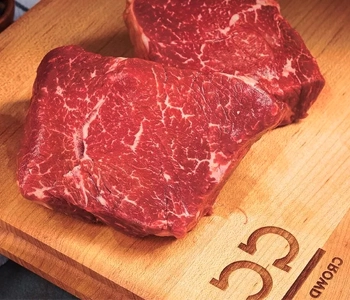 Since Crowd Cow sources their pasture-raised meat from independent farmers and co-ops worldwide, they should have excellent meat.
To prove this, we conducted a taste test on their New York Strip Steak. It was still frozen when we opened the package. The cut we ordered came to be around ¾ to 1 inch in thickness, just as we had expected.
While I typically prefer fresh steak, I found this particular cut to be of great quality compared to the ones I buy from the local grocery store, especially for its price.
With good marbling and small pockets of fat, we found it easy to trim and cook. It has an ideal balance of lean and fat, and the size of the steak is just right.
According to Crowd Cow's policy, each specific cut of meat they source must first go through flavor experts to ensure consistency for a good meal experience at home.
We decided to grill the steak after rubbing it with salt, pepper, and a little bit of olive oil, and we ended up with a medium-rare steak with a slight crisp on the outside.
The meat had a strong and bold beefy flavor which we all liked. It is moderately tender and dense, but still with a little bit of chew. Overall, we were satisfied with how it turned out and we will make it a regular in our future boxes/orders.
How Does Crowd Cow Work?
Crowd Cow works by offering both subscription-based pricing and one-off purchases on their website. Their prices depend on whether you get a subscription service for a few months or choose to pick and buy meat per pound or two.
Here are some of the Crowd Cow bundles you can choose from:
Custom Box - This is a great way for you to try cooking your favorite types of meat that you and your family can share at home. You can get and make anything from a list that includes salmon, chicken, sweet Italian sausage made of pork, various types of beef ribs, roast, and ground beef.
Steak Lover's Share - This is a great box for people who love to eat meat. You can try cooking four different cuts in each package, like flat iron steaks, short ribs, ribeye, sirloin steaks, hot dogs, and New York strip steaks. And yes, they have bone-in Ribeye steak and filet mignon steak, too.
Japanese Wagyu Box - If you want more ground beef, we recommend this as a better and sure option.
This Crowd Cow box comes with 12 oz or 14 oz of different types of Japanese Wagyu. It's a special type of beef that has a lineage traced back to Japan.
It is well-known for its great marbling that gives it a truly tender texture and deliciously juicy, buttery taste that you may love. Based on reviews, the production of Wagyu is heavily regulated to ensure quality. For the highest grade of A5 Wagyu, you can also check out our Holy Grail Steaks review.
For every Crowd Cow meat subscription box, you'd get a 5% discount on the prices plus free shipping for orders above $99. Compared to buying individual meat cuts, this is a much better way to save money.
When using Crowd Cow, keep an eye on their official website and read email alerts for current sale products. You may also avail of special seasonal sales during holidays. Promo codes and coupon codes are also available from time to time.
Crowd Cow Shipping
Like other services, Crowd Cow delivers to all US areas, except Alaska and Hawaii, in as few as 2 days once they leave the fulfillment center. As of the moment, they don't offer express shipping options. The restrictions on the delivery of agricultural products are also aptly followed (1).
Every time you buy a meat subscription box worth at least $99, you will get free shipping. For all other boxes, the Crowd Cow costs for shipping will change based on the quantity you're ordering and your area.
Our first meat subscription box worth $139, which was shipped for free, arrived after 3 days. It was more cost-effective to buy a meat subscription box since we saved on shipping fees.
Due to the COVID-19 pandemic, there might be changes in their policy. For added information, links are available on their site.
How Are The Crowd Cow Items Packaged?
Our Crowd Cow order was neatly placed in a box with biodegradable, water-soluble foam and dry ice inside to keep the Crowd Cow meat frozen. I appreciate how each package was vacuum-sealed with soup bones and wrapped in butcher paper to preserve its freshness and quality.
Overall, the packaging with dry ice kept the meat frozen while using 100% eco-friendly and recyclable materials (2). In addition, the box included a handwritten note that details the specific sources of the meat I bought which made me feel good for supporting small and independent farms.
Spread of disease from factory farming is exacerbated when waste products, including manure and the remains of animals who have died, are used to feed livestock being raised for meat.

- Gene Baur, National Geographic
Crowd Cow Pricing

Even though reviews around will be quick to point out that Crowd Cow can get very expensive, we figure that their prices are mostly reflective of their meat quality.
Because the ranches and farmers they work with are all smaller and standard-focused, the cost of each cut of meat came to be a bit more than the prices you would normally find at most grocery stores, like choice beef, for instance.
An example is their different beef options which are all pasture-raised and for seafood, all responsibly caught. The price difference per pound is justifiable when we consider the types of meat, the way it's sourced, the flavor of each cut, and the waived delivery fees.
You are paying to eat meat with premium taste, convenience, and transparency of the sources, which you don't get from any other store.
Ease of Delivery
The ordering process was straightforward. Our meat was delivered to our doorstep, saving us time as we didn't need to go to the store for the next few days to get meat.
Throughout this COVID-19 pandemic, we can just order or send an email every month or two months.
When we tried to order, we only needed to approve the email we got to confirm each product in our next box. Then our shipment order would be good to go. We appreciated how fast their customer service responded when we did a follow-through as a crowd cow member.
Crowd Cow Consistency
As we reviewed Crowd Cow, we found a couple of main benefits to using it to eat meat.
It is convenient for people who want to maintain a strict carnivore diet for years to get a consistent supply of fresh and excellent meat.
It's similar to Snake River Farm and Fossil Farm, where each meat cut has nearly zero fat content, and a little meat box of ground beef can go a long way.
They do the hard part of finding meat from sustainable farms, which often tends to be one of the most challenging aspects of the carnivore life.
From the two meat subscription boxes we ordered for the past 2 months, our ordering and shipping experience as well as the quality of meat has been remarkable on both times.
We were a bit concerned with the difference in meat quality since some of our orders came from four different independent farms. Surprisingly, we haven't noticed any obvious difference in terms of quality, making our overall Crowd Cow experience worthwhile and enjoyable.
Additional Benefits of Crowd Cow
Save you extra time by making fewer trips to the grocery store
You'll see how they use dry ice to keep your order frozen
Quality meat purchases from small family farms
Our Only Complaint

There is only one drawback we've seen so far, and that's their pricing. However, with the way this online meat store sources its premium products,  it is natural to expect it to be a bit more expensive than your local grocery store.
After we eat meat from the meat delivery service for a taste test, we believe the variety you get to choose from and how they collaborate with family farms and small farmers balance this cost per box.
Online Meat Delivery Service Alternatives
Crowd Cow vs ButcherBox
ButcherBox's subscription-based delivery service from Boston offering convenience for regular deliveries without the need for constant reordering. Additionally, they provide free shipping on all orders, whereas Crowd Cow offers free shipping only on subscription boxes or orders exceeding certain amounts.
ButcherBox provides antibiotic, growth hormone, and synthetic-free cuts in each meat box. They work with a range of small family-owned farms to create high-quality beef that has been humanely raised. While Crowd Cow is transparent with their sources, ButcherBox might be slightly stricter when it comes to the quality of their meat.
Crowd Cow vs Moink
Based in Missouri, Moink is another subscription-based delivery service that provides high-quality, ethically-raised, grass-fed beef and lamb, pork chops and chicken, and wild-caught salmon.
It only has one customizable meat box available at $159, but it's worth the money, considering the quality and taste of the meat.
Crowd Cow vs Snake River Farms
The main differences between Snake River Farms and Crowd Cow are in their sourcing and selection. Snake River Farms sources its meat from its own ranch, ensuring a high level of meat quality but limiting your options to Kurobuta pork and American wagyu beef.
In contrast, Crowd Cow gets its product from suppliers worldwide - wagyu from Japan, seafood from Norway, and lamb from Australia. This is on top of the free-range organic chicken, heritage breed pork, and game meats from suppliers from the US.
Orders from Snake River Farms can be shipped to all 50 states. Crowd Cow only ships to the lower 48 states.
Crowd Cow vs Omaha Steaks
The main difference between Crowd Cow and Omaha Steaks meat deliveries lies in their sourcing and product offerings. Crowd Cow focuses on providing ethically sourced, high-quality meat from independent farms and ranches.
On the other hand, Omaha Steaks is known for its traditional approach, offering a more extensive range of pre-packaged meat products, including steaks, burgers, and ready-to-cook meals. While they may not provide as much detail about the sourcing of their meat, they have a long-standing reputation for quality and consistency.
What Customers Are Saying
Crowd Cow generally receives good reviews in terms of the quality of all the meat and the responsiveness and fairness of their customer service. Here are some examples:
"We like to grill up the steaks we get from them, and the Wagyu we purchased was simply off the charts."

- Kwc on Trustpilot 
"The 3.5lbs came wrapped in two individual delicious packages. Excellent quality; very good marbling."

- Affrebrand on Reddit
FAQs
Not yet. Crowd Cow does not accept EBT or Food Stamps at the moment. They only accept major US and Canadian credit cards as forms of payment. You may also use Apple Pay.
How do I cancel my Crowd Cow subscription?
You may cancel your membership anytime through your membership page so long as it hasn't been shipped yet. You'll also get a notification when your Crowd Cow order is close to the delivery date to make adjustments.
Is Crowd Cow Worth It?
Overall, we were happy with the quality of Crowd Cow subscription boxes. However, they didn't match what ButcherBox offers.
ButcherBox sells sustainably sourced meat. You can get everything from beef to organic chicken, humanely raised pork, and wild-caught seafood. The animals are never given any additives or hormones.
ButcherBox gives flexible delivery frequency, and you can choose between five boxes, including a custom box where you handpick each cut. The delivery is always free no matter the order, and you get a free turkey. Check them out and get affordable, quality meat.
#1 Meat Delivery Service
ButcherBox
Click For Best Price

Pros
Grass-fed and grass-finished beef delivered directly to your door
Without antibiotics or added hormones
Customizable boxes available
Select from up to 21 different cuts
Get the BEST PRICE until the end of December
Was this article helpful?