Marley Spoon has partnered up with Martha Stewart, world-famous cookbook author and renowned TV host, to create a meal kit service that delivers fresh ingredients and new recipes to your door each week.
Martha Stewart & Marley Spoon claim to be "the meal kit that's like no other," so we decided to test that statement.
Over a month, we had these meal kits delivered to our door every week, recording what we did and didn't like to ultimately decide if Martha & Marley Spoon are worth the subscription.
What Is Martha Stewart & Marley Spoon, and How Does It Work?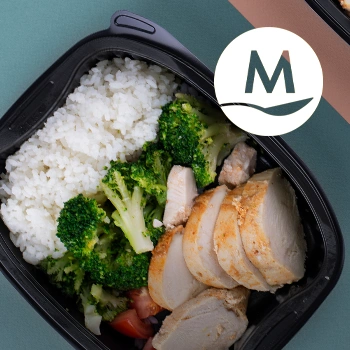 Marley Spoon was founded in 2014 by Fabian Siegel in Germany. Later in 2016, they decided to partner with Martha Stewart, creating the company we know today as Martha & Marley Spoon.
On their mission to branch out into America, they now deliver to most states in the contiguous
U.S. They offer customers a choice between 40 meals per week, some being classic Martha Stewart's recipes, others being new recipes we've never seen before.
Martha Stewart & Marley Spoon works by providing customers with ingredients to prep and cook meals at home without the need for meal planning or grocery shopping.
Their mission is to make the home cooking experience easier and dinners more delicious [1].
Benefits and Highlights

After testing Martha Stewart & Marley Spoon for a month, here are the main benefits and highlights that stood out to us.
#1 Straightforward Sign-up & Selection Process
If you'd like to view the menu beforehand to get an idea of what you're subscribing to, they let users freely browse their past week and upcoming three weeks' recipes without signing up.
If you choose to subscribe, you will first be asked how many meals you would like and for how many people.
This meal-delivery service gives two serving sizes for two people or four, and you can choose to receive two to six meals per week.
You also have the choice to check the "make your box vegetarian" option, which will tell them that you only wish to see vegetarian or vegan meals.
We found the whole signup section to be straightforward and user-friendly; they even included a FAQs section at the bottom of the page, which answered any queries we had.
#2 Large Selection of Meals
Each week, you can choose from more than 40 Martha Stewart & Marley Spoon meals. These recipes include Skillet Chicken Parmesan with Green Beans, Superfood Spinach & Quinoa Salad with Feta Cheese, and Grilled Tofu Banh-Mi.
Martha Stewart & Marley Spoon recipes also include breakfast, lunch, dinner, dessert, and drink items.
If you are a chef, no matter how good a chef you are, it's not good cooking for yourself; the joy is in cooking for others - Will.I.Am, Singer
With this meal kit service, you also have three options to include extra proteins such as fish and beef. Keep in mind, if you select all of these additional proteins, they will count as three meals.
Since Martha and Marley have a ton of recipes, it can be a little overwhelming to navigate through the meals, especially if you're searching for particular dietary restrictions.
Thankfully, they made the process a little easier by adding tags to all their meals to highlight the following:
Meat
Poultry
Fish
Seafood
Vegetarian
Vegan
Healthy
Nutritious
Kid-friendly
No added gluten
Low-carb
Low-calorie
Dairy-free
One-pot meal
Under 30 minutes
We found the selection of meals to be pretty vast, offering some delicious recipes we've never seen with previous meal delivery services.
#3 Adjustable Delivery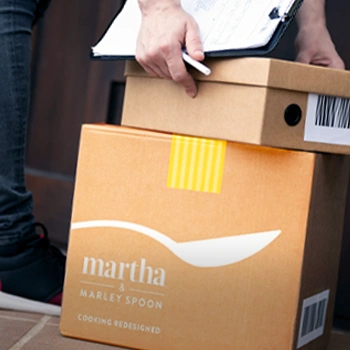 The delivery date depends on where you are located and what shipping service covers your area.
We were given a pretty flexible window for delivery, choosing from Monday, Tuesday, Wednesday, and Friday delivery.
Marley Spoon meal kits state that a specified time window (such as 5 pm on Monday) is not possible due to different shipping and delivery regions, but your delivery will usually arrive around the same time each week. [2]
We got our first box delivered on a Tuesday, and it came around 2 pm. Our second weekly box was also delivered on Tuesday. However, it came around 4 pm instead.
#4 Detailed Recipe Cards
The support materials with this meal kit delivery service are in-depth and easy to follow.
All the recipes come with a physical recipe card, printed on high-quality, sturdy paper, and this made it convenient to put into a little binder that we could refer back to at any time.
Suppose you'd like to opt out of the printed recipe cards; you can do so, as you will still have full access to the recipes online.
There you will be able to view the ingredients included, ingredients you'll have to purchase, a list of equipment, nutritional information, and the step-by-step cooking guide.
#5 Recyclable Packaging
We were pleased to find that most of the packaging materials were easy to recycle upon receiving our box.
The box in which our several meals came in and the box liner and ice packs were all curbside recyclable (the ice packs do need breaking down beforehand).
All the ingredients were packaged inside brown paper bags or vacuum-packed plastic, similar to what you would find at the supermarket.
We found these also to be recycled easily, and they protected our food pretty well during shipping.
#6 Varying Cooking Process Difficulties
When it came to the actual cooking of the meal kit, we found it to be pretty straightforward; however, it did involve a lot more prep work than other meal kits.
We also found some of the recipes, especially the seafood recipes, to require specific skills that a new cook may not have.
So, it would be a good idea to check the level of the recipe to make sure it fits your cooking skill before you make any choices.
Meal kit services are usually made with a goal to make cooking easier and faster for customers. However, we found this meal delivery to take more time than most.
That being said, Martha Stewart's recipes did make for some good meals. We enjoyed six meals out of eight, the other two slightly lacking in taste profile.
We felt the recipe options gave us a good variety of choices each week.
How Can This Meal Delivery Improve?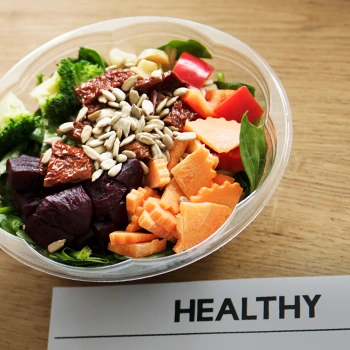 While there are many positive things to mention about Martha Stewart and Marley Spoon, there are some things I think can be improved on in the future.
While Martha & Marley Spoon offers a good selection, it could be difficult for people on a specific diet to find meal options.
Marley Spoon makes only a few low carb, keto diet, gluten-free, and vegetarian recipes per week, which is a little disappointing considering Martha Stewart & Marley Spoon offers over 40 recipes weekly.
Another thing we noted was that, unlike most meal kit companies, Martha & Marley Spoon required quite a lot of prep and cooking time despite all ingredients coming pre-portioned.
Martha & Marley Spoon Pros and Cons
Pros
Over 40 recipes to choose from each week
Some ingredients are organic, and they don't add antibiotics to their meat
Other recipes can be viewed on the Marley Spoon website or their app
Meal ideas are always fresh each week
Cons
Not many recipes for specialized diets
Preparation and cooking time is longer than most meal kits
Our Rating
Signup process: 5/5
Delivery: 4/5
Quality: 4.5/5
How Does It Compare to Other Meal Kit Companies?

Since there are many meal delivery services on the market, finding one that fits your needs can be challenging. Here's how they compare to other companies.
 #1 Trifecta
Trifecta is a good meal kit service for those looking to improve their eating habits and start eating cleanly.
They have more meals catered towards specialized diets compared to Marley Spoon and even offer support from trained coaches to help you stick to your health and nutrition goals.
#2 HelloFresh
HelloFresh meal service sustainably sources a large portion of their ingredients, and they are very transparent about where their ingredients come from.
They offer customers the best quality ingredients available, catering to diets such as vegan, vegetarian, family-friendly, and so on. Compared to Martha & Marley Spoon, recipes are generally quick and easy to whip up.
#3 Dinnerly
Dinnerly is one of the most affordable meal kit services on the market, offering a wide range of kid-friendly recipes suited for families.
The cooking process is very straightforward, making it ideal for customers who want quick and easy meals on a budget [3].
Dinnerly recipes take less time to prepare compared to Martha & Marley Spoon.
Related Reviews:
How Much Does Martha & Marley Spoon Cost?
The price of this subscription service depends on how many recipes you order per week and for how many people.
Here is a summary of the prices:
The weekly price includes a flat rate delivery fee of $8.99
| | | | | | |
| --- | --- | --- | --- | --- | --- |
| | 2 per week | 3 per week | 4 per week | 5 per week | 6 per week |
| Two Servings | $11.99 / $56.95 | $10.49 / $71.93 | $9.99 / $88.91 | $9.99 / $108.89 | $9.49 / $122.87 |
| Four Servings  | $9.99 / $88.91 | $9.49 / $122.87 | $8.99 / $152.83 | $8.99 / $188.79 | $8.49 / $212.75 |
Other Users' Experiences

According to the online ratings and reviews, quite a few people are pleased with this meal delivery.
For example, John from Maryland shared - "instructions for each recipe are very detailed and easy to follow. This company has definitely made cooking more enjoyable".
That being said, Claire from Tennessee expressed her dissatisfaction with the company - "The quality of the ingredients was somewhat disappointing as they weren't fresh".
FAQs
Can You Skip Weeks on Marley Spoon?
Yes, you can skip up to four consecutive weeks via the website. You can also pause your subscription and start up at any time without extra costs.
Is Marley Spoon Good for Dieting?
There are a few low-cal and healthy options to choose from; however, they do not target weight loss or dieting.
Is Martha & Marley Spoon Worth It?
This meal kit company is an excellent option for those who do not have time to go grocery shopping or need fresh and exciting ideas for dinner.
They offer over 40 meals per week, giving customers the choice of breakfast, lunch, dinner, and dessert items.
That being said, they may not be ideal for people who stick to a strict diet, such as vegan or vegetarian. For customers who have specific needs, we suggest checking out Trifecta.
Trifecta offers a whole range of meal kits to help people eat healthier while still being tasty and nutritious.
They cater to many dietary needs and even offer help from their trained coaches for people needing extra help with their eating habits.
If you'd like to check out Trifecta, click here to find out more.
We Recommend This Instead
Trifecta
Click For Best Price

Pros
All ingredients are organic and sustainably sourced
Can choose breakfast, lunch, dinner, and 3rd entree meals
Effective for weight loss and improving health
Shipping is free throughout the U.S.
Get the BEST PRICE until the end of September
Cons
Can not select your own meals
Only allows you to disclude two ingredients
Was this article helpful?