Most meat delivery companies have the usual pork, beef, and poultry, but not everything else. Mountain Primal Meat Co offers a different shopping experience that includes American highland cattle and other unique meats. We performed a complete Mountain Primal taste test to see if their quality claims are real or just hype.
What is Mountain Primal?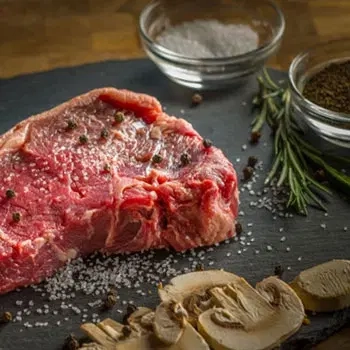 Mountain Primal Meat Co is a subscription service specializing in unique meat cuts such as highland beef and Berkshire pork.
They raise all of their animals using organically approved methods, including pasture feeding their livestock and avoiding additives.
The meat supplier has its headquarters in Colorado and works with ranchers throughout the state and neighboring Wyoming.
Aside from meat, they also sell American fuel sticks, which are meat sticks for protein and what they call "stockpile packages" and dog food and bones for dogs to chew.
You can also buy items such as BBQ sauce and other merchandise.
Pros
Unique types of meat
Organic beef and pork
Easy to purchase from the site
Wide variety of products
Cons
Not a certified organic business
Rotating stock of meats
No chicken or sides
Limited shopping guarantee policy
What's the Food Menu?
The distributor offers a lot of meats in their store. You can find everything from beef and pork to bison and elk. They don't offer chicken or poultry. Some of their most popular cuts of each include:
Beef:
New York Strip Steak
Ground Beef
Filet Mignon
Ribeye Steaks
Porterhouse Steak
Pork
Bacon
Ground Pork
Chorizo
Breakfast Sausage
Pork Chop
Aside from these main two categories, they also serve a wide variety of cut bones for either dogs or for making bone broth. You can also choose from their wide range of sauces and protein sticks for added flavor.
What's the Meat Quality?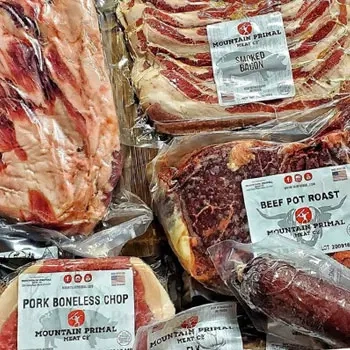 Like any other food box store, they make it a point to let everyone know that their farms are top-notch and the livestock that comes out of them is high-caliber.
To test their claims, though, we ordered some of their ground beef and a few other animal products to see how they were.
From our experience, each product that we ordered was good. It was evident that each animal product was grass-fed and clean.
One of the only things we noticed was that each cut of the steak we ordered wasn't always even. That could affect the cooking and the result.
What's the Price Range?
One thing that stood out to us when initially researching the site was their prices. The food distributor has quite reasonable prices for their animals compared to similar family ranchers that operate using the same practices.
Based on many of the comments we found on review platforms, other customers shared a similar account. We feel that this distributor is on the lower end in terms of pricing for animal box companies.
Related Articles:
Mountain Co Complaints
Because each animal that comes from the family ranch is raised using such strenuous standards, this usually makes food more expensive. However, we found that each box is under the average that we've seen from similar ranch operators for similar breeds.
Online Reviews

Overall, the distributor employs acceptable practices in raising their animals, which is a good mark by us. The food that we tried from them was tasty and arrived on time. We believe they are one of the better companies out there and a good choice for steaks and other flavorful cattle cuts, though they lack some of our regular favorites like American Wagyu beef.
Customer reviews
Many of the people who left comments about the distributor expressed satisfaction that the animals are treated well and that the email support is useful. Many noted that it was easy to shop from their online page, and it was easy to reach. The email support team was friendly and responsive.
The outfit has an A+ rating from the BBB. They do not have even one commenter on the platform yet (1).

- BBB Rating
They have a 4.8 out of five-star rating on their Facebook page. This is based on the opinion of 20 different reviewers (2).

- Facebook
Their Google businesses page has 4.8 out of five possible stars. This is based on the 25 reviewers (3).

- Google
FAQs
Does Mountain use antibiotics and hormones?
Mountain Primal Meat Co claims on its website that they do not use antibiotics or hormones in any part of its meats. According to their shop page, all of their livestock breeds are pasture-raised, and they do not put any additives into the food they consume. They do, however, finish the work with a grain/grass combination.
Is Mountain meat USDA certified organic?
Mountain meat is not USDA-certified organic. The company has listed on its website that they have deliberately chosen to forgo the certification process. Instead, they use a process they've dubbed "beyond organic" to ensure all of their meats are top-notch.
Where is Mountain located?
Mountain is located near the base of the Crown Mountains near the town of Basalt, Colorado. The city is near central Colorado, about 100 miles (160 kilometers) west of Denver. This is where the main ranch is located and where the work is done. Some of their livestock also come from Wyoming.
"Ordered the burgers. They did not disappoint. Delivery was fast. The packaging was excellent. I will order again very soon!" Allen Pierce, Verified Facebook Reviewer (4)
Is Mountain Primal Worth It?
After testing a few of their meats and pouring through each Mountain Meat Review, we believe that the company offers an adequate service that could work.
That said, when we order meat, we still prefer to order from ButcherBox. They have a wider variety of products to choose from, including grass-fed beef, wild-caught seafood, and heritage-breed pork, which are better for us. We also like how easy their website is to order from and how responsive their customer service is. If you want to experience high-caliber steak, check out ButcherBox.
#1 Meat Delivery Service
ButcherBox
Click For Best Price

Pros
Grass-fed and grass-finished beef delivered directly to your door
Without antibiotics or added hormones
Customizable boxes available
Select from up to 21 different cuts
Get the BEST PRICE until the end of September
Was this article helpful?