I've been passionate about BBQ for over eight years, which has exposed me to using top-notch grills.
Although high-end grills offer durability, better heat distribution, and outstanding cooking results, you don't want to splurge without knowing precisely what you're buying.
Over the years, I've tried several high-end grills from the industry's leading brands and been intrigued by the versatile functionality and features.
Here are my top seven high-end grills that are worth buying.
#2nd Best Choice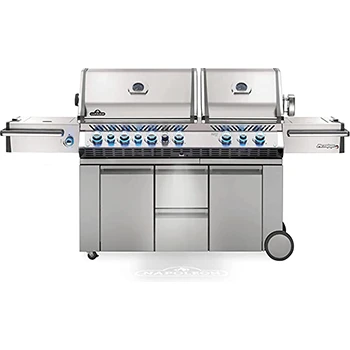 Napoleon
Check Current Price
#3rd Best Choice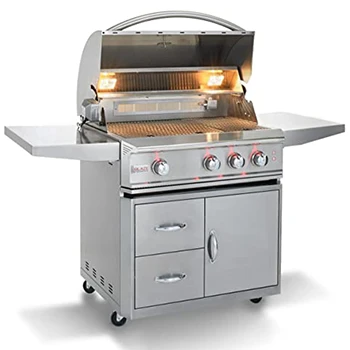 Blaze Outdoor Products
Check Current Price
Top 7 High-End Grills
Buyer's Guide for High-End Grills

If you can afford to splurge on a high-end grill, here are 3 things to consider before making that investment.
1. Grill Size
When measuring the premium grill size, consider these two aspects:
Primary square inches: This is the total area of the direct heating surface on the premium grill.
Secondary square inches: This includes all the different cooking surfaces on the grill, such as warming grates and side burners.
Once you determine the total square inches of the grill, ensure it correlates with the amount of cooking you plan to do and how many people you'll cater to.
Consider how large your yard is and how many people you typically cook for and decide on a size that's right for you. - Paul Hope, Home & Appliance Expert
If you're hosting a large gathering, go for bigger premium grills with over 500 square inches of cooking space. But if you're hosting a small, lightweight BBQ session, compact high-end gas grills with 300-480 square inches are ideal.
Also Read: Best Small Grills
2. Material Construction
As for the material build quality, get an excellent high-end grill with a stainless steel body. Apart from being corrosion-resistant, stainless steel grill displays efficient heat distribution and can withstand high heat grilling temperatures for a long time [1].
3. High-End Grill Features
You  also want to invest in a grill with the features you adore that you'll use often.
For example, if you want a more straightforward ignition process, go for a high-end grill with direct spark ignition, and if you want to cook a large turkey, then a rotisserie feature is ideal.
Also, a sear station feature is a good option if you wish to cook food under high heat searing.
If you're fortunate to get a grill with premium features, you have a great potential to advance your culinary experience as long as you have the right resources.
Related Articles:
FAQs
Are High-End Gas Grills Worth It?
Yes, high-end gas grills are worth it if you are looking for a durable appliance with outstanding features, like infrared burners. Some of the high-end appliances offer dual-fuel grill capabilities with both propane and natural gas versions available.
Do High-End Grills Last Longer?
Yes, high-end grills last longer because they are constructed of high-quality materials. And most of them come with extended or lifetime warranties that cover any deterioration or malfunctioning.
What's the Difference Between a High-end Grill and a Cheaper Grill?
The difference between a high-end grill and a cheaper grill lies in the burners, cooking power, and control. Unlike high-end grills, most inexpensive grills have less temperature control, less cooking power, and burners that flare up frequently.
So, Which High-End Grill Should You Buy?
You should buy a high-end grill that serves your specific needs, without compromising on quality.
Having used numerous high-end grills, I can confidently vote for Summit E-470 Weber grill as the leading choice. It offers unmatched performance, which provides value for money. This grill is durable, versatile, convenient and easy-to use.
Summit E-470 Weber boasts a powerful 78,200 BTU power spread across the primary burners, sear station, smoker burner, and side burner. It also comes with a ten-year extended warranty to cover any malfunctioning.
Summit® E-470 Gas Grill (Best Overall Liquid Propane & Cheapest)
Our #1 Recommendation
Five-star build quality
Has a built-in rotisserie
Massive grilling space
No flare-ups
Get the BEST PRICE until the end of December
References:
https://www.google.com/amp/s/www.azom.com/amp/article.aspx%3fArticleID=1175
Was this article helpful?