As an eight-year BBQ enthusiast, I know a quality grill when I see one, but I also know that a hefty price tag doesn't necessarily guarantee you're getting the best product out there.
Although high-end grills offer durability, better heat distribution, and outstanding cooking results, you don't want to splurge without knowing exactly what you're buying.
Over the years, I've tried quite a few high-end grills from the industry's leading brands, so here are my top seven that are worth buying.
#2nd Best Choice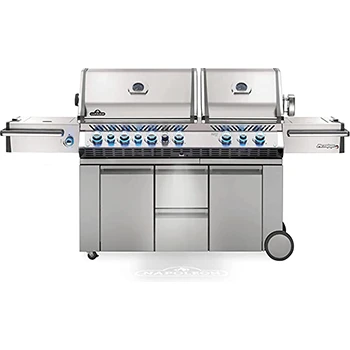 Napoleon
Check Current Price
#3rd Best Choice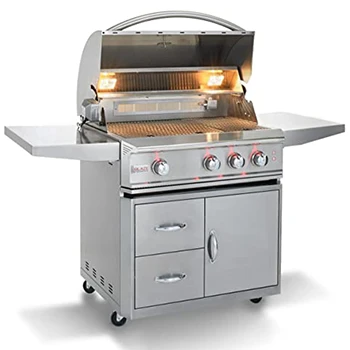 Blaze Outdoor Products
Check Current Price
Top 7 High-End Grills
1 - Summit® E-470 Gas Grill (Liquid Propane)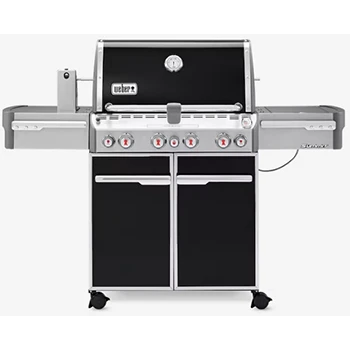 Starting off the list is the Summit E-470 luxury grill that comes fully loaded right out of the box. It features excellent functions like a built-in rotisserie, direct spark ignition, a sear station, and a smoker box/burner.
The E-470 Weber grill includes four main burners with an output of 12,200 BTU each, a sear burner with an output of 10,600 BTU, a side burner with an output of 12,000 BTU, and a smoker burner with an output of 6,800 BTU. In all honesty, this is a powerful grilling unit.
The cooking grate on this grill is fantastic. It is one of the thickest, highest-quality grates produced by Weber and has stainless steel rods measuring 9 mm.
When I turned up the sear station, the iconic wave cooking grids created superb grill marks on my chicken breasts. Plus, these stainless grates are easy to clean and last forever.
For indirect cooking, I can set the temperature and forget about it. This high-end grill offers excellent temperature control and can get both high heat for searing steaks and slow and moderate heat for slow roasting.
The grill provides a lot of cooking space (580 square inches), and the smoker box is great if you want to add a rapid burst of smoke to your steaks, poultry, fish, and kabobs during your outdoor grilling sessions.
Pros
Five-star build quality
Has a built-in rotisserie
Massive grilling space
No flare-ups
Click For Best Price
Quick Facts:
Total cooking space : 580 square inches
Dimensions : 38.6 x 30.5 x 52 inches
Max temperature : 750 degrees
Material : Porcelain-coated steel
2 - Napoleon Prestige PRO 825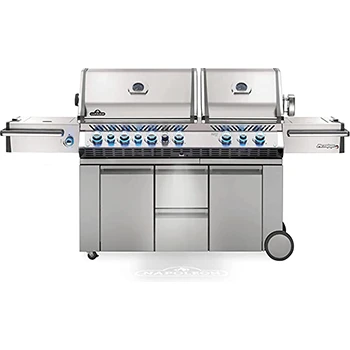 Napoleon Prestige Pro is a high-end grill that combines the power of infrared grilling with 6 powerful burners totaling 123,000 BTUs output.
On the exterior of this high-end grill, the gleaming stainless steel body is resistant to the weather, while the chrome embellishments provide a touch of elegance.
The LED spectrum night light control knobs offer endless color combinations, which made my nighttime BBQ party a breeze.
In addition to the massive 1245 square inches of cooking area, I love how the characteristic wave cooking 9mm grids gave my steaks those distinct sear marks.
The S Head is equipped with two ceramic infrared burners that achieve high temperatures when covered, making it perfect for searing steakhouse-quality meat.
This high-end grill also has a two-stage power side burner with a changeable cooking grid, perfect for my sauces, sautes, and side dishes.
Despite all the great bells and whistles on this high-end grill, I didn't particularly appreciate how the cabinet is composed of thin gauge steel and feels cheap. Also, the chrome accents are prone to corrosion after multiple uses.
Pros
Infrared rear rotisserie burner
Powerful 123,000 BTUs burners
Side burner with infrared sizzle zone
Cons
The infrared sear burner doesn't heat up well
Check Current Price
Quick Facts:
Total cooking space : 1245 square inches
Dimensions : 25.5 x 94.25 x 51 inches
Max temperature : 1800 degrees
Material : Stainless steel
3 - Blaze Professional LUX 34-Inch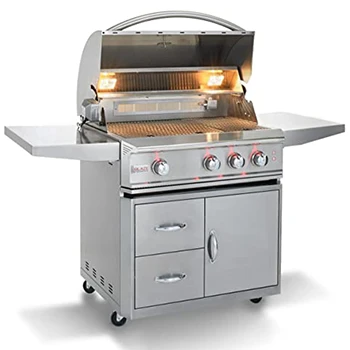 Earning the third spot is the Blaze Professional LUX, a high-end gas barbecue grill that will wow you in every way. It looks beautiful, cooks excellent, and is built exclusively of 304 stainless steel.
The 615-square-inch grilling surface is ideal for hosting a BBQ party or cooking for the entire family. I could fit up to 28 hamburgers at once.
Additionally, a 201 square-inch retractable warming rack is included for warming up food or slow-cooking ribs as you sear burgers.
The three stainless steel burners are heavy-duty and provide a combined output of 54,000 BTUs, sufficient to heat the grill to searing temperatures quickly.
The cooking grid consists of sturdy 12 mm hexagonal searing rods that provide your steaks with the best grill marks.
The flame tamer mechanism on this equipment is one thing I absolutely like. It safeguards the burners and guarantees that heat is dispersed uniformly across the entire cooking surface. And for added smokey taste, all the drips are instantaneously evaporated.
However, it's a bummer that this high-end grill lacks a side burner. But you can get it as an add-on from Blaze, although this translates to more expenses on an already expensive grill.
Pros
Superb temperature control
Control knobs are LED-illuminated
Lifetime warranty
Check Current Price
Quick Facts:
Total cooking space : 816 square inches
Dimensions : 28.12 x 65.5 x 50.25 inches
Max temperature : 750 degrees
Material : 304 stainless steel
4 - Fire Magic Echelon Diamond E790i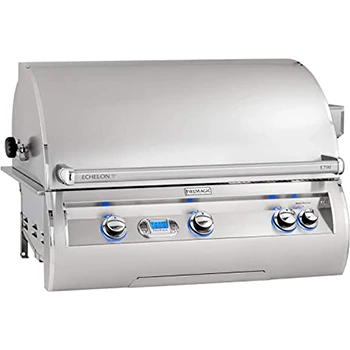 Next up is the Echelon Diamond E790s from Fire Magic. With a 1,080 square inch total grilling surface, this model is quite massive and is a complete outdoor kitchen appliance.
It features three burners that have flavor grids above them for excellent heat distribution and management. They are cast from stainless steel that is 1/4 inch thick, and they generate 96,000 BTUs together.
I appreciate that this Fire Magic grill comes with a meat thermometer and that the backlit LCD control screen on the front makes it simple to keep track of four different temperatures.
This sturdy grill, made of premium 304 stainless steel, has a ceramic infrared rear burner and a single-side burner, making it ideal for cooking for a large group.
I was able to make a whole feast, all on this one piece of equipment, thanks to the rotisserie system and an integrated smoker.
The only problem is that the burners don't heat up all the way to the maximum temperature, and if you want extra high-heat cooking, this can be inconvenient.
Pros
Multiple cooking options
Has a digital thermometer
Powerful burners
Cons
Burners don't light all the way
Check Current Price
Quick Facts:
Total cooking space : 816 square inches
Dimensions : 1.01 x 42.13 x 35.63 inches
Max temperature : 950 degrees
Material : 304 stainless steel
5 - TEC Sterling Patio 2 FR Infrared Grill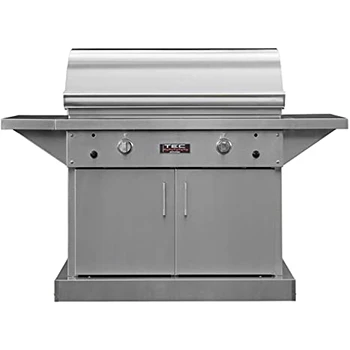 In my experience, this Patio 2 FR gas grill uses less than half the fuel of comparable infrared gas grills on the market while producing more than 60,000 BTU across a 592-square-inch cooking area.
With the help of TEC's infrared grill technology that evenly distributes heat and prevents moisture loss, I made dishes that burst with charbroiled taste.
During my grilling sessions, this TEC grill heated up rapidly and reached maximum temperatures of 850°–900°F in about 7 minutes when preheating on high with the hood closed.
I like the added convenience of the two extra shelves that give you more prepping space.
However, one major thing I disliked about this gas grill is that even though the burner is high-end, it doesn't suit low-and-slow cooking.
Pros
Efficient burner design for maximum heat
Heavy-duty 304 stainless steel construction
Comes with two extra side shelves
Cons
Cooking grates are not that durable
Check Current Price
Quick Facts:
Total cooking space : 592 square inches
Dimensions : 44.25 x 26.5 x 16.5 inches
Max temperature : 900 degrees
Material : 304 stainless steel
6 - Alfresco ALXE-42SZ-NG 42" Natural Gas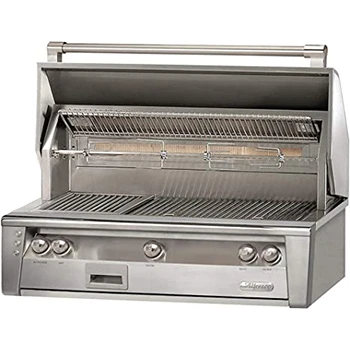 The 42-inch Alfresco ALXE premium model is another excellent natural gas barbecue grill that can handle all your grilling requirements, whether for a small family event or entire block gatherings.
This natural gas grill model boasts an enormous 770-square-inch grilling area spread over three primary gas burners with a combined 82,500 BTU output. I was able to fit two briskets in this massive cooking space effortlessly.
The push-button lighting makes hot surface ignition quick and convenient, and the two inbuilt high-intensity halogen lights let you make the most of your downtime and grill far into the night.
In my opinion, this luxury natural gas grill model is a worthwhile investment thanks to additional attention to detail like hood-aided raising, an adjustable three-position warming rack, and LED knob illumination.
The only major issue with this high-end natural gas grill is that the infrared sear zone is available only as an add-on –you'd have to pay extra for it.
Pros
Premium Titanium burner
High-quality grill with a heavy-duty rotisserie system
An integrated smoker tube system
Cons
Takes longer to preheat well
Check Current Price
Quick Facts:
Total cooking space : 770 square inches
Dimensions : 27 x 42 x 26 inches
Max temperature : 900 degrees
Material : Stainless steel & Titanium
7 - Memphis Grills Elite Wood Fire Pellet Smoker Grill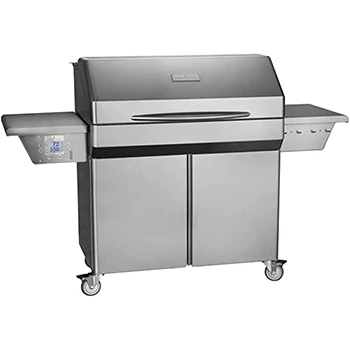 The Elite Pro 304 by Memphis Grills is the last high-end grill on my list. First off, I love the versatility of this grill, as I can use it as a classic kitchen oven and a pellet grill at the same time.
You can cook anything you want with a temperature range of 180-700°F and a primary cooking area of 574 square inches plus 274 square inches of upper grates.
The high heat temperature range is suitable for direct heat cooking, and the primary cooking space can hold more than 20 medium hamburgers at one time.
I also love that I can use my Memphis grill for all my favorite recipes thanks to its four-inch convection fans, making it appropriate for everyday usage.
This grill's corrosion-resistant 304-grade stainless steel construction makes it very durable. This top pellet grill is double-walled for excellent heat management and retention and low operating costs.
Because I love outdoor cooking in the evenings, it's disappointing that this high-end grill lacks built-in grilling lights for nighttime illumination.
Pros
Remote control via app
Multi-functional unit
Stainless steel is durable and long-lasting
Cons
No wood chunks pellet cleanout
Check Current Price
Quick Facts:
Total cooking space : 848 square inches
Dimensions : 47 x 29 x 69 inches
Max temperature : 700 degrees
Material : 304 stainless steel, alloy & metal
Buyer's Guide for High-End Grills

If you're moneyed and want to splurge on a high-end grill, here are 3 things to consider before making that investment.
1. Grill Size
When measuring the premium grill size, consider these two aspects:
Primary square inches: This is the total area of the direct heating surface on the premium grill.
Secondary square inches: This includes all the different cooking surfaces on the grill, such as warming grates and side burners.
Once you determine the total square inches of the grill, ensure it correlates with the amount of cooking you plan to do and how many people you'll cater to.
If you're hosting a large gathering, go for bigger premium grills with over 500 square inches of cooking space. But if you're hosting a small, lightweight BBQ session, compact high-end gas grills with 300-480 square inches are ideal.
Also Read: Best Small Grills
2. Material Construction
As for the material build quality, get an excellent high-end grill with a stainless steel body. Apart from being corrosion-resistant, stainless steel grill displays efficient heat distribution and can withstand high heat grilling temperatures for a long time [1].
3. High-End Grill Features
As far as grill features go, you want to invest in a grill with the features you adore that you'll use often.
For example, if you want a more straightforward ignition process, go for a high-end grill with direct spark ignition, and if you want to cook a large turkey, then a rotisserie feature is ideal.
Also, a sear station feature is a good option if you wish to cook food under high heat searing.
Related Articles:
FAQs
Are High-End Gas Grills Worth It?
Yes, high-end gas grills are worth it if you are looking for a durable appliance with outstanding features, like infrared burners. Some of the high-end appliances offer dual-fuel grill capabilities with both propane and natural gas versions available.
Do High-End Grills Last Longer?
Yes, high-end grills last longer because they are constructed of high-quality materials. And most of them come with extended or lifetime warranties that cover any deterioration or malfunctioning.
What's the Difference Between a High-end Grill and a Cheaper Grill?
The difference between a high-end grill and a cheaper grill is the burners, cooking power, and control. Unlike high-end grills, most inexpensive grills have less temperature control, less cooking power, and burners that flare up frequently.
So, Which High-End Grill Should You Buy?
Most expensive, hybrid grills may last for decades and vastly enhance your cooking experience if you have the financial means to spend the money.
After trying out a dozen of the best high-end grills available, I have to say the Summit E-470 Weber grill is the absolute winner in terms of performance, durability, convenience, and value for money.
This grill is a formidable beast with a powerful 78,200 BTU power spread across the primary burners, sear station, smoker burner, and side burner. It's also easy to set up and use, it's versatile, and it comes with a ten-year extended warranty to cover any malfunctioning.
All of this, combined with excellent value for money, makes the Summit E-470 luxury grill my top pick.
Summit® E-470 Gas Grill (Liquid Propane)
Our #1 Recommendation
Five-star build quality
Has a built-in rotisserie
Massive grilling space
No flare-ups
Get the BEST PRICE until the end of May
Was this article helpful?