Dieting affects your emotional and mental well-being, on top of your physical health. The consumption of certified organic meat correlates to a generally better lifestyle quality.
When following the carnivore diet, sourcing organic grass-fed beef, pork, or free-range organic chicken grown organically can be challenging.
Hence, our team has compiled the information to make it more convenient for consumers like you.
Read ahead to know more about ten best organic meat delivery services where you can source your meaty goodness.
Top 11 Organic Meat Delivery Services
1 - ButcherBox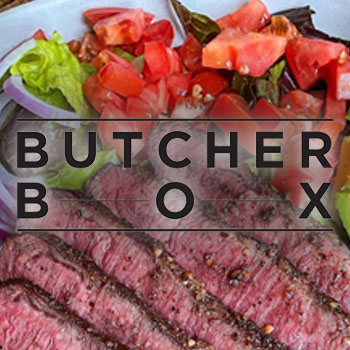 ButcherBox is one of the most highly-acclaimed names in the organic meat delivery services market.
The company sources its grass-fed beef from small family farms following the highest standards of quality meat control.
Their packaging is of remarkable eco-friendly quality that maintains the grass-fed beef and organic meat's freshness.
The cuts consist of the most well-known portions that consumers have widely accepted as the best cuts.
However, some consumers have found their 100% organic grass-fed beef to be lacking in the taste department.
The meat delivery services company can work on improving this aspect, as well as updating and giving detailed instructions for the packaging disposal.
ButcherBox makes up for these setbacks by allowing customers to choose their preferred cuts in their online meat delivery services.
And, they offer good promo packages so you can have your high-quality pasture-raised beef, heritage breed pork, seafood, and humanely-raised whole chicken with a budget.
Pros
Flexible grass-fed options
Shipping is free
Good packaging
Includes a monthly subscription service
Some excellent grass-fed cuts
Cons
Doesn't include detailed disposing instructions
Click For Best Price
Quick Facts:
Humanely-raised pork
Select from up to 21 different cuts
Customizable boxes available
2 - Crowd Cow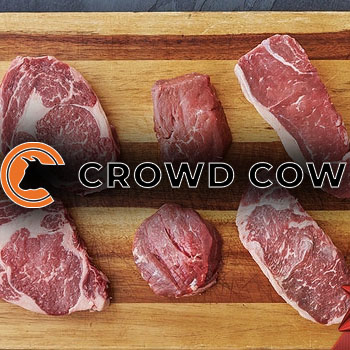 The consumer of these grass-fed Crowd Cow meat delivery services have access to the farming practices of the family farms, which are detailed on the site for transparency.
Because of these policies, you get only high-quality, pasture-raised, 100% grass-fed organic meats, which has claimed as portions customarily reserved for high-end restaurants.
But it might take a bit of time before you can receive your Crowd Cow meat delivery service product, as you need to wait for the complete selling of the whole animal (e.g., cow, pig).
Meat delivery services by can take from one to three days, depending on how fast the product sells.
You should also note that the grass-fed meat can get pricey because of the production cost from its extensive quality protocols.
Both of these drawbacks are compensated for by the quality of the meat you can receive.
Pros
Organic grass-fed beef and high-quality meat from independent farms
Transparent with sources
Dry ice used for packaging
Ensures high-quality products
Cons
A bit pricey
Longer time for order completion
Click For Best Price
Quick Facts:
100% grass-fed, pasture-raised meat
Humanely-raised without added hormones
Flexible shipping options
3 - Good Chop
Good Chop earned its spot on the list of best organic meat delivery services because they only sell cuts from sustainably grown animals.
The organic meat delivery company is extremely transparent about its sourcing practices.
Their organic meat and seafood come from domestic family farms and fisheries.
All meat they sell comes directly from the US. This allows Good Chop to offer free shipping and cut down on pollution caused by international transportation.
Their animals are raised responsibly, with plenty of space, water, and food.
Good Chop meat is 100% organic: without any artificial ingredients, added hormones, antibiotics, or preservatives, so you can rest assured you're eating the healthiest possible meat.
Pros
Humanely raised animals
Meat sourced from family farms
Angus and USDA Prime beef
Good selection of sustainable seafood delivery
Cons
Not the most eco-friendly packaging
Click For Best Price
Quick Facts:
US sourced meat
Free shipping
Two subscription boxes
4 - Snake River Farms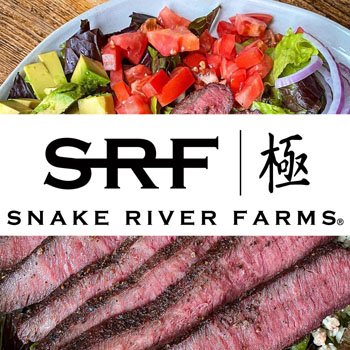 Snake River Farms (SRF) is one of the markets where you can get high-quality organic meat, specifically the American wagyu.
The company claims that high-end restaurants patronize their grass-fed beef because of their remarkable taste.
Their organic meat cuts are carefully processed, with each piece undergoing wet aging for about three weeks before it is cut and frozen for delivery.
Snake River Farms delivers not just in the U.S. but has branches and shipments through their partners in other countries as well.
Although the organic meat delivery services company uses BMS, a Japanese marbling scale, rather than USDA meat standards, SRF produces American wagyu and not the famous Kobe wagyu.
If you are not on the look-out for high-end real wagyu beef, SRF's American wagyu is also an excellent option.
However, you should do careful research on which Snake River Farms products are still available as there are advertised meat cuts that are not for purchase.
Pros
Available outside the U.S.
Carefully processed
High quality organic grass-fed beef
BMS rather than USDA standards
Cons
American rather than Japanese wagyu
Some unavailable products
Click For Best Price
Quick Facts:
American Wagyu Beef & Kurobuta Pork
Sourced from family farms in the US
Higher than USDA Prime options
5 - Thrive Market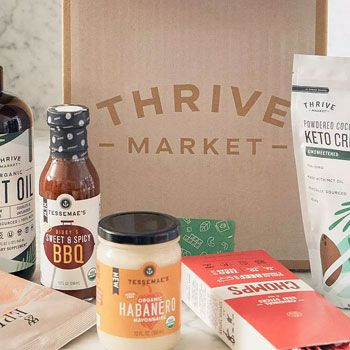 Thrive Market is another flexible organic meat delivery service for doing your organic meat grocery shopping is Thrive Market.
You can choose from their monthly or annual membership of organic meat delivery services that give you access to different sets of grocery benefits you can use when purchasing.
The company also assures customers that all (food) items will be gluten-free and organic, and they're generally less expensive than their branded counterparts.
When you decide to shop in Thrive Market, however, you should prepare yourself for buying in bulk (e.g. buying a whole pasture-raised chicken).
Although you can save a lot of money with bulk purchases, you need to have enough to start.
And the shop rarely releases promo codes for discounts, but they have various other benefits for their membership.
Pros
Monthly and Annual membership offers
Gluten-free and organic meat products
Less expensive than brand items, even for grass-finished beef
Shipping perks
Cons
Bulk buying
Rare promo codes
Click For Best Price
Quick Facts:
Access to over 6,000 products
Organic and non-GMO supplies
6 - Porter Road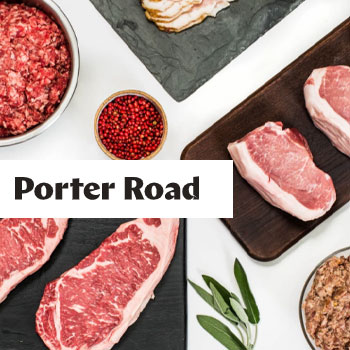 Porter Road is an organic meat delivery services company selling only hand-cut, hormone-free organic meats from family farms such as free-range organic chicken, pasture-raised and grass-fed organic cows, sheep, and pigs.
The company also has similar curated sets offered by other meat delivery services, but you can also pick the a la carte option at a more affordable price.
You also have many options to choose from when picking your organic meat cuts, as Porter Road offers a wide variety of both fresh and processed products.
But the prices can be higher than your local grocery store. Also, the delivery services may take a while, usually taking three to five days to ship.
These setbacks are compensated for by the quality of the products and transaction convenience, so Porter Road can be a good option for those who want to practice a carnivore diet but do not have the time to purchase from the groceries.
Pros
Hormone-free organic meat
Hand-cut
Affordable prices
Wide variety of products
Cons
More expensive than local groceries
Shipping may take a while
Click For Best Price
Quick Facts:
Environmentally friendly meat sourcing
Allows individual purchase, or you can subscribe
7 - US Wellness Meats
US Wellness meats offer grass-fed beef, heritage-breed pork, and free-range poultry.
They only allow pasture-raised or free-range animals with no hormones and antibiotics artificially supplemented/injected in them.
The company ships at a more extensive area than other markets, covering all 50 states and even Puerto Rico and Canada. They also have regular significant discounts you can directly use when purchasing on their website.
However, US Wellness meats does not offer the curated box meat delivery service option, giving you both more freedom and work in choosing your delivery. Also, they charge customers an additional handling fee on top of the regular price.
And, if you purchase fresh beef from US Wellness meats, you have to note the tracking as the product should immediately be in cold storage on the day of its arrival.
Pros
Humane and safe sources for grass-fed meats and organic beef
Not subscription based
Regular big discounts
More extensive shipping coverage
Cons
Handling fee
Non-frozen fresh beef
Click For Best Price
Quick Facts:
Wide variety of products
Suitable for special diets such as Paleo
8 - Fossil Farms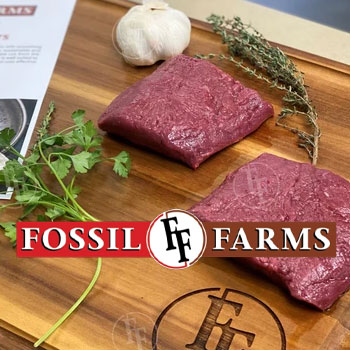 Fossil Farms company has a unique selection of grass-fed meat varieties, ranging from pork, whole chicken, cut and ground beef down to grass-fed bison and alligator meat.
You can choose wild-caught exotic game meat directly. If you are new to the wild-caught sea food and game meat experience, they give tips and other relevant information to help you.
However, you might find some hidden products on the site that is not readily accessible when browsing superficially.
But, their grass-fed meat delivery service hotline is readily available, so if you are having trouble looking for the organic meat of your choice, you can contact them.
For the organic meat packaging, our team has found the company's use of styrofoam to be a bit of a problem as it is not a sustainable and biodegradable option.
Fossil Farms have expressed their ongoing drive in looking for an alternative, so it might not be a problem soon.
Pros
Widest unique organic meat variety, such as grass-fed bison and ground beef
Game meat available
Sourced from local farms
Customer-friendly site
Cons
Some products hidden
Use of styrofoam packaging
Click For Best Price
Quick Facts:
Steroid, hormone, and antibiotic-free
Humanely raised and grass-fed
9 - Farm Foods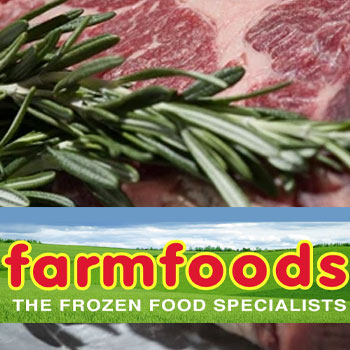 Like any other online organic meat market, Farm Foods also allow their customers to know precisely the source of their meat.
The company is not hesitant in giving the full details of their production process, and they have farm partners all over the country and even in New Zealand.
Farm Foods does not only sell regular cuts of organic meat, but they also have hard-to-find portions like legs, feet, and even organs.
Our team has found Farm Foods to be in the middle-level quality and overall convenience as a grass-fed meat delivery shop. You should note, however, that the packaging used for their products is styrofoam, a non-biodegradable material, and their portions can be smaller compared to others.
The assessment and minimum drawbacks could be a good thing for those looking for good-enough options.
Pros
High-level meat source transparency
Offers hard-to-find cuts
Partners in New Zealand
Full refund for packaging issues
Cons
Uses styrofoam packaging
Relatively smaller serving portions
Click For Best Price
Quick Facts:
Complete transparency
Free shipping
10 - Greensbury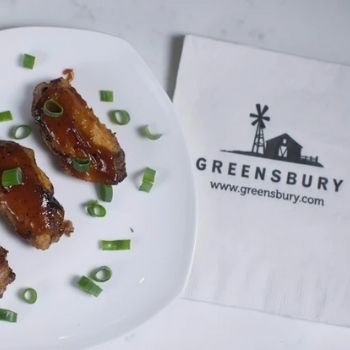 Greensbury organic meat has notable taste with a la carte order options.
Also, you can choose the delivery date and option most suited to your preference, which is easily customizable on the Greensbury website.
The company also has a satisfaction guarantee policy in place wherein if for whatever reason you are unsatisfied with their service.
Unlike the other markets on this list, however, Greensbury does not offer a wide variety of organic meat products.
They only have several cuts available on their site, but they have the necessary transparency and quality (e.g. pasture-raised meat, grass-fed, organic beef & pork, free-range organic whole chicken) as compensation for the lack of options.
Also, Greensbury has no system for free shipping in place. If you think their products are worth the extra dollars, you should always be prepared to pay shipping fees.
Pros
Notable taste, especially for pasture-raised chicken
Not subscription based
Flexible delivery service
Satisfaction guarantee
Cons
Not a wide product variety
No free shipping
Quick Facts:
Dry-aged and organic grass-fed serving
Orders shipped freezer ready in dry ice
11 - Wild Alaskan Company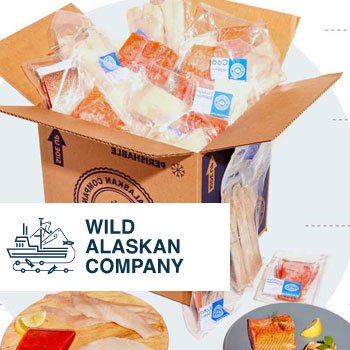 If you prefer sustainable wild-caught seafood, then you may want to check out Wild Alaskan Company.
They offer a monthly subscription of wild-caught seafood delivery, caught sustainably according to Alaskan laws.
Our team also commends the free shipping for their higher-priced sets, which is good news for those trying to save some money.
There are various fish and other seafood products available in every Wild Alaskan product set, ensuring that you do not get bored quickly with your meals.
Unlike the other meat shops in this list, however, the Wild Alaskan Company only sells wild seafood.
Also, there is little transparency in place, especially with the details about their wild seafood processing.
But, they guarantee that these are all sustainable seafood delivery, safely produced, and the company has been in business for quite some time, so we think that there is not much reason to be alarmed.
Pros
Monthly subscription
Wild-caught seafood
Free shipping for some sets
Variety present in sets
Cons
Only sustainable seafood products
Could use more transparency
Quick Facts:
Sustainable seafood products
Safely produced
Nourishing yourself in a way that helps you blossom in the direction you want to go is attainable, and you are worth the effort.

- Deborah Day, Film Director & Writer
What To Look For
Quality of meat products
Perhaps the most important aspect that you should look into when purchasing high-quality organic pork; grass-finished and grass-fed beef; organic, free of antibiotics or hormones whole chicken, or seafood, is its quality.
Whether online or physical, a good shop has several meat characteristics that should be met so that their products can be considered good quality.
We listed six of the most significant characteristics to guide you in making a vital choice:
The grass-fed meats should have a normal and even color. For grass-fed beef, lamb, and pork meats, in particular, marbling should be present throughout the cut.
No rancid or strange smell should come from the meat, even for organic chicken. Although different cuts that come from different animals have varying smells, in general, these meats should not have a strong and pungent smell.
The USDA-certified organic meats should be firm rather than soft, able to withstand minimum pressure but not completely mush.
It should maintain the specific tenderness, juiciness, and flavor expected of the cut from the animal. Even without much seasoning, high-quality meat is palatable and able to stand on its own.
Shipping Convenience
The premise of ordering grass-fed meat online is for convenience, wherein the customer is no longer required to visit the physical meat shop to purchase meat.
Thus, the online meat delivery you choose should provide you with convenient meat delivery services (e.g. subscription service).
Minimum and easy-to-understand steps for ordering, low shipping fees, and extensive delivery area coverage are under this factor.
We find that those offering a subscription service can be your best bet for a one-stop-shop of hormone and antibiotic-free and humanely-raised meat and seafood delivery.
Related Articles:
Packaging
The packaging for any food product is essential to preserve its quality during the delivery and storage before use.
The same principle applies to grass-fed meat, as it could make or break the cut, especially in freshness (which affects flavor and overall quality).
Organic, grass-fed beef, and other organic meat cuts, in particular, are more delicate than their processed counterparts.
It will also be favorable if the online meat shop you choose uses eco-friendly packaging materials to lessen your carbon imprint.
And The Top Organic Meat Delivery Service is...
From our findings, however, ButcherBox is the best meat delivery option. They are an established meat delivery shop that has serviced many clients and received generally positive feedback.
They offer 100% organic grass-fed meat, pork, or free-range poultry conveniently delivered to your door. We also like how shipping is always free.
#1 Meat Delivery Service
ButcherBox
Click For Best Price

Pros
Grass-fed and grass-finished beef delivered directly to your door
Without antibiotics or added hormones
Customizable boxes available
Select from up to 21 different cuts
Get the BEST PRICE until the end of March
Was this article helpful?