FreshDirect is a convenient alternative to shopping for groceries.
This company offers a variety of fresh ingredients and prepared food straight to your door.
It has become increasingly popular in many cities in the United States.
While FreshDirect has its pros, there seem to be a few mixed reviews on this delivery company.
That's why I decided to order my groceries from FreshDirect for a week, to see for myself if online shopping for groceries  can be better than the real thing.
What Is Freshdirect and How Does It Work?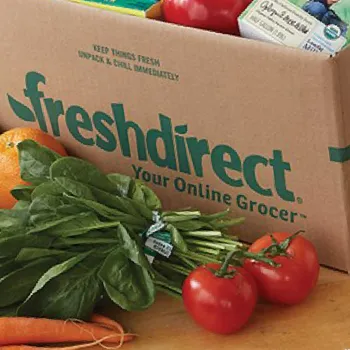 FreshDirect is an online shopping service providing customers with fresh groceries and household supplies directly to their doors.
It works like any other shopping website - you search for the items you want, adding them to your basket in whichever quantity is needed.
FreshDirect offers many products, from frozen foods to fresh vegetables, to alcoholic beverages. After placing your order, you can schedule delivery up to one week in advance.
They currently only deliver to eight different counties across the U.S., including New York City, New Jersey, and Jersey Shore.
Benefits and Highlights

After ordering from FreshDirect for a week, here are my benefits and highlights:
1. Good Selection of Items
FreshDirect provides users with a large range of products, including prepared food such as four-minute meals and fresh ingredients such as fruit and vegetables.
Products on the website are separated into the following categories:
Prepared foods
Fruit
Vegetables
Meat
Poultry
Seafood
Dairy
Deli
Cheese
Bakery
Platters
Grocery
Frozen
Beer and Cider
Wines and Spirits
You can also find a range of household products, so I found FreshDirect to have everything I needed.
2. Easy to Navigate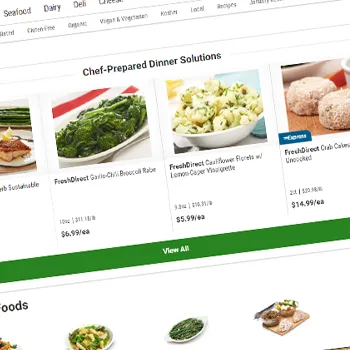 Using the website is very straightforward. All products are laid out and divided into different categories and subcategories.
FreshDirect service also allows users to shop for items based on their dietary preferences.
For example, you can filter out products containing gluten or show only vegan and vegetarian food items.
That way, I was able to save a lot of time sifting through thousands of products. I found it easy to navigate my way around and locate what I wanted.
3. Same-Day Delivery
Depending on your location, you can have the groceries delivered to you on the same day of ordering if you're in a rush to get your delivery.
FreshDirect offers express delivery and allows you to book delivery times a week ahead.
You have the option to select a specific time slot.
All grocery orders are packed the night before delivery, meaning the ingredients stay fresh and of good quality.
All orders arrive inside a refrigerated truck; however, freeze-dried foods should be stored immediately.
If you'd like to skip delivery fees altogether, FreshDirect offers a delivery pass at $129 per year, which gives you unlimited free deliveries, reserved time slots, and exclusive offers.
If not, you will need to pay a delivery fee.
For me, the delivery went without a hitch; the delivery driver called me in advance, my order came on the same day, it was packed very carefully, and everything was in good condition, except my baked goods were a little squished.
Our Rating on FreshDirect
Selection: 4/5
Usability: 5/5
Delivery: 4.5/5
What Can Be Improved?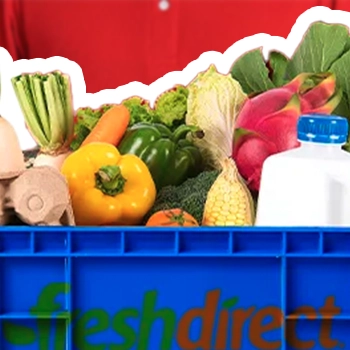 While it is hard to find things wrong with the company, there are one or two things I think could be improved in the future.
Since FreshDirect only caters to a small area, deliveries are minimal.
Due to my location, there wasn't the option for same-day or express delivery, so I had to settle with the delivery window provided, which wasn't the best convenience-wise.
Since you're using a great service, there's no way to check the fresh food in person.
The best way to order the freshest fruits is to feel them and see them yourself.
As I mentioned, I didn't have any problems with this personally, but it's always a risk you take with local grocery store delivery.
Pros and Cons
Pros
Offers a wide range of fresh and prepared ingredients
Cuts the hassle of going to the stores 
Have the option to pick specific delivery time slots
The website is easy to navigate
Cons
Limited delivery service for some areas
There is a chance the quality of the produce isn't perfect
Other Users' Experiences
The reviews on FreshDirect grocery delivery are generally quite mixed.
After reading a few reviews on Yelp, it seems half of the people think it is more than worth the price, having a good experience with the fresh produce delivered, and praising customer service for their quick response.
Other reviews seem disappointed with the price, saying that the food provided wasn't up to standard [1].
How Does FreshDirect Compare to Other Companies?
There are quite a few deliveries out there that FreshDirect has to compete with. Here is how they hold up against the top 3:
1. Amazon Fresh vs. FreshDirect
Amazon Fresh offers same-day delivery within two hours of ordering.
This grocery delivery offers a wide range of products and brands such as household items, pet supplies, personal care, groceries, etc.
2. Shipt vs. FreshDirect
Shipt grocery delivery allows you to get items to your home or pick them up from local or national retailers.
They mainly offer household items such as kitchen products, office supplies, and pet supplies.
3. FreshDirect vs. ButcherBox
ButcherBox focuses primarily on delivering high-quality meats, including grass-fed beef, free-range organic chicken, and heritage breed pork. Their model revolves around sourcing meat from farmers and partners who adhere to strict animal welfare standards.
On the other hand, FreshDirect offers a broader range of products, encompassing not just meats but also fresh vegetables, dairy, bakery items, and even alcoholic beverages. While ButcherBox emphasizes its commitment to ethical meat sourcing, FreshDirect's appeal lies in its convenience as an alternative to traditional grocery shopping, providing a wide variety of household and grocery items.
Meal Delivery Services We've Reviewed:
How Much Does It Cost?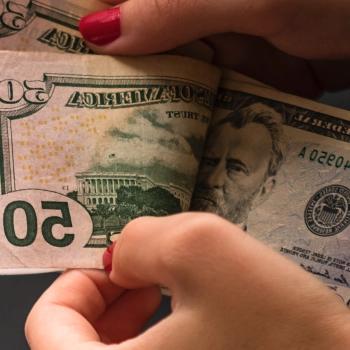 All items on the site vary in cost, just like they do in your typical grocery store.
That being said, many items are more costly than the groceries you would find in a store.
The minimum order depends on your location.
Usually, it will be $30, unless you want to order to the Hamptons during summer, then it will be $99.
The delivery fees also vary depending on your location, but for most areas, the delivery fees range from $5.99 to $7.99.
FAQs
How Can I Contact FreshDirect Customer Services?
You can contact FreshDirect customer service by either email, phone, or contact them directly on the website using the chat feature.
They are available from 6:30 AM - 12:30 AM [2].
How Do I Find Specific Products On FreshDirect?
You can find specific products on FreshDirect either by using the search feature to type in the product you need or by using the categories at the top.
Is FreshDirect Worth It?
FreshDirect is a great alternative for people who don't have time to go shopping for groceries or prefer to do it at home. They house a large range of grocery items, allowing you to pick a certain time slot for delivery.
The prices are a little steeper than your average store; however, all items come from their grocery facility, so you know you'll get only the freshest produce.
If you're looking for easy at-home delivered meals, you may want to try Trifecta. All ingredients are locally sourced, high-quality, unrefined, and non-GMO. It's a meal service a lot of high-level athletes use.
If you'd like to try out Trifecta, click here to find out more.
WE RECOMMEND THIS INSTEAD
Trifecta
Click For Best Price

Pros
Offers a wide range of fresh and prepared ingredients
Cuts the hassle of going to the stores 
Have the option to pick specific delivery time slots
The website is easy to navigate
Get the BEST PRICE until the end of December
Cons
Limited delivery services for some areas
There is a chance the quality of the produce isn't perfect
Was this article helpful?