The Rec Tec RT-700, also referred to as "The Bull," is one of the Rec-Teq's most popular grills.
There's a lot of hype around this grill, so I decided to try it for myself, testing The Bull over one month to see if it truly is worth the price.
What is Rec-Teq?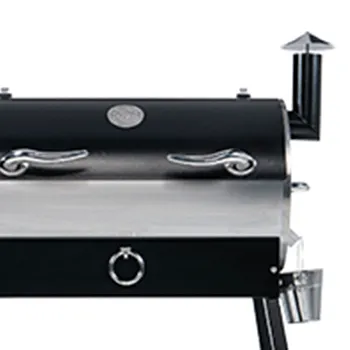 Rec-Teq is a company founded by lifelong friends Ron Cundy and Ray Carnes. It's only been a few years since Rec-Teq came about, founded in 2009.
Ever since Rec-Teq was started, the company has continued to push itself to be the best it can - in turn, always staying ahead of the game.
The company rebranded in 2023 due to trademark reasons.
This company has turned one product into a dozen, housing a range of premium grills, accessories, and even sauces and rubs.
You'll also notice that Rec-Teq doesn't make their grills with any cheap parts.
They made it their mission to produce high-quality grills, withstanding the test of time. If you take proper care of your Rec-Teq grill, it could last for many years.
Benefits and Features - RT-700 Grill Review

If you decide to bring the RT-700 pellet grill home with you, here are some of the benefits and features you can expect.
1. Large Pellet Hopper
The RT-700 holds 40lbs of wood pellets at once - that's enough for a day and a half worth of smoking time.
Since the hopper is placed on the back of the unit, the pellets have to travel a shorter distance from the hopper to the burn pot, allowing for a quick smoke.
The hopper is also divided into two sections; therefore, you can mix and match your pellets if you like.
"If summer had one defining scent, it'd definitely be the smell of barbecue." - Katie Lee, Chef
The hopper also has a stainless steel lid, making it the perfect place to sit food to keep it warm.
First impressions-wise, I found the hopper to be more than enough for my first cook, which was around 17 hours.
It's easy to add more fuel if needed, but, likely, you won't have to.
2. Cooking Chamber
Made from all stainless steel components, the Rec-Teq RT-700 cooking chamber is truly made to last. It measures around 36 inches wide and 20 inches thick.
According to Rec-Teq's website, the provided total cooking area of 700 square inches is large enough to grill 8 whole chickens or 110 chicken wings at the same time. [1]
If that isn't enough, you can purchase an additional second shelf that boosts your cooking space to a huge 1,054 square inches.
However, I found the original grate to be more than enough.
The main cooking grate is made from stainless steel components, meaning it is also heavy-duty. This material also results in a super easy clean-up process.
3. Temperature Control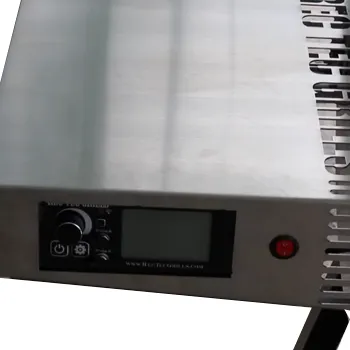 You may struggle to find pellet smokers that offers as much temperature control as this one.
The Rec Tec RT-700 allows you to set the temperature to a T, with 5° increments across the entire temperature range - including the higher temperatures. [2]
The Rec Tec RT-700 is fairly straightforward - control the temperature with the up and down arrows placed on the thermostat, and you're ready to go.
The real game-changer lies within pellet automation. Once you've set the desired temperature on the electronic thermostat, the smoker will control how many and how often pellets are transferred from the pellet hopper and into the firebox, allowing you to maintain a specific temperature.
There is no need to adjust the feed rate on an Rec Tec RT-700 manually.
The Rec-Teq Bull also comes with two meat probes so you can measure the internal temperature of your food as it cooks.
4. LED Display
The Rec-Teq RT-700 features a full-color LED display. This display is super easy to read no matter the weather, and it will give you a precise temperature readout. It is also very easy to use.
5. WiFi Control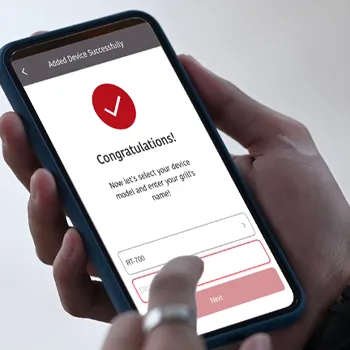 Rec-Teq RT-700 also has a smart WiFi feature, allowing you to control your grill via your smartphone or tablet.
Using this feature, you can alter the temperature of your grill, check the internal temp of your meat, and even shut down the grill completely.
This brings a whole new meaning to "set and forget" allowing you to smoke your food while you're not even at home.
I found the app to come in handy when it's cold inside. This way, I can monitor everything from the comfort of my home.
Also Read: Best WiFi Pellet Grills & Smokers
6. Drip Pan
Compared to other pellet smokers, the Rec-Teq 700 has a cleverly designed drip tray, allowing for maximum clean-up efficiency.
The excess oil and grease get directed into a chute, dripping into a small stainless steel bucket on the outside of the grill.
7. Ease of Use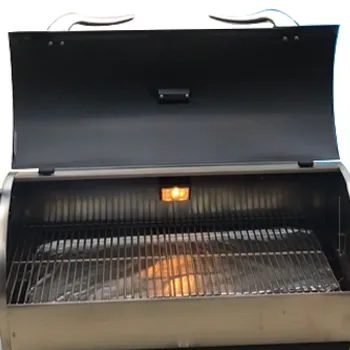 Pellet grills and pellet smokers are among the easiest barbeque units out there.
Unlike a charcoal smoker, pellet smoking simply requires the push of a button, and it's ready to go.
Rec Tec RT-700 doesn't require any babysitting at all, and I would go as far as to say the hardest thing about using this grill is lifting the bag of pellets.
Everything is automated, and you don't have to worry about maintaining the temperature or adding more pellets into the firepot as it will do it all for you.
If you are using a pellet smoker for the first time, you shouldn't have many struggles with this versatile grill.
8. Smoke Flavor and Production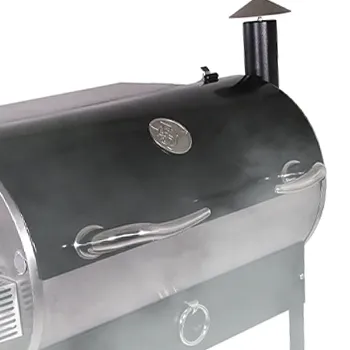 Not all pellet grill manufacturers think the same. While some are a little bit sparse when it comes to smoke, others seem to give off that perfect ratio.
Rec-Teq grills are thankfully the latter in this situation. Since they use a special algorithm to control the fan during lower temperatures, they, in turn, produce the maximum amount of smoke.
You can use the "Xtreme Smoke" setting to increase smoldering.
As with all grills and pellet smokers, the lower the heat, the more smoke the unit will produce.
So, I was concerned that the lowest this pellet smoker could go was 180°F. That being said, I have yet to find a grill that produces smoke better than the Rec-Teq 700.
9. Cleaning and Maintenance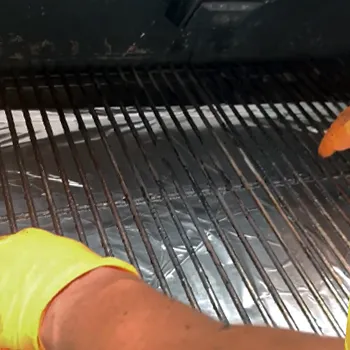 Note the two key things when cleaning the Rec Tec RT-700 grill.
The first thing is the self-cleaning shutdown mode. This amazing design means you only have to clean the firepot every 4-5 cooks. Compared to charcoal smokers and other pellet grills, this is excellent.
The second thing that almost put me off the Rec Tec RT-700 altogether was its lack of pellet dump. As you know, you should never leave unused pellets inside the hopper since they absorb moisture quickly.
However, Rec-Teq themselves have stated that a pellet dump can cause more trouble than harm.
Since it leaves the possibility of letting moisture in during a long cook, there is a high chance your pellets will lose crispness.
So, according to Rec-Teq, if you don't live in a place where it often rains or is humid, you can leave them in the hopper for up to 6 weeks [3].
When it's time to clean them out, you can use a scoop.
Since the Rec Tec RT-700 is made with stainless steel parts, everything is super easy to wipe down.
After burning about 100-120 pounds of pellets, you should give the unit a good cleanout. All in all, I found the grill easy to clean.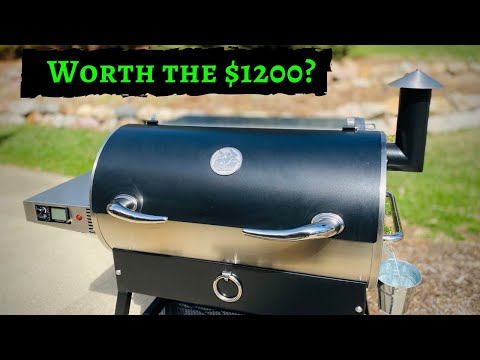 Rec-Teq 700 Pros and Cons
Pros
Large pellet hopper calls for fewer refills
High-quality build 
Super manageable temperature
Automated features make grilling and smoking easy
Cons
No open flame grilling
Legs could be more stable
What Can Be Improved?
The RT-700 leaves little to be desired, but there are a few improvements I would like to see Rec-Teq strive towards in the future.
Unfortunately, you can't do open flame grilling on this pellet smoker.
There is an option to buy sear plates at an extra cost, but of course, not everyone can afford this. I do have to mention that these sear plates get raving reviews even though I've never tried them myself [4].
Personally, I'm happy with the high temperatures the smoker produces, but for some, I could see why it is a problem.
How Does it Compare to Other Grills?
If you've not made your buying decision yet, let's check out three other grills and see how they compare to the RT-700.
1.) Camp Chef SmokePro DLX
If you want something more affordable, this grill may be for you. While it offers less cooking space, at only 570 square inches, it's still a reasonable size for a small family. It's still a gold standard grill, just with fewer features.
2.) Pit Boss Sportsman 1100 Wood Grill 
If you want to get something with a bit more girth, this Pit Boss grill offers a whopping 1,610 square inches of cooking surface. That being said, it does have a smaller hopper capacity compared to the RT-700, so you may find yourself filling it more often.
3.) Weber Summit Kamado Charcoal Grill 
If you prefer to stick with charcoal, this may be the right grill for it. While the price tag is around $100 less than the RT, you are only getting 452 square inches. You can sear and smoke on this cooker without buying any add-ons.
Where to Buy

You can purchase this smoker directly from the Rec-Teq website for $1,199. This price comes with free delivery, access to a world-class customer service team, and premium cover for 6 years.
Other Users' Experience
After checking out reviews on Amazon and Reddit, it seems like Rec-Teq is living up to its word.
While many people rave about the great customer service, others are pleased about how easy and versatile the smoker is.
They seem to love how accurate the temperature is from the setpoint, and the large hopper space is winning hearts, as it did mine.
Our Other Similar Reviews:
Is the Rec-Teq 700 Worth it?
There is no denying that the RT-700 is pretty, but the quality of the grill, as well as its impressive features, are enough to wow customers nationwide.
Personally, I think this smoker is worth it. While I can understand it may be expensive, you are paying for the high quality.
Everything is controlled - all you have to do is set your desired temperature and let the grill do its thing.
If you're looking to get your hands on one of these quality Rec Tec grills for your next cook, click here.
We Recommend
Rec-Teq 700
Pros
Large pellet hopper calls for fewer refills
High-quality build 
Super manageable temperature
Automated features make grilling and smoking easy
Cons
No open flame grilling
Legs could be more stable
Was this article helpful?