Every company claims to have the best service, but that's seldom the case. The reality of meat delivery is that quality varies, depending on several factors. To help you figure out the truth, we've tested dozens of online beef and steak providers.
Today, in this Kansas City Steaks review, we'll see how the place compares to other popular meat delivery options regarding taste, quality, and customer service.
What Is The Kansas City Steak ​​Company?

The Kansas City Steak Company is a  top nationwide distributor of various types of meat, USDA steaks, and other food products. Established in 1932, they used to be called the S&S Meat Company. Kansas City Steak succeeded in part due to the booming livestock exchange and family stockyards in the area during those years.
The company also has additional meal boxes for any season or many different occasions that you can send through a gift card. We've ordered some products from the company twice and never had any problems with USDA Prime steaks or something else out of stock.
You can find greater steaks variety and flavor with the Kansas City Steaks than what you would buy at your local grocery store. From prime rib roast to numerous steak cuts such as rib eyes, they offer many different options—perfect for Christmas dinner and good all-year-round feasting.
Pros
Diverse meat and steak offerings
Serves USDA Prime and Choice beef
Complete satisfaction guarantee
Ships steak to all 50 United States
Cons
Steaks can be slightly dry
Prices are a bit too high
Kansas City Steaks Menu Items
You'll find that Kansas City Steaks has one of the most diverse high-grade meat offerings you can try on the menu. They boast of providing USDA Prime beef cuts along with less expensive steaks as choices.
Some of their best selections include USDA Prime steak, USDA Prime rib roast, wellington, USDA Prime beef, and American-style Kobe steak burgers. They also offer turkey and whole chicken as well as boneless and bone-in chicken breasts or chicken wellington, if you like a pork replacement.
Here are some of the most popular menu options:
USDA Prime Steakburgers
USDA Prime rib
Beef wellington
USDA Prime beef tenderloin
American-style Kobe burgers
Whole chicken
Filet Mignon
Bone-in chicken breasts and
Chicken wellington
Full rack and/or leg of lamb
Boneless ham

North Atlantic lobster tails

Crab cakes

Wild sockeye salmon

Chilean sea bass

Bacon-wrapped scallops

Ahi Tuna

Pacific Halibut
Steak Sourcing & Quality

According to their website, Kansas City Steak Company serves USDA Prime and Choice beef (1). They claim to source all of their meat from farms and ranches around Kansas with strict standards for whom they work for a time.
Unlike many other online meat providers, Kansas City Steaks does not mention the use of hormones or antibiotics given to animals. So, if you are looking at first-rate meat quality from a health perspective, then there may be way better options to purchase.
How Does The Price Compare?
They are comparable in price to Omaha Steaks, which isn't something to brag about if you want to recommend absolutely delicious aged meat that's worth the price. For the level of quality that we received, we think their prices were a bit too much. Yes, you do get a money-back guarantee, and they do an excellent job of honoring it. That's a plus. But, when you spend a lot of money on meat and steaks, it's nice to know you don't need to call or send a mail to the customer service department for an error or refund.
Related Reviews and Comparison Guides:
Do They Offer Any Guarantees?
The Kansas City Steaks offers a complete satisfaction guarantee for customers. You'll read on the website that if you aren't completely satisfied with your steaks for any reason, you can request a replacement or a refund. The nice thing about this is that you have 45 days to claim your purchased item, which is better than companies with similar new guarantees.
Packaging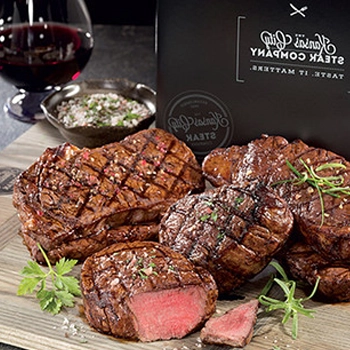 Kansas City Steaks company stands out when it comes to packaging. Every order ships in a styrofoam container lined with dry ice.
Many online meat delivery services only use cardboard packaging with dry ice fillers, which doesn't hold well.
All orders come with an information book full of cooking tips and grilling recipes.
With the Kansas City Steaks packaging, you won't have to plan your entire day around waiting for your steak, filet mignon, or USDA Prime rib roast to arrive, as the styrofoam box will keep it fresh for hours.
Shipping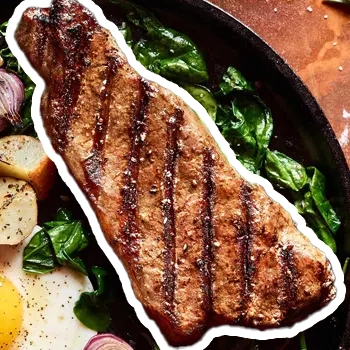 The Kansas City Steak Company ships to all 50 states.
For Alaska and Hawaii residents, you'll see this as a great benefit as many online meat providers do not ship to these two states.
Shipping options range from overnight to 3 days or more. One good thing is that the customer service team will send you an email when your KS steaks are delivered.
For people who plan on being away during the day, all steak orders ship as "driver release," which means no signature is required once received.
So, everything gets dropped at the provided address without you needing to be there. Thank goodness. This can also come in handy if you are sending Kansas City Steaks as gifts.
Unboxing & Defrosting
All of the steaks and other meat are shipped frozen. If you plan on making your meat on the day you receive it, you need to better make sure that you thaw it to room temperature, and then follow the provided cooking instructions. If you are not using the items for a little meal that day, you will need to throw the steak or any piece into the freezer for storage.
Drawbacks of Kansas City Steaks
We felt that their steak was simply an average choice insofar as cooked meat was concerned. The one thing we expect when we order meat from a business like Kansas City Steak Company is for the cuts to be flavorful and tender. We tried the Kansas City strip steak, tenderloin, and prime rib, and we found them to lack flavor and marbling. They were also slightly dry.
We had to add extra beef broth and seasoning to keep them juicy as we cooked. We made the strip steaks for a holiday dinner along with other ingredients like twice-baked potatoes, and others who attended also noticed that the flavor just wasn't up to what we wanted it to be. Maybe we should have used a smoker box?
Kansas City Steaks Reviews
Kansas City Steaks has an A+ rating on the Better Business Bureau Review but only 2.5 stars on Yelp. (2) The majority of the reviews seem to negatively center around quality. Here are a couple of examples:

Kansas City Steaks vs. ButcherBox
The main difference between these meat delivery services is their sourcing practices.
While Kansas City Steaks are known for having pretty good sourcing practices, ButcherBox goes above and beyond, sourcing their meat from family-owned farms that are humanely raised.
Another key difference between the two meal delivery services is how transparent both companies are.
When searching for information about sourcing practices and what goes into the meat, we found ButcherBox to be very upfront, providing tons of information about their meat, how they are caught and what they are fed. We felt like with the Kansas City Steak, we had to do a little more digging, with the information not readily available and almost hidden.
Shipping is also quite different with each company, being free with ButcherBox but $19.95 at Kansas Steaks per one-time order.
FAQs
Who owns Kansas City Steaks?
National Beef owns the Kansas City Steaks. National Beef is a multi-billion dollar beef processing company headquartered in the Kansas City metropolitan area. They own other companies specializing in branded beef and steak boxes and sell to customers around the world.
​Is Kansas City steak grass-fed?
Kansas City Steaks does not use grass-fed beef. Their beef is corn-fed and comes from midwestern cattle herds. The company offers grass-fed lamb choices, but all of its beef is corn-fed.
Is Kansas City Steaks Worth it?
Based on our Kansas City Steaks review, they are just average, even with twice-baked potatoes, in our opinion. Their prime rib roast was similar to other services​ we've tried. They also seem to have several mediocre reviews about order quality and customer support.
A better choice from our experience has been ButcherBox.
We love that they offer a wide variety of meat and other prime options, including free-range organic poultry and wild-caught seafood. We've found their meats to be consistent and the taste to be much fresher than KC Steaks.
#1 Meat Delivery Service
ButcherBox
Click For Best Price

Pros
Grass-fed and grass-finished beef delivered directly to your door
Without antibiotics or added hormones
Customizable boxes available
Select from up to 21 different cuts
Get the BEST PRICE until the end of December
Was this article helpful?