Gobble is a well-respected name in the meal kit industry, known for healthy and tasty food that is quick and easy to prepare.
Intrigued by the opportunity to have delicious meals with minimal prep work or clean-up, we tried this meal delivery service.
We decided to use our experience to write a Gobble review.
What is Gobble?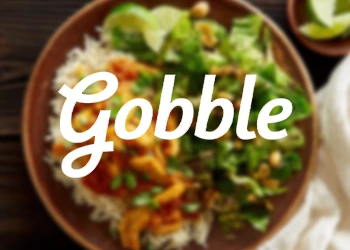 Since 2014, Gobble has been a meal delivery service that claims to provide everything you need to make a delicious, nutritious, and home-cooked meal in 15 minutes or less.
Their chefs do the preparation, so all you have to do is cook. No more chopping, peeling or marinating. And the results are nearly at the level of gourmet meals.
Benefits and Highlights:

Gobble claims that their recipes are easy to make, nutritionally well-balanced, require minimal preparation and cooking time.
I decided to give Gobble a try and put its claims to the test. Here is what I learned.
1. Plans
Gobble has two basic plans: 
Classic
Lean & Clean
Both plans have menus that change weekly, so you never get tired of the same offer.
Further, Gobble meal kits offer gluten-free, dairy-free, low carb, and vegetarian options to appeal to a variety of needs and palates.
The Classic plan serves a wide assortment of premium meals, a small sampling of which include pan-roasted chicken, leafy greens & sweet potato puree, pan-roasted pork tenderloin, three cheese ravioli, and Thai shrimp with peanut sauce. This Gobble meal plan also includes desserts, salads, and even specialty side dishes for holidays [1].
The Lean & Clean Gobble meal kit menu is designed to have low carbs, healthy protein, and under 600 calories per serving [2]. With this plan, you still have access to the Classic menu to ensure there is no lack of variety.
I thought the Lean & Clean plan had an excellent balance of healthy fats, lean protein, and no grains. Don't get me wrong, the Classic meal kits had great meat as well but came with more carbs than I generally have in my diet.
2. Price and Shipping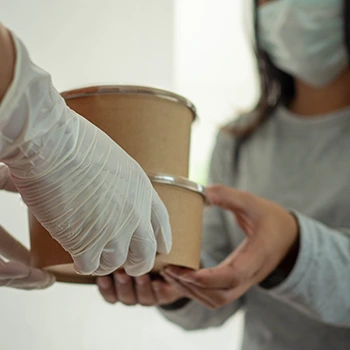 Gobble meal delivery service ships their meal kits anywhere in the continental U.S. except for Montana, with limited service in Kansas, New Mexico, and Nebraska. [3]
The price for any of their plans starts at $11.99 per serving. Gobble offers free shipping on your first order, but for other orders, you will pay a shipping charge that varies depending on where you live.
I found the price to be higher than some other meal kits, but not as much as I would have paid for a similar dinner in a restaurant.
This makes Gobble worth it after a busy day when you have to feed the whole family.
The shipping was excellent. I got my meal kit on the specified day without fail. The ice packs in the cardboard box kept the food cold, so I had no concern about the freshness of the meal.
3. Preparation
Gobble meals are supposed to have a 15-minute cooking process, which is rather impressive since you are only given a number of fresh, raw ingredients.
Their chefs have done much of the preparation work, but you still have to follow the recipe cards to cook the meal kits.
Each recipe card was straightforward, cooking instructions were clear and easy, and the amount of cookware needed was minimal.
As someone who does not know their way around the kitchen, I found 15 minutes to be a little optimistic for Gobble meals, but not ridiculously so.
Most meal kits took me around 15-20 minutes to cook, although some were under the 15-minute point, and the longest meal kit was 23 minutes.
All-in-all, the dinner kits took far less time to prepare than if I had tried to cook any of them myself from scratch.
4. Freshness and Taste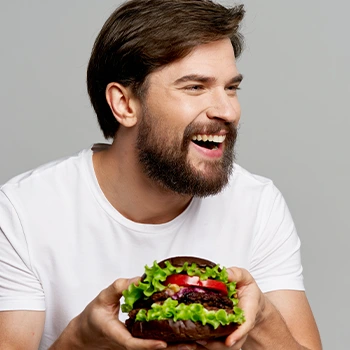 Gobble meal delivery claims that it only uses fresh, natural ingredients. This means no added preservatives or artificial ingredients.
Additionally, Gobble adjusts its menus to take advantage of seasonal ingredients, which means that you get the best meal selection when it is in season.
Because Gobble meal service sends you fresh and natural food, you will need to store the meal kit properly if you don't plan to prepare it on the day of receipt.
You can refrigerate the meals for seven days, but I found them to taste best if eaten within three to five days.
You can even freeze some parts of the meal kit if need be. Meat, fish, soups, sauces, and quiches can all be stored in the freezer for up to three months.
I tried meals from both plans and found the ingredients were fresh and delicious. Everything was tasty when I cooked according to the directions.
The dishes were flavorful and well seasoned. The Lean & Clean plan met its goal of providing healthy meals that were just as delightful as the Classic without being loaded with carbs.
5. Ingredients and Nutrition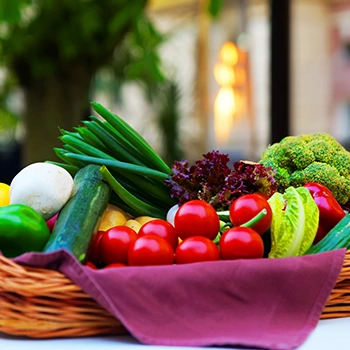 Gobble states that it uses healthy, whole, natural ingredients.
This meal kit service uses single-serving ingredients which are proportioned for you. You will get the exact amount of ingredients the recipe requires.
The Classic menu has a balanced carbohydrate, fat, and protein ratio and contains between 700-900 calories per serving.
Lean & Clean meals have a calorie count below 600 calories per serving and focus on lean proteins with vegetables.
I was able to delve even deeper into the specifics of my meal by clicking on the individual entry in my Delivery Calendar.
From there, I got detailed information that answered all my questions about the ingredients and nutrition.
6. Variety
Gobble's menu is constantly changing, so there's always something new to try.
Every week, their chefs prepare a balanced menu of new recipes using fresh ingredients and seasonings.
The ability to pick items from either the Classic or Lean & Clean menus improves variety.
Additionally, Gobble has a variety of side items. These include breakfast, salad, soup, and even chocolate chip cookies.
I tried different menu items every day and never got bored of their meal selection. These were all delicious, well-prepared dishes.
Shortfalls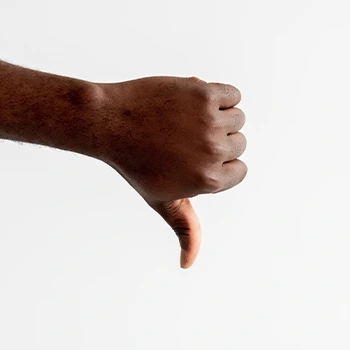 Although Gobble meal kits come with plenty of benefits, it is not a service for everyone.
Let's start with the price. At $11.99+ per serving, plus the cost of shipping, the meals are not inexpensive.
Additionally, the Gobble ships in what seems to be excessive packaging. The use of a plastic bag and bubble wrap keeps the ingredients fresh and separated in the Gobble box but also creates a lot of plastic waste.
I wish Gobble had an initiative for recycling or, even better, composting as some other companies have done.
Gobble Pros and Cons
Pros
Easy-to-prepare meal kits
Healthy, fresh, and natural ingredients
Variety of meals to keep things interesting
Two meal plans to choose from
Cons
More expensive than some other plans
Plastic bags in packaging are not environmentally friendly
Our Rating
Price: 4/5
Food quality: 5/5
Menu options: 5/5
Shipping: 4.5/5
Comparison to Other Products:

Gobble offers prepared meals with flavorful recipes and low meal prep, but many other meal kit services are offering the same.
Let's take a closer look at how Gobble compares to some other meal delivery services available on the market.
1. Sun Basket
Sun Basket meal service, like Gobble, provides healthy, delicious, all-natural ingredients for you to cook with. Both meal services focus on healthy living and offer premium ingredients in their meals.
Sun Basket has a greater variety of meal types than Gobble for those with dietary restrictions.
In addition to the ones you have with Gobble (lean and clean, gluten-free, and vegetarian meals), you can choose from vegan, Paleo, Mediterranean, pescatarian, soy-free, and Heart-Check certified recipes.
However, Gobble is better at minimizing prep time, so you get the meals on the table faster than with Sun Basket. If foolproof recipes and short preparation time are vital to you, Gobble may be a better choice for you.
2. Freshly
Freshly meal delivery has a different approach than Gobble.
Freshly provides pre-cooked meals rather than ingredients. The foods are oven-ready upon delivery and only require reheating.
In this regard, the model is even simpler than that of Gobble. However, I prefer Gobble's ingredients over the pre-cooked dinners from Freshly, and Gobble allows me to season the meal to my taste rather than the Freshly chef's taste.
3. Home Chef
Home Chef meal delivery service dinners tend to be no-nonsense, classic, "comfort food" options. They take longer to prepare than Gobble's offerings, usually about twice as long. However, they are equally delicious and fresh.
That being said, I like that Gobble gives you options for more exciting and global meals than Home Chef. Home Chef is not bland, but the seasonings and flavors of Gobble entice the palate.
Other Meal Deliveries We've Reviewed:
Where To Buy & Cost
Every Gobble plan is available directly on the website. You can choose three meals per week for two or four people from two dozen options.
On the initial signup, you can get six meals for $36, and you will also get free shopping for your first order. Afterward, prices start at $11.99 per serving with shipping costs of $6.99 per box.
Other Users' Experience

I am not the only one who likes what Gobble meal kit service has to offer. One friend of mine enjoys her experience with Gobble because it "completely takes the guesswork out of deciding what to make."
She says that she is always satisfied when she eats anything from this company.
After checking numerous reviews on Reddit, I noticed that many people who had tried the service echoed this sentiment.
Dean from Texas was very pleased with the healthy ingredients and the variety of selection for meal kits.
Sam from Maryland also shared his opinion online, claiming that Gobble meal plans were easy to follow, quick to prepare, and there was no guesswork involved in preparing excellent meals in a flash.
FAQs
Are There Any Commitments?
No, there aren't any commitments. You can cancel or skip weeks whenever you want.
Can I Choose My Own Meals?
Yes, you can pick anything off their current menu. If you prefer to be surprised, you can leave it to Gobble to choose the meals for you.
What if I Have Food Allergies or Intolerances?
Since Gobble lists all their ingredients, you can prepare the meal as you need to - without dairy, gluten, or nuts.
What if I Don't Want a Delivery Every Week?
No problem. You can use Gobble only when you want to.
Final Thoughts on Gobble
After trying Gobble's meal delivery, I have to say that it is a high-quality service.
However, if you are looking for a quality and tasty meal kit service, I suggest checking out Trifecta Nutrition delivery.
Trifecta's clean eating menu provides a vast array of clean, Paleo, Keto, vegan, and vegetarian options for breakfast, lunch, and dinner.
Trifecta gives you total control over the types of meals you buy and will deliver them to all 50 states.
The meals come with a nutritionist-generated balance of calories, protein, fat, and carbs so you know you are eating as healthily as possible.
If you want to try out Trifecta, click here.
We Recommend This Instead
Trifecta
Click For Best Price

Pros
All ingredients are organic and sustainably sourced
Can choose breakfast, lunch, dinner, and 3rd entree meals
Effective for weight loss and improving health
Shipping is free throughout the U.S.
Get the BEST PRICE until the end of December
Cons
Can not select your own meals
Only allows you to disclude two ingredients
Was this article helpful?