Veestro is a vegan meal delivery service that focuses on providing customers with plant-based frozen foods.
All Veestro meals are pre-cooked by chefs using fresh and organic ingredients; all that is required is a microwave or oven.
While there's no denying that these meal delivery plans take the stress out of meal planning, food preparation, and cooking, are they truly worth more than the frozen meals you can buy in-store?
Over a month, we tested Veestro and their plant-based meals, recording the things we enjoyed, what we didn't like so much, and ultimately deciding if this meal delivery service was worth it.
What Is Veestro, and How Does It Work?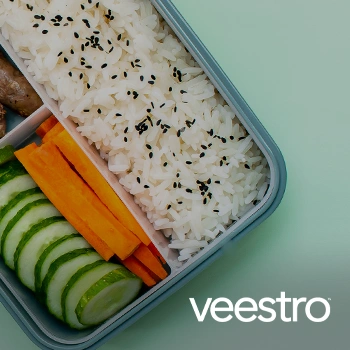 Veestro was founded in 2012 by siblings Mark Fachler and Monica Klausner.
Mark was a businessman, struggling to find healthy meals that were quick and easy to eat on the go.
That's when he decided to create Veestro with the help of his sister, having plant-based and healthy meals delivered to doors all around America [1].
All of the frozen meals from Veestro revolve around a vegan diet and are available in three different plans.
Meals are under the a la carte option, which means customers are free to pick and choose meals that fit their likes and dislikes.
Unlike other meal kit delivery services, the a la carte plan with Veestro also means you're not tied down to a subscription; you can order meals whenever you want.
However, they offer a discount if you decide to sign up for a subscription.
Benefits and Highlights of Veestro Meals

After trying this meal delivery service for a month, here are some highlights and benefits that stood out to us.
1. Stress-free Ordering
Since there is no need to subscribe to Veestro, the ordering process is very straightforward. You can choose from three different plans, altering how many meals you receive per order.
These options include:
10 meals
20 meals
30 meals
Veestro offers around 55 plant-based meals and other options for breakfast and dessert, such as a breakfast burrito.
Once you have selected your meal plan, you are free to add any Veestro's meals to your basket, using the plus and minus keys to adjust the number of servings you will need for each recipe.
When your meals have been chosen, you will be asked if you would like to sign up for a subscription plan or do a one-time delivery.
If you pick the subscription, you can save 10% and get free delivery on all orders, even for the breakfast burrito. The vegan meals can be sent to you one, two, or four weeks apart.
We chose the subscription offer for our meal plan, having 10 meal packs sent to us each week for a total of a month. We felt like this was a pretty good deal.
2. Large Selection of Meals
Veestro's menu includes many unique items, often changing to provide new and exciting meals for the vegan lifestyle.
A few of these plant-based foods include:
Enchilada casserole with quinoa salad
Mushroom risotto
Pasta bolognese
Soba noodles with a peanut sauce
Country fried chick'n
Pad thai or red curry with brown rice
Veestro also offer options for different dietary preferences, letting customers filter items such as:
Nut-free
Gluten-free
Soy-free
Low-calorie
Kosher
High-protein
Individual meals also have reviews from customers, so it is easy to see if a particular meal is well-liked or is one to skip. You can also view all the nutritional value online for each Veestro meal.
All in all, we were pretty impressed with the number of choices for a plant-based diet.
3. Delivery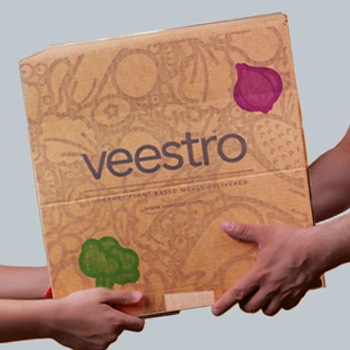 Veestro currently ships to all contiguous states inside America, excluding Hawaii and Alaska. If you choose the subscription plan, all deliveries will be free.
If you decide to do a one-time order, shipping will cost $9.99.
Delivery times for Veestro depend a lot on where you are located. Some states offer one or two-day deliveries, while others can take up to eight days depending on when the order was placed.
To find out when your package will be delivered, you can check the map and chart on the Veestro website [2].
Our delivery came on the scheduled day each week. However, the times were quite random, making it challenging to receive our orders.
4. Recyclable Packaging
We were pleased to find that 100% of the packaging used for Veestro is recyclable. The meals come in compostable trays that can be used in the microwave or freezer.
The pre-made meals were sealed with a BPA-free coating, and the insulation was made with starch.
To keep the meal package frozen, Veestro uses dry ice in all its boxes. When we received our second box, we noticed that all the ice had melted; however, the box was still very cold and didn't really affect the packing.
The packaging was easy to stack up in the freezer and didn't take up as much room as we initially thought.
5. Fresh Ingredients and Delicious Meals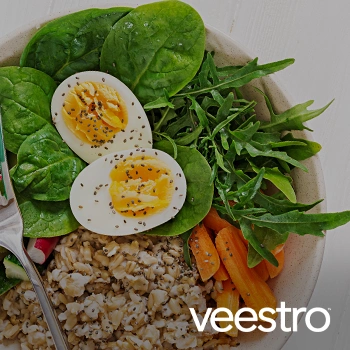 Despite being frozen, the ingredients used within the Veestro meal plan look fresh upon arrival and taste great when heated up.
While all the vegan meals can be heated in the microwave, a few would benefit much more when warmed in the oven to retain crispness.
Our favorite meals included red curry, corn tortillas with vegan cheese and crumbled tofu, and baked mac and cheese.
These meals had a great flavor profile and felt worlds away from the frozen foods found on supermarket shelves.
A few of the recipes came with separated sauces and seasonings; however, the preparation didn't go further.
What Could This Vegan Meal Delivery Improve?
While there are many good things that Veestro has to offer, there are a few things we would like to see improved with the vegan meal delivery service in the future.
Since they use different delivery services for different states, your location plays a huge role in your delivery date. These meals are frozen, so they should be put in the freezer at least three hours after delivery.
This means you have to be home or close to home to receive your order, and since you can't schedule a specific delivery date or time, receiving your order can be a little bit of a hassle.
Despite being a service catering to vegans and eating healthy, quite a few of our meals lacked vegetables.
They do offer a weight loss plan, so it feels like the health benefits are leaning more towards that side than a meal delivery service for vegans.
Veestro Pros and Cons
Pros
Optional subscription or a la carte menu
A large range of unique vegan food
Caters to diets with gluten-free options and non-GMO meals
All plant-based recipes use organic ingredients
Cons
Can't choose your delivery date or time
Doesn't include many vegetables
Our Rating
Signup process: 5/5
Selection: 4.5/5
Delivery: 3/5
Taste: 4/5
How Does It Compare to Other Meal Delivery Services?

If you're not looking for a frozen meal, or you aren't sure that Veestro fits your needs, here is how they hold up against other non-vegan and vegan meal delivery services.
1. Trifecta
Like Veestro vegal meal delivery service, Trifecta meal company also focuses on creating healthy pre-made meals. They cater to various diets such as vegan, vegetarian, and keto while also offering support from their trained nutrition coaches.
Trifecta focuses on getting customers to reach their health goals and better their eating habits. All of the meals from Trifecta are "Chef's Choice," meaning you also save time on meal planning.
2. Purple Carrot
Purple Carrot is a completely plant-based meal kit company that provides customers with a range of recipes and ingredients so they can prepare and cook their own meals at home.
They include fresh and organic vegetables across breakfast, lunch, and dinner. Unlike Veestro, they do not offer an a la carte option.
3. Daily Harvest
Daily Harvest meal delivery services offer customers a selection of harvest bowls, flatbreads, smoothies, desserts, and oat bowls that are packed full of superfoods, grains, greens, berries, and nuts.
They're known for being ahead of the game when it comes to healthy eating, and they cater to a range of diets such as vegan and dairy-free.
Daily Harvest is slightly cheaper than Veestro, averaging around $90 a month compared to Veestro's $125.
Other Meal Delivery Services We've Reviewed:
How Much Does Veestro Cost?

The price of Veestro depends on which plan you go with and how many recipes you purchase. Here is a summary:
Subscription:
10: $128.25 / $12.82 per meal
20: $238.50 / $11.93 per meal
30: $330.75 / $11.03 per meal
One-time purchase:
10: $142.50 plus shipping / $14.25 per meal
20: $265.00 plus shipping / $13.25 per mea
30: $367.50 plus shipping / $12.25 per meal
Other Users' Experiences
According to online reviews, it seems that the majority of customers have good things to say about Veestro.
Pam from Kentucky said, "I loved the freedom and convenience this meal service gave, and it has certainly helped me transition into a healthier diet".
Jake from Oregon highlighted, "I didn't have enough notice before my order was shipped and delivered, and my BBQ sauce packets came ripped."
FAQs
Does Veestro Help With Weight Loss?
Veestro currently offers an additional weight loss subscription where you can choose between the five-day and seven-day plans. This includes three recipes per day, totaling less than 1,200 calories.
How Long Does a Veestro Meal Last?
Veestro foods are typically good for eight weeks in the freezer and three-five days in the fridge once defrosted.
Is Veestro Worth It?
Veestro is a great option for those looking to purchase higher-quality frozen vegan meals that contain all vegan ingredients.
They give customers flexibility, allowing shoppers to choose from their subscription or a la carte menu freely.
That being said, Veestro may not be ideal for those who need protein in their life or need more flexibility when shipping.
If you're searching for other pre-cooked meal services that provide healthy recipes, we recommend checking out Trifecta.
Trifecta delivery centers around a healthy lifestyle, providing customers with 100% organic ingredients and sustainable meats.
They offer help from their trained nutritionists, ensuring that all customers can reach their health and fitness goals while still eating delicious and enriching meals.
If you'd like to find out more about Trifecta, click here.
We Recommend This Instead
Trifecta
Click For Best Price

Pros
All ingredients are organic and sustainably sourced
Can choose breakfast, lunch, dinner, and 3rd entree meals
Effective for weight loss and improving health
Shipping is free throughout the U.S.
Get the BEST PRICE until the end of May
Cons
Can not select your own meals
Only allows you to disclude two ingredients
Was this article helpful?