A lot of smokers claim to be portable, but in reality, their size and weight make them impractical to take anywhere other than across the yard. To solve this problem, we've tested dozens of smokers to narrow down the best portable pellet grill brands for campers, tailgaters, and everyone in between.
The 11 Best Portable Smokers in 2023
How To Pick The Right Portable Smoker

1. Smoker Type
While all of the above smokers represent the best in portability, different models have different considerations and impacts on exactly how portable a model is. Fuel type, for example, can play a major role. If you want to learn more about different types of smokers you should read this blog post.
Pellet Smoker
There are a large variety of the best portable pellet grills out there, and some of them are more suited to taking you places than others. However, something to consider is that even the best portable pellet smoker will usually weigh more than your average portable charcoal smoker due to the hopper and wood pellets' weight, though some consider this the healthier option (1).
Electric Smoker
A portable electric smoker is another good option, with many being highly portable. The tradeoff here is that because you need a power outlet to operate them, you are a bit more limited where you can use them unless you have a generator or a car converter.
Charcoal Grill
Charcoal tends to be at the top of the list when looking at how portable a smoker is. You can find charcoal grill options in all sizes, and these generally weigh less than others. The fuel is also typically lighter in weight and more portable.
Gas Grills
Gas grills are often another good option for a portable smoker. The grill's best feature is that it can be lightweight. The downside is that you need to also carry a bulk propane tank to heat the grill.
You Might Also Like: Best Smokers for Turkey
2. Smoking Capacity
The one downside when it comes to a portable pellet smoker is that some leave a lot to be desired in terms of cooking capacity. You want to make sure that you are striking a nice balance between weight, size, and smoking capacity.
When portability isn't a factor, we recommend around 500 sq in as optimal cooking space. We find it best for a portable smoker to get as close to that as possible without sacrificing other areas such as weight and size. Remember, you don't just want to stuff the grill either, you need room to maneuver your meat when cooking.
"Live-fire cooking creates different heat intensities. Know your hot spots and move your food around (now that you've got the room) to avoid burning."

- Jim Shahin, Barbecue and Grilling Expert Writer at The Washington Post (2)
3. Portability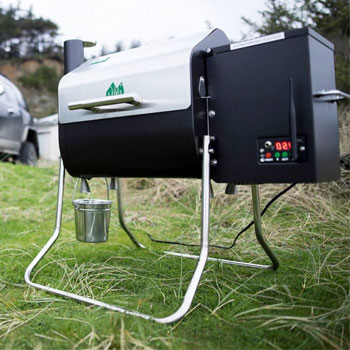 The key when selecting the best portable grill is obviously that it must be portable. So, you need to find the best balance between a few different factors, which include:
Size
Weight
Cooking Capacity
Each of these factors will play an important role in how portable your grill is. If the size gets too much, the weight may be too much to move around easily.
However, get something too little, and you will have to worry about not having enough smoking space for your meat. You need to strike a good balance between all three factors so that your grill can easily fit where you need it during transport, it's not too heavy to lift, and you can cook all the meat you need.
4. Weight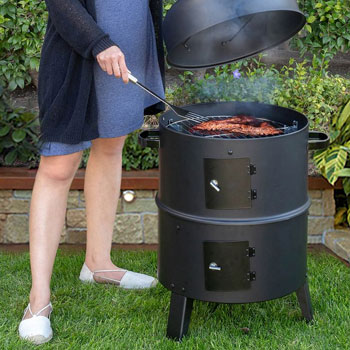 As noted above, weight plays a critical role in how portable your grill can get. Don't let the size of portable grills fool you into thinking that one is small and lightweight.
The materials they are made out of can easily make a small grill much heavier than a larger one made of lighter materials.
Other factors that can affect weight include the extra parts needed for construction.
For example, a portable electric smoker will usually weigh more than similarly sized charcoal grills due to the extra parts and circuitry.
If you know that you will be hauling around your portable pellet grill by yourself, take into consideration how much weight you can easily carry without difficulty.
5. Materials
The materials your grill is made from will play a huge role in things like weight and ease of maintenance. Pellet grills best for portability should ideally be constructed from lightweight, rust-resistant, anti-corrosive, and insulative materials to keep heat in. We find stainless steel to fit all of these properties.
"It [stainless steel] enjoys widespread applications in food, beverage, and chemical plants because of its non-staining properties due mainly to the ability to form a self-healing thin oxide film when abraded."

- Patricia Popoola, Tshwane University of Technology Department of Chemical and Metallurgical Engineering (3)
Other materials can be used, such as aluminum, but food-grade stainless steel pellet grills tend to be best. Some materials, such as porcelain or cast iron, meet all of the above requirements but may add too much weight to grills so that they are impractical to try and move.
6. Ease of Use and Maintenance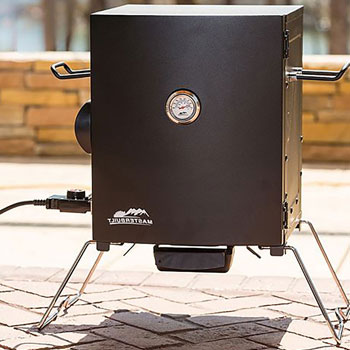 The best portable pellet grills are those that are simple and easy to use and maintain.
All of the world's extra features are largely irrelevant if your grill is too complicated to set up and smoke with or if you have trouble doing basic things like adding wood chips.
In terms of ease of use, we find that a portable electric smoker with digital controls is generally the best as these are often easier to smoke meat with for beginner users.
However, charcoal is also quite easy to smoke if you learn how to control the dampers. Moreover, it is quite simple to maintain.
The best charcoal smokers also meet the above guidelines for size and weight and are generally more affordable to buy and maintain and smoke with. For this reason, we usually opt for charcoal smokers.
7. Extra Features
With such a wide variety of grills to choose from, ranging from gas grills to portable electric smokers, the sky's the limit when it comes to how many features you can find. Everything from top-notch pellet tube smokers for a maximum smoky flavor and collapsible shelving space to remote Bluetooth control and monitoring can be found in our modern world.
While extra features are always nice, the main thing to remember is that they will add to your smoker's overall size and weight.
In our own experience, when opting for the best smoke setup, we generally like to keep things simple as the best grills are those that get the job done without weighing too much or being too big.
8. Direct Heat vs Indirect Heat Smokers
Direct and indirect heat refers to how the heat from the fuel source is distributed around the meat. For indirect heat, the fuel is further away from the meat, whereas direct heat means the meat is right on top.
This is usually used concerning charcoal grilling. You ideally want enough space in your grill that you can have an area of indirect heat that allows you better temperature control. Take this into consideration when looking at smoker size as the best smoker will have plenty of room for both a direct and an indirect heat zone.
FAQs
What Types of Wood Pellets Can Be Used in Portable Smokers?
There are a wide variety of wood pellet types that can be used in the best portable smokers. Some of the best for cooking various kinds of meat include:
Best for Cooking Pork - Use pecan, cherry, apple, mesquite, or hickory
Best for Cooking Brisket - Use mesquite or hickory
Best for Cooking Chicken - Use pecan, apple, or cherry
Do Portable Smokers Have Small Cooking Areas?
Portable smokers will usually have smaller cooking areas, but not always. There are numerous smokers with a large enough capacity to smoke large quantities of meat for large parties and cookouts. Some of the best smokers can cook large batches of chicken, steaks, burgers, and sausage.
Can I Cook Brisket on a Portable Smoker?
It is possible to cook brisket on a portable smoker so long as you take the time to build up the temperature and regularly monitor the cooking process. The main thing to remember is that smoking meat is a long process, so you will need to be patient to make sure everything cooks through.
How Long Will a Portable Smoker Last?
The typical portable smoker should last around five years if taken care of moderately. If you are the kind of person who takes very good care of things, you will likely be able to extend the life of your smoker up to 10 years.
What's Our Verdict
After extensive testing of numerous grills, we've found the Traeger Tailgater Pellet Grill to be the best portable smoker. It has plenty of cooking areas for a portable pellet grill unit. You can use it in all kinds of weather conditions, thanks to the rust-resistant materials.
Traeger Tailgater has top-notch temperature control thanks to the Digital Arc controller. Plus, the Keep Warm Mode ensures your food will be fresh and warm until you're ready to eat.
We found this smoker to be extremely versatile — you can smoke, grill, or bake. Most importantly, you won't struggle to move the grill thanks to the foldable legs and side handles. Check it out and get your portable Traeger smoker today.
Traeger Tailgater Pellet Grill
Our #1 Recommendation
8lb pellet grill hopper capacity
Included easy to use meat probe
Heavy-duty metal construction
Easy fold legs for portability
Get the BEST PRICE until the end of September
Was this article helpful?