If you're looking to buy a new smoker, it's easy to make the wrong choice and end up with something difficult to use or that doesn't suit your needs. To make the selection process easier, we're covering different types of smokers and explain the best types of smoker for most users.
9 Types of Smokers
1. Offset Smoker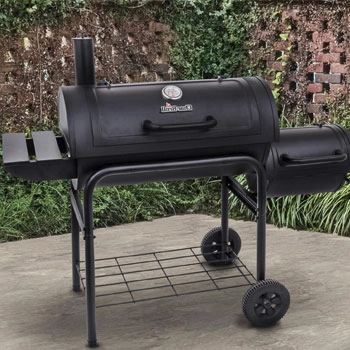 Offset smokers have the firebox set to the side of the smoking chamber.
The primary benefit of this is that it moves the heat and smoke a bit further away from your meat, making it possible to manage cooking temperatures more efficiently.
This smoker can come either as a vertical or horizontal variety.
This is our favorite kind of smoker due to more even heat distribution and generally easier maintenance, as well as the ability to provide a traditional flavor infusion.
You can learn more about the best offset smokers in this blog post.
Pros
Better smoke and heat distribution
Capable of using multiple fuel types
Comes in vertical or horizontal varieties
Generally larger cooking chamber
Cons
Usually large and bulky
Can have a wide price range
---
2. Vertical Smokers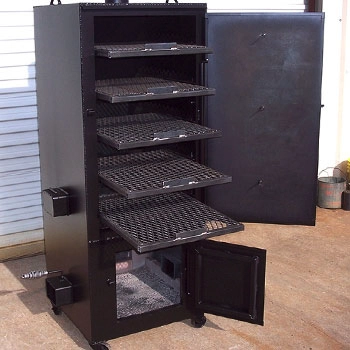 Vertical smokers are a smoker variety where the grilling grates are lined vertically and flows upwards.
These can come as offset smokers with the firebox to the side or with the firebox at the bottom.
We like these because the heat rises, providing more even heat distribution throughout the cooking chamber and an optimal smoking area towards the top for maximum infusion.
Another benefit of vertical smokers is they are easier to set up sausage racks and jerky smoking with, which is why they are considered as one of the best smokers for jerky.
Pros
Optimal smoke infusion zone at the top
Better distribution of smoke and
Easier to install sausage hooks
Uses either wood chips or charcoal
Cons
Generally heavier than other smokers
Often bulky and less portable
---
3. Propane Smokers/Gas Grill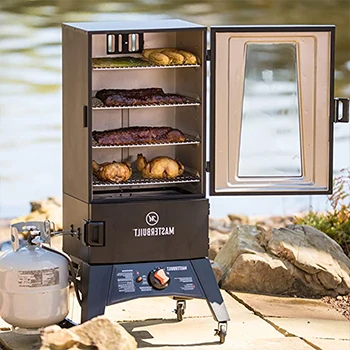 Best propane smokers use liquid propane gas as a primary fuel source for cooking meat.
Many users complain propane gas smokers do not provide the same smokey taste as charcoal smokers. However, this can be offset by adding wood chips during smoking.
These do also have some other benefits. Coal is generally more challenging to work with for less experienced smokers, whereas propane can be easier to use.
It can also be easier to keep clean and provide better temperature control than charcoal.
You should visit the following article if you wish to learn which propane smoker we highly recommend.
Pros
Easier to control temperatures
Can be easier to keep clean
Some are more portable
Generally cheaper to operate
Cons
Less traditional smokey flavor
Need propane tank
---
4. Electric Smokers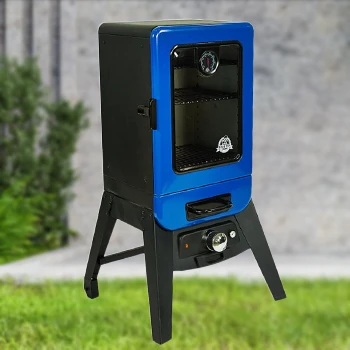 An electric smoker uses an electrically powered heating element and is popular with newer users.
Both gas and electric smokers can be easier to operate than charcoal smokers, but both lack the same smoke flavor that many people desire when using a smoker.
As with a propane smoker, wood chips can be added to an eclectic smoker to create more smoke within the cooking chamber.
We are fans of digital electric smokers, which have easier to operate digital control panels.
The best electric smokers will have Bluetooth compatibility allowing you to operate the smoker grill through your phone.
Pros
Easy to use
Typically easier to clean than charcoal
More stable temperature range
Often cheaper to operate
Cons
Less smoke flavor than charcoal
Needs electricity to operate
---
5. Pellet Smoker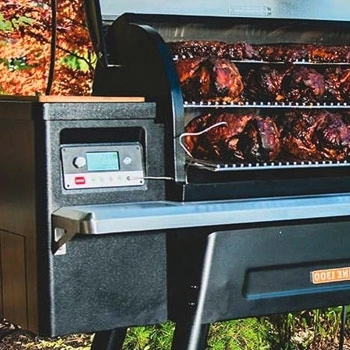 Pellet smokers have been around for a few decades but have only recently hit the mainstream over the past decade.
A pellet smoker uses small wooden pellets as opposed to charcoal. The pellets are loaded into a pellet hopper, which is attached to the side of the grill.
The pellets then move through an auger into the cooking chamber where they are heated.
Some studies have come out that wood pellets may be a healthier alternative to charcoal, but this is not conclusive.
However, a pellet generally better for smoking meat such as brisket and ribs as they low and slow cook food better. Our team loves vertical pellet smokers, and you can find which one we think is the best by clicking here.
Pros
Good for slow cooking barbecue
Capable of smoking for many hours
May be healthier than charcoal smoker
Easier for new smoker owners
---
6. Charcoal Smoker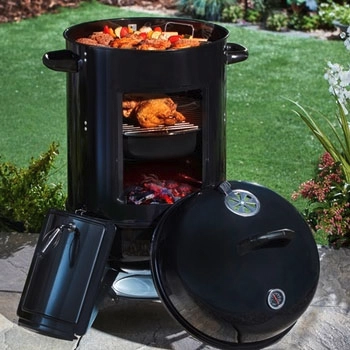 Charcoal smokers come in a vast range of shapes and sizes and span various types from offset smokers to ugly drum smokers.
There are numerous brands and models, such as the Weber Smokey Mountain to Char-Broil Kettle Grill.
One of charcoal smokers' main benefits is that they provide a more traditional smokey flavor and can achieve the sought after smoke ring easier.
Another benefit is that charcoal smokers come in a wide range of prices, so you can buy a cheaper drum smokers model or an ultra-expensive one if you want to make sure you get all the features.
Pros
Wide range of prices
Traditional smokey meat taste
Easy to get charcoal fuel
Wide variety of smoker types
Cons
Can be more difficult to clean
More difficult to use than electric
---
7. Kamado Smoker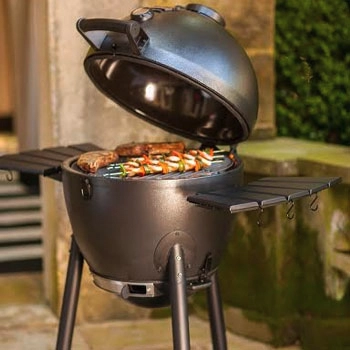 Kamado smokers are another type of charcoal smoker that has become more popular in recent years.
Kamado smokers are often shaped like an acorn or an egg and are made from thick ceramic, which is said to retain heat better than steel.
Something that we like about Kamado smoker types is that they are often smaller and more portable. Kamado smokers are often considered as one of the best portable smokers.
However, because of the material Kamado grills are made from, they can often weigh more than a traditional smoker.
A Kamado can be good for not just smoking, but you can also use them to grill, BBQ, and roast various types of food.
Pros
Versatile when cooking food
More compact and portable
Kamado smokers use wood lump charcoal
Kamado smokers are better insulated
Cons
Kamado smokers can be heavy
Sometimes expensive to buy
---
8. Kettle Grills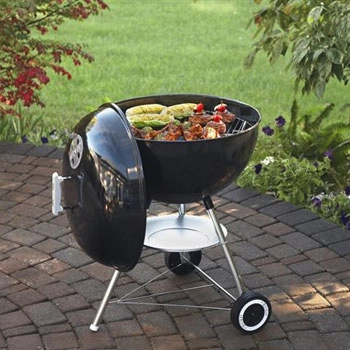 Kettle Grills are usually smaller and use coal as their primary fuel source.
These are often more affordable and used by many people who may have a smaller area to place their grill or use a gas grill or electric grill.
The main thing to note is that a kettle grill is not a smoker in the traditional sense. However, these can be used to smoke meat if done correctly.
These charcoal grills are less consistent for smoking due to temperature fluctuations, but it is possible to get them to cook at a low temperature needed for optimal smoking.
Pros
Cheaper to buy than propane
Typically easy to use
Cooks all types of food
Can get fuel easily
Cons
Higher temperature fluctuations
Less easy to clean
---
9. Cold Smokers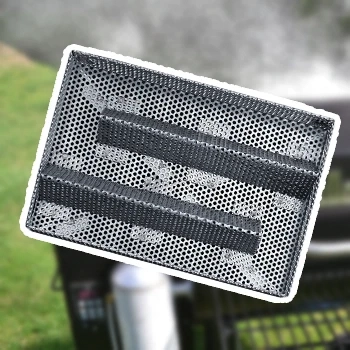 Cold smoking uses low heat and lots of smoke to infuse the meat and other food like cheese with the good smokey taste that people want.
However, it's important to note that these do not generally cook meat. For this reason, these should not be used for raw meat beyond adding extra smokiness to barbecue and other foods.
Cold smoking works at the temperatures that at are too low to fully cook raw meat like chicken or pork. You always want to make sure that you thoroughly cook food for safety reasons.
If you wish to learn more about the best cold smokers feel free to read our comprehensive review and buyer's guide.
Pros
Great for extra smokey taste
Helps to preserve nutrients in food
Preserves meat for longer periods
Alternative smoking method
Cons
Does not cook food and meat
Need lots of time to do properly
---
Things to Consider When Buying a Smoker
Budget
The sky's the limit for buying smokers, and you can find options for less than a hundred dollars up to high tech tailgating trailer models that cost over ten thousand dollars.
The main factors that will affect the cost of a smoker are:
Size
Material
Extra Features (digital thermometers, meat probes, etc.)
Experience Level
Part of your decision on which smoker is best should be based on how much experience you have using a smoker.
Some types of smokers are easier to barbecue than others. For example, electricity and gas smokers are generally great for new years due to more simple temperature control.
On the other hand, charcoal may be a bit more difficult and take a few tries to get used to.
Type of Fuel
The type of fuel that you use will impact everything from portability to taste to how easy it is to use.
Charcoal Smoker
Coal smokers are great if you want a traditional smokey taste. These are especially effective when combined with wood, using the coal to get the fire started and wood chips to provide a smoke infusion.
Visit the following article to learn what's the best charcoal for smokers in our opinion.
Electric Smoker
An electric smoker will generally be easier to use for beginners but will typically produce less in smoke flavor. These can be good for low and slow temperatures for fish and other types.
Propane and Gas Smoker
A gas smoker is a good balance between the ease of using an electric smoker and the taste of a coal offset smoker. Many new users prefer a gas smoker as temperature settings can be easier while still getting the low and slow temps you need for smoking.
Read More: Electric or Propane Smokers?

Offset Pellet Smoker
Offset pellet smokers use small wooden pellets as a source of fuel to grill food. With a pellet smoker, you get the smokey taste you're looking for, but it's easier to maintain low temperatures for long periods.
"Wood pellet grills and smokers are prized for their ability to achieve a steady and precise temperature."

- Hearth, Barbecue, and Patio Association Pellet Grill Guide (1)
How Much You Cook
Depending on how much you cook, certain types of smokers can be better than others. Many heavy-duty users prefer traditional offset smokers or gas smokers as they generally last longer. With an electric smoker, there is more that can break due to electric components.
Portability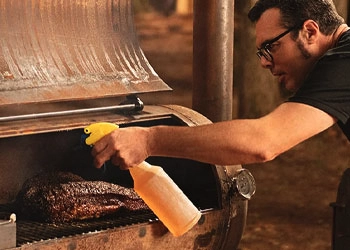 If you have plans on traveling with your smoker for camping or tailgating, gas smokers or smaller coal smokers are generally better choices. These are usually smaller and weigh less. You can always use some of the top-quality pellet tube smokers if you want a stronger smoky flavor.
An offset smoker can be harder to move without a trailer, and an electric smoker will need a generator to operate.
Ease of Maintenance
If you want your smoker to last for many years of use, you will need to maintain it regularly. To this end, some types are easier to maintain than others. Propane and electric models will generally be easier to clean as they don't produce as much ash.
"Especially with the fattier cuts, propane requires less maintenance. Those flare-ups over coals can cause problems."

- Matt Hinckley, Owner of Hinckley's Fancy Meats (2)
On the other hand, when taken care of properly, Kamado grills and coal offset smoker models take fewer steps to clean and can be extremely durable, depending on what they were made from.
Related articles:
Durability
One of the primary things you should look at when selecting the best grill for you is how durable the materials are. From our testing, we've found that Kamado grills can be some of the strongest due to the thick ceramic material they are made from. As long as they are not dropped, they can last for well over a decade.
It's best for other grill models to look at materials such as cast iron or stainless steel. Steel specifically can be one of the best materials as it is anti-corrosive and rust-resistant (3). It's also one of the more durable food-grade metals around.
Direct Heat vs. Indirect heat
Direct heat refers to the placement of meat directly over the fire or heating element of the grill. With this, you get quick heating, which can be better for searing meats and creating grill marks.
Indirect heat is the placement of food away from the fire, where the temperatures are easier to control. Ideally, you want a large enough grill to create direct and indirect heating spaces as you need.
Recommended Article: How to Control Temperature in a Smoker
FAQs

What is a stick burner BBQ?
Stick burners are another term for offset smoker models that rely only on wood chips to make a fire as opposed to other types of fuel. Numerous brands make these types of grills, and you can get one that's the right size for your barbecue needs.
Are Kamado grills good for smoking?
Yes. Kamado grills can be great for smoking as they offer a high degree of insulation. The heavy ceramic they are made from provides good properties for maintaining a fire allowing you to get the temperatures to the right level you need for smoking properly.
Are pellet smokers healthier than regular smokers?
Most likely. Some scientific studies have indicated that pellet smokers can be healthier options than coal grills (4). However, this has not been definitively proven through scientific studies. The main benefit of pellet smokers is that they can cook at lower temps for longer periods.
Which Is The Best Smoker Type?
Even though each smoker variety has benefits, we've found after extensive testing of numerous models, brands, and grill types that coal vertical offset smokers tend to be the best type of smoker.
Vertical offset smokers make it easier to regulate temperatures by applying indirect heat more evenly throughout the smokebox. These are also usually more affordable and, because of their simplicity, can be easier to maintain and last for longer periods than options like electric or gas models.
---
References:
https://www.hpba.org/Consumer-Information/Barbecue-Outdoor-Living/Grill-Safety/Pellet-Grill
https://www.nytimes.com/2017/05/23/dining/grill-charcoal-or-gas.html
https://www.researchgate.net/publication/284084478_Study_of_metal_release_from_stainless_steels_in_simulated_food_contact_by_means_of_total_reflection_X-ray_fluorescence
Was this article helpful?