Trifecta Nutrition is an organic meal delivery service specializing in nutritionally balanced meals and healthy eating.
They tackle sustainability head-on, providing customers with a range of organic and tasty ingredients. That being said, does the price reflect the quality?
On our mission to find which service is worth the subscription, we decided to take a look at Trifecta.
We had been trying a range of their meals for over a month, noting down our favorite points and what Trifecta could strive to improve.
What is Trifecta, and How Does it Work?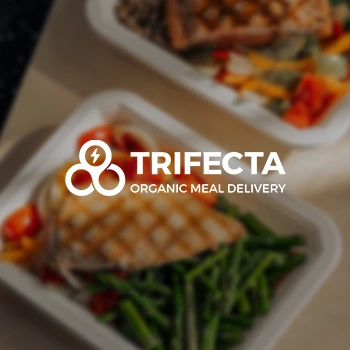 Trifecta meals was founded in 2015 by Greg and Elizebeth Connolly, offering customers prepared meal delivery services that focus on nutrition and healthy eating.
All the meals Trifecta produces include high quality, organic ingredients, and sustainably sourced meats.
They currently offer a few different dietary plans, such as vegetarian and keto meals. Unlike many other meal kit delivery services,
your Trifecta subscription also comes with advice from in-house nutrition experts and community support.
Their mission is to combine the three fundamental areas of health, body, mind, and social, to get America back into shape. [1]
Benefits and Highlights of Trifecta Meals
When testing the Trifecta for over a month, we noted some of the key elements that make a meal service successful.
1. Straightforward Sign-up Process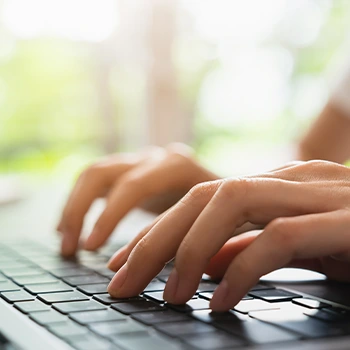 We found it straightforward to navigate the Trifecta website and order meals. There are quite a few options to select from, but once you know which meal plans you'd like to go with, the ordering process can be done quickly.
First, you have to choose from either the Convenience plan or the Control plan.
If you choose to go with Convenience, you'll be given a range of meals that have been pre-cooked, meaning you don't have to cook your own meals or prep any ingredients.
With the Convenience plan, you can choose from five subcategories:
Clean Meal Choice
Paleo Meal Plan
Keto Meal Plan
Vegan Meal Plan
Vegetarian Meal Plans
Once you have selected your meal plan, you can pick how many meals you would like per week.
These Trifecta nutrition meals span over breakfast, lunch, dinner and can also include a 3rd entree. You can choose either five or seven meals per week from each mealtime.
The Control plan, also known as the a la carte option, is very similar. However, you get to select the individual meal instead of having the meal selection done for you.
Unfortunately, Trifecta only offers one serving size, which we found not ideal for feeding a couple or a small family.
2. Limited Meal Control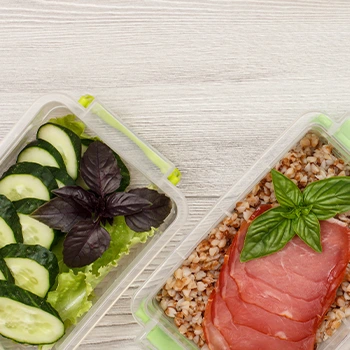 Since this organic meal delivery offers meals chosen by the chef, you don't have much control when it comes to the food you receive.
You do have the option to disclude up to two ingredients such as nuts or chicken if you have food allergies or preferences. However, it doesn't go much further than that.
Some of the healthy meals from the clean menu include:
Pineapple coconut loaf
Salmon and Wild Rice
Chicken Pesto Pasta
You can choose individual meals from the classic plan; however, you won't be able to select pre-cooked meals from any other plans such as vegetarian or keto.
The la carte menu also allows you to select prepared proteins, veggies, or carbohydrates.
This may be an issue for picky eaters or those who simply like to choose their exact meals to suit their likes and dislikes.
We did find ourselves wishing we could swap certain menu items; however, we realize that the game's aim with Trifecta meals is to provide controlled and fully prepared meals.
3. Organic and Sustainably Sourced Ingredients
All Trifecta meals feature fresh ingredients and organic produce for your meal prep. They source their ingredients from family-run suppliers who practice sustainable farming [2].
In addition to the organic ingredients, they also feature grass-fed beef, wild-caught seafood, and free-range chicken.
Going with the theme of clean eating, most meals are also made with healthy fats such as avocado oil, coconut oil, and olive oil. They are lightly seasoned with organic spices.
4. Eating Healthy Made Tasty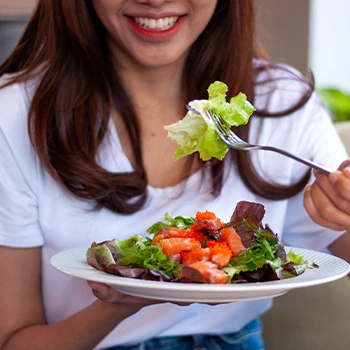 While Trifecta Nutrition does advertise that over 3 million pounds (and counting) have been lost by customers using Trifecta meal plans, they do make it clear that they are not only selling diet food but food that is tasty, organic, and nutritious [3].
We found the Trifecta meals to offer a range of diversity, making sure our meal plans didn't feel boring each week.
While the meals may seem simple, for example, chicken breast with brown rice or sweet potatoes, the quality of the ingredients makes the nutritious food very tasty.
"Instead of going out to dinner, buy good food. Cooking at home shows such affection. In a bad economy, it's more important to make yourself feel good."
- Ina Garten, Chef
We found the mixed vegetables to be crunchy, the lean meats to be fresh, and the whole grains to fill us up nicely. The Trifecta meals also retained their texture and flavor very well, even after reheating.
All Trifecta meals are gluten-free and are proven to help people with their weight loss journey. [4]
5. Free Delivery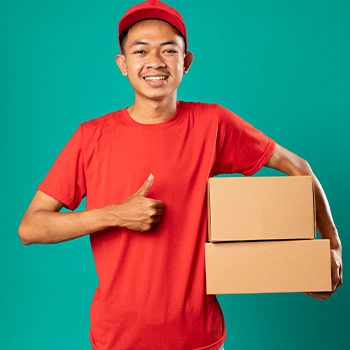 Trifecta meals company currently ships to all countries inside the U.S., including Alaska and Hawaii, for free. Depending on which state you are located in, you may receive some tax on your order.
All deliveries are aimed to be with you by Friday or Saturday by 8 am - 8 pm, which we found a little vague.
Our expected delivery date for our first box was Friday; however, it did turn up on Saturday instead.
All our food, including the la carte options, came vacuum-sealed inside recyclable packaging. We found the prepared meals to be packaged well.
However, we did notice the sweet potato became a little soggy inside the first box as the meal delivery was a little late, making meal prep a bit awkward.
Our Rating
Signup process: 5/5
Delivery: 4.5/5
Quality: 5/5
Things That Trifecta Could Improve
While many impressive things come along with this organic meal delivery, there are a few improvements I would like to see in the future.
While the selected meal plans may be handy for some, others may dislike not having the freedom to choose their own nutritionally balanced meals.
It would be helpful to be able to disclude more than two items and include more dietary options such as dairy-free or grain-free.
Trifecta Pros and Cons
Pros
All ingredients are organic and sustainably sourced
Can choose breakfast, lunch, dinner, and 3rd entree meals
Effective for weight loss and improving health
Shipping is free throughout the U.S.
Cons
Can not select your own meals
Only allows you to disclude two ingredients
How Does Trifecta Compare to Other Companies?

If you're not sure whether or not Trifecta Nutrition is right for you, here is how they compare to three other meal kit companies:
1. HelloFresh
Like Trifecta Nutrition, HelloFresh also sustainably sources a large portion of its ingredients.
They let customers choose from a wide range of pre-prepared kits, catering to a handful of diets such as family-friendly, vegetarian, and vegan. Recipes are made to be cooked in 30 minutes or less.
2. Freshly
Freshly let customers choose from over 30 meals per week, cooked by professional chefs and sent straight to your door.
They offer a range of tasty meals such as a Chicken Sharma Bowl with Brown Rice, packed full of lean proteins and healthy produce. This meal-delivery service doesn't offer any a la carte meals, unlike Trifecta Nutrition, meaning you're tied down to a subscription each week.
3. Factor
Factor meal delivery is similar to Trifecta Nutrition in the sense that all meals are pre-cooked and sent to your door; all you need to do is heat them in the microwave or oven.
They offer healthy food for different diets, such as low-carb meals and vegetarian options. However, Factor is pricier compared to Trifecta Nutrition.
Other Meal Delivery Services We've Reviewed:
How Much Does Trifecta Cost?
The price of Trifecta depends on which plan you choose and how many meals you select per week. The shipping for Trifecta is free.
Here is a summary of the prices:
| | | |
| --- | --- | --- |
| | Five Meals | Seven Meals |
| Lunch  | Option isn't offered | $110 per week |
| Dinner | Option isn't offered | $110 per week |
| Lunch/Dinner + Breakfast | $154.99 per week | $214.99 per week |
| Lunch/Dinner + 3rd Entree | $157.99 per week | $219.99 per week |
| Lunch/Dinner + Breakfast + 3rd Entree | $229.99 per week | $310.99 per week |
| Lunch + Dinner + Breakfast + 3rd Entree | $299.99 per week | $414.99 per week |
Other Users' Experiences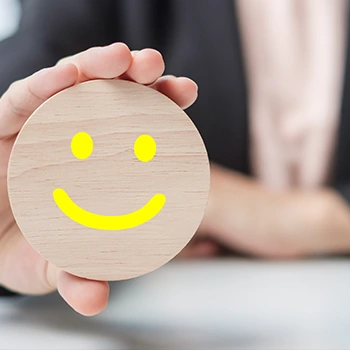 After checking out some online reviews, it seems that most people are pretty pleased with this food delivery service.
Kevin from California commented, "I was amazed by how responsive Trifecta's customer service is. They were quick to answer any questions I had about their meals."
Judy from Minnesota said, "Despite the Trifecta's price, I felt like I was saving money instead of wasting it at the grocery store on ingredients I didn't need."
However, Dean from Texas complained about feeling that the meals became a little repetitive over time, sharing,  "I received three meals over four months that were the same, and the beef patty in the said recipe was a little too greasy."
FAQs
Is Trifecta Good for Dieting?
Yes, Trifecta is a good option if you're looking to control what you eat. Most Trifecta meals contain nutrient-dense food and have as little as 350-500 calories per serving. High protein is also present in the meals at Trifecta, which can help you feel fuller for longer [5].
Can You Skip Weeks on Trifecta?
Yes, you can skip up to four consecutive weeks on Trifecta. If you would like to pause your subscription for longer, you will have to contact customer service.
Is Trifecta Worth It?
Trifecta is a great option for anyone looking to make nutritious eating quick and easy.
This meal-delivery service not only offers customers tasty cooked meals, but it also gives the option of support from trained nutritionists.
Trifecta sources all ingredients sustainably, ensuring that all products and proteins are organic and humanely raised.
Free delivery is offered around the entire U.S., and customers are provided flexibility when it comes to their orders.
If you want to find out more about Trifecta, click here.
Our #1 Recommendation
Trifecta
Click For Best Price

Pros
All ingredients are organic and sustainably sourced
Can choose breakfast, lunch, dinner, and 3rd entree meals
Effective for weight loss and improving health
Shipping is free throughout the U.S.
Get the BEST PRICE until the end of September
Cons
Can not select your own meals
Only allows you to disclude two ingredients
Was this article helpful?