I went out of meat yesterday. It happened for the 4th time this month.
Whenever we want to cook something or make a BBQ, I see that I'm out of stock. I realized that buying meat became a nightmare.
My team and I did some research and saw many people are using online services.
They offer various meat cuts and healthy grass-fed beef from small farms. We've learned you can even customize your best meat subscription box!
Check our selection of the best meat delivery boxes and let us know what's your favorite.
Top 11 Meat Delivery Boxes in 2023
1 - ButcherBox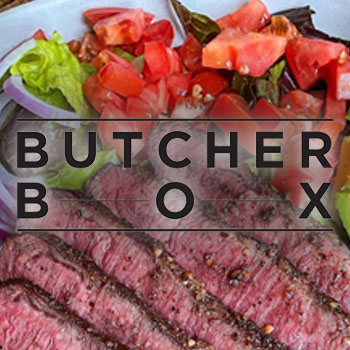 ButcherBox is a subscription meat delivery service and offers one of the best meat subscription boxes with premium meat options - 100% grass-fed beef, heritage breed pork, and free-range organic chicken delivered monthly right to your door.
Their goal is to make high-quality meat accessible to as many people as possible, so they offer five different choices.
ButcherBox meat delivery service can curate a box of high-quality cuts for you, or you can create and get your package by choosing from more than 25 high-quality cuts.
Pros
Variety of box choices
Free shipping
You can customize your subscription box.
Humanely raised animals, no antibiotics
Cons
Long wait for customer service on chat
Click For Best Price
2 - Crowd Cow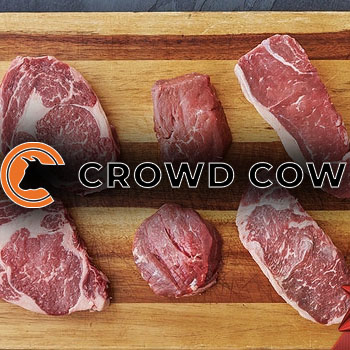 Crowd Cow offers ground, pasture-raised pork, wagyu, chicken, and wild salmon from sources they know personally with the highest regenerative and ethical standards.
You can order Crowd Cow cuts a la carte and get it one time or select options like steaks or Japanese wagyu and create personalized and completely customizable recurring boxes.
If you select a meat subscription box in Crowd Cow, by default, your order will come monthly, but the frequency and products in each box are entirely up to you.
Pros
Crowd Cow products don't have unnecessary antibiotics, GMO grains, or any added hormones
Every product is taste-tested by experts
You can get referral credits
Once you place an order, the subscription box is typically shipped out the next day
Cons
No free shipping for all Crowd Cow orders
Click For Best Price
3 - Good Chop
Good Chop is a meat business that sells locally sourced meat. This local butcher offers two subscription boxes to satisfy your own box desires:
Medium and Large. The medium box contains 36 portions, and you can choose up to 6 cuts.
The large box contains 72 portions, which is a great option for families or individuals who eat a lot of meat.
All meat is sent flash-frozen and packed with a lot of dry ice, so it reaches you still frozen. You can store the cuts in the fridge for up to a year.
Finally, Good Chop delivery offers free shipping on all orders, which is a great way to save money and make a larger order.
Pros
Locally sourced meat
Responsibly raised animals
All meat comes from the US
Good steak selection
Cons
Only two subscription boxes
Click For Best Price
4 - Snake River Farms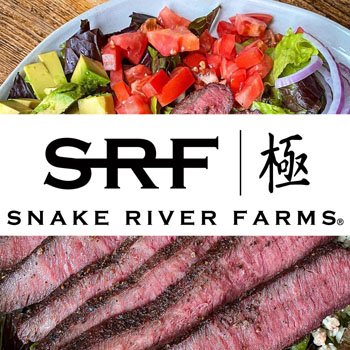 Snake River Farms is the pioneer of American wagyu beef with a complete line of roasts, briskets, and steaks.
You can receive high-quality beef and pork by selecting three specially curated meat subscription boxes. You can't get these meats from your local grocery store since they are restaurant-quality meat.
Or, you can get the best meat subscription boxes with the products like bacon, chicken, salmon, or wild-caught seafood with the quantities that work best for you.
All Snake River Farms subscriptions are shipped on the exact day, the first Tuesday of every month, and you will get them the first Thursday of every month.
You can learn more by reading our review of Snake River Farms.
Pros
Boxes available in different sizes
All their products are aged to maximize the flavor and texture of their beef.
Selection of shipping frequency
Cons
You cannot add products to a subscription order
Click For Best Price
5 - Porter Road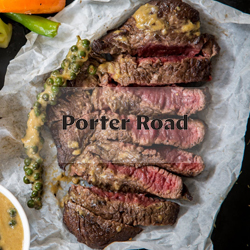 Porter Road follows the highest standards for its products. You will understand that when you get their package.
You can subscribe and pick one from 5 different choice boxes that Porter Road offers, with popular favorites and various options.
They feature various pasture-raised selections to choose from, like dry-aged steak, ground pork, sausages, bacon, and more.
Make sure you try a Butcher's Choice Box when you subscribe to Porter Road – it consists of a high-quality, hand-picked selection of the cuts their butchers love to cook year-round.
Pros
After years of serving only the local community, Porter Road is now delivering nationwide
Hand-cut every piece of meat, making sure nothing good goes to waste
Their animals are raised outdoors on pasture, free from added hormones or antibiotics.
Flavor of the beef and pork
Cons
No possibility to select your products
Click For Best Price
6 - Carnivore Club
Carnivore Club offers unique boxes with premium cured meats delivered to your door.
They use new artisan every month to create cured meats, so their packages offer different flavor experiences.
Whether it's French Charcuterie, Italian Salumi, or South African Biltong, Carnivore Club delivery adds high-quality meats to their two boxes: Classic Box and Snack Box.
Subscribe and try Wisconsin River Meats with delicious elk, moose, buffalo, caribou, antelope cuts or get a Classic Box and receive an order of artisan cured meats, different every month.
Pros
Exotic cured meats wild caught
Kosher products (1)
Low-carb boxes for those on diet
Every month, something new
Cons
Different flavors may not be your cup of tea
Not grass-fed cured meats
Click For Best Price
7 - Omaha Steaks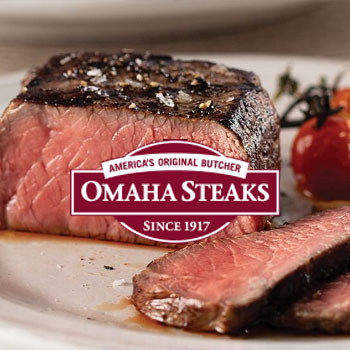 Omaha Steaks is one of the most extensive meat delivery service options in the country. They have a wide selection of all kinds of animal protein: ground beef, pork, chicken, wild-caught seafood, even desserts and sides.
Omaha Steaks is considered a restaurant-quality meat service that offers value option boxes full of ground beef, pork, chicken products, and great everyday low prices.
You can also pick up the butcher box and send it as a gift, or you can create your gift combo based on your preferences. You can shop by cut or product at Omaha Steaks and get the best products all in your butcher box.
Pros
Variety of premium meats choices
Many box options on sale
Constant promos
You can replace your order or receive a refund
Cons
Not all beef is grass-fed
Portion size
Click For Best Price
8 - Rastelli's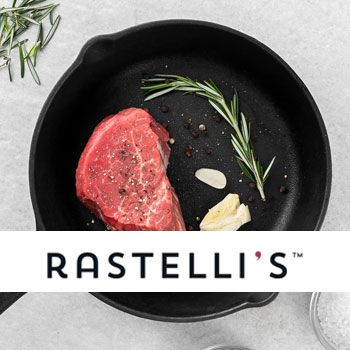 Rastelli's is a family business with the highest-quality, hand-selected beef, pork, seafood, chicken, and turkey and a carefully selected network of sourcing partners.
You can filter per protein and simply add products from their a la carte menu and build your custom box.
Or you can also subscribe and choose among their curated packages with different products like beef free-range, bacon, seafood, salmon, and chicken, which you can get once per month.
If you like to shop big, then sample the whole butcher shop - select their most giant mixed box with the best variety of products, like steak, craft burgers, chicken breasts, pork chops, ribeyes, and more.
Pros
Variety of cuts
Antibiotic, steroid, and hormone-free
Filtering search by protein
Good referral program
Cons
You cannot pre-schedule delivery dates
9 - Moink Box
Moink Box offers meat subscription boxes from family farms.
You can order grass-fed and grass-finished beef and lamb, pastured heritage breed pork and chicken, or wild-caught Alaskan salmon in various small or medium-sized boxes.
You can subscribe and select among several combinations of curated boxes as a part of their meat delivery subscription service with free shipping.
You can subscribe and select among several combinations of curated boxes as a part of their meat delivery subscription service.
Also, you can choose how often you would like their best products to be shipped to you. The last option is to create a custom box with beef, lamb, chicken and salmon, bacon, seafood, and select among a wide variety of cuts.
You can learn more about Moink Box in this post.
Pros
Ethically sourced meat
Grass-fed and grass-finished beef
Free shipping costs for all orders
Flexible subscriptions
Cons
When orders are locked, you can't make any changes
No single box ordering
10 - Goldbelly Bacon
Goldbelly offers various products, from grade-A Japanese wagyu beef steak to burgers and pastrami to smoked meats, delivered to your door.
If you love bacon, then you will fall in love with their choice. They have all kinds of bacon - peppered, spiced, double smoked, even chocolate-dipped.
Each box Goldbelly sends to subscribers will serve at least six people and includes approximately 2-5 lbs. of bacon.
Each box Goldbelly sends to subscribers will serve at least six people and includes approximately 2-5 lbs. of bacon.
Pros
Variety of choices
Rare bacon flavors
Easy to use website
Cons
Monthly delivers cannot be modified
11 - Perini Ranch
Perini Ranch is located on the Perini Ranch in Buffalo Gap, Texas, and brings the legendary tastes and hospitality of this quintessential Texas restaurant to food lovers.
They are known as home to the best chuck wagon-style food in the US. If you are interested in bringing Texas tastes to your table, you should try Smoked Peppered Beef Tenderloin.
You can learn more about what they have to offer by reading our Perini Ranch review.
Cons
Limited number of online meat options
What to Consider When Selecting the Best Meat Subscription Boxes
Are meat subscription boxes worth your time? If you want to receive the top meat subscription boxes that perfectly match your needs, you should know these four things when selecting your next box.
Frequency of Ordering
It is essential to choose an online butcher service that can ship your order exactly when you want it.
Depending on how much you use animal proteins in your meal plan, is subscription services will send you your order once per month.
Still, maybe you will not need it that often. Some of the best meat delivery providers can schedule shipping once in two or even three months.
We propose to check your first order and see how it will go and then adjust your future orders to your needs. Also consider whether the meat delivery services offer free shipping.
Quality of the Products
We use online services to order the top meat subscription boxes because it is more convenient but also because we can select the source. Most companies source their products from farms directly.
They know their partners, and they are choosing them individually to be sure that their customers will receive quality products.
When you search for the right delivery box, pay attention to what is written on their website, especially if you are looking for 100% grass-fed meat delivery, free-range organic chicken, wild-caught salmon, or pasture-raised pork.
On the company's website, you will also find information if the animals were fed with hormones or antibiotics, giving you the possibility to choose the quality of the meat you want.
Related Articles:
Packaging
If you want to be sure that your order will come as it should, pay attention to what package it will be shipped. Many meat delivery services are trying to invest a lot in providing good packages to transport their goods.
They use special techniques like dry ice and materials for wrapping their products to deliver them fresh and tasty.
Good meat subscription boxes packaging is essential, mainly because of products' sensitivity since they can quickly lose quality if it is not appropriately packed.
Select the company that combines quality packaging, eco friendly and reusable boxes - the least you want is to receive a smelly or destroyed product.
"One must cook a piece of meat a thousand times before one begins to truly understand it."

- Andre Soltner, Chef
Purpose of Use
Do you want big meat subscription boxes for the whole family or a package with your favorite flavors? By selecting a delivery box, you can choose from various meat options and get the products you need.
Companies understand that a variety of choices is essential to fill every purpose. If you like only beef, for example, there will be a box for you.
But if you wish to prepare for a party next month, some companies will allow you to exchange your regular package for that month or add new products.
We found exciting gift options that we know you'd also like to get.
Also, a la carte boxes can be a perfect choice because one can select among different flavors and cuts.
FAQs
Are meat subscription boxes a good deal?
Yes. Meat subscription boxes are a good deal, especially if you do a subscription, as you can get discounts and additional added products for free.
Can I skip months with the subscription service?
It depends. You can skip months with some subscription services. Some others won't accept that.
Where do online services get their meat?
Online services source their meat subscription boxes mostly from farms of independent producers that they have personally selected to ensure their products' quality.
And The Best Meat Delivery Box Is...
After trying all 10 delivery services and their best meat subscription boxes mentioned above, the winner could be only one – ButcherBox.
We consider their meat subscription boxes the best option as they are full of quality products and they come in perfect size and variety.
The subscription box service offers free shipping. Their products were delivered right, and their packaging has never let me down.
We have received tasty meats at the exact temperature it should be. When we got tired of their selection, we also had the freedom to create and get our own – it helped us try almost all choices they offer, select our best preferences, and continue to be their satisfied customers.
ButcherBox
Our #1 Recommendation
Variety of box choices
Free shipping
You can customize your subscription box.
Humanely raised animals, no antibiotics
Get the BEST PRICE until the end of March
Was this article helpful?