Throughout my many years of grilling, I have learned that every workman needs a good set of tools. Since you'll spend most of your time slicing, flipping, tenderizing, seasoning, and controlling temperatures, you'll need a superb grill tool set to help streamline the process.
That's why I have decided to test 8 tool sets from different companies, providing you with what I liked, what I didn't like, and finally presenting to you my ultimate best grill tool set.
Editor's Choice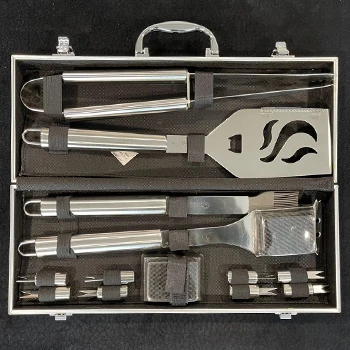 Cuisinart
Check Current Price
#2nd Best Choice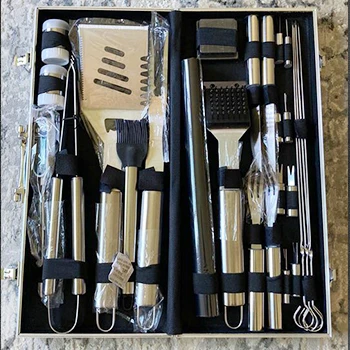 ROMANTICIST
Check Current Price
#3rd Best Choice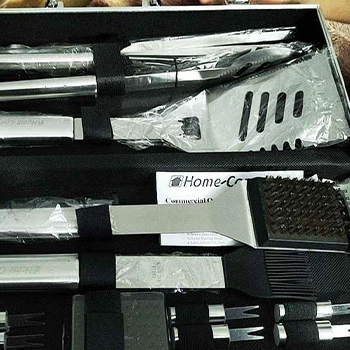 Home-Complete
Check Current Price
Our Top 8 Best Grill Tool Sets
Buyer's Guide for the Best Grill Tool Set
When searching for a set of grill tools, there are a few things you should look out for.
The best grill tool sets are made up of equipment that improves your cooking experience without compromising safety, quality, and price.
1. How Many Tools are Included

Grill tool sets come in all different shapes and sizes. You will be able to find sets with as little as two pieces and sets with more than forty.
Most grill tool sets should come with the essential grilling tools such as:
Tongs
Spatula
Basting brush
Others may include a fork, meat knife, and grilling brush, wire cleaning brush, and more.
Naturally, the more tools included in your set, the more expensive it will be. So, if you're only looking for essential tools, you're much better off going with the four-piece Alpha Grillers Grill Set compared to a much larger 31-piece set like the Ohuhu BBQ Grill Accessories.
1.1. Essentials Included
If you're new to the grilling world, chances are you won't know about the wide range of grill tools available.
Depending on the type of grilling you do and what you enjoy cooking, determine which tools are essential to you and which are not.
Here is a look into each grill tool within these sets to decide which are a must-have. I will also list what you should be looking for with each grill tool.
1.) Spatula
One of the most essential tools to have in your collection is a spatula. If you plan on cooking burgers, fillets, or any other delicate foods that would fall apart using tongs, you'll need one of these.
A good BBQ spatula will include serrated sides which can be used to cut, tenderize, or scrape off any sticky or burnt bits. Towards the end of the spatula, there will be a tapered edge that you can slide under burgers and steak for easy flipping.
If you're fortunate, you'll find one with an integrated bottle opener. So, the spatula is an essential but also versatile tool.
"The key to good grilling is to recognize that you are setting yourself up to cook in a whole new environment. This is actually one of the main purposes of grilling - to get yourself outside."
- Barton Seaver, Chef
2.) Tongs
Tongs are another essential part of grilling. Much like the spatula, tongs are used to move, flip, or transfer food and meat.
You can use them for picking up less fragile meats such as sausages and hot dogs.
Others use their tongs to rearrange or place charcoals on their grill. Therefore, the tongs you purchase should have a firm grip on the handle, be easy to open and close, and securely hold hot food and coals. Some tongs will feature a locking mechanism which is great for storage.
3.) Basting Brush
A basting brush, also known as a pastry brush, is used for applying marinade and sauces onto your meat and food.
A good brush will be made with silicone bristles, featuring a stainless steel handle to protect from the heat and flame. Some grill tool sets feature a full-sized brush and a miniature one. Others may include an extra head so you can easily swap sauces and marinades without cleaning your brush mid-cook.
1.2. Other Handy Tools to Look for
1.) Fork
A BBQ fork is designed to help you turn and lift the food from the grill to check if it is ready. Some higher-end grill tool sets will include a digital temperature fork so you can check the inside temperature of your meat.
Some people discourage the use of grill forks simply because lifting them too early can create holes in your meat which will let moisture and flavor escape [1].
2.) Grill Brush
Grill brushes are essential if you do some heavy-duty BBQ grilling. Grates can quickly accumulate a lot of burnt food, sauces, and cooked-on grease.
A grill brush is designed to help remove all of the above without compromising the quality of your grill.
3.) Digital Thermometer
The key to grilling food and preparing tasty meats is to control your heat. The best way to tell when meat is cooked is to use a digital thermometer.
Some grill tool sets will integrate the thermometer into other tools, such as a BBQ fork, while others will include one or two thermometers within the set. A good thermometer will have a LED display which comes in handy when using an outdoor grill.
4.) Skewers
Stainless steel skewers are a must-have if you're planning on grilling any kebabs. The long, thin shaft supports small cuts of meats and vegetables as they are roasted or grilled.
5.) Corn Holders
Lots of grill tool sets you come across will include a handful of corn holders. They're metal prongs with plastic handles that can be inserted into the end of your cob after cooking, and it makes it much easier to handle and eat the corn.
Other tools include:
Grill mats: This allows you to grill small and delicate food without worrying about it falling through the grates.
Meat claws: Designed to shred, tear, tenderize, flip, and grab the meat. Meat claws are often used for pulled pork or turkey.
Salt and pepper shakers: For seasoning your food.
Meat injector: Distributes the marinade through the tissue of the meat.
2. What the Tools are Made From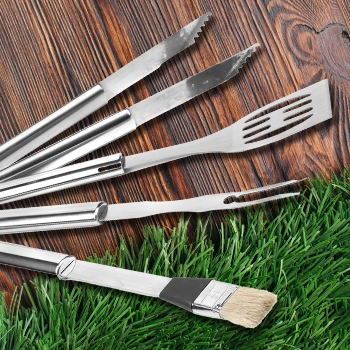 Most BBQ grill tool sets will have stainless steel construction.
This is because it is durable and has the best chance of fighting off rust and corrosion. Stainless steel is easier to clean than other materials. [2]
The handles of your tools are also a very important factor. While heavy-duty stainless steel is durable, it also conducts heat very efficiently.
So, if the grill kit features stainless steel handles, ensure they have some sort of cooling technology set in place to avoid burns.
You may also find tools to have handles made from wood or rubber. Wood is more likely to have wear and term; however, it won't transfer heat. The rubber allows the user to get a tight grip on the handle; however, it can quickly melt if accidentally left on a hot grate.
3. The Length of the Handles
You'll notice that the length of grill tools is a lot longer than their kitchen counterparts. This is due to the high heat from a searing flame; the tools must be at least 14-18 inches long for a safe cook.
The ideal size for the grill handles would be 16-18 inches. This allows you to reach all the corners of your hot grill while still protecting your hands.
Any shorter, you may have to wear a glove to save your hands from the heat. Any longer than 18 inches and the tool will be harder to control and prone to bending.
Related Articles
4. Storage

Most grill sets that include many tools will also come with a handy carrying case to safely store and transport your tools.
These can range from cotton bags all the way up to high-quality stainless steel cases.
"Grilling is an easy tradition to start at any age! To get started, one only needs a modest investment in equipment and a little bit of outdoor space."
- Barton Seaver, Chef
While these stainless steel cases provide excellent protection for your tools, they may also add a lot of extra weight to your set if you plan on traveling with it. I have found a good in-between material to be aluminum.
You should also be on the lookout for tools that feature loops. These make it easy to hang up on your grill while not in use.
5. Extra Features

Here are a few other features to look out for:
Weight: Heavy tools will not only make your arm ache, but they will also increase the risk of the tool slipping from your hands.
Dishwasher-safe: Materials such as rubber, silicone, and stainless steel can be placed in the dishwasher to make cleaning more convenient.[3] They can also help kill bacteria. If you try and put wood into a dishwasher, there is a high chance it will crack, rot, or break.
Warranty: Depending on the model and the brand, you may be offered a warranty from one year to life. Of course, the best deal would be to find a lifetime money-back guarantee.
FAQs
What Is Needed to Start Grilling?
The essential tools for grilling are tongs and a spatula. Both of these tools are needed to flip, move, and transfer food around the grill and to your plate.
Lots of tool sets will include a plethora of items that come in handy for grilling, but they may cause more confusion if you're not a seasoned cook.
Are Grill Tools Dishwasher-Safe?
If your tools are made from stainless steel, they should be dishwasher-safe. However, don't throw your tools into a dishwasher right after grilling, as the leftover grease and food could clog it. Always rinse your tools with warm water and ensure any food is removed before putting it in the dishwasher [4].
You should avoid putting tools that have wood handles into the dishwasher as the heat could encourage mold to grow, as well as crack or split the wood.
How Do You Clean a Grill Scraper?
If you have two grill scrapers, the easiest way to do it is to clean two at a time. Get your washing-up bowl and mix some soap into warm water.
Grab both of your grill scrapers and scrub the heads together to remove any food and grease. You can then rinse the scrapers with clean water.
If they are made from stainless steel, you can also throw them in the dishwasher after scrubbing to eliminate bacteria.
Do You Need a Grill Basket?
Grill baskets are not essential, but they do prevent food from falling through the grill grates. Grill baskets make it much easier to flip delicate foods or large items at once. They are also great for retaining nutritional value and losing unhealthy fat when cooking on a grill.
Here Do You Store a Grilling Tool?
Many BBQ tools will come with their own storage case, either made from durable metal or inside a fabric pouch.
If your set comes with one of these, it is better to store your items inside the case. You can then keep your case inside a patio storage bin or kitchen utility drawer.
Best Grill Tool Sets: Our Winner
While all of the tool sets listed here today are worthy competitors, we have to go with the Cuisinart Deluxe Grill Set purely for its versatility, quality of material, and value for money.
The extra-wide spatula featuring serrated cutting edges and the grill fork equipped with a built-in thermometer are great for anyone looking to up their grilling game.
This set comes packaged in a sturdy aluminum case, and each tool comes with a hook which allows you to conveniently store your items.
This set is great for both newbies and pitmasters alike.
Cuisinart Deluxe Grill Set
Our #1 Recommendation
Large grilling fork comes equipped with a built-in thermometer
Extra thick stainless steel handles
Convenient and sturdy carrying case
LED lighting on the digital display
Was this article helpful?