Not all grill gloves are created equal. With a range of manufacturers, materials, and lengths on the market, it can be challenging to know which ones to buy.
That's why we have gathered a handful of gloves to test durability, heat resistance, and comfort in hopes of finding the best BBQ gloves on the market.
Editor's Choice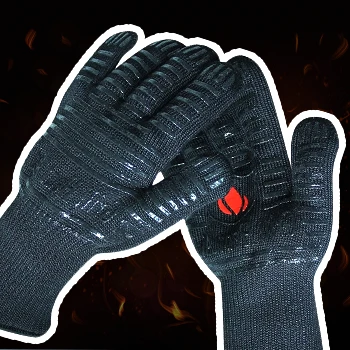 Grill Heat Aid
Check Current Price
#2nd Best Choice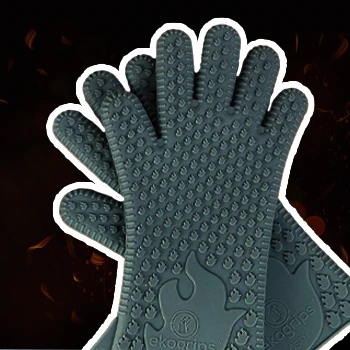 Jolly Green
Check Current Price
#3rd Best Choice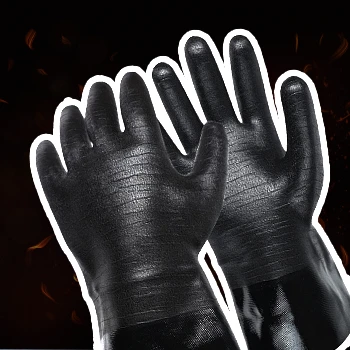 Artisan Griller
Check Current Price
Our Top 6 Grill Gloves
Barbecue Gloves Buyer's Guide:

When searching for a pair of gloves, there are a few things to keep in mind to ensure you're both protecting your hands and getting the best value for money.
1. Material
The material of your grilling gloves will determine how well they work and what you will be able to use them for. The materials you will find in gloves are silicone, leather, fabric, and synthetic.
1.1. Silicone Gloves
Silicone is a material similar to rubber and can be heat-resistant if the thickness and density ratio is right.
Since silicone is usually 100% waterproof, it is machine-washable. Sauces and juices don't tend to stick to this material, but if they do, waterproof BBQ gloves can easily be wiped clean.
"It is very important that when you put something on the grill, you leave it in place to cook. If you move it around too quickly, chances are it is going to stick."
- Bobby Flay, Chef
The gloves are typically made from food-grade silicone, meaning you can handle hot meat and food directly without worrying about chemicals transferring onto the food [1].
Silicone gloves are often great for providing heat resistance for short periods, e.g., used as oven mitts to remove a hot pan and less for holding hot coals or a hot grill grate.
The material also makes for a rather bulky glove, making it difficult to perform tasks such as holding grilling tools and using a thermometer.
Another downside to silicone gloves is that they're typically loose around the wrist, which means heat can enter inside the glove and make your hands hot and sweaty. Silicone can also become slippery from grease.
1.2. Leather Gloves
Leather gloves can be considered the most old-fashioned out of the bunch; however, they happen to be one of the most versatile materials. They allow you to move hot pans, tools, and hot grill grates since they're made from a thick material.
Since leather is hard to clean, you won't want to be handling food with them. They can also shrink, so avoid putting them in the washer and keep them on top of maintenance.
If you get yourself a pair of leather gloves, keep in mind that they take some time to break in, so they may be stiff and uncomfortable for the first few uses.
1.3. Fabric Gloves
Fabric gloves are typically made from either Aramid or Kevlar fibers, which offer a high heat-resistant base.
They often have silicone strips to provide extra grip and focus more on handling hot tools and grill grates rather than directly picking up food and hot meat.
They are some of the best grilling gloves when it comes to protecting against heat as they offer amazing heat resistance. If you find a very high-quality manufacturer, they can have a non-existent melting point.
However, the downside to these gloves is the fact they are not waterproof. If your gloves get wet from water or steam, they will conduct heat faster and lose their heat-resistant properties.
1.4. Synthetic Gloves
These best gloves are usually made with a silicone or rubber exterior and lined with a synthetic or cotton material.
They offer a good amount of heat resistance, but not as much as fabric or leather gloves. However, they do make it easier to handle tools and utensils easily.
Synthetic insulated gloves can absorb grease but are easy to clean due to the rubber exterior. However, since they aren't waterproof, you shouldn't use synthetic gloves when wet.
2. Waterproof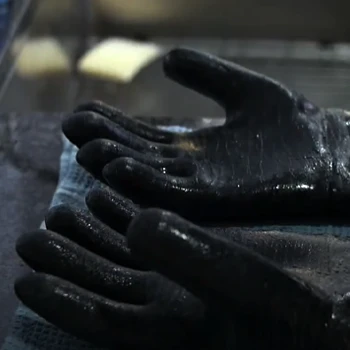 If you're only planning on using your gloves for grilling, chances are you won't be submerging them in water.
That being said, having water-resistant gloves can make a big difference when it comes to protecting your hands from the heat.
If your gloves absorb moisture, whether that be water, oil, grease, or steam, they will conduct heat better and leave you with less protection.
If you're handling food with fabric grilling gloves, the hot oil can easily seep through compared to leather or silicone materials.
"Start with a clean grill. Keep it clean by brushing with a wire brush after preheating and again after cooking. Make sure to oil your grates and your food before putting it on the grill to keep it from sticking."
- Emeril Lagasse, Chef
Steam can also get through the holes in the fabric and burn your skin, so if you're planning on using them for smoking or handling hot foods, it's better to look for waterproof material.
If you're only using your gloves for cooking over heat and they won't come into any contact with water or oils, fabric-like gloves should be fine.
3. Comfort and Flexibility
A comfortable glove will have a snug fit around the hands and wrists. It will be thin enough to handle your tools well yet thick enough to protect your hands from heat.
Stiff gloves, like leather, can restrict movements, making it hard to handle tools. Flexible material will conform to your hand, allowing regular movements.
4. Heat Resistance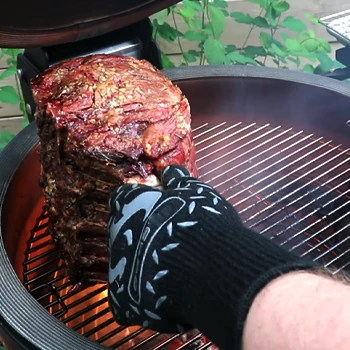 Cooking gloves should be heat-resistant and protect your hands from high temperatures. You will typically find that the thicker the glove, the more protection it will provide.
Most glove manufacturers will design their gloves to withstand temperatures within a range of 400 to 1,000 degrees Fahrenheit.
To determine the level of heat resistance you will need, you should know the maximum temperature of your grill.
Gas grills typically produce temperatures from 500 to 600 degrees Fahrenheit, whereas a charcoal grill can go all the way up to 1,000 degrees.
So, if you have one at home, a glove that only protects up to 400 degrees will not be enough [2].
5. Length and Size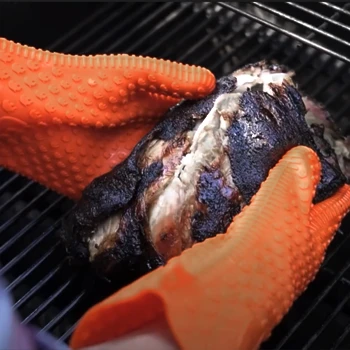 The top BBQ gloves are made to conform around the user's hand and wrist without being too tight.
You will find that some gloves come in one size, whereas other gloves will have various sizes to choose from.
Most grilling gloves are designed to fit larger hands. So, if you have small hands, you may have trouble finding the correct size.
Insulated BBQ gloves will provide a better fit for small hands, as well as knitted gloves with an elastic cuff.
If you have large hands, make sure the gloves fit you perfectly; if they are a little tight, you may struggle to take them off quickly in case of an emergency.
While the sizing around the hand is important, you should also consider the length of the glove.
For example, if you have a large grill at home and you're constantly leaning over to move food around, you'll want a glove that extends down the length of your lower forearms.
It may be slightly harder to move around with longer gloves; however, you will have more protection from the heat.
6. Cleaning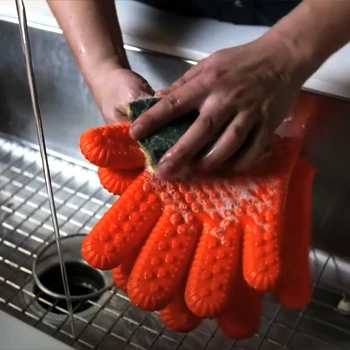 Smoking meat or grilling food can get messy.
Grease, juices, marinades, and sauces can easily get on your gloves, especially if you're touching your food directly. So, it is a good idea to get a pair of gloves that are easy to clean.
If your gloves are made from fabric or leather, they will be more susceptible to staining. The same goes for light-colored gloves.
Even if you clean them well, chances are the stains will still show. So, if this is a problem for you, consider getting a pair of black or brown gloves to hide the stains.
Neoprene or silicone gloves tend to be the easiest to clean. Since they are oil, water, and stain-resistant, all you need to do is run them under the tap to remove the grease.
Gloves made from fabric can be thrown in the washing machine to clean; however, they will soak up the juices and typically stain the fabric.
Leather is the most difficult to clean since water will damage the material.
You will have to purchase a special cleaner and put some time into maintaining your gloves, which may be off-putting for some [3].
Related Articles:
7. Warranty
A good pair of BBQ gloves shouldn't break the bank, but they will cost you a pretty penny. Because of this, you'll want to make sure your gloves have a good warranty plan.
Some will offer you a few years, while others will provide a lifetime money-back guarantee.
FAQs
Are the Best Grill Gloves Worth It?
Whether or not the best grill gloves are worth it depends on what you will be doing with them. If you're only planning on cooking over a small gas grill, you may not see any worth in purchasing gloves.
However, if you're cooking over a hot charcoal grill where you'll be moving hot coals or cooking over an open fire pit where you'll need to adjust burning logs, the best grilling gloves are worth it.
What Gloves Do Pitmasters Use?
Pitmasters tend to use black gloves made from nitrile. Nitrile is a little tougher than medical latex, meaning these gloves are less likely to puncture or tear, and if they do, the user can see it immediately due to the color.
The main reason pitmasters wear nitrile gloves is for aesthetic purposes; they're better compared to other gloves at hiding grease, rub stains, sauce, and other things customers don't want to see.
Can You Use Welding Gloves Instead of BBQ Grill Gloves?
Yes, you can use welding gloves instead of waterproof grill gloves. Usually, these gloves can withstand temperatures above 500 degrees Fahrenheit (sometimes 1,000 degrees if used for a short period), making them ideal for protecting against heat.
That being said, welding gloves are often quite bulky and thick, so you may have trouble trying to handle your tools and cook with them on.
How Do You Clean Waterproof Grill Gloves?
How you clean waterproof grill gloves depends on what material they are made from. Usually, you can wash them in hot soapy water or pop them in the washing machine.
If you have leather or suede gloves, you may have to purchase a special cleaner to ensure they do not get ruined by water and other chemicals.
What Are Food-Grade Gloves?
Food-grade gloves are considered safe enough to use with food and food packaging. The materials used are approved by the FDA (Food and Drug Administration) [4].
Are Leather Gloves Heat-Resistant?
Yes, leather gloves are heat-resistant. However, if you use these heat-resistant gloves under too much heat, there's a chance they will shrink or curl.
Best Grill Gloves: Our Winner
All of the gloves we tried, tested, and discussed today were worthy competitors.
That being said, we have to crown the GRILL HEAT AID BBQ Gloves as our winner due to the high heat tolerance, the cut-resistant material, and their comfort and flexibility.
With these gloves, your hands will not only be protected around the high heat but around knives and sharp objects too.
They also offer the best heat resistance out of all the other gloves on our list, with heat resistance of up to 1,472 degrees Fahrenheit.
Due to all the reasons listed above, we recommend these gloves for your next grilling session.
---
GRILL HEAT AID BBQ Gloves
Our #1 Recommendation
Excellent heat resistance
Made from EN388 level 5 cut-resistant material
Extra-long cuffs to protect arms
Good flexibility
Was this article helpful?