As a carnivore lifestyle devotee, BBQ food is at the top of my list. I use my pellet grill at least once a week, so I wanted to find a model I can use when I go camping, fishing, or spending a day at the beach.
I tested portable pellet grills from several of the industry's biggest brands and ranked them on mobility, cooking capacity, build quality, and food flavor.
Here's my selection of the seven best portable pellet grills you can get.
7 Best Portable Pellet Grills
Buyer's Guide for the Best Portable Pellet Grill
Here's everything you need to know about portable pellet grills before purchasing one.
1. Portability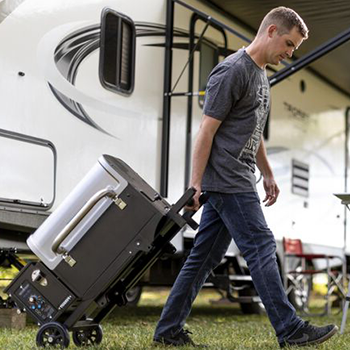 Portability is all about the size. Ideally, you want to take a grill wherever you go, so the portable wood pellet grills should be easy to pack up and take with you.
Remember to check that the grill's dimensions match the boot of your car or the back of your truck.
Go for portable pellet grills with folding legs, such as the Traeger Tailgater. Check how easy it is to fold away the legs and if the setup and takedown need more than one person.
Also, check how lightweight a grill is. Think about what weight you can carry. Are 40 lbs too heavy, or can you take on 100 lbs? Or, will you have help on the trip?
A bulky grill is almost impossible to take with you on a trip, even if it comes with wheels. Don't let wheels and handles fool you, but check the weight and dimensions.
2. Type of Portable Pellet Grills
There are two types of portable pellet grills: tabletop and collapsible.
A tabletop pellet grill is box-shaped. This is the smallest version of portable pellet grills. It's usually compact and light but has a small cooking surface.
Collapsible pellet grills are bigger than tabletop. They have legs you can fold and carry the grill. You usually need to assemble these grills.
They are heavier than the tabletop but have a larger cooking capacity.
3. Hopper Capacity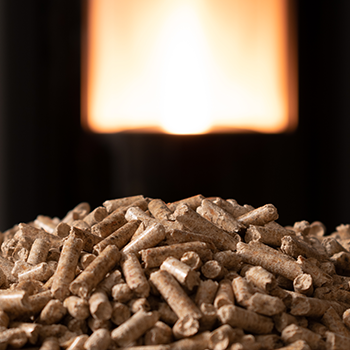 Hopper capacity also influences the size of the portable pellet grill. A larger pellet hopper means larger portable pellet smokers.
But it also means you can load more wood pellets and smoke for longer without having to refill.
The largest hopper capacity on this list is the Pit Boss Sportsman at 21 lbs, but this is also one of the largest portable grills.
You don't necessarily need a huge pellet hopper. Camp Chef Pursuit has a hopper of 10 lbs which is sufficient. Traeger Tailgater's 8 lbs hopper is also fine for grilling and smoking on the road. Both of these will work for hours before having to be refilled.
4. Power Source
Unlike a charcoal grill, a pellet grill needs electricity to operate. Most portable pellet grills can work using a 12-volt car battery, but a larger model will need a good source of energy, such as a home electrical outlet.
Some models can be powered by a car hook-up, a battery, or a generator. The more power options a portable grill has, the bigger the usage flexibility.
5. Temperature Control
Best portable pellet smokers have meat probes, digital displays, and PID controllers for temperature control. PID is especially important, as it can precisely control the temperature within five degrees of the level you set.
PID stands for Proportional, Integral, Derivative [2]. It measures the actual temperature in the portable pellet grill smoker and feeds or restricts the fuel so the smoker always has desired temperature. This results in consistent cooking results.
For example, Z Grills Pioneer and Camp Chef Pursuit all have PIDs. However, Camp Chef Pursuit is the only one that provides direct flame access, which means better searing.
Read More: Best Smokers With PID Controller
6. Connectivity
Connectivity is about smart technology, i.e., Bluetooth and Wi-Fi. A Wi-Fi-controlled portable pellet smoker lets you walk away from the grill.
You can chat with guests, relax, and monitor what's going on in your grill on an app on your phone from any distance.
Overall, the app and Wi-Fi connectivity make it easy to manage the grill, but it increases the price.
Read More: Best WiFi Pellet Grills & Smokers
7. Build Quality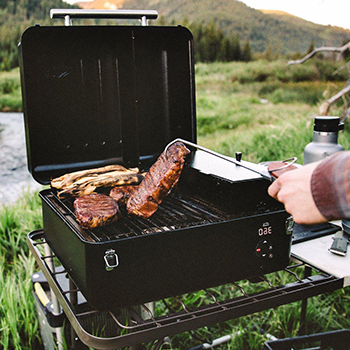 Not to sound like a broken record, but a portable grill needs to withstand travel at the back of your vehicle, occasional drops, and hits.
Portable smokers tend to get knocked around, so this is why you need to pay attention to the materials used to make the best tabletop pellet grill or a collapsible one.
Steel is the most durable material, so look for a grill with stainless steel components. Cast iron and porcelain are also good choices.
Some grills have porcelain-coated grill grates, which spread the heat evenly and are rustproof but need proper maintenance.
Overall, look for materials that can withstand natural elements and harsh weather conditions, such as stainless steel or powder-coated steel.
Also, check for any bits and pieces that stick out, as these are likely to break off when you transport the grill.
FAQs
How Long Will a 40 lb Bag of Pellets Last In a Smoker?
A 40 lbs bag of pellets will last for about 26 hours in a smoker at a low setting.
How Long Does a 40 lb Bag of Wood Pellets Last for a Grill?
A 40 lb bag of wood pellets lasts for about 24 hours for a grill.
What Are the Cons of Pellet Grills?
The cons of pellet grills are that they are heavy and need electricity, so most aren't portable. Moving pellet grills can damage the electrical parts, and these grills aren't meant to be used in wet weather.
What's the Best Portable Pellet Grill for You?
Tailgate parties are my favorite pastime, and these seven grills never failed to make my BBQ sessions memorable.
Although each of them has its irrefutable perks, my vote for the best portable pellet grill goes to Traeger Tailgater. It has foldable legs that are easily attached to the grill's side, so it's easy and safe to move the grill.
The cooking surface is 300 square inches which fit two whole chickens. You can cook for your entire family on the Trager Tailgater pellet grill.
The LCD screen located at the front always shows the correct temperature. Finally, you can grill or smoke food and always have delicious results.
Traeger Tailgater
Our #1 Recommendation
Good temperature range
Can grill and smoke food
Foldable wheels
LCD screen located at the front
Get the BEST PRICE until the end of September
Was this article helpful?