Pellet grills are some of the most popular outdoor cookers on the market; however, many established brands are manufacturing their products overseas.
So which brands continue to manufacture pellet grills in the United States of America? Let's see what our experts say!
Quick Summary
While generally more expensive than their overseas alternatives, pellet grills made in the USA are often of better quality.
The various brands vary in price and characteristics. Therefore, while the following brands are all of excellent quality, consumers should take time to find the pellet grill brands that serve their needs best.
There are important considerations for purchasing and supporting pellet smokers (and other products) manufactured in the United States of America.
What Pellet Grills are Made in the USA?
With the absence of prominent brands such as Pit Boss and Traeger, which have moved their manufacturing plants to China, consumers have upheld the above brands as heavy duty pellet grills made in the USA [1].
Let's find out why now!
1. Cookshack
Started in the 1960s by the Ellis family in Ponca City, Oklahoma, Cookshack remains a family business specializing in commercial electric smokers [2].
However, as the market for more advanced forms of barbequing on a residential level, Cookshack partnered with Fast Eddy's Pellet Grill and Pellet Smokers to produce smaller outdoor grills for home use.
Reasons to purchase a Cookshack grill include:
The manufacturing of the pellet grill with high-quality stainless steel,
The versatility of their grill which allow for cold smoking, flame broiling, and indirect cooking), and
The inclusion of a two-year warranty on all their products.
We Recommend Cookshack PG500 and PG1000 Pellet Grills
For visualization of their residential USA pellet grills, the PG500 and the larger PG1000, the following link provides access to the Cookshack Inc's YouTube video on "Cookshack Residential Pellet Grill":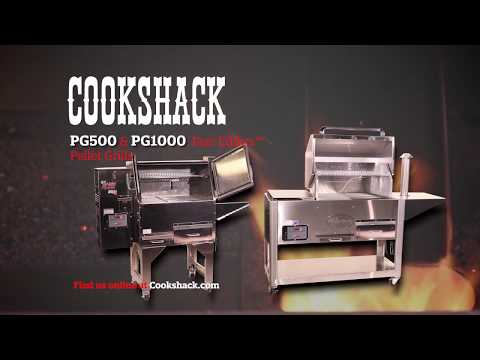 2. Yoder Smokers
Started in 2007 by the president and owner Don Cary in Kansas, Yoder Smokers has established itself as a recognized American brand for traditional-style pellet grills [3].
While primarily involved in the manufacture of commercial grills, Yoder Smoker has seen great success in the residential market, as illustrated with their best seller: the YS640 Pellet Grill.
Reasons to purchase Yoder Smoker grills include:
High-quality 10-gauge steel as a primary material for various components like the cooking chamber,
The installation of digital temperature controllers, and
The ease of portability and usability for their smaller range of products, such as the YS640 mentioned above.
We Recommend Yoder YS640 Pellet Grill
The following link provides a review of the YS640 Pellet Grills on the "Pig & Beef" YouTube channel: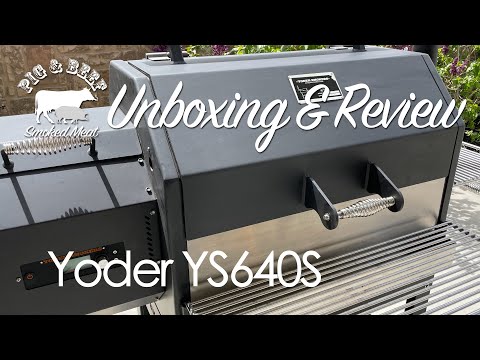 3. MAK Grills
Unlike some other pellet grill companies on this list, this manufacturer specializes in premium wood pellet grills from Dallas, Oregon.
This wood pellets grill brand focuses on durability above all else; this is evident in one of their best-selling products: 2 Star General Pellet Grill [4].
Coupled with its Pellet Boss digital controller, shows the desire to blend "old-school" craftsmanship with state-of-the-art technology to create a top-of-the-range product, unlike many competitors.
Reasons to purchase MAK Grills' grills include:
Made with the highest grade of steel that being 304-grade stainless steel, resulting in unrivaled durability,
A lifetime warranty on their products, and
Various quality of life inclusions include automated pellet hoppers and remote temperature controls.
We Recommend MAK Grills Pellet Grill
The link below is a summary of the MAK Grills 1 Star General Pellet Grill on the "Barbecue" YouTube channel: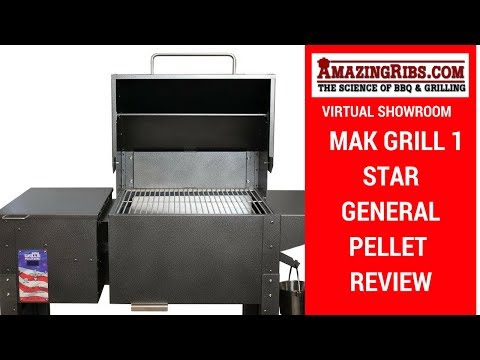 4. Twin Eagles
Twin Eagles from California focuses on producing premium pellet grills made in the USA, focusing on technology.
This product features a touch screen control interface, Wi-Fi-enabled accessibility, internal halogen lights, and the SmokePlus™. It infuses a natural smoky flavor into dishes.
Reasons to purchase a Twin Eagles grill include:
Wi-Fi enabled access allows for both remote access and recipes or cooking methods at a tap of a button with the touch screen interface,
SmokePlus™ provides superior control over the level of smokiness to be included in the cooking process,
Halogen lights allow for ease of nighttime cooking, and
Immense durability, as the grills are made with 304-grade stainless steel.
We Recommend Twin Eagles Pellet Grills
The link below is a summary of the Twin Eagles Pellet Grill on the "BBQGaloreUSA" YouTube channel: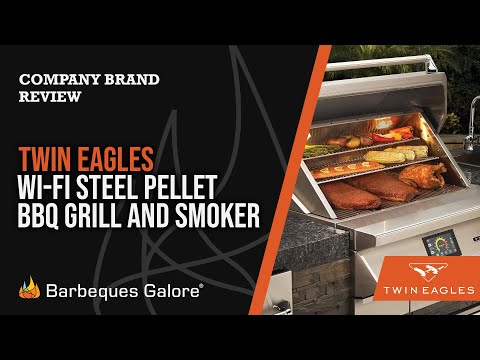 5. Blaze'n Grill Works
Finalizing the list is Blaz'n Grill Works from Beatrice, Nebraska. Started by owner Mark Setzer, his previous involvement in metal fabrication has made the quality of the steel used in the pellet grill an essential component [5].
Reasons to purchase Blaz'n Grill Works' pellet grills include:
1. ) High quality 12 gauge steel is used in the manufacture of their grills and accessories,
2.) Designed for competitive competition, this company places a focus on large scale food preparation and durability,
3.) Accessibility, with easy-to-use and clean components, such as the cooking chamber.
We Recommend Blaz'n Grill Works Wood Pellet Grills
The following link provides an overview of Blaz'n Grill Works' Wood Pellets Grill on their official YouTube channel: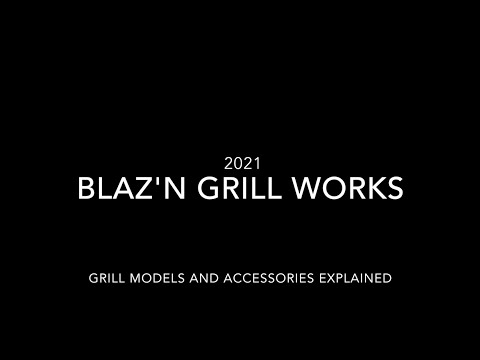 Why Buy Pellet Grills Manufactured in the USA?
Over and above the quality of pellet grill manufacturing in the United States of America (as highlighted above), there exist several socio-economic reasons to support pellet grill companies in the United States [6]:
Provides a boost to the American economy - the increase in the American economy is pretty self-explanatory. Pellet grill manufacturers require the harvesting, refining, and construction raw materials into finished products. This increased job creation and stability results in increased money circulation on a domestic scale, resulting in increased tax revenue from pellet grills brands made in the USA.
Improves long-term business investments - understandably, the long-term investment in American manufacturing is on consumers to retain its longevity.
Lowers trade and budget deficits - the production of manufacturing goods in America results in domestic consumption, which provides more export opportunities while decreasing import budget deficits. This is important considering both Pit Boss pellet grills

and

Traeger pellet grills

are now imported from China to the United States of America.

Decreases transportation costs and increases sustainability - concerning the environment, domestic manufacturing is considered more eco-friendly, requiring less international travel, and the manufacturing process is subject to domestic environmental legislation.
Adheres to domestic environmental regulations - this legislation is generally stricter and easier to enforce domestically than products made in countries with large manufacturing industries.
Adheres to safer labor laws - further to environmental legislation is American labor law which governs the conditions of all employees along the manufacturing chain. It ensures fair pay and workers' rights and stops unsavory labor practices such as child labor. It means all grills made in the USA are ethical.
Adheres to legislated quality standards - While the competition in the grill market and outdoor cooking equipment, like the gas grill and charcoal grills, results in improved quality, there are third parties who ensure quality control and the enforcement of consumer protection. These include implied warranties at the time of purchase.
Related Articles:
Our Final Thoughts
While imported pellet grills may be cheaper and associated with many other pellet grill brands like Traeger grills and Pit Boss grills, American made pellet grills tend to be of easy-to-use better quality and promote holistic economic growth and suitability.
---
References:
https://gearjunkie.com/camping/cooking/traeger-pit-boss-wood-pellet-grill-comparison
https://www.bbqguys.com/bbq-grills-smokers/cookshack-electric-smokers
https://www.feastmagazine.com/shop/shop_kansas_city/article_457204be-8765-11e7-8a01-7303c12a04ff.html
https://amazingribs.com/ratings-reviews/smokers/mak-grill-2-star-general-pellet-grill-review/
https://amazingribs.com/smoker/blazn-grill-works-gridiron-pellet-smoker-review/
https://www.fromtheforest.com/blogs/fromtheforest/the-importance-of-buying-american-made-products
Was this article helpful?