Eating healthy is my top priority, and considering I'm on a carnivore diet, I eat a lot of meat. However, finding good-quality meat can be challenging.
That's why I made it my mission to try out different meat delivery services.
I've tried and tested countless meat subscription services over the last several years, including Wild Pastures.
Today, I'll talk about Wild Pastures' pros and cons and compare it with other meat delivery services so that you can choose the best one for you.
What is Wild Pastures?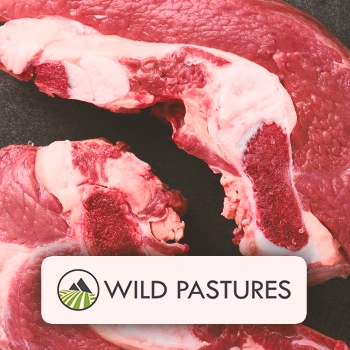 Wild Pastures is a meat delivery service. It functions as a membership club, where you sign up on their website, choose the meat cuts you want, and the meat is sent to you.
Wild Pastures was started by a farmer who spent his whole life raising cattle. He wanted to provide quality meat to his fellow Americans, so he partnered with other principled farmers and ranchers in the USA.
He pays a lot of importance to regenerative agriculture and grows healthy animals on healthy soil.
Wild Pastures sells 100% grass-fed and pasture-raised meats that are locally sourced, and its members can choose between two membership plans: Standard and Plus plan.
Wild Pastures Highlights

I used a Wild Pastures subscription for several months, and these are the biggest benefits I found.
1. Easy Subscription Process
You have to sign up to order from Wild Pastures. Then you can choose the kind of box you want:
Beef, chicken, and pork
Beef and chicken
Chicken and pork
Beef and pork
Next, you have to decide between two box sizes: standard and plus.
I ordered a plus box of beef, chicken, and pork. Here's what I got:
1 pack of 80% lean ground beef
1 pack of 1 lb chicken wings
1x1 lb pack of beef breakfast sausage
1x1 lb pack of beef chorizo sausage
1 x 1 lb pack of Italian beef sausage 1 lb
1 pack of bottom round roast 32 oz
1 x pack of filet mignon steaks 12 oz
1 x pack of 2 sirloin steaks 16 oz
1 x whole chicken
1 x pack of 2 boneless skinless chicken breasts 1 lb
1x pack of 1 lb chicken thighs
1 x pack of 4 to 5 chicken drumsticks
1 x pack of 16 oz sugar-free bacon
2x pork breakfast sausage
1 x 1 lb pack of ground pork
1 x 2 pack of pork chops
Once you've selected all the meat cuts you want, you can choose add-ons. These mostly include seafood, such as wild-caught Alaskan sockeye, Alaskan cod, and also beef patties, more chicken options, and Italian beef sausage. Finally, you type in your address and pay for your order.
2. Meat Sourcing

Wild Pastures pays a lot of importance to how they source their meat. I appreciated that they are very transparent when it comes to their sourcing practices [1]. Here's what they offer.
Beef — Raised on grass, so it's 100% grass-fed beef and grass-finished. Wild Pastures uses rotational grazing, so the cattle have a nutrient-rich diet, and the land remains healthy.
Pork — Pasture-raised pork. Pigs are allowed to forage and eat grass, turnips, apples, and more.
Chicken — Pasture-raised chicken. Chicken is raised on a diet of bugs and forage, which makes them nutrient-dense and have a rich flavor.
Seafood — Wild-caught seafood comes from Bristol Bay, Alaska. It is home to the world's most sustainable salmon run.
Wild Pastures also describes its business and growing practices in detail:
Pasture-centric — All animals are pasture-raised and part of a natural ecosystem. That means the farmers use rotational grazing practices that mimic what happens in nature. No fertilizers, pesticides, or herbicides are used on the land, and animals are never given any hormones or antibiotics. That means animals are raised in a way that's beneficial to the ecosystem and the environment.
Sourced in the USA — Wild Pastures only works with family farmers in the USA, which means they don't have to pay a premium to bring meat from across the world.
Whole use, zero waste — The company uses the whole animal and distributes the cuts across their membership base, so there's less waste.
"Regenerative Agriculture is the way to tie together our love for the planet and our path in farming. Unlike corporate factory farms, we raise our animals outdoors on green grass. We mimic nature by moving them every few days."
- Wild Pastures
Wild Pastures believes that animals raised on pastures are better for both our health and the environment. This all means they are able to sell meats at lower prices without compromising on quality.
While I liked that they detailed their growing practices, I wish they stated which farms the meat comes from. Other meat delivery services I used stated the name of the farm on the package, so you know the exact meat origin.
3. Shipping and Delivery

Another thing I liked is how flexible they are. I could choose delivery of pasture-raised meat every 4, 6 weeks, 2 or 3 months. I could also pause, change, or modify the meat delivery service when I was out of town.
I liked that you don't have to subscribe and get a Wild Pastures box every month if you don't want to.
Instead, you can opt for a one-time payment plan. This makes it easy to try out Wild Pastures meat, and if you like it, you can subscribe to one of Wild Pastures' subscription boxes.
That being said, a Wild Pastures subscription has several benefits [2]. They include:
Lifetime discount of 12%
Select delivery frequency
Alter delivery as needed
Endless box customization
I also liked the package they used to send their meat in. It's 100% recyclable and compostable packaging.
However, one thing I wish they improved on was using more dry ice. I wasn't home when the order arrived, so it sat outside for several hours and was almost defrosted by the time I came home.
Pros
100% grass-fed beef meat
Pasture-raised chicken, pork, and beef
One-time payment and subscription options available
Regenerative farming practices
Cons
Only two subscription options
Small meat selection
Wild Pastures Shortfalls

There were several things I didn't like about this meat delivery company.
1. Meat Selection
One of the biggest things I didn't like about Wild Pastures was the meat selection. Wild Pastures' meats include beef, pork, and chicken. There's no turkey, lamb, game, or exotic meats.
It quickly became boring eating the same meats month after month.
Also, even though they technically offer seafood, it's not a part of any of the boxes. Instead, it's only sold as an add-on, which means you have to pay extra for it, which isn't ideal if you're a seafood lover.
2. Small Meat Selection for Smaller Size Box
Another thing I didn't like is the small selection of meat if you opt for the smaller (Standard) size box. Here you can get:
Bacon
Pork chops
Whole chicken
Chicken breasts
Beef stew meat
New York strip steak
Ground beef and pork
Pork breakfast sausage
That's it. There aren't any other kinds of steak, such as sirloin or filet mignon. The same goes for chicken.
You can only choose between whole chicken or chicken breasts, while the larger size box has these and chicken thighs, wings, drumsticks, and more.
Comparison to Other Meat Delivery Services

Here's how Wild Pastures compares to other meat delivery services.
1. Meat Selection
Wild Pastures offers 100% grass-fed and pasture-raised pork, chicken, beef, and wild-caught seafood.
ButcherBox has 100% grass-fed beef, humanely raised pork, organic chicken, and sustainably-sourced seafood.
Snake River Farms has beef, pork, lamb, and seafood.
Crowd Cow has the biggest selection of meats which includes beef, chicken, pork, lamb, seafood, game meats, duck, and turkey.
2. Subscription Boxes
3. Shipping
Wild Pastures has a flat shipping rate of $4.99 for one-time offers and free shipping for subscriptions.
ButcherBox has free shipping.
Snake River farms shipping depends on the order and starts from $9.99.
Crowd Cow shipping is $19.99.
Related Articles:
Where to Buy and Price?

You can buy Wild Pastures meat on their official website. Their subscription options are only available on the Wild Pastures website, and for a one-time offer, they are priced at:
$174 for 15 lbs box
$274 for 25 lbs box
Note: If you opt for a subscription, you'll get a 12% discount.
Also, these prices can differ depending on what's in the box and if you get any add-ons. The weights vary as well, depending on the products you pick.
In case you want to subscribe, the boxes are priced at:
1. Beef, Chicken, and Pork
$153 for 15 lbs
$241 for 25 lbs
2. Beef and Chicken
$153 for 15 lbs
$241 for 25 lbs
3. Chicken and Pork
$153 for 15 lbs
$241 for 25 lbs
4. Beef and Pork
$164 for 15 lbs
$252 for 25 lbs
Wild Pastures deliver meat to 48 US states. They don't ship to Alaska and Hawaii.
Who Should Order from Wild Pastures?
You should order from Wild Pastures if you want high-quality meat that's 100% grass-fed, you don't want to subscribe but want to make a one-time offer, and sustainable farming practices are important to you.
Who Shouldn't Order from Wild Pastures?
People who want a wide variety of meat shouldn't order from Wild Pastures. If exotic and game meats such as bison, elk, and venison are important to you, you shouldn't join Wild Pastures.
Also, if you eat a lot of seafood, Wild Pastures isn't the best choice. They only sell seafood as an add-on to other boxes, so you have to pay extra. You can't only order a seafood box.
Other Users Wild Pastures Reviews
"Best tasting quality meat. Delivered on time, and I know I can rely on the service of the delivery. I love their Flank Steak, beef Chorizo, and bacon. I really like how I can change my order at any time, know when I will be charged, and know I am getting the most nutritious meat possible."

- Russel H.

Wild Pastures' Official Website
"Just got my third meat delivery, and I couldn't be happier. Some of the best meat I've ever had, quick customer service, and great communication on the week/day of delivery, so you know what's coming when."

- Carla L.

Wild Pastures' Official Website
FAQs
Is Wild Pastures for Real?
Yes, Wild Pastures is for real. This is a 100% pasture-raised bovine, so all their animals are raised in natural environments and feed off the land.
Is Pasture-Raised the Same as 100% Grass-Fed?
No, pasture-raised isn't the same as 100% grass-fed. Pasture-raised refers to where the animals eat (the pasture), and grass-fed refers to what animals eat (grass).
Should You Shop from Wild Pastures?
While I think Wild Pastures offers good-quality beef, pork, and chicken meat, I prefer ButcherBox.
ButcherBox offers healthy meat. Their high-quality products are 100% grass-fed and grass-finished, and they sell humanely raised pork and organic, pasture-raised chicken. That means each cut of meat will taste delicious.
Finally, they pay a lot of attention to the planet and only send their products in recyclable boxes with plenty of ice, so it remains frozen.
Click here, and order your box today.
#1 Meat Delivery Service
ButcherBox
Click For Best Price

Pros
Grass-fed and grass-finished beef delivered directly to your door
Without antibiotics or added hormones
Customizable boxes available
Select from up to 21 different cuts
Get the BEST PRICE until the end of March
Was this article helpful?